Stephen A. Smith Slams Kyrie Irving, Calls Him 'Delusional' in Light of Shocking Contract Rumor
There's a chance Kyrie Irving could leave the Brooklyn Nets, and ESPN's Stephen A. Smith had a strong reaction about the recent report surrounding Irving's future.
Just a year ago, it looked like Kyrie Irving, Kevin Durant, and the Brooklyn Nets had a chance to become the next great NBA dynasty. But will it all crumble before it even starts?
After trading James Harden for Ben Simmons at the trade deadline and losing to the Boston Celtics 4-0 in the first round of this year's playoffs, it appears Irving could now be on the move.
A report recently came out that Irving and the Nets are at "an impasse" in their contract discussions, and the seven-time All-Star could enter free agency. He only played in 29 games this year due to his refusal to receive the COVID-19 vaccine. And that followed the 2019-20 campaign in which he only appeared in 20, and the 54 contests he played in during 2020-21.
Considering all the games Irving has missed over the last few years, Stephen A. Smith – like probably many other fans – doesn't believe the guard deserves a massive long-term extension.
Stephen A. Smith reacted to the Kyrie Irving rumor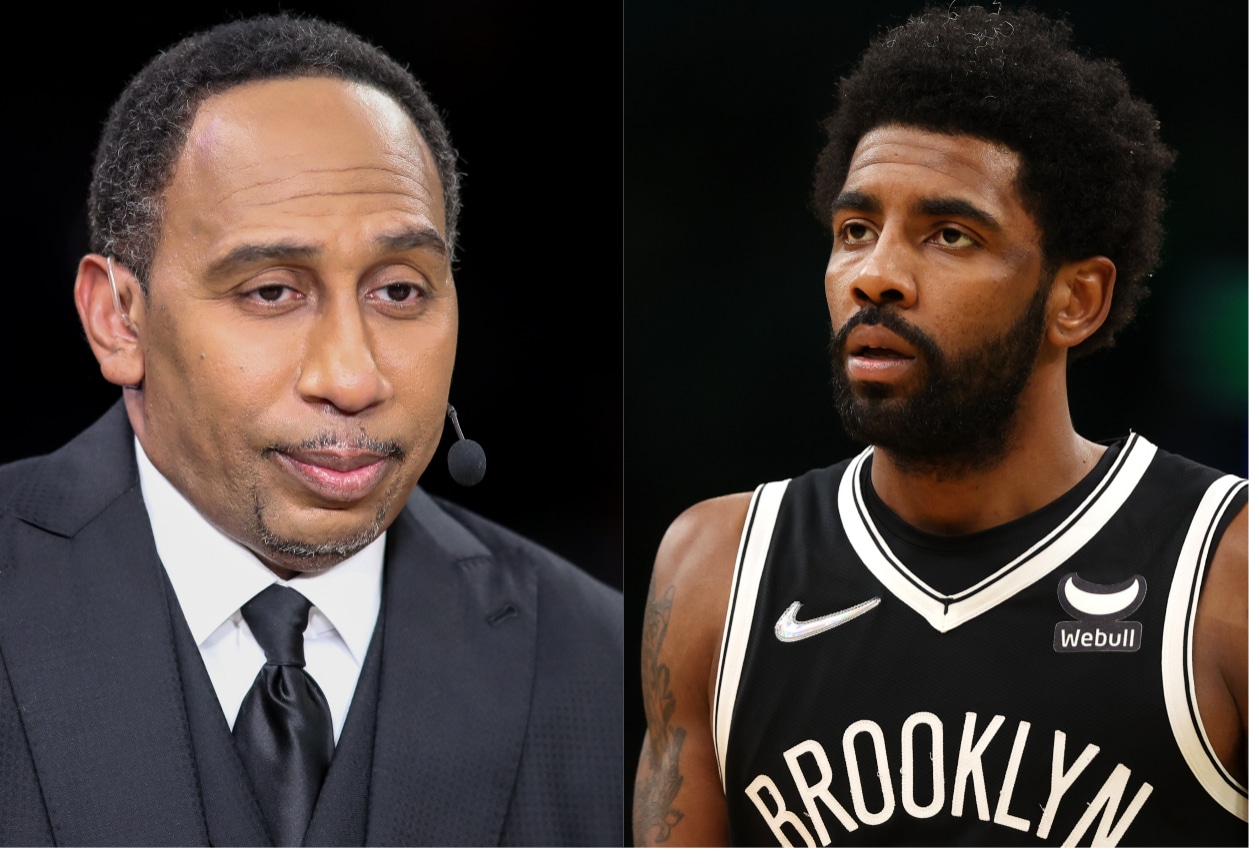 Shams Charania of The Athletic reported on Monday that conversations with Kyrie Irving, who has a $36.5 million player option for next season, and the Nets have reportedly "gone stagnant" in regards to the 30-year-old's future. 
"An impasse currently exists among the parties that clears the way for the seven-time All-Star to consider the open marketplace, those sources said," Charania wrote.
Irving has until June 29 to pick up the 2022-23 player option on his contract.
It's unclear what stands in the way of a new deal for Irving. But considering his unreliability the last few years, it's reasonable to assume that he wants a long-term contract, while the Nets are hesitant to give him that.
In response to the report, Stephen A. Smith – as per usual – had a lot to say.
"Is this First Take? You about to call it Comedy Central because I can't stop laughing," Smith said on the June 20 episode of First Take. "… This is a guy that missed [120] (regular season and playoff) games over the last three seasons, and he thinks that he deserves a four-year extension, fully-loaded, on top of the $36.5 million he can opt-in and he's scheduled to make for this upcoming season? What nerve. What nerve, what gall. Talk about delusional; I mean, that's this dude. That's Kyrie Irving."
Smith then discussed how Irving is "box office" whenever he plays, but his knack for missing games makes him unreliable and undeserving of a massive extension.
"Oh, no way in hell," Smith added. "And the fact that he would walk into a negotiation, and he would think that he warrants a full four-year extension … just goes to show you that this brother is in la-la land, and I ain't talking [Los Angeles]."
Tell us how you really feel about it, Stephen.
Where could Kyrie Irving go if he were to leave the Nets?
Stephen A. Smith is probably right, but there will likely be a team out there willing to pay Irving the money he wants due to his unreal talent.
So, where could he go?
Charania said the Los Angeles Lakers, LA Clippers, and New York Knicks are all expected to have an interest. A reunion with LeBron James in the Purple and Gold would be fun, and seeing Irving with Kawhi Leonard and Paul George on the Clippers would be thrilling.
However, the Cleveland Cavaliers are a team he should consider that not many people are mentioning yet. Irving started his career with the Cavs and won them a championship in 2016. Cleveland showed it has the potential to compete with the best of the best this past season; it's just missing perimeter scoring. Irving could be the piece the Cavaliers are missing, and he would make them a true championship threat along with Darius Garland, Jarrett Allen, and Evan Mobley.
The NBA offseason just started, but it's already matching the weather outside: It's heating up.