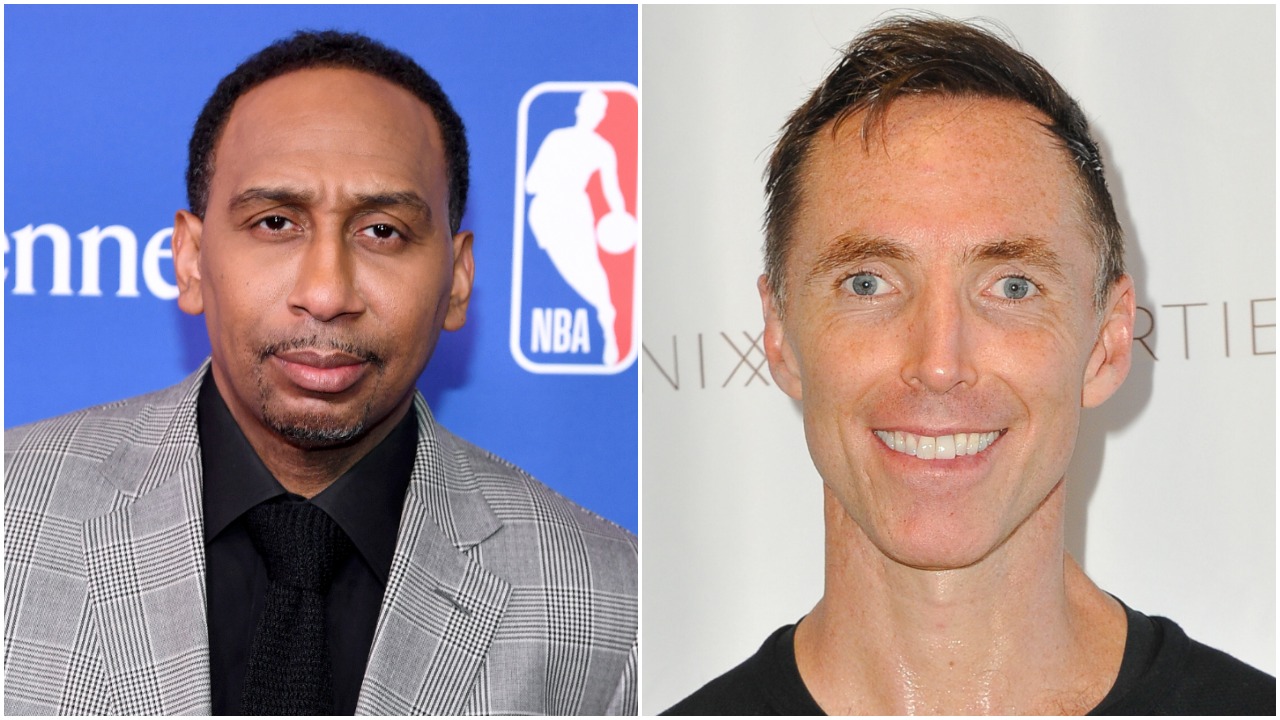 Stephen A. Smith Somehow Forgot That 9 Black Former Players Were Given NBA Head Coaching Jobs With No Experience
Contrary to what Stephen A. Smith said following the hiring of Steve Nash, multiple Black former players with no coaching experience have gotten head coaching jobs in the NBA.
Stephen A. Smith is making headlines this week for controversial statements. In other news, water is wet. The longtime ESPN analyst raised a lot of eyebrows on Thursday when slamming the hiring of Steve Nash as the new head coach of the Brooklyn Nets, saying it was "white privilege" that got him the job as he has no prior coaching experience at any level.
While Smith praised Nash, a two-time MVP and eight-time NBA All-Star, for his ability as a player and congratulated him, he took the stance that hirings such as this (head coaching jobs given to those with no experience) don't happen for Black coaches, which is just dead wrong as it's happened on numerous occasions over the years.
What did Stephen A. Smith say about Steve Nash?
For those who missed exactly what Stephen A. Smith had to say on ESPN's First Take about the Brooklyn Nets hiring Steve Nash despite him having no coaching experience at any level, here were some of his comments (the full video can be seen above):
"Steve Nash is a sensational dude and if anybody deserves this opportunity absent the experience that obviously he has as a coach, it's him. Steve Nash is widely respected and loved by a whole bunch of people in the NBA — Black, white, and beyond.

"Ladies and gentlemen, there's no way around it: This is white privilege. This does not happen for a Black man. No experience on any level as a coach and you get the Brooklyn Nets job?

"Sometimes, you just want to scream — want to scream to the high heavens: How the hell is this always happening for somebody else other than us? Why is it that we have to be twice as good to get half as much? Why is it that no matter what we do, or how hard we work, and how we go through the process and the terrain of everything … somehow, someway, there's another excuse to ignore that criteria to ignore those credentials and instead bypass it and make an exception to the rule for someone other than us."

Stephen A. Smith on the Brooklyn Nets hiring Steve Nash as head coach
Smith cited LA Clippers assistant coaches Sam Cassell and Tyronn Lue as examples of those "passed up" for Nash, who will take over for interim coach Jacque Vaughn, who took over the role when the Nets fired Kenny Atkinson about a week before the NBA shut down back in March due to the COVID-19 outbreak.
Yes, it's true that Steve Nash did get the job without any official coaching experience but he served as a player development consultant for the Golden State Warriors for years. Some believe that his strong relationship with Kevin Durant, who signed with Brooklyn as a free agent in June of last year, helped Nash land the job.
But Stephen A. Smith is certain that it was "white privilege" that got Nash the job, despite the fact that since 1980, nine Black former players were given head coaching positions in the NBA without having any experience. Five of those have come in the last 20 years, one being a Hall of Famer that got the same Brooklyn Nets job that Nash just took.
Jason Kidd got his first head coaching job nine days after retiring as a player
Following a 19-year career in the NBA, Jason Kidd retired as a player on June 3, 2013. Nine days later, on June 12, he was introduced as the head coach of the Brooklyn Nets, a franchise for whom he played parts of seven seasons. Kidd, who was born to a Black father and a white mother, coached the Nets for one season before heading to the Milwaukee Bucks, with whom he spent three and a half seasons before being fired during the 2017-2018 season. After a season away from the game, Kidd was hired as an assistant coach by the LA Lakers in July 2019 and is expected to be a leading candidate for numerous teams during the upcoming offseason.
Doc Rivers had no experience when he was hired by the Orlando Magic and has become one of the winningest head coaches in history
Following a 13-year career, Doc Rivers retired as a player after the 1995-1996 season. Three years later, despite having no experience, he was hired as the head coach of the Orlando Magic and won NBA Coach of the Year in his first season. He led the Magic to the playoffs the next three years but was fired 11 games into the 2003-2004 season when Orlando started 1-10. After spending the rest of the season in the broadcast booth for ABC, Rivers became the head coach of the Boston Celtics in 2004 and spent nine seasons with the team, winning an NBA title in 2008.
Rivers has been the head coach of the LA Clippers since 2013 and just recently passed Red Auerbach for 11th place on the all-time wins list as a coach. With two more victories in the 2020 playoffs, he would take sole possession of 10th place as he sits just one victory behind Bill Fitch at the time of this writing.
Derek Fisher got the Knicks job 10 days after his last game as a player
On May 31, 2014, Derek Fisher played the final game of his 18-year NBA career, a career that included five NBA championships with the Lakers. On June 10, 2014, with no experience, Fisher was introduced as the head coach of the New York Knicks. He only lasted a year and a half in the role, amassing a 40-96 record, before being fired but is now the head coach of the Los Angeles Sparks of the WNBA.
Isiah Thomas served as an executive before becoming the head coach of the Pacers
A 12-time All-Star and two-time NBA champion as a player, Isiah Thomas became a part-owner and Executive Vice President of the Toronto Raptors in 1994, the same year he retired from the Detroit Pistons. He left Toronto in 1998 and joined NBC as an analyst before taking over for Larry Bird as the head coach for the Indiana Pacers in 2000 despite having no coaching experience.
When Bird rejoined the franchise as an executive in 2003, he replaced Thomas with Rick Carlisle. Isiah then once again became an executive, this time with the Knicks, and took over as head coach in 2006 when Larry Brown was fired. Thomas was relieved of his duties in 2008 and later coached Florida International University for three seasons.
Mark Jackson left the broadcast booth to take the Warriors head coaching position
After 17 years as a player, Mark Jackson spent years in the broadcast booth before becoming the head coach of the Golden State Warriors in 2011. With no coaching experience to his credit, Jackson compiled a 130-119 record, including playoffs, in three seasons with the Warriors before being replaced by Steve Kerr in 2014, who led the team to an NBA title in his first year as Jackson went back to the booth.
Charles Barkley called out Stephen A. Smith for his comments
Is there a racism problem in this country? Absolutely. Should there be more than five Black head coaches in a league in which 80 percent of its players are Black? Absolutely. But did Steve Nash get hired because of "white privilege?" Absolutely not. Steve Nash was hired because of his basketball IQ and his ability to communicate with players and develop them, the same reasons why Jason Kidd, Doc Rivers, Derek Fisher, Isiah Thomas, and Mark Jackson were hired. And those five examples of Black coaches being hired with no experience were just from the last two decades.
In 1995, M.L. Carr became the head coach of the Celtics with no experience. Magic Johnson coached 16 games for the Lakers in 1994 with no experience. Quinn Buckner left the broadcast booth to coach the Dallas Mavericks in 1993 with no experience. Paul Silas became the head coach of the Clippers in 1980 the season after he retired as a player. If we're getting technical, Lenny Wilkens had no experience when he became a player-coach at the end of his playing career and went on to become one of the greatest coaches in history.
Yes, numerous white former players have been given jobs with no experience as well. Dick Van Arsdale, Dan Issel, Larry Bird, Kevin McHale, Vinny Del Negro, and Steve Kerr had never coached before taking head coaching positions in the NBA. These things just happen. Every single name here, whether Black or white, were given their respective jobs because of their vast knowledge of the game of basketball.
Stephen A. Smith obviously knows the game of basketball as well. But his comments were misguided and just plain wrong. At a time where tensions are very high over the issue of race, he added a log to the fire that didn't need to be added. While it is true that Black men and women don't get as many coaching opportunities as their white counterparts across all sports, this was not one of those times, as Charles Barkley pointed out (video above) on Thursday night during Inside the NBA (h/t Sporting News).
"When you have a responsibility, especially when you have to talk about something as serious as race, you can't be full of crap. You've got to be honest and fair.

"Steve Nash is a great player and a good dude. But I was so disappointed in some of these guys. I was like, 'Dude, Black guys have done this before.' Now, do we need more Black coaches in the NBA? Yes. Do we need more Black coaches in college football? Yes. Do we need more Black coaches in pro football? Yes. But this wasn't the right time to say that today. Good luck to Steve Nash."

Charles Barkley
All stats and records courtesy of Basketball Reference