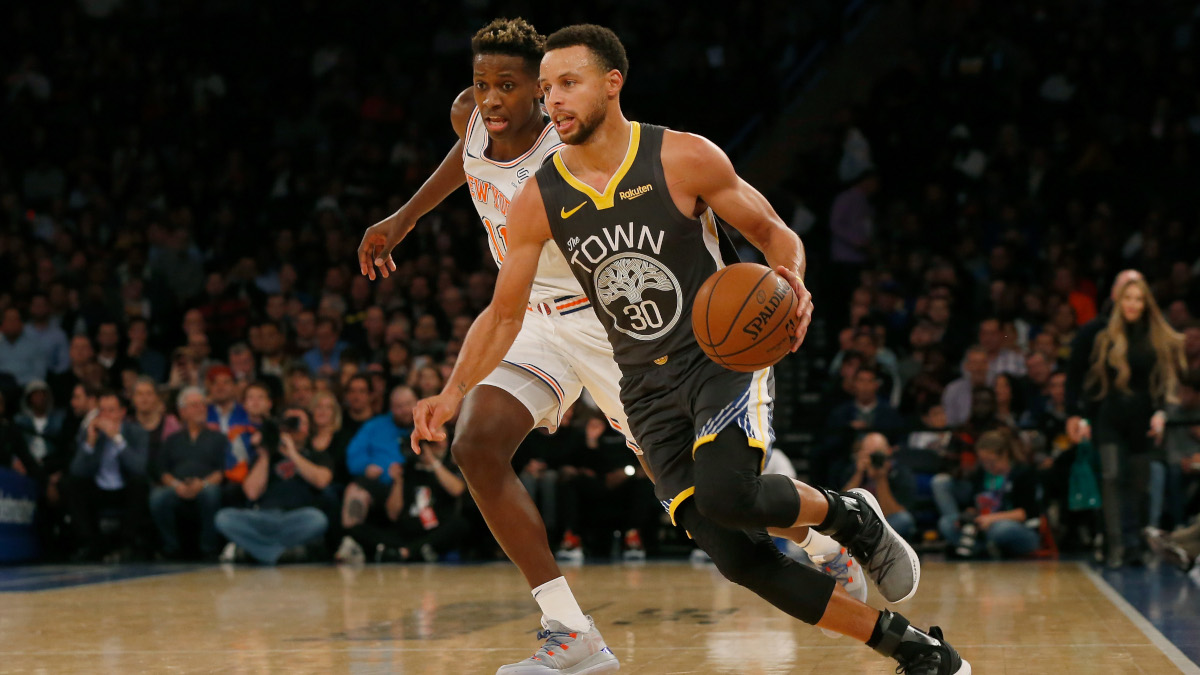 Stephen Curry Could Have Been a New York Knick If the Guard's Agent and Father Got Their Way
Before the 2009 NBA Draft, Stephen Curry's father and agent did what they could to ensure he'd fall to the New York Knicks. The Warriors had other ideas.
Stephen Curry visits one of his favorite road arenas on Dec. 14, and got the two 3-pointers he needed to break Ray Allen's NBA career record. It was somewhat fitting Curry broke the mark against the New York Knicks. MSG is where Curry had his breakout performance. And if people around the two-time NBA MVP had gotten their wish, it's where Curry would have set up his practice.
In the guard-heavy 2009 NBA Draft, Curry was a top prospect. He just wasn't the top prospect. Oklahoma's Blake Griffin was the consensus No. 1 pick in the mock drafts, with Connecticut center Hasheem Thabeet tabbed to go second (hey, one out of two ain't bad). The question with Curry wasn't if he would fall. Instead, it was how far he would fall.
Stephen Curry was in the mix with a glut of guards
Stephen Curry entered the NBA draft after his junior year at Davidson College. He led the nation in scoring with 28.6 points per game. But there were many other backcourt talents in the pool for the 2009 NBA Draft.
Arizona State's James Harden had a lot of hype. So, too, did Memphis' Tyreke Evans and Jonny Flynn of Syracuse. The draft had a couple of international men of mystery. Spaniard Ricky Rubio was a curiosity, while Compton, California, native Brandon Jennings defied convention by skipping the usual year of college ball and going to Italy instead.
But wings and point guards were all over the draft board. DeMar DeRozan, Terrence Williams, Gerald Henderson, Jrue Holiday, Ty Lawson, Jeff Teague, and Eric Maynor made for an embarrassment of backcourt riches in the 2009 draft class.
There were concerns about Curry's size and strength. He had an NBA pedigree as the son of 1993–94 Sixth Man of the Year Dell Curry. But whispers of ankle problems also followed the Davidson standout.
Stephen Curry's father and agent wanted him with the New York Knicks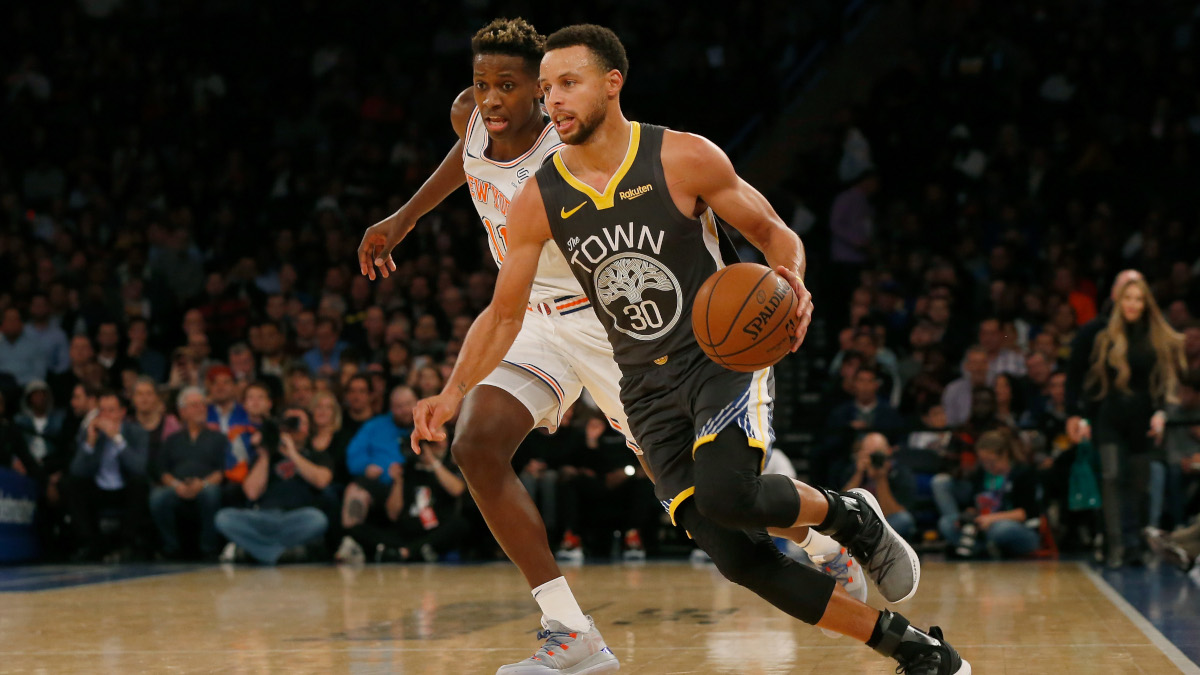 The 2009 NBA Draft marked the second talent-selection party for New York Knicks president of basketball operations Donnie Walsh. The native New Yorker was lured away from the Indiana Pacers to fix Isiah Thomas's mess.
According to Marc Berman of the New York Post, Stephen Curry's camp was doing what it could to ensure its guy would still be on the board when the Knicks made their first-round selection at No. 8 overall. Curry wanted to play in Mike D'Antoni's rapid-fire system in New York.
Golden State Warriors general manager Larry Riley recalled several calls from Dell Curry as well as Stephen Curry's agent, Jeff Austin:
"Both Steph's dad and his agent made it obvious to us that they'd rather us not pick him. I took a little risk. [Their request] made us stop and evaluate what would happen if we did draft him. We fully understood where they were coming from. We did not have the most desirable situation to go into."

Former Warriors GM Larry Riley
It seemed the Curry entourage had scared off Minnesota Timberwolves general manager David Kahn, whose team was picking fifth and sixth (Minnesota also had the Nos. 18 and 28 selections in the first round).
After Griffin and Thabeet went first and second as expected, the run on guards commenced. Harden went third to the Oklahoma City Thunder, and the Sacramento Kings grabbed Evans at No. 4.
Kahn then defied logic. He went point guard with the fifth pick, taking Rubio. Then Kahn took another point guard, Flynn, at No. 6. He went for the trifecta later that night when he drafted Lawson with the 18th pick.
That left the Warriors on the clock and the Knicks waiting to go next. Riley took Curry. New York went with Arizona forward Jordan Hill.
The rest, as they say, is history.
Curry has made life miserable for the New York Knicks
On Feb. 27, 2013, Stephen Curry announced he had arrived as a legitimate NBA star. Despite averaging 21.0 points and shooting 44.7% from 3-point range for the vastly improved Warriors, Curry was an All-Star snub in 2013.
Roughly two weeks later, the New York Knicks paid the price. In a nationally televised game at Madison Square Garden, Curry erupted for 54 points, draining 11 of 13 3s. The Knicks won the game. But Curry's big night vaulted him into the upper echelon of the NBA.
While he hasn't approached another 50-piece at Madison Square Garden, Curry has a pair of 30-point games in New York, including 37 in a win there on Feb. 23.
That includes a Nov. 13, 2009, game at the Garden in which he played only three minutes off the bench and didn't attempt a shot. Per The Associated Press, coach Don Nelson joked that the rookie didn't start because he didn't have any tattoos.
Even with that, Curry averages 25.9 points per game at Madison Square Garden, shooting 48.9% overall and knocking down 46.7% from deep. Meanwhile, Curry is 9–1 in 10 career games at New York. Ironically, the lone loss was during his biggest individual night there.
It makes one wonder what might have been if Stephen Curry had still been available when Walsh made his pick for the New York Knicks in 2009.
Statistics courtesy of Basketball Reference and Stathead.