Draymond Green Once Threw Food at an Obnoxious Fan Just to Protect Stephen Curry's Family: 'I Just See Some Grapes Flying Over My Shoulder'
Draymond Green is known for being one of the greatest defenders in the NBA. He has earned All-Defensive Team honors numerous times and was even the league's Defensive Player of the Year in 2016-17. But Green does much more than just defend the basket; he's also a defender of his Golden State Warriors teammate Stephen Curry.
In fact, while once attending a football game, Green actually threw food at a fan just to protect Curry and his family.
Stephen Curry and Draymond Green are more than just Warriors teammates
On the court, Stephen Curry and Draymond Green have had tremendous success together. They have led the Warriors to five NBA Finals appearances and three championships.
Off the court, however, they have become close friends.
While their personalities are totally different (Green is typically loud and expressive while Curry is normally pretty calm), they seem to complement each other well.
"If there were two me's, it might not be as loud in the locker room as it needs to be at times," Curry recently said, per Fox Sports. "And if there were two of him, nobody would know when to shut up. It's the perfect balance."
The two have even grown so close that Green bought Curry a gift for his 30th birthday, and he included a note where he shared how much he admired him as a person.
"He shared some words on that front that we hadn't before," Curry said to Fox Sports. "Winning and basketball was amazing, and you wouldn't trade that experience for anything. But [the note was about] the influence of how we live our lives and what's important off the court and us growing into family men kinda on the same timeline. That's the stuff we'll talk about forever. That means a lot."
Like most close friends, Green has Curry's back. And he proved that while at an NFL game.
Draymond threw food at a fan to protect Steph's family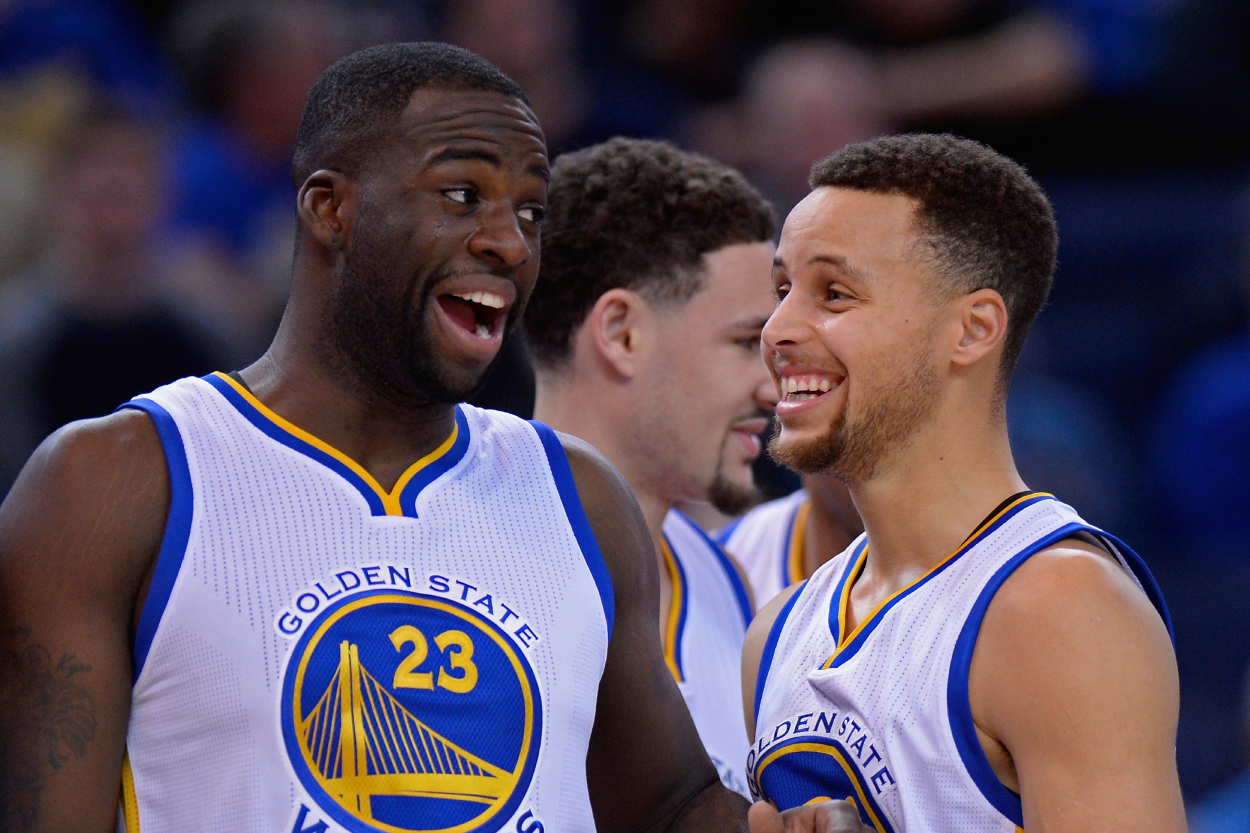 According to Fox Sports, Draymond Green, Warriors coach Steve Kerr, Stephen Curry, and Curry's family all once attended a Carolina Panthers game together. Curry is from North Carolina and is a big Panthers fan.
But while they were trying to enjoy themselves and their time together, an obnoxious fan began heckling Curry's family. So, Green then defended his friend by throwing food at the person.
"I guess he might've felt like we were on the court when a fan started yelling at my mom," Curry said, per Fox Sports. "I started yelling at [the fan]. Next thing I know, I just see some grapes flying over my shoulder at the dude."
That sounds like a true friend.
But as basketball has helped mold their relationship off the court, that close bond that was evident during the Panthers game now has a chance to help them on it.
Stephen Curry, Draymond Green, and the Warriors have become the NBA's hot-ticket team again
Stephen Curry and Draymond Green formed their friendship while winning three championships together on the Warriors, but injuries kept their team from making the playoffs in each of the last two seasons.
Now, though, they are back to their dominating ways.
Golden State has started the year 22-5 and has climbed its way up to No. 1 in the Western Conference. Curry is a big reason why they have had so much success, as he's averaging 27.0 points and is in the running for his third career MVP award.
Green, on the other hand, is not only filling the stat sheet with 8.3 points, 7.9 rebounds, and 7.3 assists per game. But he's leading the Warriors defensively, as they are No. 1 in the entire NBA on that end of the court.
However, the scariest part about their success thus far is that they have yet to see Klay Thompson and James Wiseman play this year. Once those two return from injury, the Warriors could become the most dangerous team in the entire league (if they aren't already).
Sure, Draymond Green might be Stephen Curry's protector, but he could very well be protecting the rim in some massive NBA games later this season.
Stats courtesy of Basketball Reference