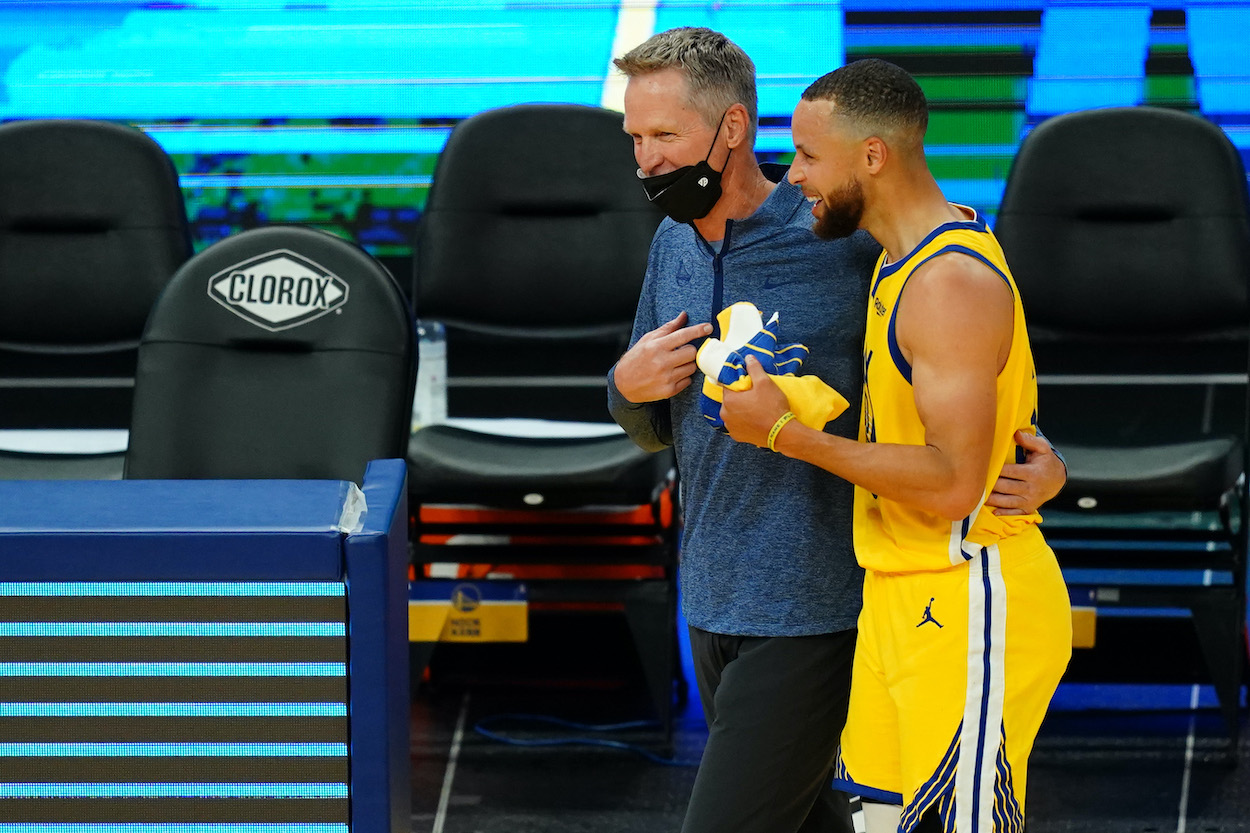 Steve Kerr Details the 1 Way Stephen Curry Is Similar to Michael Jordan: 'Maybe That's the True Sign of Greatness'
Stephen Curry is about to become the most prolific shooter in NBA history, and his head coach believes he deserves to be in the same conversation as Michael Jordan.
Steve Kerr has witnessed plenty of greatness over the course of his career in the NBA. As a player, he won three championships alongside Michael Jordan and two more with Tim Duncan and David Robinson. He's also coached Stephen Curry to three titles with the Golden State Warriors.
Kerr got an up-close look at what made Jordan arguably the greatest competitor to ever come through the NBA, and the Warriors head coach sees a similar trait in Curry.
Michael Jordan vs. Stephen Curry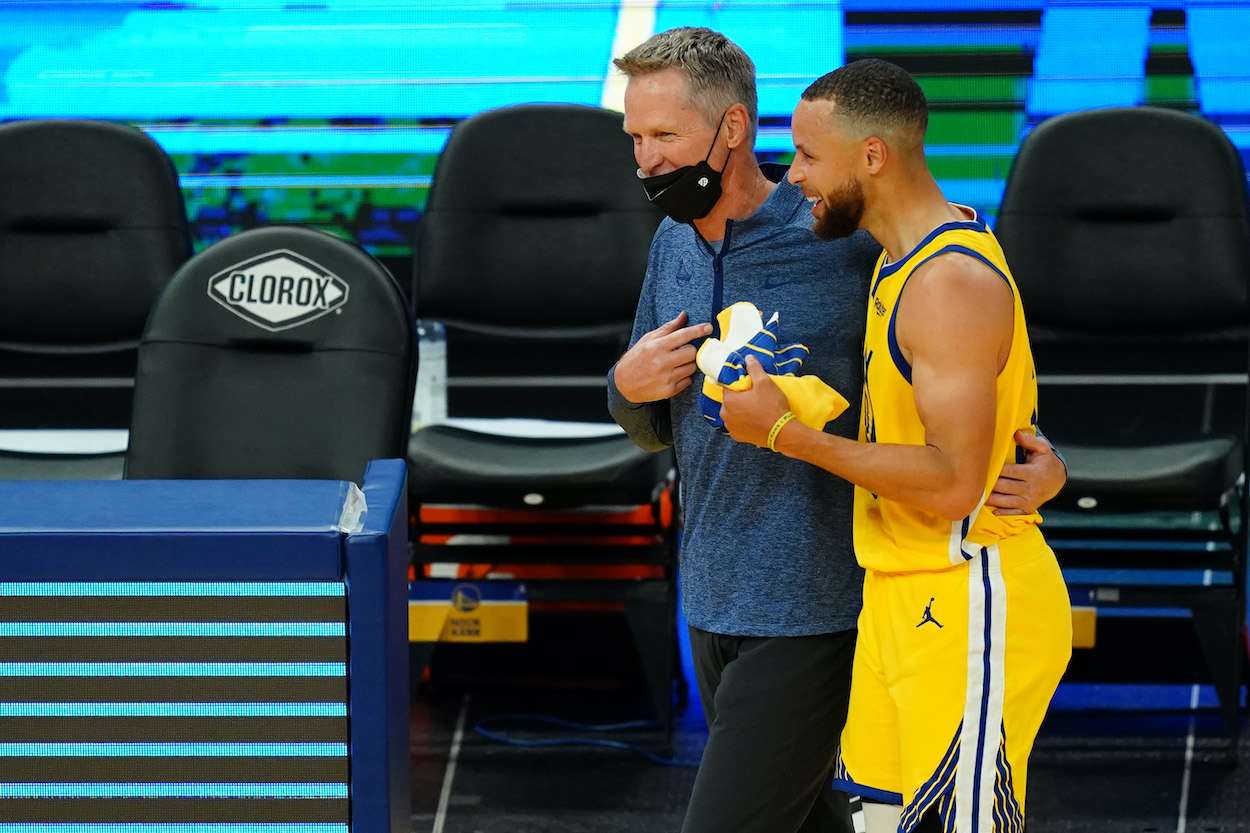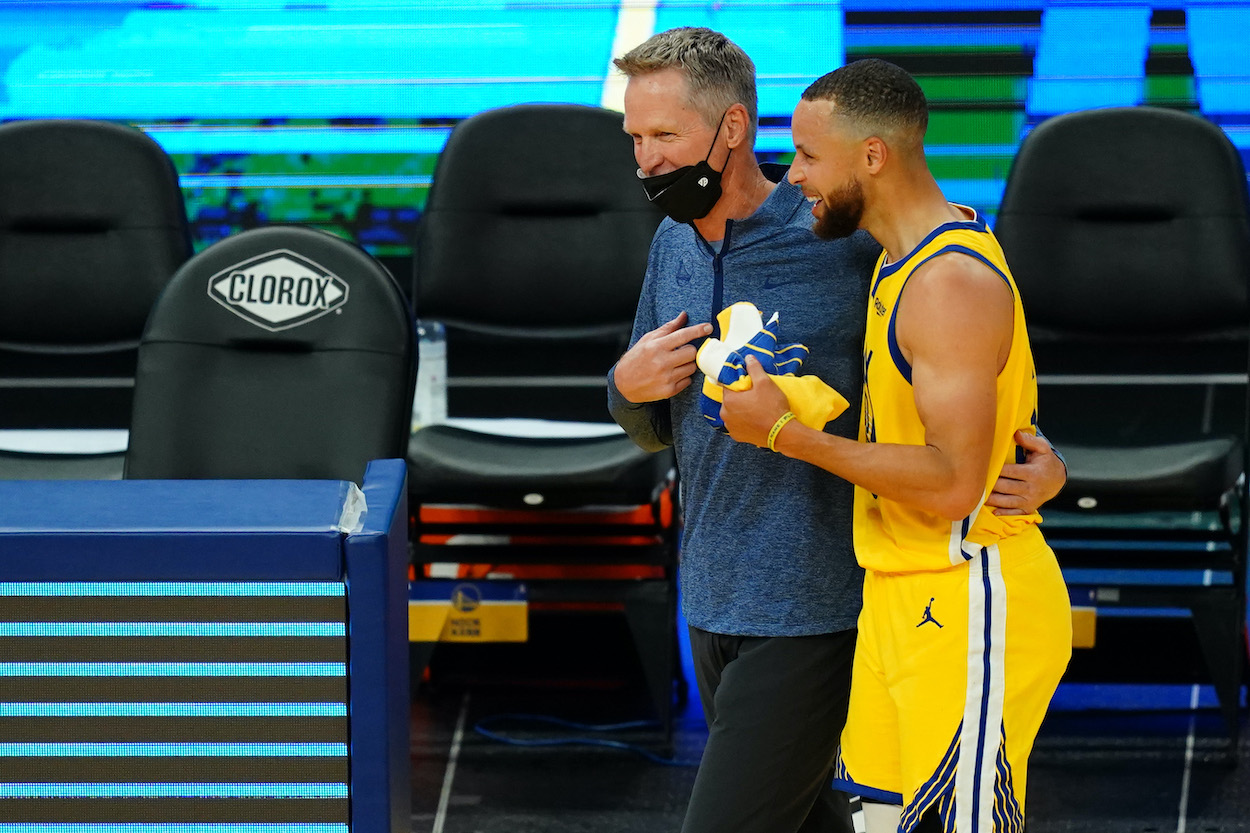 It's hard to compare the great Michael Jordan to anyone currently playing in the NBA without sounding foolish, but Curry is one of the select few who deserves to at least be a part of that conversation.
Curry is a seven-time All-Star and a three-time champion in five trips to the NBA Finals. He's won two league MVP awards, has two scoring titles to his name, and is about to become the all-time leader in 3-pointers made. Curry might be the greatest shooter to ever live, but he isn't yet in the running to be named the greatest player of all time.
That title still belongs to Jordan.
In 13 seasons with the Chicago Bulls and two with the Washington Wizards, MJ racked up 14 All-Star appearances, 10 scoring titles, five MVP awards, and six championships. Jordan's resume is far more impressive than Curry's at this point, but there's still time for the Warriors superstar to add to his legacy.
Steve Kerr details how Curry is similar to Jordan
Curry and Jordan aren't very similar in terms of their playing style. One pulls up from 40 feet in the middle of fastbreaks, while the other killed defenders from the mid-range and dunked on those who dared block his path to the rim.
But there is one factor that ties them together, according to Kerr.
"I think Steph, in a lot of ways, is like Michael Jordan," Kerr said recently, per the San Francisco Chronicle. "There are so many moments that they just all blend together. They don't even stand out because that's just what you expect. And maybe that's the true sign of greatness.
"Every single night, (fans) are going to see something special. And when you do something over and over and over again, it's harder for one particular night to stand out. It's become routine for him."
Fair to compare the two?
Old school NBA fans will think comparing Curry to Jordan is utter blasphemy, but no one is more qualified to speak on the matter than Kerr. I mean, the guy has spent years of his life in the locker room with both players, and he saw what made them tick on a day-to-day basis.
If Kerr sees similarities between the two, I'm inclined to believe him. He's not saying Curry is about to overtake Jordan as the greatest to ever do it. He's simply saying both Curry and Jordan made greatness look ordinary, which is true in both cases.
All stats courtesy of Basketball Reference.
Like Sportscasting on Facebook. Follow us on Twitter @sportscasting19.