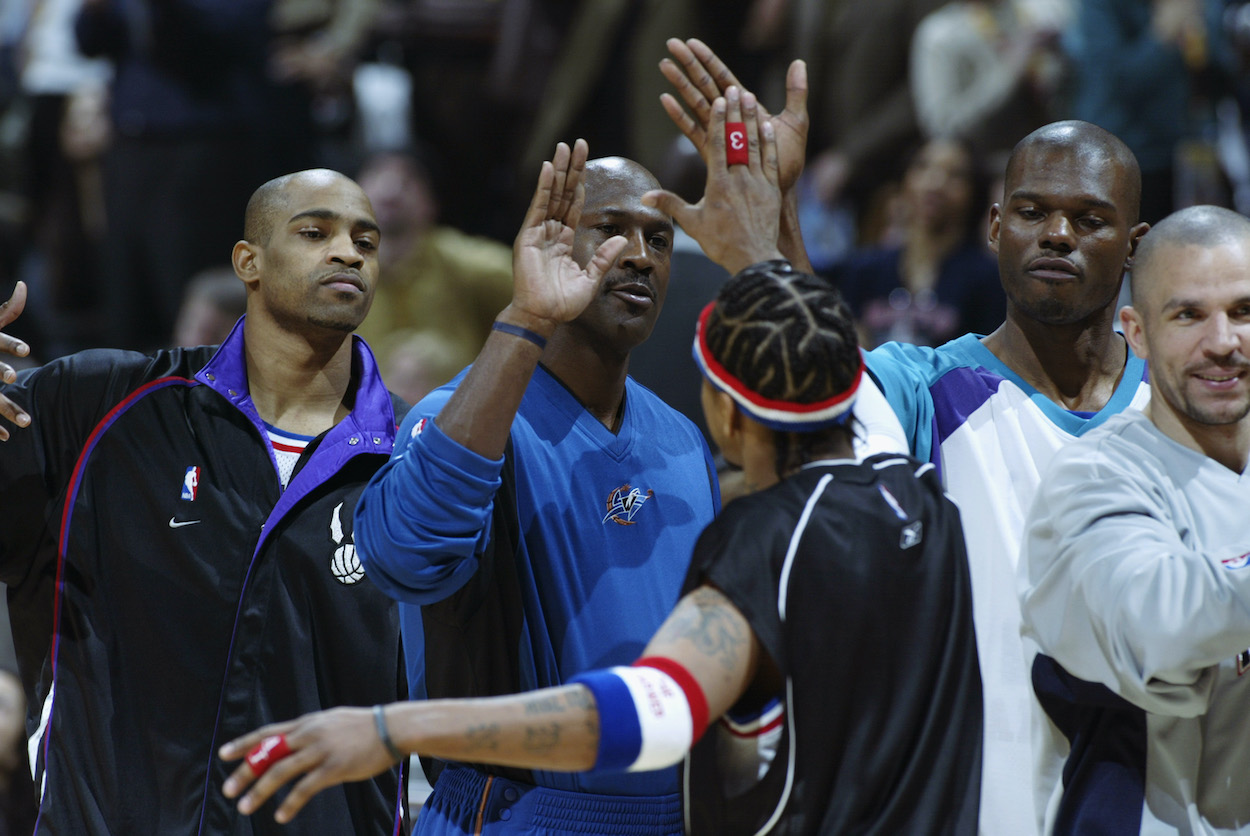 Allen Iverson Emphatically Voted for Michael Jordan Over LeBron James as the NBA GOAT: 'We're Talking About Black Jesus Himself'
Michael Jordan is the greatest NBA player of all time, according to Allen Iverson.
The NBA GOAT conversation is a never-ending debate with no definitive answer. In the end, it always comes down to Michael Jordan and LeBron James, but you could ask 100 people their opinion and get 50 votes for one player and 50 votes for the other.
Allen Iverson is one of the Hall of Famers who played against both Jordan and James, and he cast his vote for "Black Jesus" when discussing the debate in 2018.
Allen Iverson got the best of both Michael Jordan and LeBron James
Iverson was lucky enough to play against Jordan and James during his Hall of Fame career, and he was one of the few players who got the best of both.
In 13 matchups against Jordan, Iverson averaged 29.8 points per game to MJ's 23.5. Jordan's teams did win seven of the 13 games, but Iverson had the most memorable play from their rivalry,
In 1997, Iverson famously crossed over Jordan and buried an impressive jumper in just his third game against the Chicago Bulls legend. A.I. finished the game with 37 points and four assists, but the Bulls defeated the Philadelphia 76ers in the end.
Iverson also played 18 games against LeBron and won 10 of them, and he averaged 25.8 points and 7.7 assists per game in those contests. He saw plenty of both Jordan and James during his career, so he's more than qualified to speak on the GOAT debate.
Allen Iverson voted for Michael Jordan as the NBA GOAT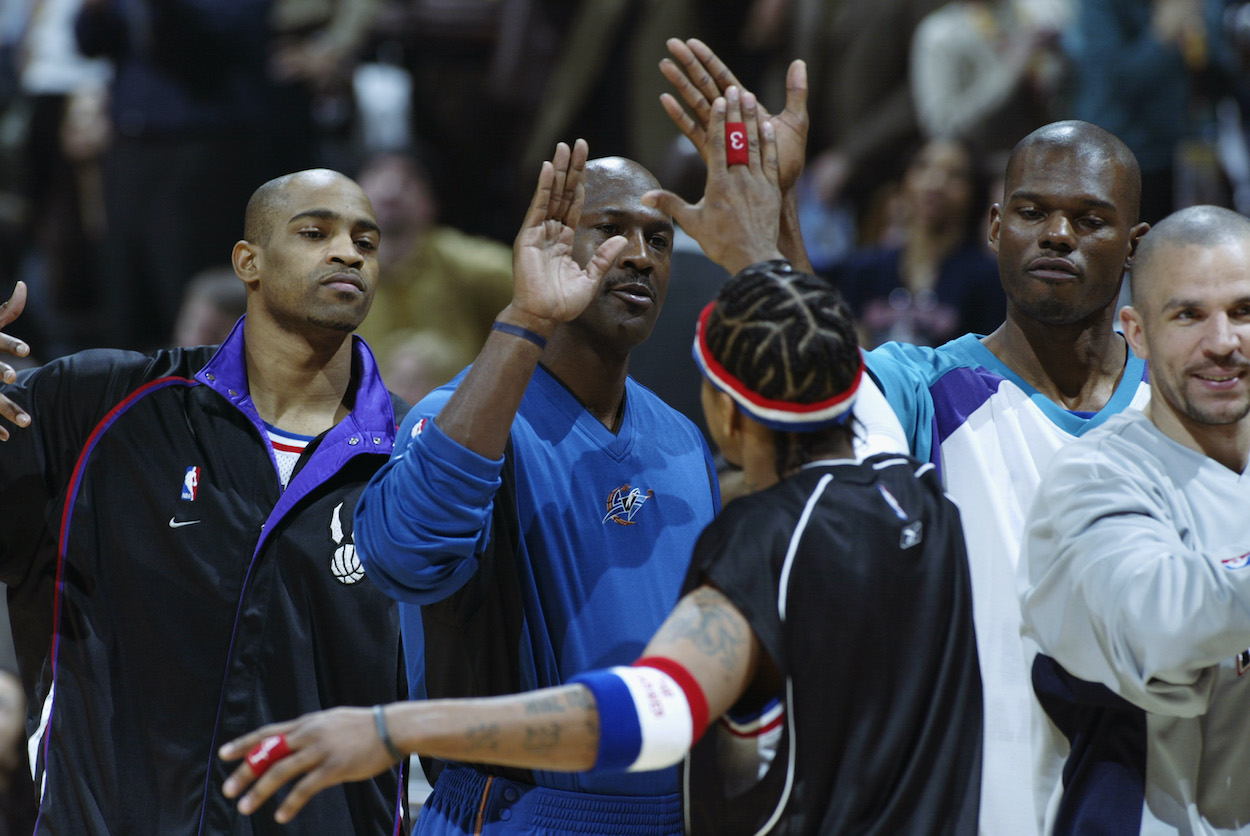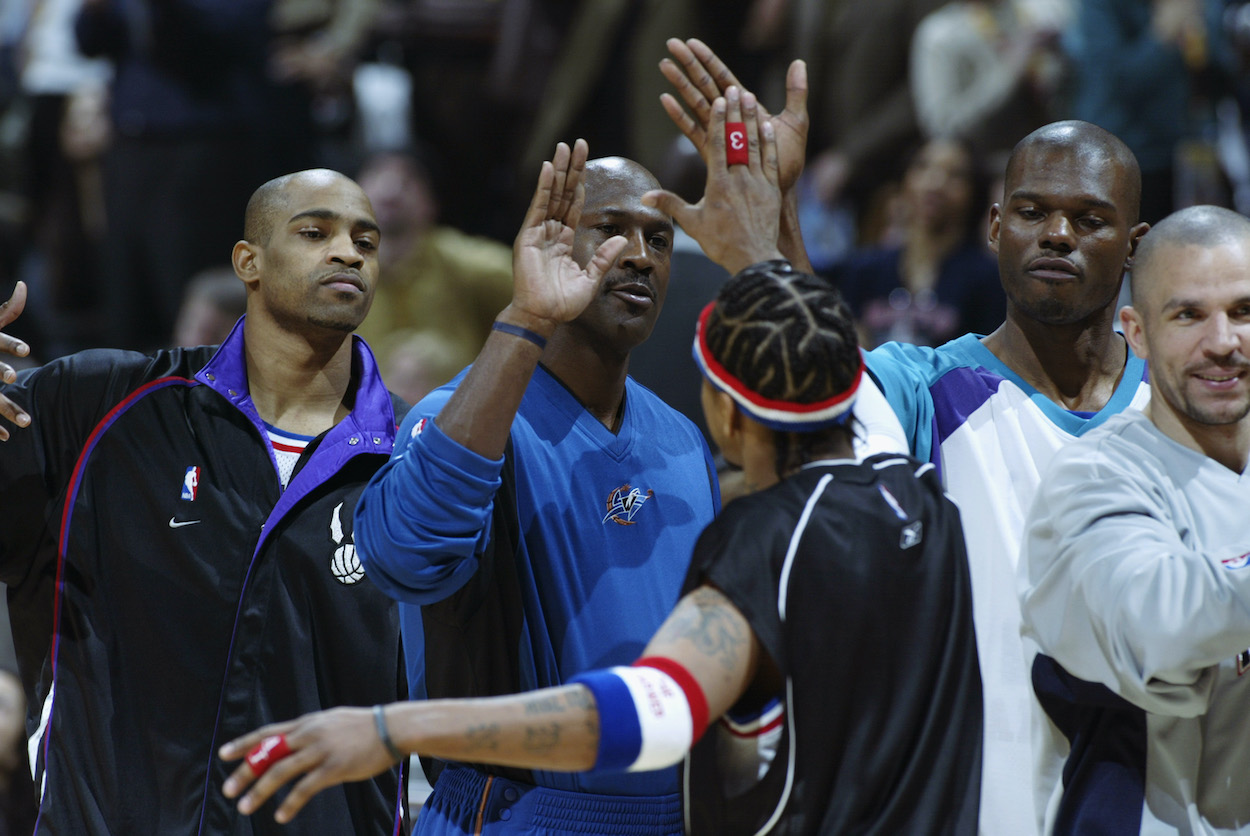 In 2018, Iverson published a story in the Players Tribune that addressed a variety of topics. One of those topics happened to be the GOAT debate, and A.I. emphatically voted for Jordan.
"Alright, I have to weigh in on this GOAT conversation," Iverson wrote.
"I have to. I'm hearing a lot of people these days fronting like they have LeBron over Mike!!
"Man….. listen. First of all, I love LeBron. I have nothing but love for LeBron. That's the best player of his generation, one of the best ever, a great husband, great father, great role model, and it's even beyond that: What he's doing with that school in Akron?? It's a beautiful thing.
"But y'all.
"We're talking about Mike.
"We're talking about Mike, O.K.??
"We're talking about Black Jesus himself.
"And I don't really have much more to say beyond that. Mike is the GOAT……. Mike is always going to be the GOAT. And please don't even insult me with any of this "stats, AI!" business, like you have a chance of changing my mind."
You heard the man.
Could LeBron ever catch MJ?
LeBron's stats are fairly similar to Jordan's, and some could argue they're even more impressive. But the GOAT debate always comes down to how many rings you have on your finger.
James is still playing at an elite level and has a championship-caliber roster on the Los Angeles Lakers, but he still needs to win two more titles to tie Jordan at six. If he does, maybe Iverson will change his vote in the GOAT debate.
All stats courtesy of Land of Basketball.
Like Sportscasting on Facebook. Follow us on Twitter @sportscasting19.