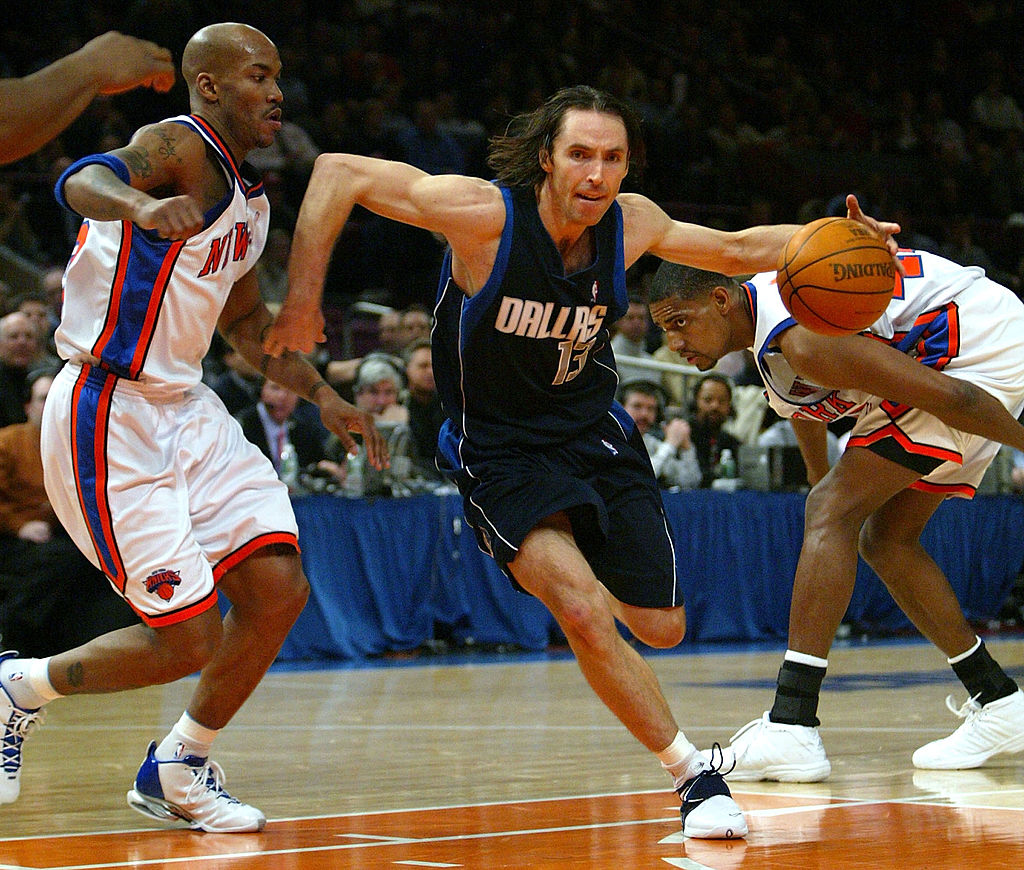 Steve Nash Makes a Bold Claim About Luka Doncic's Place in NBA History
Former Mavericks star Steve Nash doesn't mince when he talks about current Dallas standout Luka Doncic and how he compares to NBA greats.
Canadian Basketball Hall of Famer Steve Nash is not one to talk for nothing. The 45-year-old Golden State Warriors' player development consultant mostly keeps a low profile these days. But it didn't stop him from sharing his opinion about the latest basketball phenom, Luka Doncic, in an interview with NBA Cafe Barcelona. His bold statement, "I think he's maybe the best 20-year-old the NBA has ever seen," was not taken lightly.

Steve Nash's incredible NBA career
Who is Steve Nash, and why should anybody care what he has to say about Luka Doncic? Because Steve Nash's long career in basketball was nothing less than stellar. 

His always graceful and composed talent as a point guard, first for the Phoenix Suns and later for the Dallas Mavericks, revolutionized point guard play for all times. He was the often underrated star of the show.
Nash is an eight-time NBA All-Star and was named NBA Most Valuable Player twice in his career, the first Canadian ever to win the award. In 2005, he won Canada's prestigious Lou Marsh Trophy as the country's top athlete. 

Nash announced his retirement in 2015 while he was playing for the Los Angeles Lakers. He left with the highest free-throw percentage in the history of the NBA. In 2018, he entered the Naismith Memorial Basketball Hall of Fame.

Is Luka Doncic as good as Nash says he is?
The simple answer, as Steve Nash insists, is yes, though a recent ankle injury has temporarily taken him out of the game. 

Luka Doncic signed his rookie contract with the Dallas Mavericks soon after being drafted in 2018. When he made his regular-season debut that October, he handily recorded 10 points, eight rebounds, and four assists in a substantial win over the Phoenix Suns. He soon became the youngest 20-point scorer in the team's history.

Doncic's sophomore season started just as impressive. He helped lead the Mavericks to the number four spot in the Western Conference standings and a stunning 15-6 record. Doncic has already broken a lot of records reaching significant milestones and deemed one of the fastest basketball players in the sport. There is no doubt that he is a rising star.

Doncic is already being compared to the sport's greatest athletes. He has already statistically bypassed legends such as Kobe Bryant, Kevin Garnett, and LeBron James in his young career. Doncic has more assists than LeBron, more points than Kobe, and more rebounds than KG. His bright future in basketball seems destined to place him easily among the best in the sport.

What about the other basketball superstars?
Steve Nash's statements about Luka Doncic may have ruffled a few feathers, especially among the diehard LeBron James and Michael Jordan fans. It didn't stop Nash from pointing out that basketball isn't just about athletic ability but also about finesse and control. When asked about LeBron, Nash said, "The game's a little different than when LeBron came in the league. The numbers are a little inflated because of the pace and the hand check. But still. I don't think LeBron was so gifted, but I don't think he was as polished as Luka at 20." Bold words, indeed.

Some think Luka Doncic may end up being the best basketball player ever. He has already tied or broken the records of many the greats at the same age. Doncic is currently fourth in scoring in the NBA, with an average of 29.5 points per game. That surpasses the averages of Magic Johnson, LeBron James, and Larry Bird in their second seasons. Jerry West is the only player to have scored more. Doncic's idol, LeBron James, has taken notice. He publicly praised Doncic for his talent, and it doesn't get any better than that.

"I don't think [the NBA game] is intimidating to him," LeBron said of Doncic. "I don't think this game is something he hasn't seen before."

Doncic is also gaining the edge in shooting percentage, assists, and rebounds where he is averaging 10.7 rebounds per game. Only Larry Bird has outperformed with an average of 10.9 rebounds per game at a similar stage of his NBA career. 

There is still a long way to go, of course, but it seems Luka Doncic may be the next NBA phenomenon. Steve Nash apparently thinks so. "He's phenomenal. Just an incredible basketball player." It is a lot to live up to. Doncic may be up to the task after all.