Super Bowl Champ Warren Sapp Once Gave World Series Champ Johnny Damon a Concussion
One wouldn't think Tampa Bay Buccaneers legend and Super Bowl champion Warren Sapp and two-time World Series champion Johnny Damon would really be connected — well, outside of both winning titles in their respective sports anyway — but the two actually did share a moment together back in high school that Damon might want to forget — if he didn't right after it happened.
Warren Sapp was a multi-sport star in high school before winning championships in college and the NFL
Born in Orlando, Florida, Warren Sapp grew up in nearby Plymouth and attended Apopka High School, where he was a multi-sport star. Besides starring on the football team as a linebacker, tight end, punter, and placekicker (yes, Warren Sapp was once a kicker), he also starred for the basketball team as a power forward.
Sapp then took his talents to South Beach and played his college football for the Miami Hurricanes, with whom he won a national title and racked up numerous awards before embarking on an NFL career. Drafted by Buccaneers in the first round of the 1995 draft, Sapp played nine seasons in Tampa, where he was a seven-time Pro Bowl selection and a six-time All-Pro (four First-Team, two Second-Team).
He was named NFL Defensive Player of the Year and helped the Bucs to their first Super Bowl title following the 2002 season. Sapp played his final four seasons for the Oakland Raiders, retiring after the 2007 season, and ended his Hall of Fame career with 578 tackles, 96.5 sacks, and four interceptions.
Johnny Damon was also a multi-sport star in high school before winning two World Series titles
Johnny Damon was born on an military base in Kansas but moved around quite a bit growing up as his father was a staff sergeant in the U.S. Army. The family eventually settled in the Orlando area and, like Warren Sapp had done at Apopka High, Damon played multiple sports at Dr. Phillips High School. He was obviously a baseball star but also ran track and played football.
Upon graduation, he was selected by the Kansas City Royals in the first round of the 1992 MLB draft and made his big-league debut in 1995. Damon played six seasons in Kansas City and one year in Oakland (the season right before the "Moneyball" year) before signing a big-money contract with the Boston Red Sox, with whom he was a two-time All-Star and won his first World Series.
In 2006, Damon signed another big-money deal, only this time it was for the New York Yankees, with whom he won another World Series in 2009. He bounced around the final few years of his career, playing a season each for the Tigers, Rays, and Indians.
Warren Sapp gave Johnny Damon a concussion during a high school football game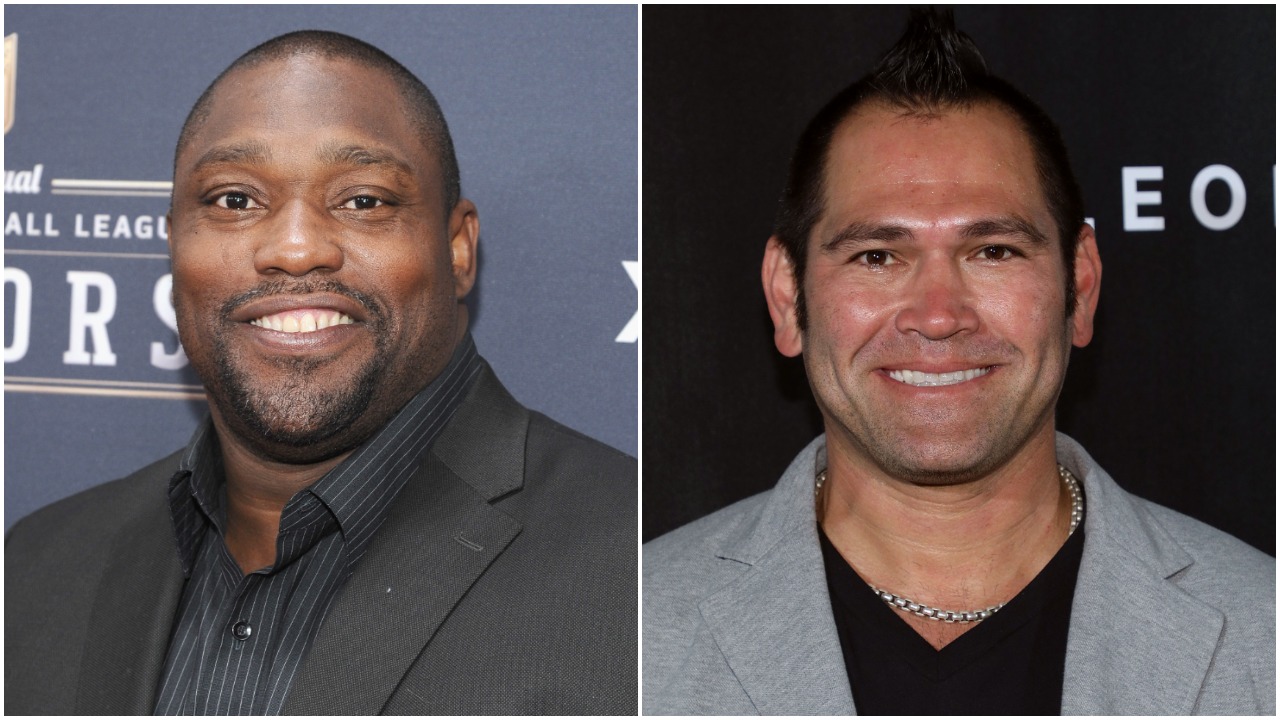 So you remember how we just mentioned that Johnny Damon played football in high school? So that's where his big interaction with Warren Sapp took place.
As we're sure you noticed, both Sapp and Damon went to high school in the Orlando area. On one Friday night, Apopka High and Dr. Phillips High matched up on the gridiron and Sapp put a massive hit on Damon, giving him the first concussion of his sports career, which Damon once discussed to the New York Times.
"In that situation, I was dazed for a minute and I don't remember how the rest of the game finished, like the next 20 minutes or so."

Johnny Damon on taking a hit from Warren Sapp in high school
So there you have it.
Stats courtesy of Sports Reference