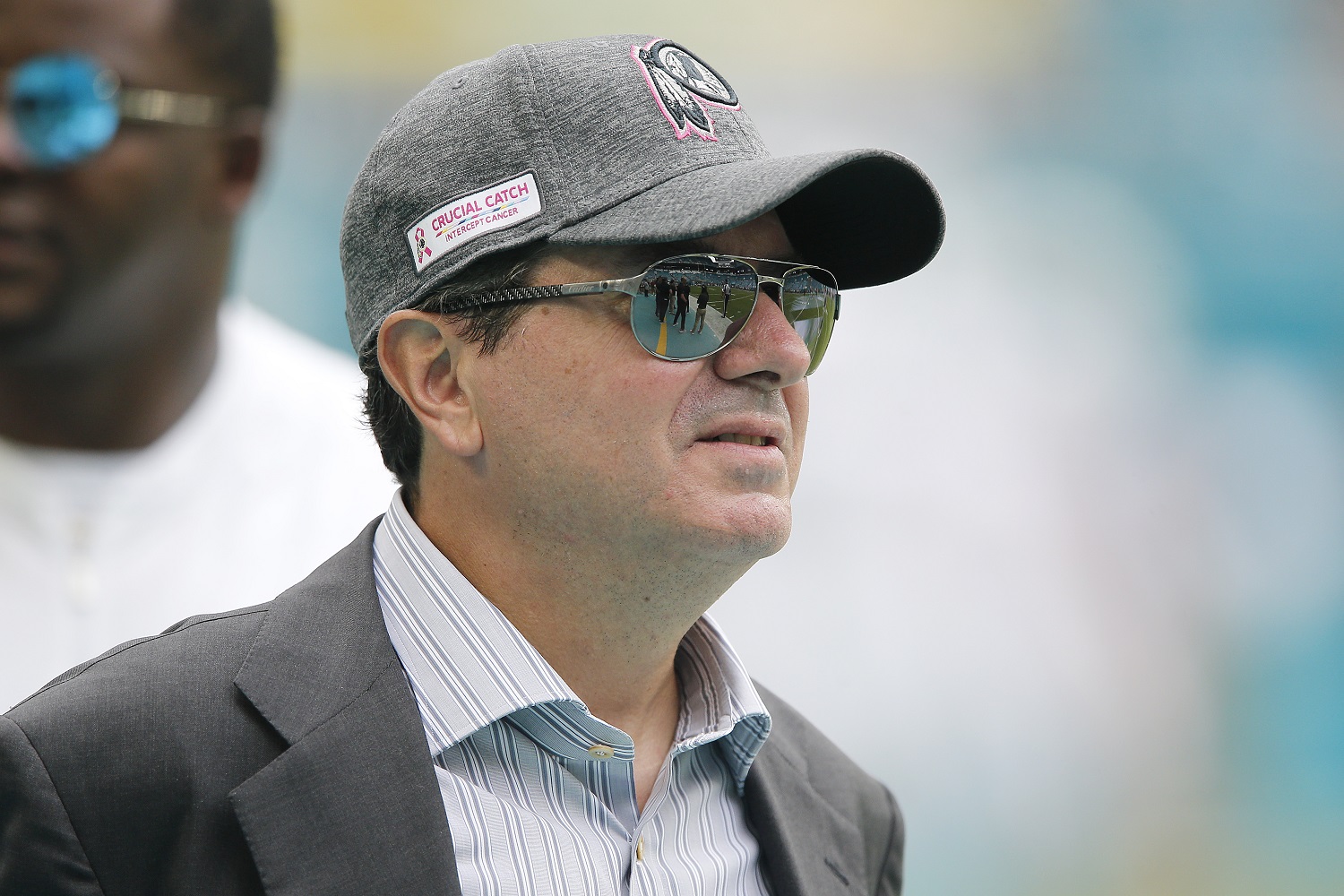 Take Jerry Jones Over Daniel Snyder in an NFL Yacht Race
Fired coach Jay Gruden has accused Washington Football Team owner Daniel Snyder of stepping off his yacht and into the draft room to meddle.
Owning a yacht may confirm that an NFL owner is rich, but it's not a gauge of his ability to put together a winning football team. Dallas Cowboys czar Jerry Jones has a dismal record of late in that department, but Washington Football Team counterpart Daniel Snyder is worse, according to former coach Jay Gruden.
Granted, they came long ago, but at least Jones has three Super Bowl rings during his time as an owner. Snyder's teams have never been to the big game in his 22 years as the owner.
The NFL boys like their toys
Aside from being a sound investment, ownership of an NFL team is a status symbol. There are only 32 franchises, and plenty of people on the outside would like to own one but don't possess nearly enough coin. There are a lot more than just 32 high-end yachts sailing the world's seas, and NFL owners like those, too.
Forbes highlighted a few of those luxury rides in April 2019 after their NFL list grew longer. Jerry Jones of the Dallas Cowboys already owned a 357-foot yacht carrying a $250 million price tag. With its spa, gym, and two helipads, the Bravo Eugenia is an even more imposing craft than the 312-foot craft belonging to Shahid Khan, owner of the Jacksonville Jaguars.
And then Daniel Snyder of the Washington Football Team came along with his 305-foot yacht built in the Netherlands. Though technically smaller than the yachts owned by some of his fellow owners, Snyder introduced a novel touch: the world's first onboard IMAX theater, a 12-seat, two-deck tall add-on costing $3 million.
The Guardian reported that the theater required substantial design changes to block out engine noise, a requirement to receive certification from IMAX.
The upgrade from a 224-foot beast that Snyder bought in 2011, the Lady S also features a helipad, athletic facilities, and four VIP suites.
Jay Gruden takes a shot at Daniel Snyder
Washington Football Team owner Daniel Snyder fired Jay Gruden in 2019 following a 35-49-1 record in five-plus seasons, and it appears that the former coach has collected all the money due him. The conjecture is based upon his willingness to unload on Snyder recently.
In an interview with the Washington Post regarding executive Kyle Smith, who recently left for the Atlanta Falcons, Gruden accused Snyder of meddling in the team's draft process. It was clearly regarding Dwayne Haskins, a first-round quarterback cut late in his second season.
"(Smith) was really good about listening to the coaches because the coaches also did evaluations," Gruden said. "When it came our time to pick, we'd always talk about the picks, where we'd like to go, what happens if (the projected player) is gone, and did all our scenarios. And then (Snyder) would come in off his yacht and make the pick."
Smith rose through the ranks to become Washington's vice president of player personnel. A review of the team's drafts with him in charge points to Smith having an impressive eye for talent. With his lack of a football background beyond owning the team, it's doubtful Snyder has much to do with the successes.
Jerry Jones conducted the 2020 NFL draft from his yacht
If Daniel Snyder did foist Dwayne Haskins upon his coaching staff after coming in off his yacht in 2019, then he didn't deserve to see his team slip past the Dallas Cowboys for the 2020 NFC East division title. That's because Jerry Jones literally conducted his entire 2020 NFL draft operation from his own yacht and appears to have done decent work.
The NFL conducted last spring's draft remotely because of the pandemic. In a draft loaded with wide receivers, Jones looked pretty good by grabbing CeeDee Lamb (74 catches for 935 yards) with the 17th pick of the first round. Second-round cornerback Trevon Diggs was a full-time starter, and third-round defensive tackle Neville Gallimore cracked the lineup at midseason.
With center Travis Frederick abruptly retiring a month before the draft, Tyler Biadasz stepped in to start before a midseason hamstring injury. And, of course, seventh round quarterback Ben DiNucci made it onto the field following the injuries to Dak Prescott and Andy Dalton.
Like Sportscasting on Facebook. Follow us on Twitter @sportscasting19.