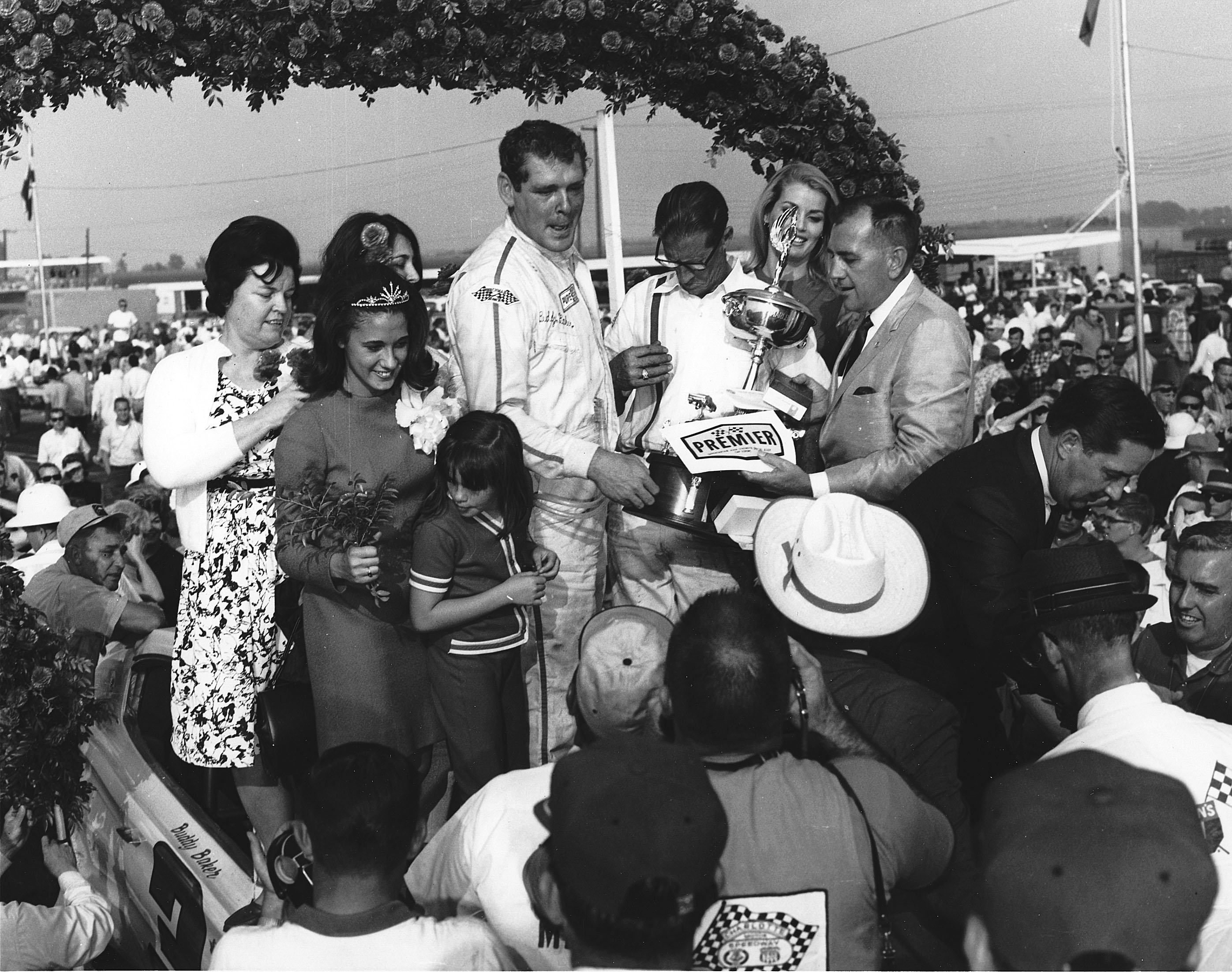 Who Is the Tallest NASCAR Driver in History?
The tallest NASCAR driver in history was 6-foot-6. Who was he?
You don't see a whole lot of giants suiting up and driving in those Sunday afternoon NASCAR races. It tough for those big guys to squeeze into those cars and ride for hours so there aren't a whole lot of basketball-player-sized drivers in the motorsports world. There was, however, a very successful 'Gentle Giant' who made quite a career for himself as a professional driver.
Height doesn't mean a thing when it comes to NASCAR
NASCAR isn't like any other sport. Being a physical specimen isn't going to give you an advantage over another competitor. In fact, being too big or too tall may even be a hindrance. Rex White, a 5-foot-4, 135-pound racer, proved being small in stature can get you to the pinnacle of the sport.
White, 90, is the shortest champion in NASCAR history. He won the NASCAR Grand National Series Championship in 1960. White was named one of NASCAR's 50 Greatest Drivers in 1998 and was inducted into the NASCAR Hall of Fame in 2015. During his induction ceremony, White addressed his height issue.
White said he never saw any disadvantage because of his lack of size. "I really wasn't built or had the size for fighting, so I kind of avoided any physical contact with any drivers," White said, according to NASCAR.com. "In the race car, though, I was probably about the same height as all of them."
Buddy Baker is the tallest NASCAR driver of all time
While Rex White showed he can be successful in NASCAR as he was the shortest champion in the sport's history, Buddy Baker proved you can win as a big guy as well. Baker, at 6-foot-6, is the tallest racer in NASCAR history, according to ESPN. He had a lot of comparisons to White despite the 14-inch difference in height.
Baker was also named one of NASCAR's 50 Greatest Drivers in 1998 and he, too, is a member of the NASCAR Hall of Fame. Baker was inducted into the Hall in 2020. He ran 700 Cup Series races over a 33-year career and finished with 19 victories and 311 top-10 finishes.
Known as the Gentle Giant, Baker seemed to save his best for the biggest races. He was the 1980 winner of the Daytona 500. Of his 19 career victories, four came at Talladega, four at Charlotte, and two each at Daytona and Darlington, according to NASCAR.com.
Baker isn't the only successful tall NASCAR driver
Buddy Baker wasn't the only NASCAR driver well over six-feet tall to have a successful racing career. Baker, who died in August of 2015 at 74, ran his last race in 1983. Two years after that, another NASCAR driver well above the six-foot mark began his successful career.
Michael Waltrip, 6-foot-5 and 210 pounds, began his Cup Series career in 1985 that spanned 33 years. Waltrip ran 784 races during that stretch. He won four times and had 133 top-10 finishes.
Waltrip is the younger brother of three-time champ Darrell Waltrip. Michael Waltrip was the winner of the 2001 Daytona 500 when Dale Earnhardt was tragically killed. Waltrip also came back to win the Daytona 500 again in 2003.