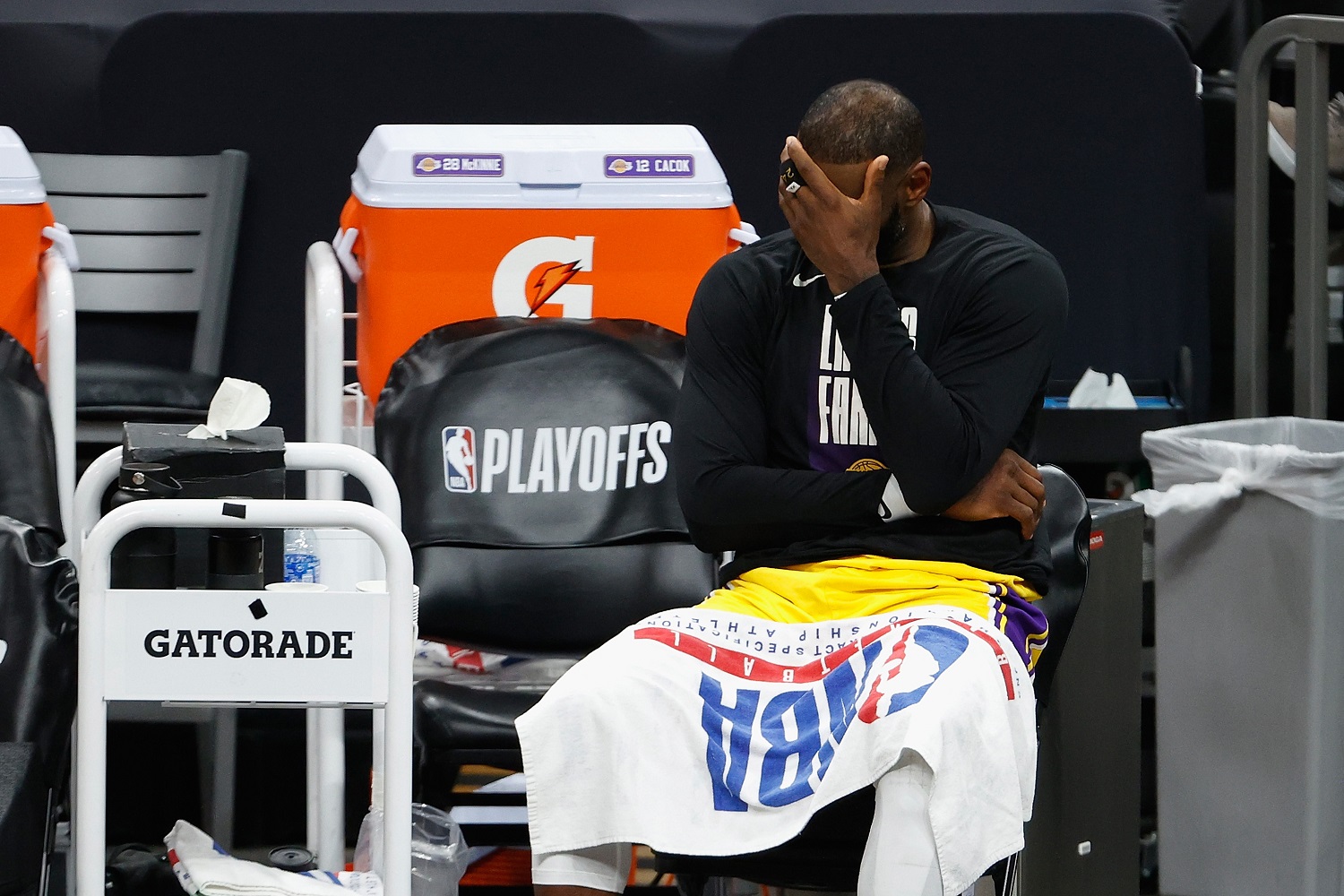 Telling LeBron James To Retire Isn't as Crazy as It Sounds
Prospects of LeBron James winning a fifth NBA championship appear dismal, which raises the question of whether he should be contemplating retirement.
The time is right for LeBron James to clean out his locker and retire. Sounds crazy, right? Actually, the real insanity is thinking that the Los Angeles Lakers can improve enough for James to earn the two more NBA championships he needs to match Michael Jordan.
It ain't happening. Unless his motivation is to stick around long enough to play alongside his son, all James can accomplish the next couple of seasons is to pad statistics that already hold up just fine against other legends.
The LA Lakers and LeBron James face a tricky offseason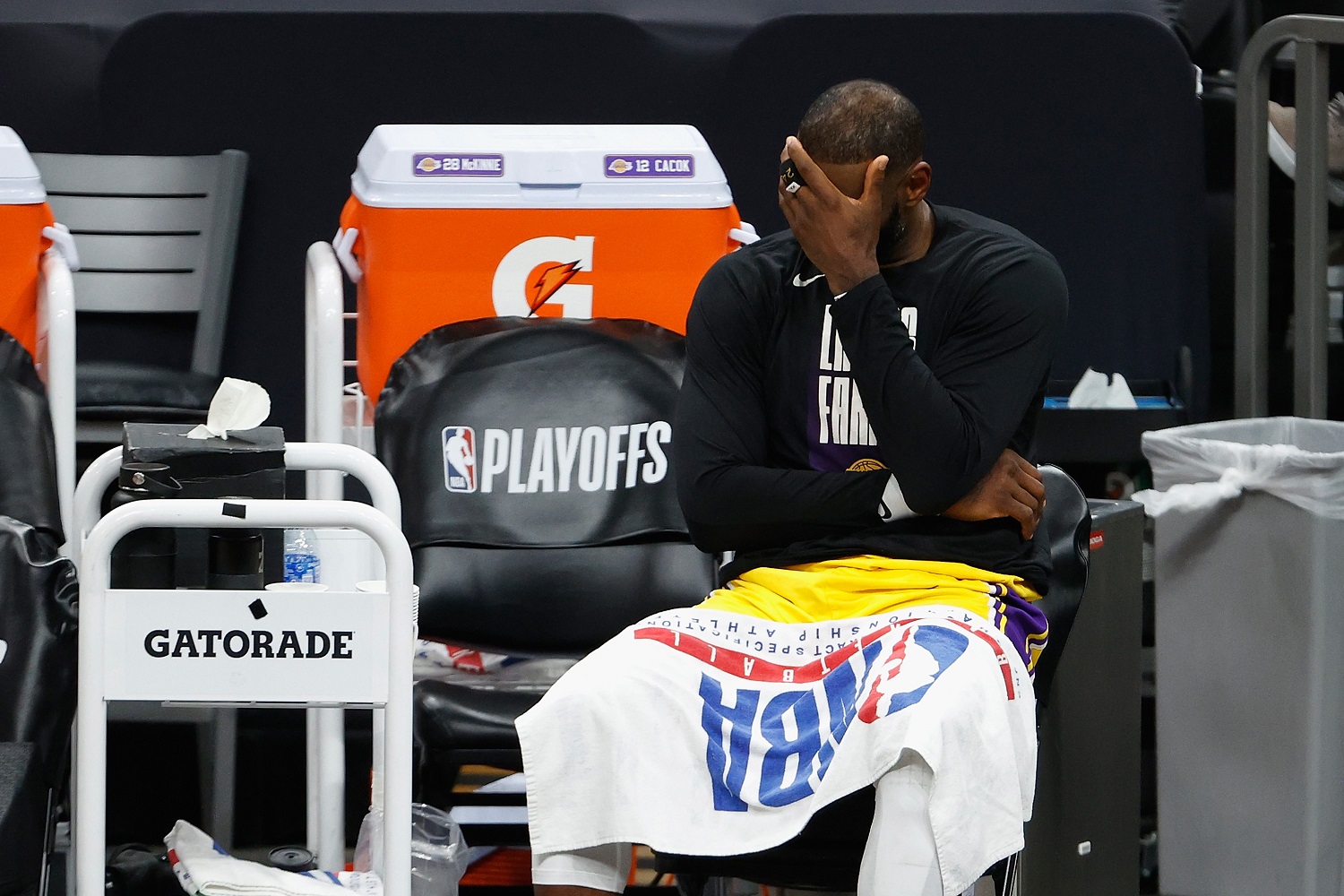 Never, ever contemplate your future immediately after a season-ending loss – and definitely don't say what you're thinking out loud. Aaron Rodgers made that mistake after the NFC Championship game and has been entangled in drama for since.
There are no indications that James will make the same mistake in the aftermath of the Phoenix Suns eliminating the Lakers in the Western Conference quarterfinals. However, the same cannot be said of the Lakers and guard Dennis Schroder as they contemplate their future together.
Schroder reportedly turned down a four-year, $84 million extension before the season, did not play particularly well against the Suns, and is a free agent. A vibe existed for much of the season that Schroder intended to leave, but now the Lakers might be feeling like the party looking to opt-out.
It's a bad situation for everybody: LA is unlikely to find a sign-and-trade partner that brings Schroder the kind of money that looked within reach in December. Even if that materializes, the Lakers are so far over the salary cap that they can't import a comparable replacement. Worse yet, CBS Sports points out the Lakers can potentially lose guards Alex Caruso, Wesley Matthews, and Talen Horton-Tucker to free agency, too.
It's hard to believe the Lakers' future looks so murky just one season removed from an NBA championship.
James has nothing left to accomplish beyond winning titles
The Schroder situation highlights James' dilemma. He's getting older, and the possibility of the Lakers losing more talent in free agency than they acquire through signings and the NBA draft only makes the situation worse.
That doesn't even begin to factor in how James missed 27 games this season and Anthony Davis 36. The Lakers have reason to wonder about the durability of their two most crucial pieces.
If he wants to stick around – and there's no indication whatsoever that he won't – James should pass Karl Malone for the No. 2 spot on the NBA's career scoring list next season and very likely eclipse all-time leader Kareem Abdul-Jabbar the following year.
Is that reason enough to wait for the possibility of playing alongside son Bronny, who's hardly a sure bet to make it to the world's most demanding basketball league? With or without a record point total, James is a better player than Abdul-Jabbar or Malone were.
Don't laugh at Channing Frye telling him to retire
Channing Frye played 13 NBA seasons, including three alongside James in his second tour with the Cleveland Cavaliers. He was tweeting during Game 6 of the Lakers-Suns series when he pitched the idea of James retiring.
"Who are the Lakers bringing in or trading for that can put him over the top?" Frye asked, according to Larry Brown Sports. "Have you seen the free agents? There's nobody."
Frye expanded upon his remarks during a Talkin' Blazers podcast, saying James' only real hope for a fifth championship is if GM Rob Pelinka somehow lands a player even better than the 18-year veteran.
"(James) can be your facilitator, your guy. You cannot rely on him to give you 50," Frye said, according to NBC Sports. "You cannot rely on him to give you these crazy triple-doubles. He's just had too many miles. The tread is almost off the tire.
"So, if Rob cannot bring him a championship team, Bron, in my opinion, should say, 'Thank you. I had a great career, 18, 19 years in the league … I'm going to retire on top."
Like Sportscasting on Facebook. Follow us on Twitter @sportscasting19.