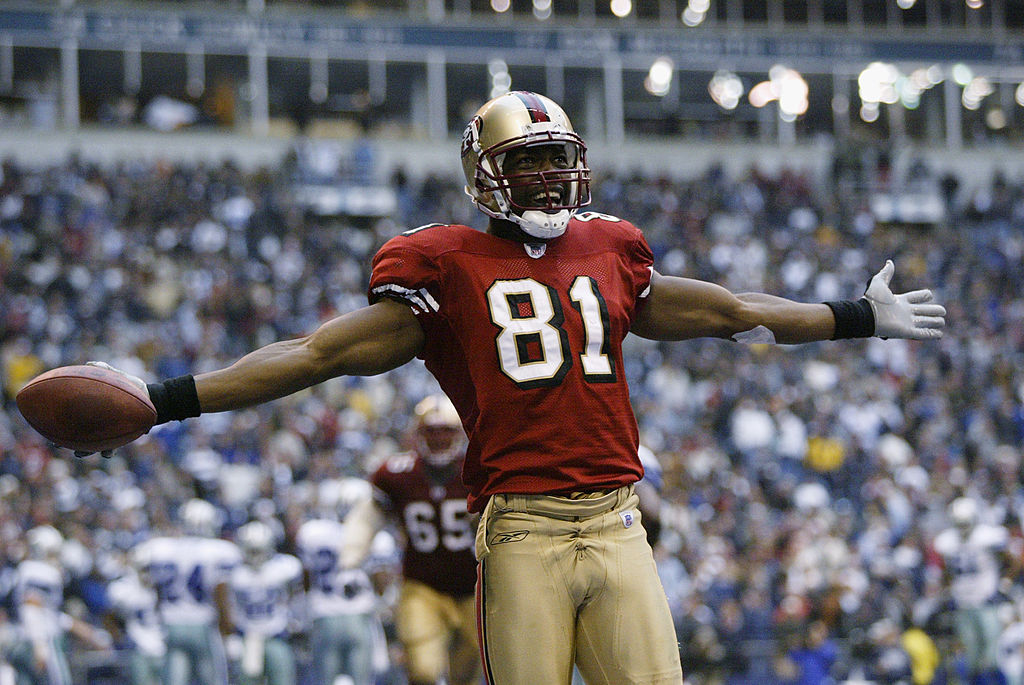 Terrell Owens Believes That 'Systemic Racism' Cost Him His NFL Career, Not Unlike Colin Kaepernick
While Terrell Owens spent 15 seasons in the NFL, he believes his professional football career was cut short by systemic racism.
When you think of game-changing wide receivers, Terrell Owens should be near the top of your list. While plenty of NFL players are fun to watch, T.O. brought things to the next level. During his pro career, you could count on two things: the wideout would score plenty of touchdowns, and he'd have something special planned to celebrate reaching the end zone.
Owens, however, believes that he could have spent even more time in the NFL ranks. According to the receiver, "systemic racism" cost him his career.
Terrell Owens' iconic NFL career
During his time in the NFL, Terrell Owens developed into one of the most exciting receivers in modern football. Coming out of college, however, T.O. was virtually unknown.
Owens played his college ball at the University of Tennessee, Chattanooga, where he also ran track and played basketball. While his stats were solid, if unremarkable, no NFL team was jumping at the chance to pick a receiver from a losing, FCS-level program. The San Francisco 49ers, however, took a chance and selected Owens in the third round of the 1996 NFL draft.
With the Niners, Owens developed into a game-changing receiver, piling up 1,000-yard seasons with relative ease. Despite that individual success, though, the receiver wasn't happy in San Francisco. The 49ers eventually started to decline on the field, and, in 2004, T.O got his wish and joined the Philadelphia Eagles.
From then on, Owens' career would settle into a familiar routine. The receiver would join his new team and immediately make an impact, but wore out his welcome in a few years. At that point, he'd leave town and try it all again. That happened in both Philadelphia and Dallas; T.O also two individual seasons with the Buffalo Bills and Cincinnati Bengals, respectively.
While Owens might have given general managers and coaches headaches, it's impossible to argue with his talent. The receiver piled up 15,934 yards and 153 touchdowns during his 15 professional seasons; he earned a place in the Pro Football Hall of Fame in 2018, even if he didn't head to Canton.
T.O says 'systemic racism' prematurely ended his NFL career
In the wake of George Floyd's death, Colin Kaepernick's protest and issues of race in sports have come back to the forefront. Terrell Owens recently spoke out, saying Kaepernick wasn't the only 49er to be blackballed by the NFL.
"I could've still continued to play, but because I was outspoken, because of who I was, I wasn't allowed the opportunity," Owens told TMZ Sports. "Because I was outspoken. Because of who I was and because of some of the coaches that said things behind closed doors and got in the ears of these owners, that's why I wasn't able to really continue on with my career."
While Owens didn't get too far into the specifics, he did name one particular name: Steve Mariucci, who coached the 49ers from 1997 through 2002.
"To me, that was systemic racism," Owens continued. "I experienced it when I was in San Francisco under coach Mariucci. I experienced it. Trust me, I experienced it."
Terrell Owens was probably on his way out of the NFL, but he does have a point about racism in sports
Before going any further, it's important to consider how Terrell Owen's NFL career came to an end. The receiver spent the 2010 season with the Cincinnati Bengals, posting 983 yards and nine touchdowns before his release at the end of the year. He then tore his ACL in the spring and, barring a month with the Seattle Seahawks in 2012, never landed another NFL job.
While it's tough to look at that situation and conclude Owens had to have been blackballed—he was nearing 40, coming off a serious injury, and had done some legitimately done some hurtful things to his teammates in the past—the receiver did raise a good point with TMZ.
"There's a lot of media that portray me a certain way to where now even people think I'm this bad person," Owens said. "That I'm a character, I'm selfish, all these things. But, at the end of the day, I knew who I was, and I just kept moving forward."
Again, there were some situations in which Owens was genuinely in the wrong. At the same time, though, it is worth considering who gets branded as a distraction and who doesn't. When someone like Baker Mayfield, for example, says he "woke up feeling pretty dangerous," Twitter holds it up as "swag" or star power. Similarly, Tom Brady yelling at his teammates is viewed as leadership. When someone like Odell Beckham Jr., however, breaks out a questionable touchdown celebration or gets emotional on the sidelines, he's a distraction. Those narratives may seem like minor details, but they can shape a player's career
Even if the NFL owners didn't actively blackball Terrell Owens, the receiver does make an excellent point about how race can shape the narrative. Think about that next time you hear someone called a diva or a distraction.
Stats courtesy of Pro-Football-Reference