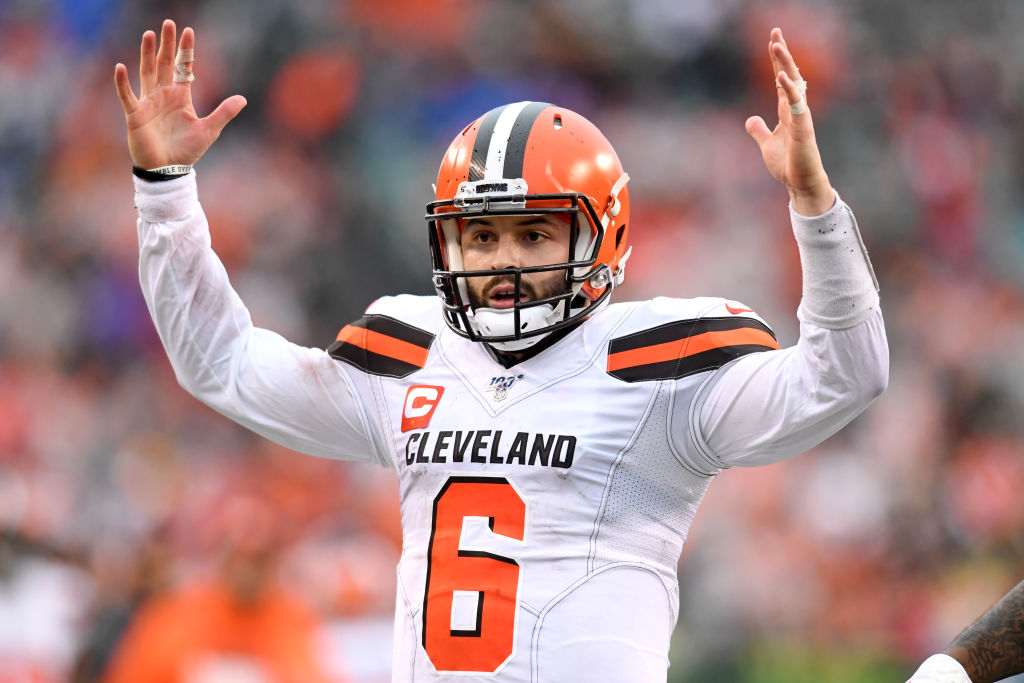 Cleveland Browns QB Baker Mayfield Hasn't Become an NFL Star, but He's Already Built Up an Impressive Net Worth
Whether you think Baker Mayfield is a bust or a star in the making, there's no arguing with the Cleveland Browns quarterback's net worth.
When it comes to the quarterback position, it seems like the Cleveland Browns are cursed. Try as they might, the organization simply can't seem to find a solid signal-caller. Baker Mayfield was supposed to break that trend, but he hasn't exactly lit the world on fire since stepping under center. That reality, however, hasn't hurt the NFL quarterback's bottom line.
Through his first two seasons in the professional ranks, Baker Mayfield hasn't developed into the star that Cleveland Browns fans envisioned when he left Oklahoma. Despite that reality, though, the young quarterback has already built up an impressive net worth.
Baker Mayfield's road to the NFL
These days, you'll find Baker Mayfield plying his trade with the Cleveland Browns. His football career, however, started a bit further south.
After playing high school ball in the Lone Star State, Mayfield enrolled at Texas Tech. He walked onto the football team and seemed destined to serve as the Red Raiders' backup, but found himself starting after Michael Brewer went down injured. Mayfield ended up throwing for 2,315 yards and 12 touchdowns before suffering an injury of his own.
Despite that success, though, everything wasn't happy in Texas, and Mayfield decided to transfer to the University of Oklahoma. After sitting out the 2014 campaign, the quarterback stepped back under center and picked up where he had left off. He improved with each passing season finishing his college career with a total of 14,607 passing yards, 131 touchdowns, and the 2017 Heisman Trophy.
On the back of that college career, Mayfield seemed like a can't miss quarterback prospect. The Cleveland Browns, it seems, agreed with that assessment and made him the first-overall pick of the 2018 NFL draft.
Showing talent but lacking consistency at the pro level
When the Cleveland Browns made Baker Mayfield the first-overall pick, they probably envisioned him developing into a franchise quarterback, capable of leading them to the promised land. While he has shown plenty of potential, the young signal-caller hasn't put everything together yet.
When the 2018 NFL season began, however, Tyrod Taylor, not Mayfield, was the Browns starting quarterback. That all changed after an injury in Week 3, though, and the rookie immediately made up for lost time. Mayfield ended up starting the Browns last 13 games that year; while he only went 6-7, he threw for 3,725 yards and 27 touchdowns. It seemed like Cleveland finally had broken the quarterback curse.
The 2019 season, however, didn't go as smoothly. While the Browns landed Odell Beckham Jr. and seemed like a trendy pick to win the AFC North, both the club and their quarterback struggled. Mayfield threw more passes, but his major statistics barely improved; he finished the year with 3,827 passing yards, 22 touchdowns, and 21 interceptions. Cleveland limped to a 6-10 finish, and their quarterback verbally sparred with reporters, changed his fiddled with his facial hair, and complained about officiating along the way.
Star or bust, how much is Baker Mayfield worth?
Based on his first two professional seasons, 2020 should be a big year for Baker Mayfield. Will his talent shine through? Or will he continue to struggle, drifting closer to the dreaded "bust" label?
Regardless of what happens on the field, though, the quarterback is already in a strong financial position. According to Spotrac's financial data, Mayfield has already earned more than $24 million in NFL salary; the vast majority of that came in 2018, in the form of his signing bonus. CelebrityNetWorth also pegs the quarterback's fortune at an estimated $12 million.
Only time will tell if Baker Mayfield can be the Cleveland Browns' long-awaited savior, or he'll simply be another name added to the franchise's list of failed quarterbacks. No matter what happens in 2020, though, the young quarterback already has plenty of money in the bank.
Stats courtesy of Sports-Reference and Pro-Football-Reference