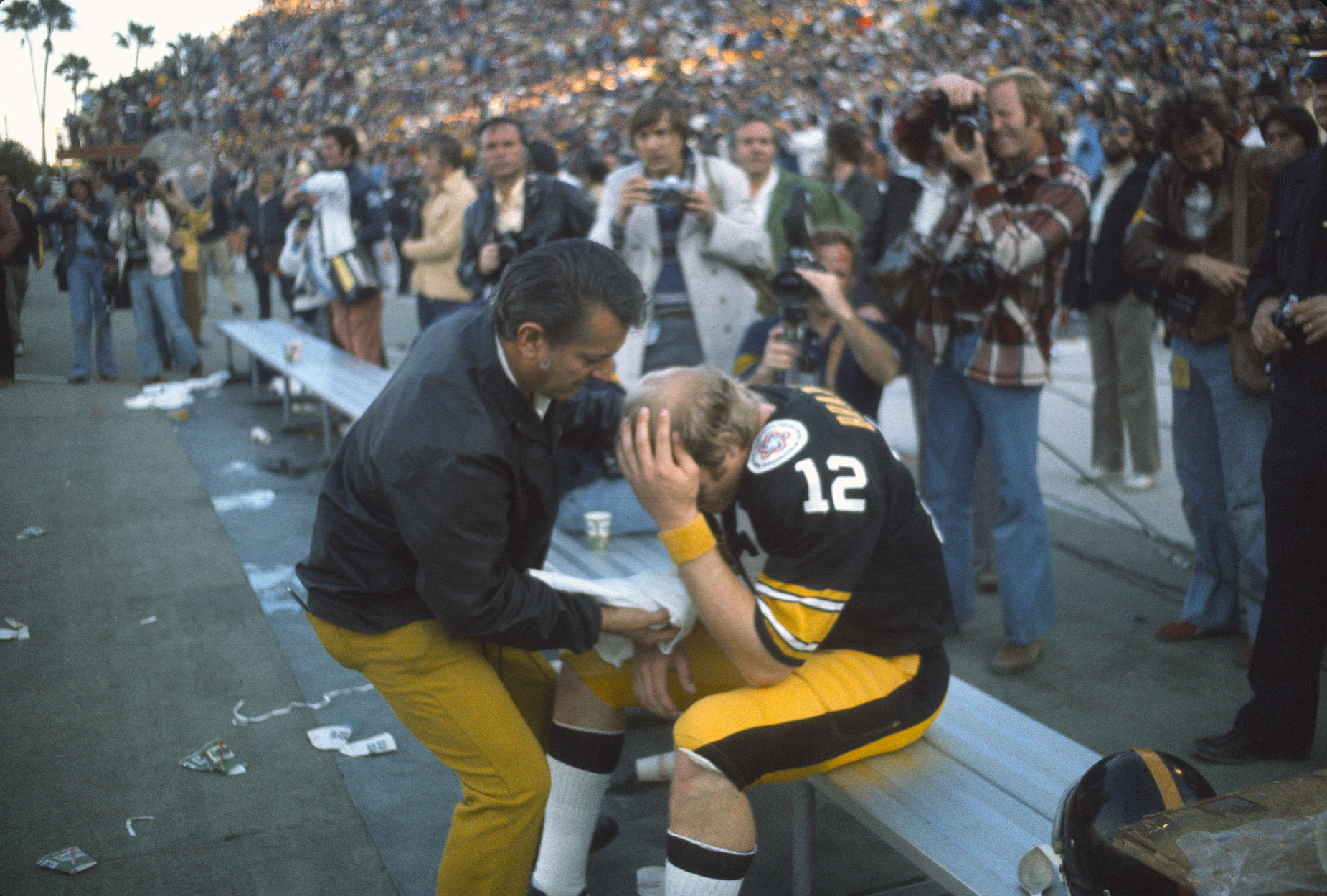 Terry Bradshaw Should Have Considered His Own Past Before Taking a Shot at Aaron Rodgers
Before Terry Bradshaw ripped Aaron Rodgers, he should have considered his own past.
With Deshaun Watson's trade request placed firmly on the back burner, Aaron Rodgers has taken center stage for the latest piece of NFL offseason drama. It seems that the reigning MVP has finally had enough and wants out of Green Bay. That news, in turn, inspired Terry Bradshaw to rip the quarterback as "weak."
As a former NFL quarterback and current media member, Bradshaw is perfectly allowed to share his opinion on any and all football matters. Before taking shots at an unhappy quarterback, though, the Steelers legend should remember his own past.
Terry Bradshaw blasts Aaron Rodgers during a radio interview
Under normal circumstances, Bradshaw does most of his work on TV. The Fox analyst, however, recently took to the radio airwaves to rip a fellow quarterback.
Bradshaw appeared on WFAN's Moose and Maggie and didn't pull any punches about Rodgers, who, at least according to reports, doesn't want to return to the Packers unless the organization makes some changes. "With him being that upset shows me how weak he is," Bradshaw said.
In the former Steelers' mind, Rodgers shouldn't be concerned that Green Bay drafted another quarterback last year. Competition, for better or worse, is part of professional football.
"Who the hell cares who you draft? I meant, he's a three-time MVP in the league, and he's worried about this guy they drafted last year at number one," the Fox analyst continued. "And for him to be upset, my God, I don't understand that."
Terry Bradshaw should remember his own past as an unhappy player
As mentioned above, Bradshaw is well within his rights to share his opinion about Rodgers and his apparent unhappiness in Green Bay. The former Steeler, however, probably should have thought back to his own past before taking a shot at another player.
Although the Blonde Bomber found plenty of success in Pittsburgh, he didn't always have the happiest time with the Steel City. He and legendary Steelers coach Chuck Noll rarely saw eye-to-eye, leaving the quarterback feeling beaten down.
"I couldn't believe how cruel he [Noll] was," Bradshaw explained, according to a 1993 Baltimore Sun story. "You would think someone as smart as Chuck would be a better psychologist. But he beat me down so bad, I totally lost my confidence."
Bradshaw, of course, didn't go to the media and say that he didn't want to play for the Steelers anymore. If nothing else, that simply wasn't how things worked at the time; players didn't hold anywhere near the power they do today. There were some moments, however, when he wished he played for a different head coach.
"[Noll] grabbed me by the facemask and shook me. He ripped me in front of the whole team. I was the kind of guy who needed a pat on the back. Shouting at me only made things worse," Bradshaw continued. "Lots of times I wished I played for Bum Phillips, someone like that."
You could argue that Rodgers should do the same and show up to work regardless of his personal feelings. Based on his own experiences, though, Bradshaw should have at least some understanding of where the Packers star is coming from.
The Fox analyst is right about one part of the Aaron Rodgers saga, though
While Bradshaw could have used a bit more nuance while weighing in on the Rodgers situation, he did get one thing right. The Packers, not the quarterback, hold the cards here.
When asked how he'd handle Rogers, Bradshaw essentially said that he'd call the quarterback's bluff and dare him to retire if he's that unhappy. As of now, there's no reason to believe the Packers won't follow a similar course of action.
Cutting their franchise player is, if nothing else, a bad financial decision; trading Rodgers for any semblance of a reasonable return will also be impossible since everyone knows the quarterback wants out. If Rodgers wants to leave, he'll have to be the one who makes the call.
Whether you side with Bradshaw, agree with Rodgers, or sit somewhere in between, this entire saga is a good reminder of an overlooked part of professional sports. Athletes, even if they seem like superheroes on Sunday, are still human beings. Solving a problem isn't always as easy as rubbing some dirt on it and getting back to business.