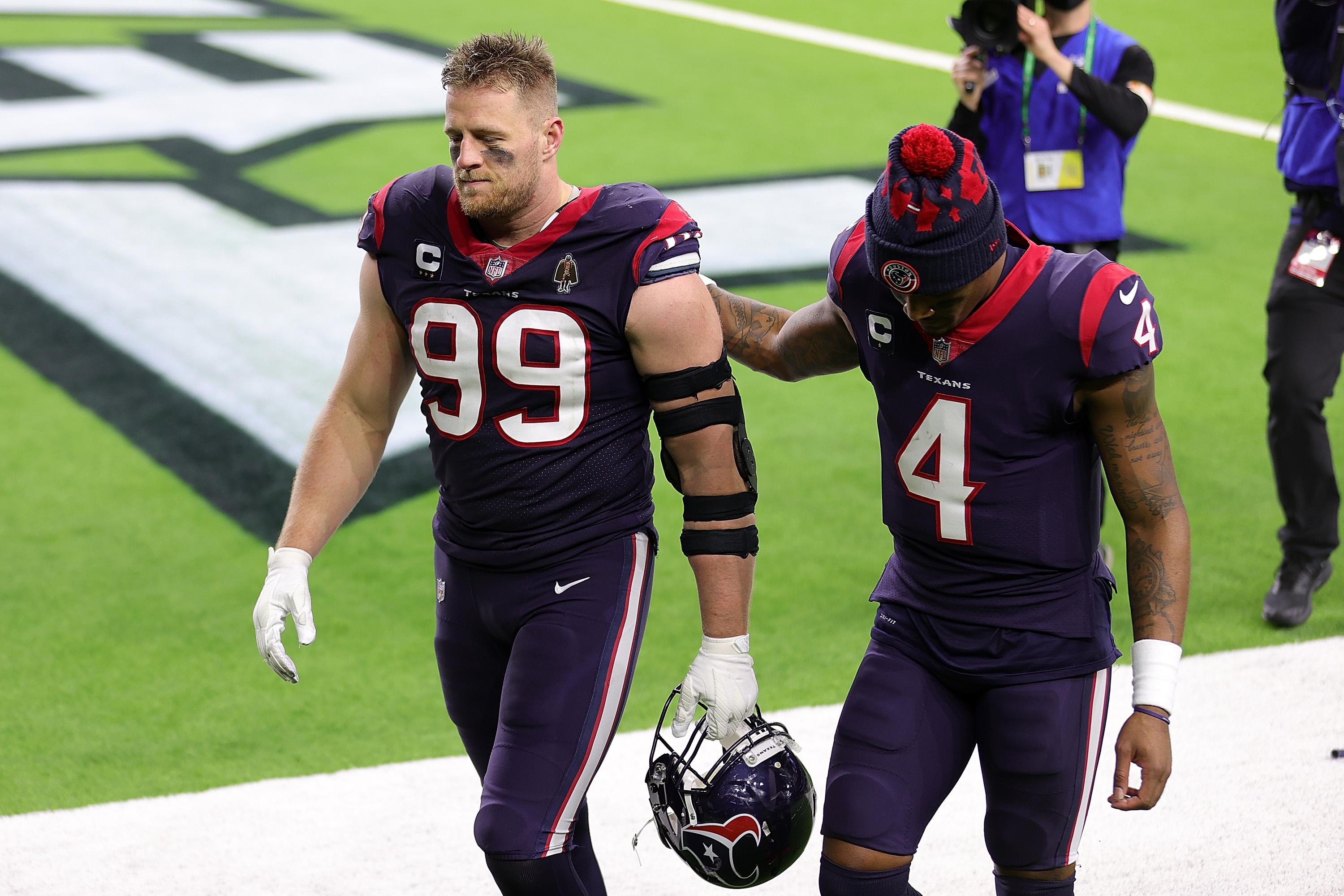 J.J. Watt Reportedly Blasted by Former Texans Coach
Former Houston Texans defensive end J.J. Watt was reportedly blasted by a former coach for being a selfish player.
He threw everyone a curve when he agreed to sign with the Arizona Cardinals on Monday. The Cardinals were a team that seemingly came out of nowhere as it appeared the Tennessee Titans, Green Bay Packers, and Buffalo Bills were the last three teams on J.J. Watt's wish list. One television sports director in Buffalo said he spoke to a former member of the Houston Texans coaching staff who blasted Watt, calling him "selfish."
J.J. Watt and the Houston Texans part ways
J.J. Watt had enough of what was going on in Houston. Watt, who will be entering his 11th NFL season in 2021, saw the writing on the wall. He's an oft-injured veteran trying to make the most of his remaining years in the league. He's not ready for a rebuild.
The Texans are a mess. They traded their best wide receiver in DeAndre Hopkins prior to last year. Their franchise quarterback, Deshaun Watson, has demanded a trade and insists he doesn't want to play for the team that drafted him in the first round in 2017.
Houston has just hired a new general manager and a new head coach. Watt doesn't have time for that and asked for his release. The Texans granted it and the two have parted ways.
Watt finds an unexpected new home with the Arizona Cardinals
J.J. Watt made the announcement himself on social media that he would be signing with the Arizona Cardinals. The Cardinals appeared to come out of nowhere to scoop up the free agent. Rumors had been swirling that Watt's wish list had been narrowed but the Cardinals never appeared to be in serious contention.
According to ESPN, a source told Adam Schefter Watt's deal is worth $31 million and includes $23 million guaranteed. Signing with the Cardinals reunites Watt with former Texans wideout DeAndre Hopkins. It also gets him back with Vance Joseph, the Cardinals' defensive coordinator, who was the Texans' defensive backs coach during Watt's first three years in the league.
The signing was somewhat of a stunner because the Cardinals don't appear to be a move away from being a Super Bowl contender. According to ESPN, the Cardinals remain the longest shot of the four teams to win the NFC West. Watt is coming off a season in which he started all 16 games and finished with five sacks. Twice in his career, Watt led the NFL in sacks with 20.5 and 17.5. He also had another season in 2014 when he had 20.5 sacks.
Watt reportedly bashed by former coach for being selfish
The Buffalo Bills were often mentioned as one of the top destinations for J.J. Watt. The Bills made it to the AFC title game and their future looks bright. Josh Reed, a sports director for WIVB TV in Buffalo, had a message for Bills fans, saying it might not be all that bad that Watt didn't wind up with the Bills.
On Twitter, Reed said he spoke with someone who was on the Texans coaching staff and didn't paint a great picture of Watt. "FWIW Bills fans: I spoke to someone who was on the Texans coaching staff with Watt and the review wasn't glowing," Reed tweeted. "'He's selfish, only cared about his stats,' 'he does a lot of things that hurts the defense,' 'he hurt us more than he helped us', and finally 'I wouldn't want him.'"
Watt's getting a new beginning in the NFL. The Bills aren't a part of it. According to Reed, that's something Bills fans shouldn't be too upset about.
All stats courtesy of Pro Football Reference.