The 10 Greatest NFL Fullbacks of All Time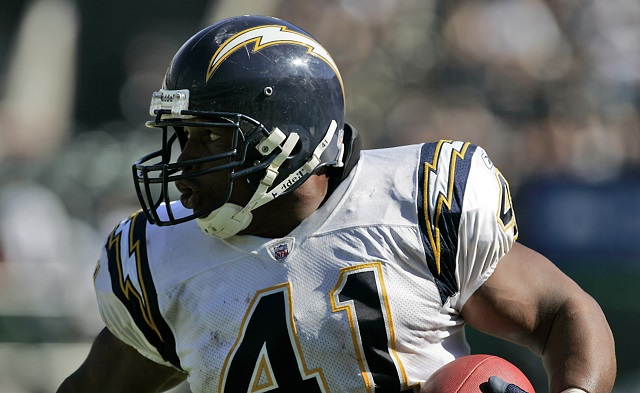 In the modern era, NFL fullback has emerged as one of the most thankless job titles in all of sport, arguably as obsolete as the VCR. The greatest NFL fullbacks of all time are all throwbacks to an era of American football fans that would barely be able to recognize today's pass-happy, shotgun spread league. Long gone are the days of the wishbone, split backs, and the Power I formation. The modern game of football has evolved into single back, four-wide-receiver sets, with a fullback often posted up on the bench, hat in hand.
Today's fan would actually describe the all-time great fullbacks as pure running backs: Jim Brown, Earl Campbell, and Jim Taylor. Categorizations for the greatest fullbacks of all time serve as testimony to how much this position has evolved.
At first, the fullback was the Smash half of the Smash and Dash equation. Old School Frozen Tundra rushing attacks paired a relatively swift fullback alongside a scat halfback to terrorize defenses. Eventually, the tall and graceful fullback gave way to the '70s and '80s burly bowling ball — that still had just enough gas to go the distance and take it to the house. In the 1990s, the NFL fullback lost his neck, but still kept his Middle America crew cut. These lunch pail brutes were happy to block at the point of attack, catch a bone out in the flat, and keep their respective mouths shut, as the ultimate team players.
Ranking the greatest NFL fullbacks of all time is less about stats, but more so about how these players matched up against the expectations of their respective eras. One last note: Tampa Bay Buccaneers Legend Mike Alstott deserves an honorable mention.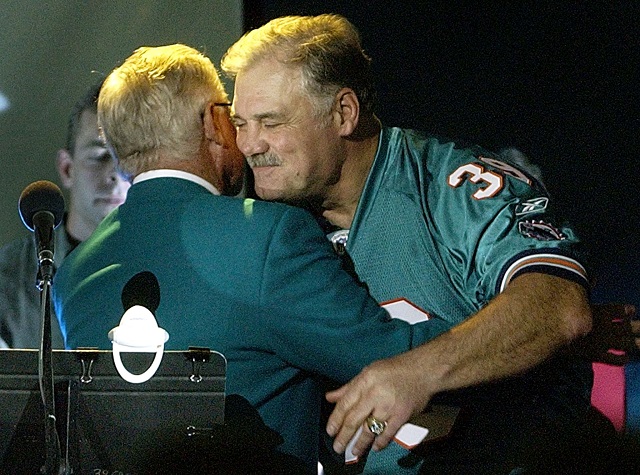 10. Larry Csonka
Larry Csonka was power football. At 6-foot-3 and 235 pounds, Csonka is an anomaly for modern day fans that associate Miami with pretty boy Dan Marino quarterbacking and South Beach linen suits. The '70s Dolphins, however, were a smash mouth outfit that combined the grit of Csonka and clutch passing of Bob Griese, alongside their dominant no-name defense to take home back-to-back Super Bowl trophies in 1972-1973. Csonka especially ran wild in Super Bowl VIII, when he gashed the Minnesota Vikings for 145 yards, 2 touchdowns, and one MVP award.
Csonka put together three consecutive 1,000-yard (14-game) seasons during the halcyon days of Miami Dolphin football in the early 1970s. Impressively, Csonka led the NFL with his 5.4 yards per carry average in 1971, which was basically unheard of for a big back. Csonka completed his 11-year career with 8,081 rushing yards.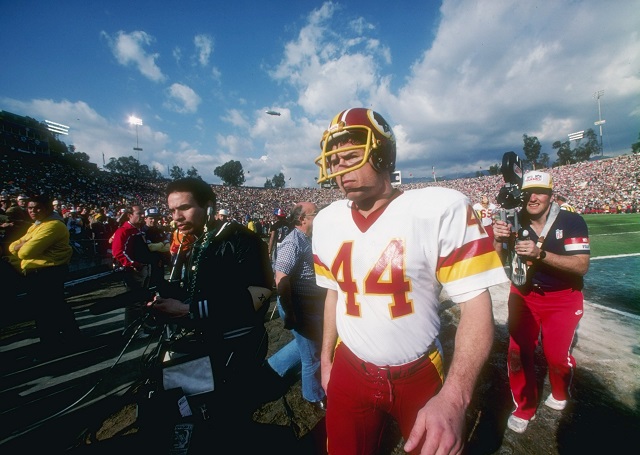 9. John Riggins
Riggo will forever be a Washington, D.C. legend, as he was recognized for his barreling runs, as much as he was for his playboy lifestyle. A toast of the town, John Riggins was the proverbial Good Ol' Boy in a pick up truck, who happened to slap on a helmet on Game Day. Vintage Riggins went off tackle on 4th and inches in Super Bowl XVII, ran over a hapless Miami Dolphin defensive back, and burst into the clear for a 43-yard touchdown gallop.
In a 14-year career with the Washington Redskins and New York Jets, Riggo tallied 13,442 total yards from scrimmage alongside 116 total touchdowns. As of 2010, Riggins's 104 rushing touchdowns are good for sixth of all time. Remarkably, The Diesel was to keep the engine going well past 30, when a running back is supposed to be past his prime. Riggins had his best season in 1983, when he racked up 1,347 rushing yards and a league-best 24 touchdowns, at the age of 34.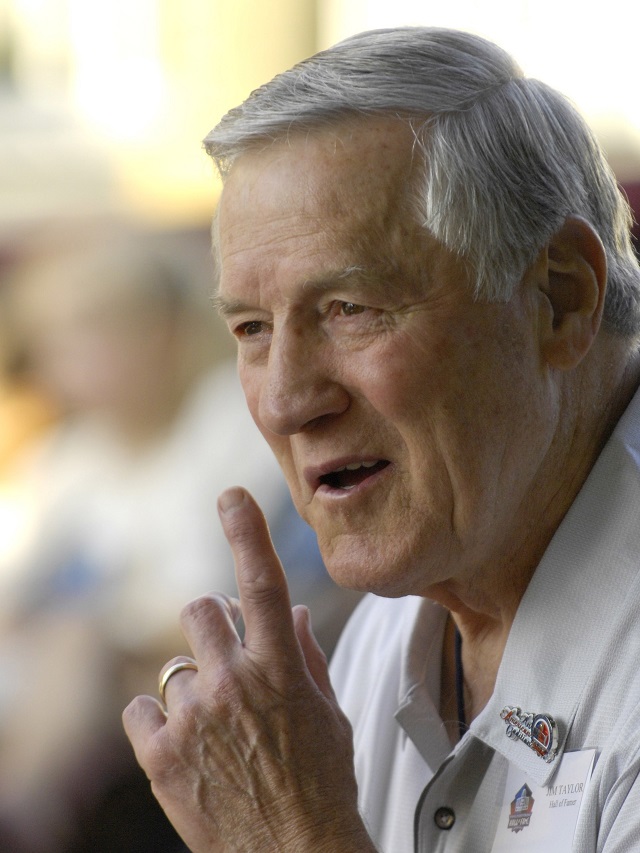 8. Jim Taylor
Jim Taylorand Paul Hornung (Thunder and Lightning, respectively) evoke memories of the Vince Lombardi days of yore, with a seal here and a seal there on the toss sweep. Although Taylor played at a diminutive 6-feet and 215 pounds, the man was known to get physical on the Frozen Tundra. In true fullback form, Taylor was a straight line back who never shied away from direct contact with oncoming linebackers at the point of attack. As a Packer, Taylor won three NFL championships and the first Super Bowl.
During his era, Taylor was second only to Jim Brown, in terms of production out of the backfield. At retirement, Taylor's 83 total touchdowns ranked seond behind Brown, and in 1962 Taylor led the NFL with 1,474 rushing yards and 19 touchdowns. On the 14-game season, Taylor averaged 105 yards per game for the Packers. Save Brown, Jim Taylor was the only back to lead the NFL in rushing between 1957 and 1965.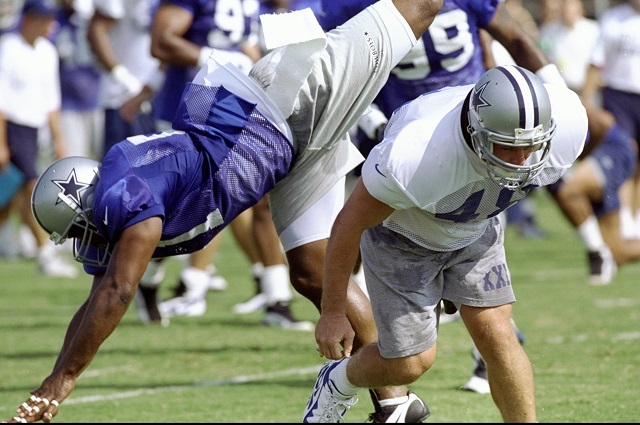 7. Daryl Johnston and Tom Rathman
Paired together in this  because they were so close to being one and the same, Daryl Johnston and Tom Rathman were both symbolic of the dirty work that solidified '80s and '90s dynasties at Dallas and San Francisco, respectively. Lead blocking, sure hands, no neck, crew cut hair, and a fawning John Madden on speed dial were also trademarks of this throwback brand.
Daryl Johnston and Tom Rathman were built to play fullback in the 1980s and 1990s. Rathman, from Grand Island, Neb., starred as an option fullback for Big Red. As a Cornhusker, Rathman simply took the football and ran straight ahead. Rathman brought these same talents to San Francisco, where he performed as the unsung hero of the West Coast Offense – in the shadows of Joe Montana, Steve Young, Jerry Rice, and Roger Craig.
Meanwhile, Daryl Johnston was opening up holes for Emmitt Smith, the NFL's all time rushing leader, on the lead draw. Johnston was a devastating blocker out of the I-formation, who Smith credited as key to his success. Between the two, Rathman and Johnston accounted for 2,773 rushing yards, 614 catches, and 4,911 receiving yards. Pity the diminutive defensive backs that were ever trusted with the assignment of taking out Tom Rathman or Daryl Johnston out in the flat – with a full head of steam. Moooooooose.
6. Franco Harris
With a playing career spanning between 1972 and 1984, Franco Harris was the last example of a smooth-running fullback. Franco was just too pretty for most fans to acknowledge the fact that he shared the same job title with the likes of Tom Rathman and Bronco Nagurski. In Pittsburgh, the roles were indeed reversed behind the steel curtain. At halfback, Rocky Bleier was the gritty kid that nearly got his leg blown off in 'Nam, but returned to the Steel City to run over people. At fullback, Harris dazzled crowds with his long strides and instant acceleration.
Of course, Franco will always be hailed as the final cog in the Immaculate Reception, when he caught a ricochet off his shoelaces, and sprinted toward pay dirt and a playoff victory.
Beyond the Immaculate Reception, the gallant Franco Harris was to finish up his career as a 9-time Pro Bowl selection and 4-time Super Bowl winner. Upon his retirement, Franco had compiled 12,120 total rushing yards, just 192 yards short of Jim Brown's then all time record of 12,312.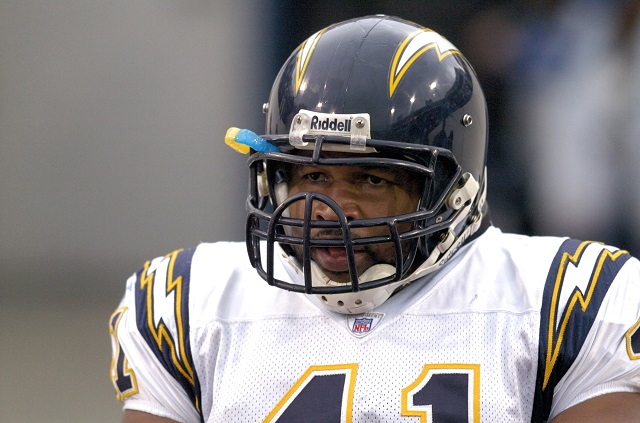 5. Lorenzo Neal
Lorenzo Neal was the greatest blocking fullback of all time. Between 1993 and 2008, Neal paved the way for Warrick Dunn, Eddie George, Corey Dillon, and LaDainian Tomlinson. In fact, Neal bludgeoned linebackers and shielded the edge to lead a 1,000-yard rusher into the clear for 11 straight years.
On paper, Neal's career statistics appear minimal, as he needed 16 years to accumulate 807 rushing yards. On the field, however, Neal proved to be an indispensable member of any offense. As 6-feet and 260 pounds of muscle, Neal finished his career opening up running lanes for Baltimore – at the age of 38.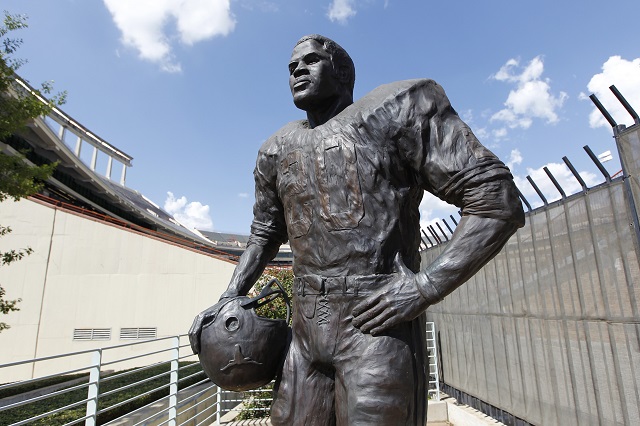 4. Earl Campbell
Known for his gargantuan thighs, Earl Campbell was a force. During his eight-year career, Campbell rushed for 9,407 yards and 74 touchdowns. His 1980 campaign should be highlighted as the greatest season ever recorded by a workhorse back, when he used 373 carries, Campbell picked up 1,934 yards – for an impressive 5.2 yards per carry average for the Houston Oilers. At 5-foot-11, 245 pounds, with 4.5/40 speed, Campbell used his freakish combination of size and speed to terrorize opposing defenses and lead the NFL in rushing for three straight years – between 1978 and 1980.
As Houston's meal ticket, Campbell toted the football for 302, 368, 373, 361, and 322 carries in full seasons between 1978 and 1983. Sadly, the amount of work combined with Campbell's style of reckless abandon was to take its toll on the young star. By the age of 30, Campbell's production collapsed and he was out of the league. After a career marked by brutality, Earl Campbell is often relegated to a wheelchair.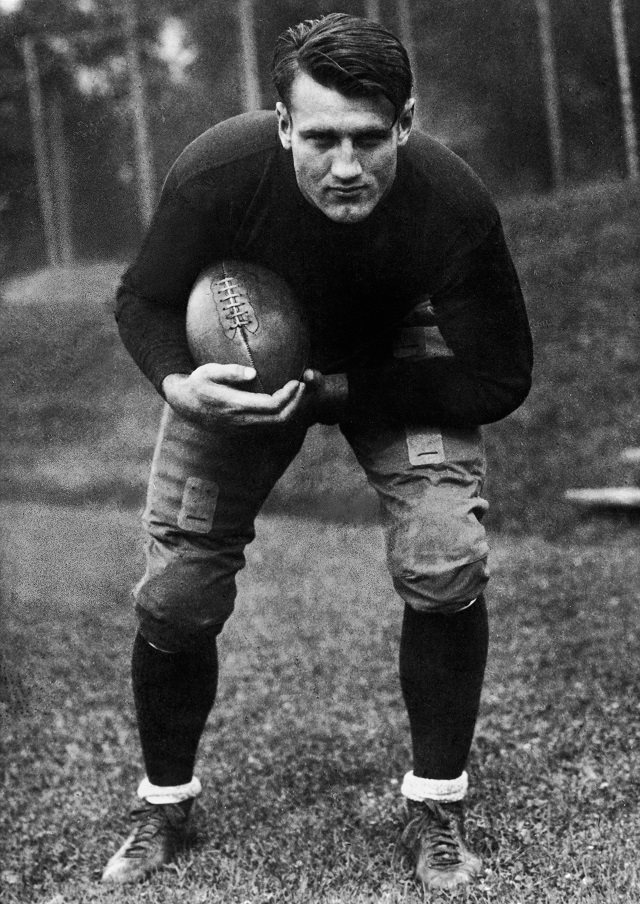 3. Bronko Nagurski
The game of football has not, and will never see another player like Bronko Nagurski again. At 6-foot-2 and 226 pounds, Nagurski starred at fullback, linebacker, and offensive tackle for the 1930s Chicago Bears. Modern-era fans may imagine the likes of Anthony Munoz or Joe Thomas rotating into the backfield to take handoffs, and barrel over defenders in leather helmets. Although his statistics may appear pedestrian, Nagurski set the mold for all big backs that were to follow. As a fullback, Nagurski dragged would-be tacklers through the dirt – for 2,778 rushing yards and 25 touchdowns in 9 years.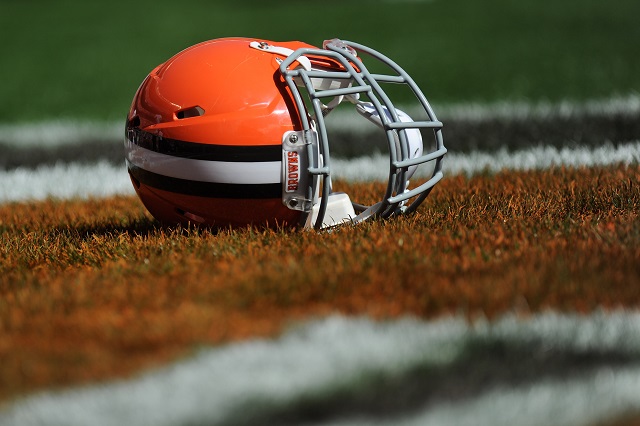 2. Marion Motley
At 6-foot-1 and 230 pounds, Marion Motley was a man amongst boys. Motley's appearance and statistical record was synonymous to that of a high school game breaker, who simply overpowered the opposition for two and one half quarters before laughing it up on the bench for the rest of the game. As a 1946 Cleveland Browns rookie, Motley rushed for 601 yards on 73 attempts, for an unreal 8.2 yards per carry average. In a 1950 game against the rival Pittsburgh Steelers, Motley rushed for 188 yards on only 11 carries, for a record 17 yards per rush average.
In total, Motley's 4,720 rushing yards were produced on a 5.7 yards per attempt average. Referred to as the Jackie Robinson of football, Motley was simply bigger and faster than everybody else. Motley teamed up with NFL pioneer Paul Brown in Cleveland to win four AAFC championships and one NFL championship.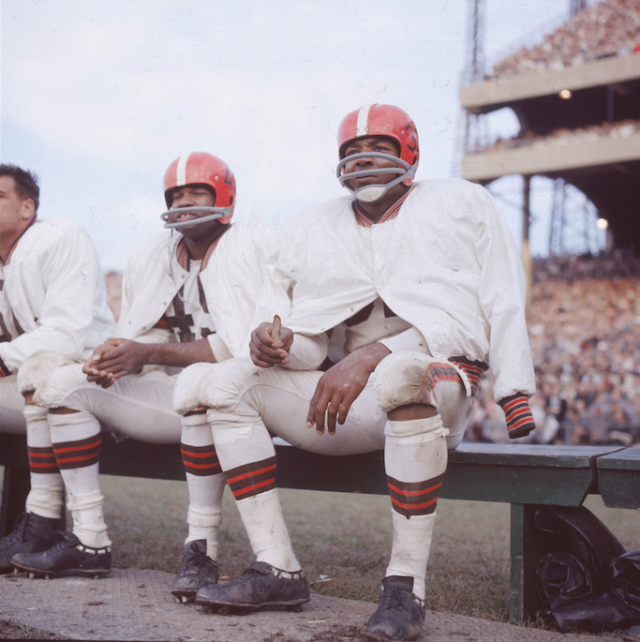 1. Jim Brown
Jim Brown was the greatest NFL football player of all time. Brown dominated the NFL, and his totals over 12 and 14-game seasons look like they came straight out of a video game, regardless of the era. Brown completed a 9-year career with 12,312 rushing yards and 106 touchdowns. Brown's 5.2 yards per carry average is also significantly higher than the top two all-time rushing leaders, Emmitt Smith (4.2) and Walter Payton (4.4).