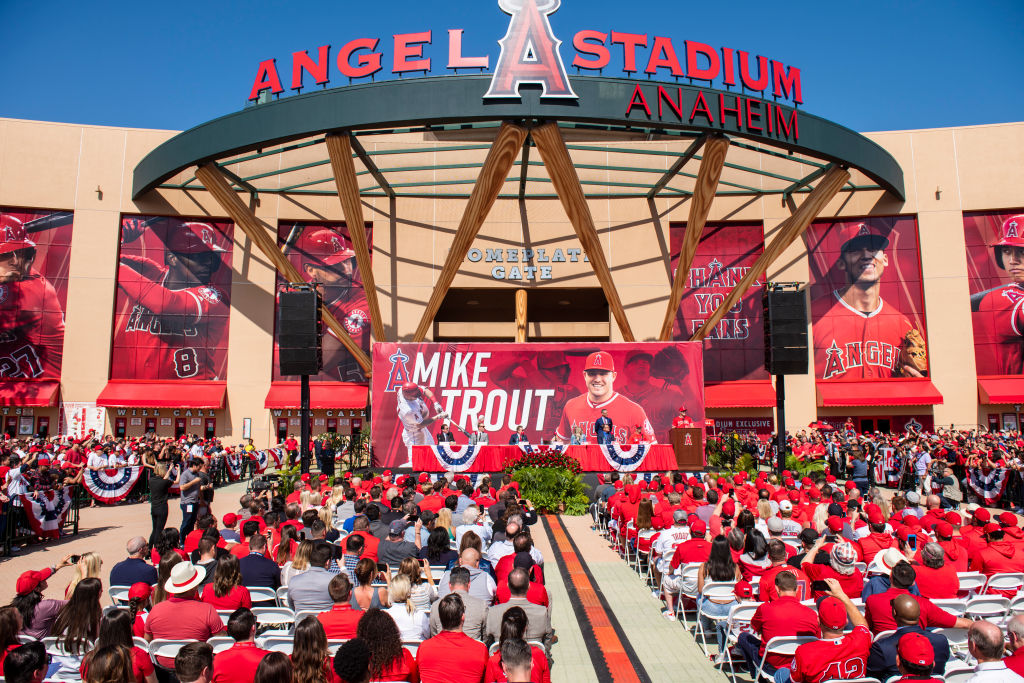 The 10 Highest Paid Baseball Players in 2020
A breakdown of the top 10 highest-paid players in MLB for the 2020 season including salaries, 2019 stats, career stats and awards.
With the start of the MLB season just a few weeks away, it's the perfect time to take a look at who will be the 10 highest-paid players for the 2020 campaign. Included in the breakdown are the contracts for each player, plus some of their 2019 and career statistics that provide context on how well the player has performed over the duration of his career.
Some notable things that caught our attention: all 10 earn more than $30 million per season; seven are pitchers (two lefties); two are infielders (both third basemen); one outfielder (highest paid); and of the 10, six of them play for three teams that made the 2019 playoffs (Los Angeles Dodgers, Houston Astros and Washington Nationals).
10. Clayton Kershaw, LHP, Dodgers — $31 million
Contract: 3 years, $93 million
2019: 29 starts, 16-5 record, 3.03 ERA, 189 strikeouts
Clayton Kershaw, a 12-year veteran with the Dodgers, signed an extension at the conclusion of the 2018 season. His $31 million includes a base salary and signing bonus. The eight-time All-Star has been the ace of the pitching staff for a decade and enters the 2020 season with a lifetime 169-74 record and 2.44 ERA with three Cy Young Awards and one NL MVP.
8 (TIE). David Price, LHP, Dodgers— $32 million
Contract: 7 years, $217 million
2019: 22 starts, 7-5 record, 4.28 ERA, 128 strikeouts
David Price, a 12-year veteran with the Dodgers, signed the original deal with the Red Sox in 2016 and it was the largest total value for a pitcher. The five-time All-Star brings to Los Angeles a career 150-80 record and a 3.31 ERA with one Cy Young.
8 (TIE).  Manny Machado, 3B, Padres — $32 million
Contract: 10 years, $300 million
2019: 156 games, .256 average, 32 home runs, 85 RBIs
Manny Machado, an eight-year veteran, will earn $32 million in 2020 that includes a $30 million salary and a $2 million signing bonus. The four-time All-Star third baseman enters his second season in San Diego with a career .279 average and has won a pair of Gold Gloves.
7. Justin Verlander, RHP, Astros — $33 million
Contract: 2 years, $66 million
2019: 34 starts, 21-6 record, 2.58 ERA, 300 strikeouts
Justin Verlander, starting his 16th season, signed an extension with Houston before the 2019 season and will receive $33 million in the next two seasons. The 2019 Cy Young Award winner enters his third full season with the Astros with a career 225-129 record and 3.33 ERA with two Cy Young Awards and one AL MVP.
4 (Tie). Zack Greinke, RHP, Astros — $35 million
Contract: 6 years, $206.5 million
2019: 33 starts, 18-5 record, 2.93 ERA, 187 strikeouts
Greinke, a 16-year veteran, enters the fifth year of a contract he signed with the D-backs. Part of the deal when he signed with the Astros at the trade deadline last season included Arizona paying a portion of the 2020 contract. The six-time All-Star has a career 205-123 record, 3.35 ERA and one Cy Young to his credit.
4 (Tie). Stephen Strasburg, RHP, Nationals — $35 million
Contract: 7 years, $245 million
2019: 33 starts, 18-6 record, 3.32 ERA, 251 strikeouts
Strasburg, a former first overall pick entering his 11th season, signed a new deal with the Nationals that includes deferrals but equals $35 million for 2020. The three-time All-Star is coming off a season where he won the World Series MVP. He has an overall 112-58 record and 3.17 ERA.
4 (Tie). Nolan Arenado, 3B, Rockies— $35 million
Contract: 8 years, $260 million
2019: 155 games, .315 average, 41 home runs, 118 RBIs
Arenado, a seven-year veteran, signed an extension with the Rockies in February 2019 and has an opt-out after the 2021 season. In Colorado, the five-time All-Star has been a mainstay at third base with a career .295 average and has won seven Gold Gloves and four Silver Slugger Awards.
3) Max Scherzer, RHP, Nationals — $35.9 million
Contract: 7 years, $210 million
2019: 27 starts, 11-7 record, 2.92 ERA, 243 strikeouts
Max Scherzer's contract features deferrals and a portion of his salary will be paid after the deal's expiration, but it's listed at $35.9 million in salary. The 12-year veteran and seven-time All-Star has a lifetime 170-89 record and 3.20 ERA with three Cy Young Awards.
2. Gerrit Cole, RHP, Yankees — $36 million
Contract: 9 years, $324 million
2019: 33 starts, 20-5 record, 2.50 ERA, 326 strikeouts
After a stellar 2019 season with the Astros, Cole signed the record-breaking deal with the Yankees in the offseason. The veteran pitcher and three-time All-Star heads into his eighth season with a career 94-52 record and 3.22 ERA.
1. Mike Trout, CF, Angels — $37.7 million
Contract: 12 years, $426.5 million
2019: 134 games, .291 average, 45 home runs, 104 RBIs
Trout signed an extension with the Angels before the 2019 season that made him the first and only $400 million contract in baseball history. Heading into his 10th season as the game's best center fielder, Trout has a lifetime .305 average with seven Silver Slugger Awards and an impressive three MVP titles to his credit.
With a complete breakdown of the highest-paid players and their salaries, 2019 statistics, and career statistics, you can now watch the 2020 MLB season and see if they live up to their high-dollar expectations. If their career numbers are any indication, chances are they probably will.
Source of Baseball Statistics: Baseball Reference