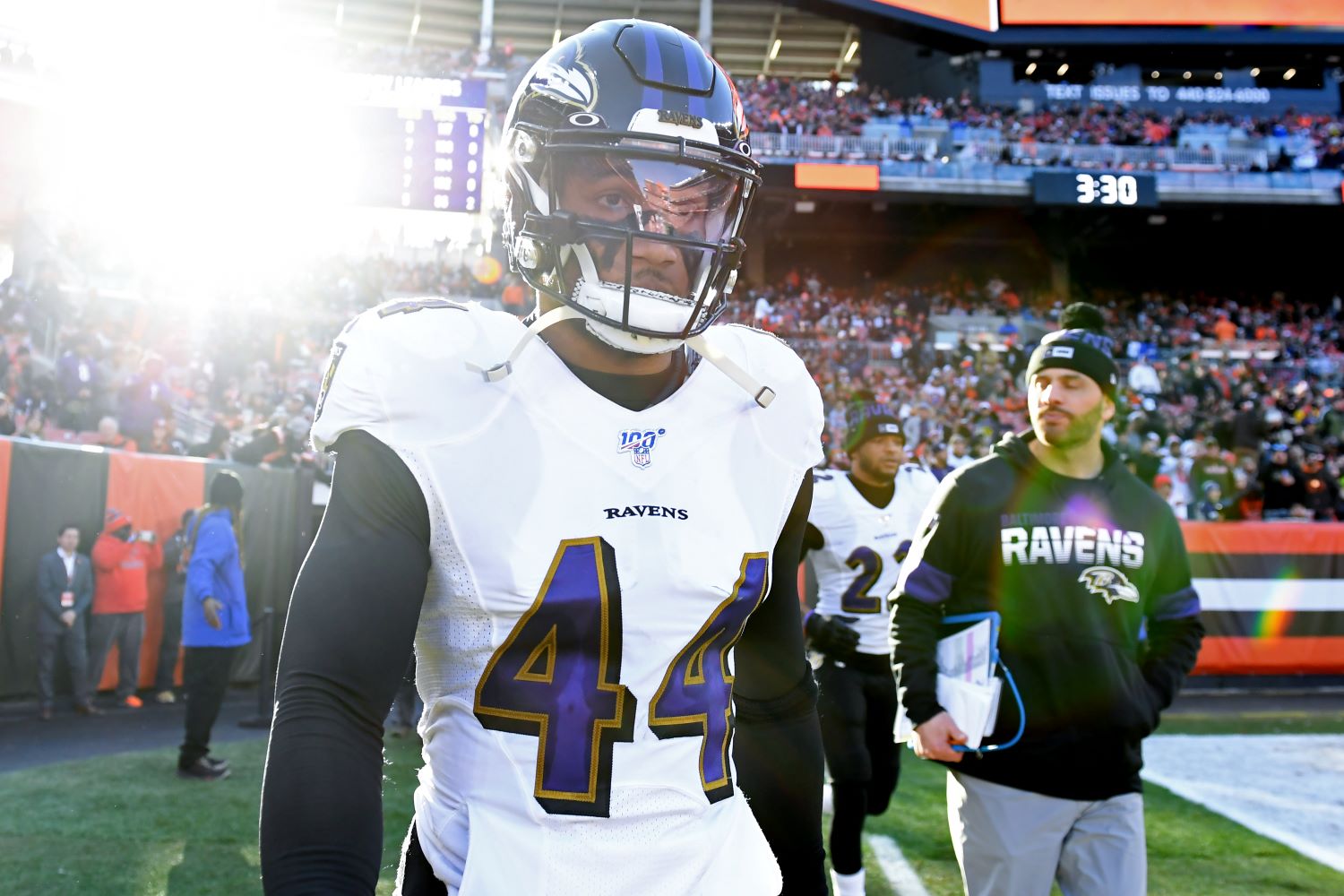 The Baltimore Ravens Just Lost Their $98 Million Star to COVID-19
With Marlon Humphrey testing positive for COVID-19, the Baltimore Ravens may be without their $97 million star against the Colts.
After starring at the University of Alabama, Marlon Humphrey has quickly developed into one of the NFL's elite cornerbacks. In fact, the 24-year-old has played at such a high level to start his career that the Baltimore Ravens rewarded him with a lucrative contract extension earlier this year.
However, a day after they suffered a close loss to the Pittsburgh Steelers, the Ravens just lost their $98 million All-Pro defensive back to COVID-19.
Marlon Humphrey has developed into one of the NFL's elite corners
In need of a lockdown cornerback, the Ravens utilized the 17th overall pick of the 2017 NFL draft on Marlon Humphrey. The long-limbed, athletic defensive back wasted no time proving why he earned All-American honors in his final year at Alabama.
Despite starting just five games in his rookie season, Humphrey racked up 34 tackles, two interceptions, and 11 passes defended. He followed up with another solid campaign in 2018 before emerging as one of the NFL's top defensive backs last season.
Starting 15 of 16 games, the 6-foot, 197-pound corner stuffed the stat sheet and earned first-team All-Pro honors. Humphrey finished the 2019 season with 65 total tackles, 15 passes defended, and a career-high three interceptions. He routinely locked down opposing team's top receivers, which helped the Ravens finish third in points allowed.
As a result of his terrific first three years in the league, Baltimore rewarded Humphrey with a five-year, $97.5 million contract extension back in April. The deal included $66 million guaranteed with a signing bonus of $20 million.
The Ravens just lost their $98 million star to COVID-19
Off to a 5-1 start, the Ravens entered Sunday with a chance to hand the Steelers their first loss of the season. However, Baltimore failed to complete that mission. But beyond losing on the field, the Ravens also suffered a major blow to their roster.
On Monday, Marlon Humphrey announced via Twitter that he has COVID-19. The fourth-year corner played every defensive snap in Sunday's 28-24 loss to Pittsburgh.
According to ESPN, Humphrey missed practice on Wednesday with an illness. While he did return to practice on Thursday and Friday, he will now have to go through COVID-19 protocols before he can return to action after testing positive for the coronavirus.
For the Ravens, losing an elite player like Humphrey stings even worse given the state of their secondary. Baltimore already lost cornerbacks Tavon Young and Iman Marshall to season-ending knee injuries. Until Humphrey can get back on the field, the Ravens will have to figure out another way to keep quarterbacks in check.
Can Baltimore bounce back from its second loss of the season?
Coming off just their second loss of the season, the Ravens still have to feel fairly confident about their chances of making a Super Bowl run. After all, Baltimore boasts the eighth-ranked scoring offense and the second-ranked scoring defense. Plus, it helps to have the reigning NFL MVP at quarterback.
Still, the Ravens face a tough challenge in Week 9 against the 5-2 Indianapolis Colts.
On Sunday, Philip Rivers turned in a vintage performance that included 262 passing yards and three touchdowns. The veteran quarterback spread the wealth, as 11 different Colts players recorded at least one catch in the team's 41-21 beatdown of the Detroit Lions. Can he repeat that performance against a defense that will be without its best player?
For Baltimore, Marlon Humphrey's absence could prove problematic against a Colts team that features some intriguing weapons. Rookie Michael Pittman Jr. has missed ample time with injuries, but the 6-foot-4, 223-pounder brings tremendous size and a wide catch-radius to the equation. Mo Alie-Cox (14 catches for 231 yards) can also inflict damage thanks to his unique combination of size and athleticism.
Even if Humphrey can't play, the Ravens should still have the upper hand on Sunday. Rivers has gone just 3-5 against Baltimore during his lengthy NFL career. The last time he faced the Ravens, he got picked off twice (once by Humphrey) in a 22-10 loss to Lamar Jackson and Co.
Ultimately, the Ravens can survive the loss of Marlon Humphrey in the short term. But they'll need their highly-paid corner ready to go by the end of the month when they take on the Titans and Steelers in back-to-back weeks.
All contract data courtesy of Spotrac. All statistics courtesy of Pro Football Reference.