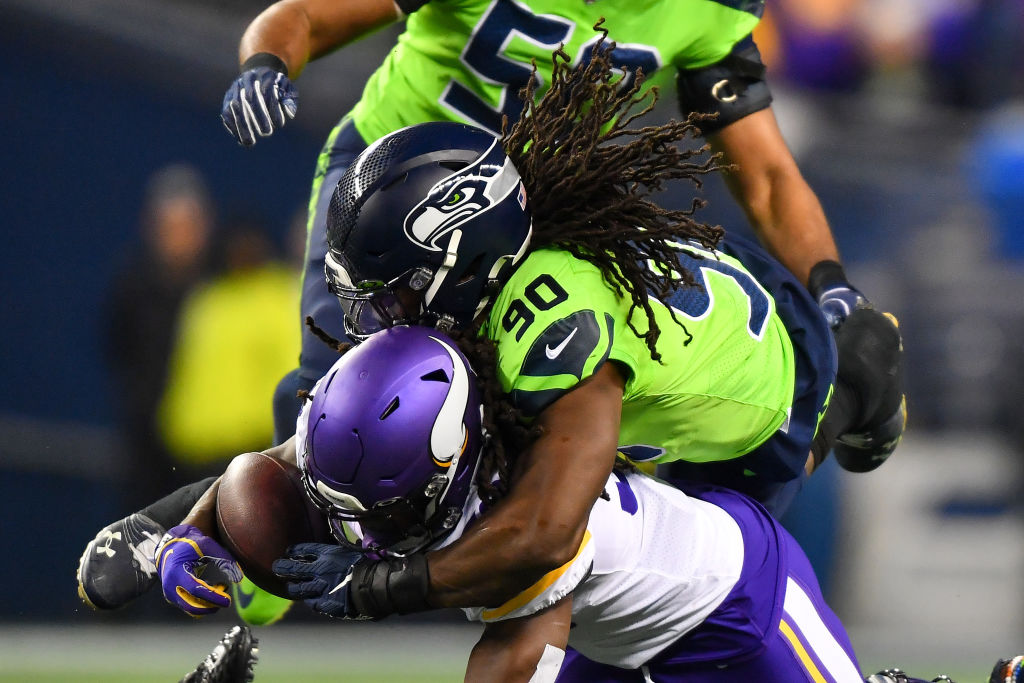 The Best Remaining NFL Free Agents at Each Position
Tom Brady and the rest of the top names are off the board, but there are still plenty of talented NFL free agents left after week 1.
NFL free agency got off to a wild start last week. Tom Brady left New England to join the Tampa Bay Buccaneers, the Miami Dolphins went all in to accelerate their rebuild, and the Tennesse Titans are running it back with Ryan Tannehill and Derrick Henry.
The moves around the league were swift once the legal tampering period began on March 16, but the action has slowed down since the first few days of the NFL league year. Many teams will be content with their additions already, but there are still a plethora of talented free agents who still needs homes for 2020. So, who are the best remaining free agents at each position and where could they end up in the next week?
Quarterback: Jameis Winston
Jameis Winston was kicked to the curb by Tampa Bay after the Bucs signed the biggest prize in free agency this year, Tom Brady. How can you blame them? Brady has six Super Bowl rings to his name and seems as if he's immune to aging. Meanwhile, Winston threw 30 interceptions last season and led the Bucs to a 7-9 record. In five years as the starter, Winston has led Tampa Bay to just one winning season and no playoff appearances.
There are still plenty of teams who could take a one-year flyer on a quarterback like Winston: the New York Giants, the Jacksonville Jaguars, the Los Angeles Chargers, and even the New England Patriots. Winston is a low-risk, high-reward option for any team looking for a temporary starter or solid backup for 2020.
Running Back: Devonta Freeman
The Atlanta Falcons decided not to resign Devonta Freeman last week, making him a free agent. Freeman has been plagued by injuries of late, but he showed last season he can be a valuable pass-catching back for a team in need. The former Pro-Bowler caught 59 passes and scored a career-high four receiving touchdowns last year.
The Buffalo Bills, Buccaneers, and Jaguars all could use a veteran back to add to their committees.
Wide Receiver: Robby Anderson
It's hard to believe Robby Anderson is still on the market. He's had over 750 receiving yards in each of the past three seasons, he averaged 15 yards per reception last season, and he's only 26 years old.
Many teams could use a game-changing deep threat, including the Philadelphia Eagles, the Green Bay Packers, and the Las Vegas Raiders. Don't expect Anderson to last much longer as a free agent.
Offensive Line: Jason Peters
Jason Peters is entering his 17th NFL season, but the future Hall-of-Famer still has enough in the tank to contribute to a contender in 2020. Peters started all but three regular-season games for the Eagles over the past two seasons.
Teams in need of offensive tackle help are the Cleveland Browns, the Giants, and the Bills, among others.
Defensive Line: Jadeveon Clowney
Jadeveon Clowney is still a free agent because of one reason and one reason alone: money. The three-time Pro-Bowler is seeking a deal worth $20 million per year, according to Dianna Russini of ESPN. So far, no one is willing to pay Clowney close to that much.
It's feasible he could return to the Seahawks on a cheaper deal, but teams such as the Titans and Colts could sweeten the pot for Clowney and pry him away.
Linebacker: Nigel Bradham
The linebacker market in 2020 was thin to begin with. Cory Littleton, Kyle Van Noy, and Jamie Collins were scooped up early, but there are still a few role players available at the position. Bradham will be 31 by the time the NFL season gets going, but he's a veteran presence that can contribute to a contender in 2020.
Secondary: Logan Ryan
Logan Ryan is as dependable as it gets at the cornerback position. Ryan has played in every regular-season game but three in the past five seasons. He had four interceptions for the Titans last year and is only 29 years old.
Ryan could be a solid pickup for a contending team like the Chiefs or the Saints. He has plenty of playoff experience and would be a great veteran player to fit into any secondary.