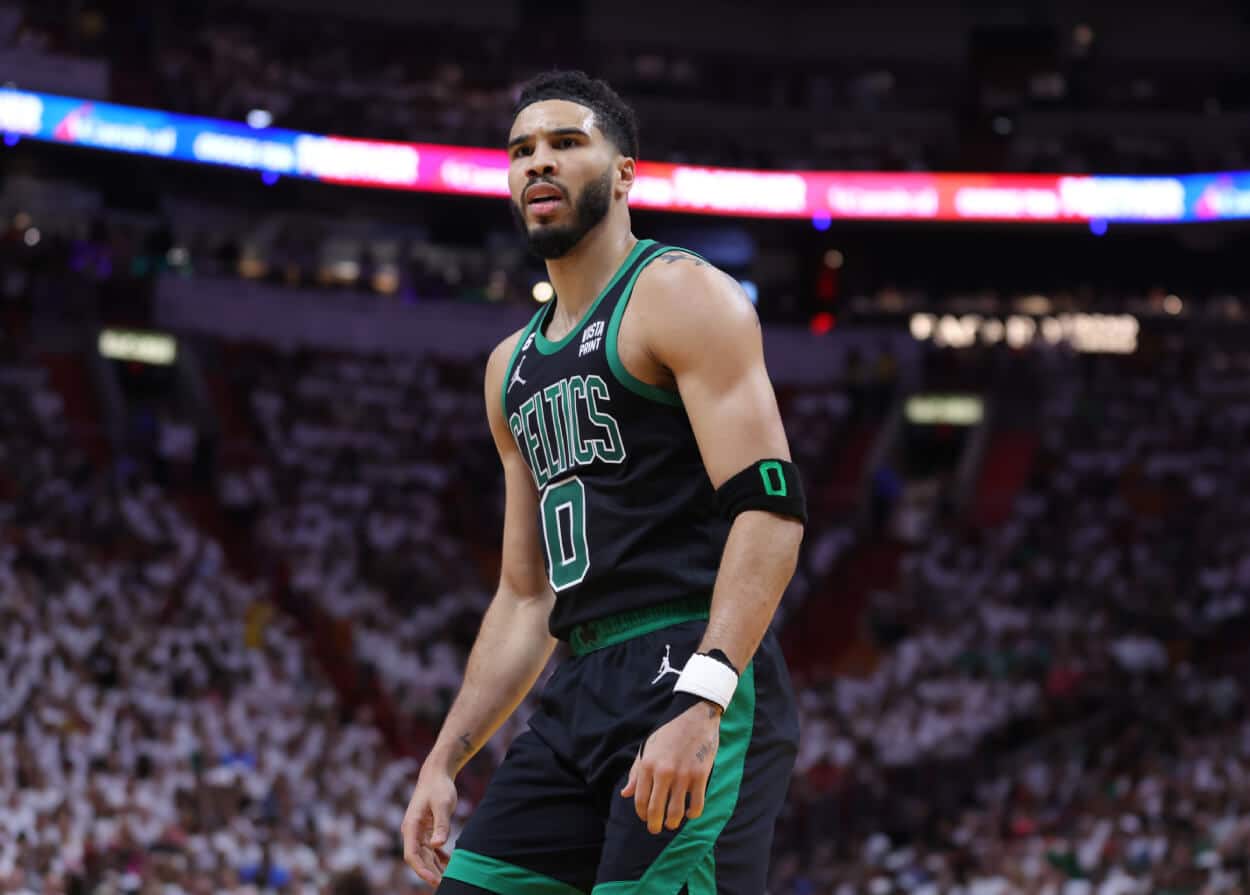 The Boston Celtics Have Quickly Gone From NBA's Best to League's Biggest Disaster
Jayson Tatum is one of several Boston Celtics players struggling in the postseason once again.
The Miami Heat have given the Boston Celtics a facelift, and it ain't pretty.
For much of the 2022-23 regular season, the Celtics were the NBA's best. Led by Jayson Tatum and Jaylen Brown, the Celtics owned the league's best record and flaunted their newfound depth. The Heat, however, have humbled the Celtics into oblivion in the Eastern Conference Finals, and now Boston finds itself as a laughingstock with plenty of question marks.
Is Jayson Tatum the answer for the Boston Celtics?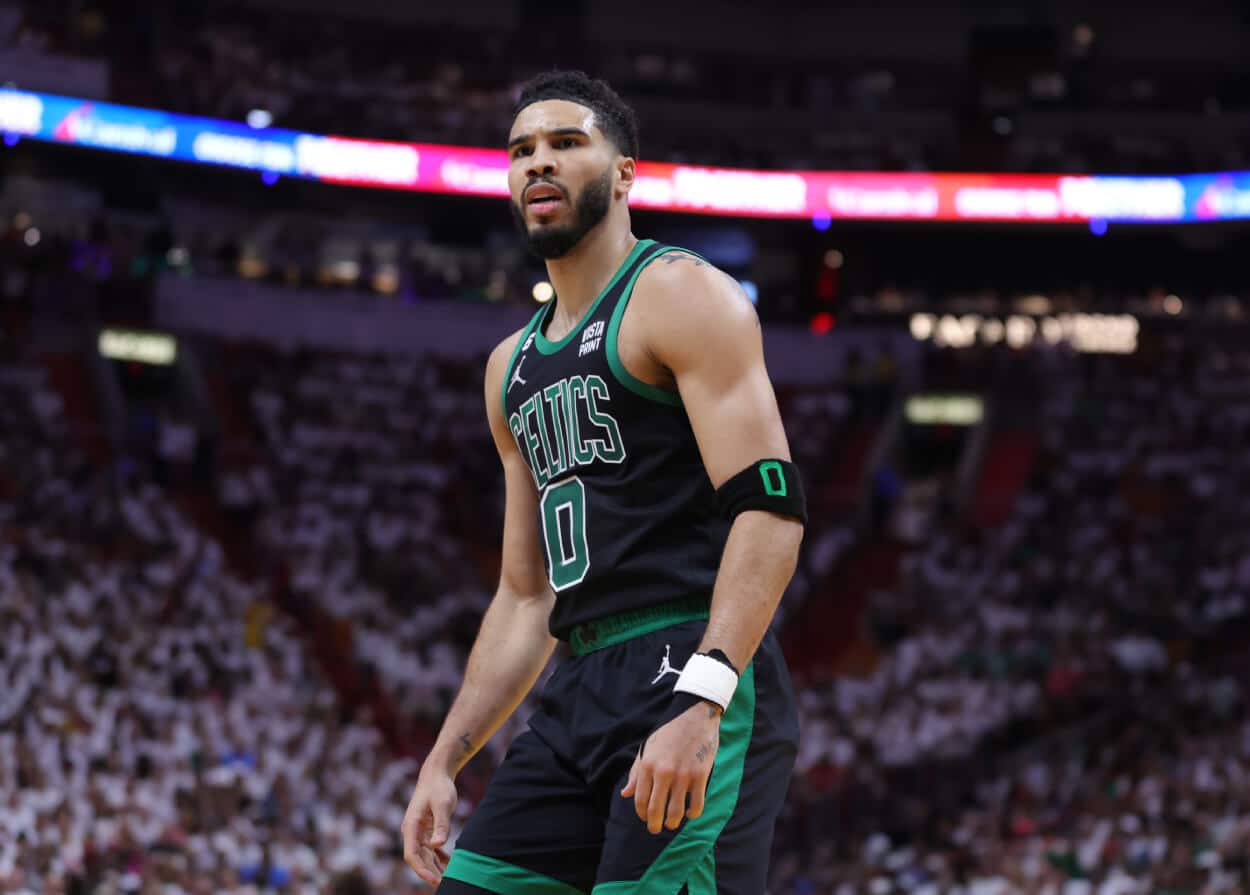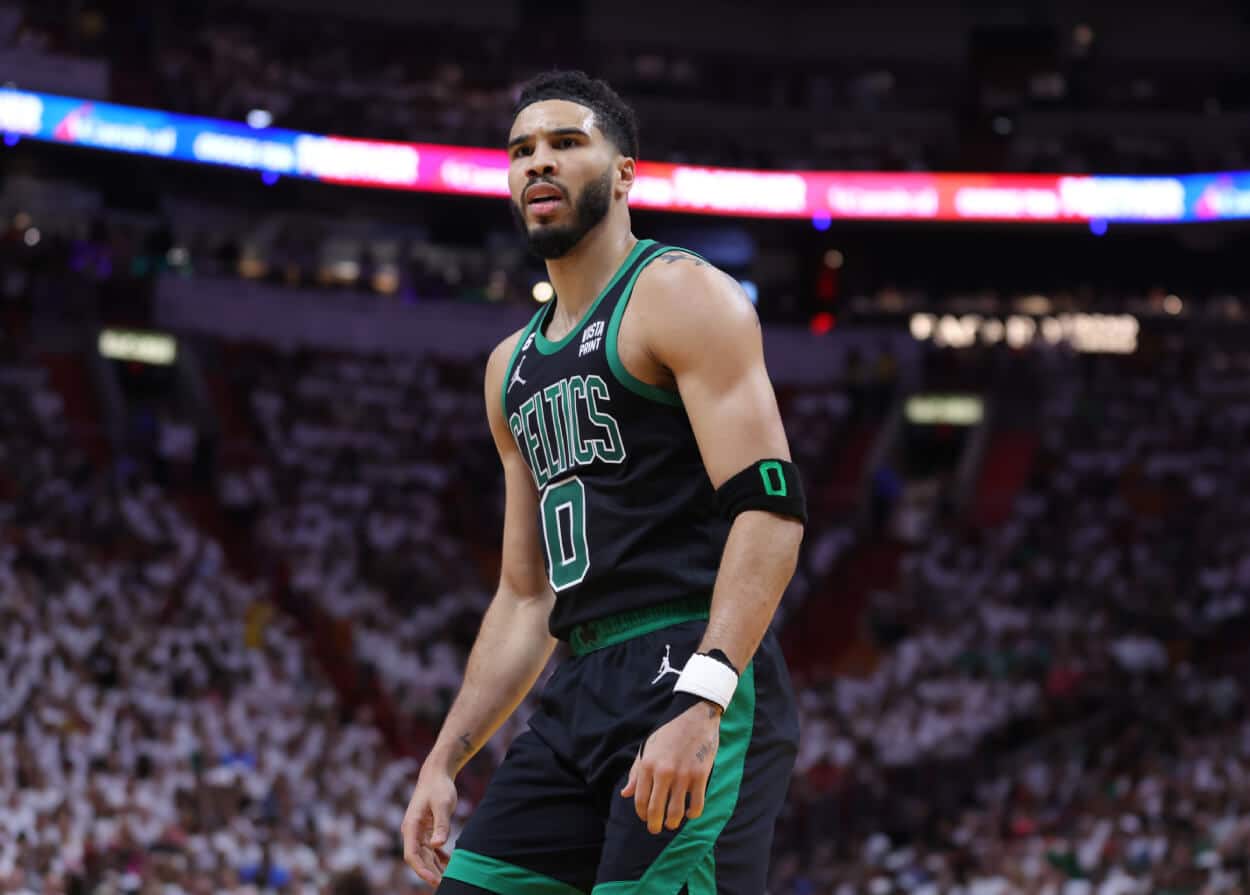 Let's face it, Jayson Tatum thinks he's far better than he is. Yes, the sixth-year star can fill a stat sheet. He's a three-time All-NBA player who averaged a career-high 30.1 points this year. He put up 51 points in a do-or-die Game 7 against the Philadelphia 76ers in the conference semifinals, vaulting Boston into the Eastern Conference Finals. It's the only game this postseason the self-proclaimed superstar has taken over.
In three games against the Miami Heat, he's completely disappeared — just as he did against the Golden State Warriors in the 2022 NBA Finals. He does not have a field goal in the fourth quarter of any game in the conference final. This comes after telling a national television audience that he's "humbly" one of the best basketball players in the world. What world is Jayson Tatum living in? There is zero consistency in his game.
Sure, he got 51 in a big game. Here's the problem with that. After he got 40, he took charge every possession. He drove to the hoop with authority and played like a man on a mission. He did so because he wanted 50. The outcome of the game was already decided. Once he hit the half-century mark, he foolishly held up 50 with his hands, telling the crowd what he just did. There was motivation. He played like a superstar should.
Since then, he's been awful. There's been no fire. There's been zero take-charge in Tatum. Where's that hunger? His antics show he'd be just as happy winning MVP as he would a championship.
Boston's problems go well beyond Tatum. He's far from the only issue on the team. Jaylen Brown, the other "star" on the team, becomes a turnover machine under the bright lights. Al Horford appears to have checked into retirement well before the offseason. Head coach Joe Mazzulla is in over his head.
Despite the wide array of problems, Tatum is the one who will catch plenty of heat. He's the supposed superstar. He's making the most money, and he "humbly" opened his mouth and can't come close to backing it up. It's the second straight postseason where he's failed to take charge.
The Celtics have plenty of questions to answer
Boston's embarrassing 128-102 loss to the Heat in Game 3 on Sunday has Miami with a 3-0 series lead. It also led to plenty of jokes, many made by the TNT basketball crew. During a postgame interview with Miami's Gabe Vincent, whose 29 points were better than Tatum and Brown's combined total of 26, Vincent called the Celtics a "well-coached team" and said the Celtics are a team that won't lay down.
"Clearly, you didn't watch the game tonight," Charles Barkley said. "Well-coached and don't lay down? Go look at the tape again."
Boston's is a loss away from what could be an offseason of many changes.
Will Mazzulla return? He's young, and he was thrown into a tough situation after the Celtics suspended Ime Udoka for the season for violating team rules. He's also shown he can't handle the bright lights. On the surface, it appears Mazzulla would be replaced next year by one of several available veteran coaches (Nick Nurse, Monty Williams), but the Celtics removed Mazzulla's interim tag this season, and they would have to swallow plenty of pride in admitting that was a mistake should they let him go.
Does Jaylen Brown come back? Brown has one year left on his deal. He's eligible for a supermax deal from the Celtics after being named to an All-NBA team, but does he really want to be here? He's shown no signs of committing to Boston. If the Celtics can't get a full commitment, they'll need to trade him.
Can the Celtics even win a championship with Tatum and Brown? The two have played together for six years, and they've shown they are two stars who can light it up during the regular season. They have also shown they wilt when the heat is on. Neither one has grasped the leadership role.
Unless the Celtics miraculously win four straight, expect plenty more questions as they head into an offseason of uncertainty.