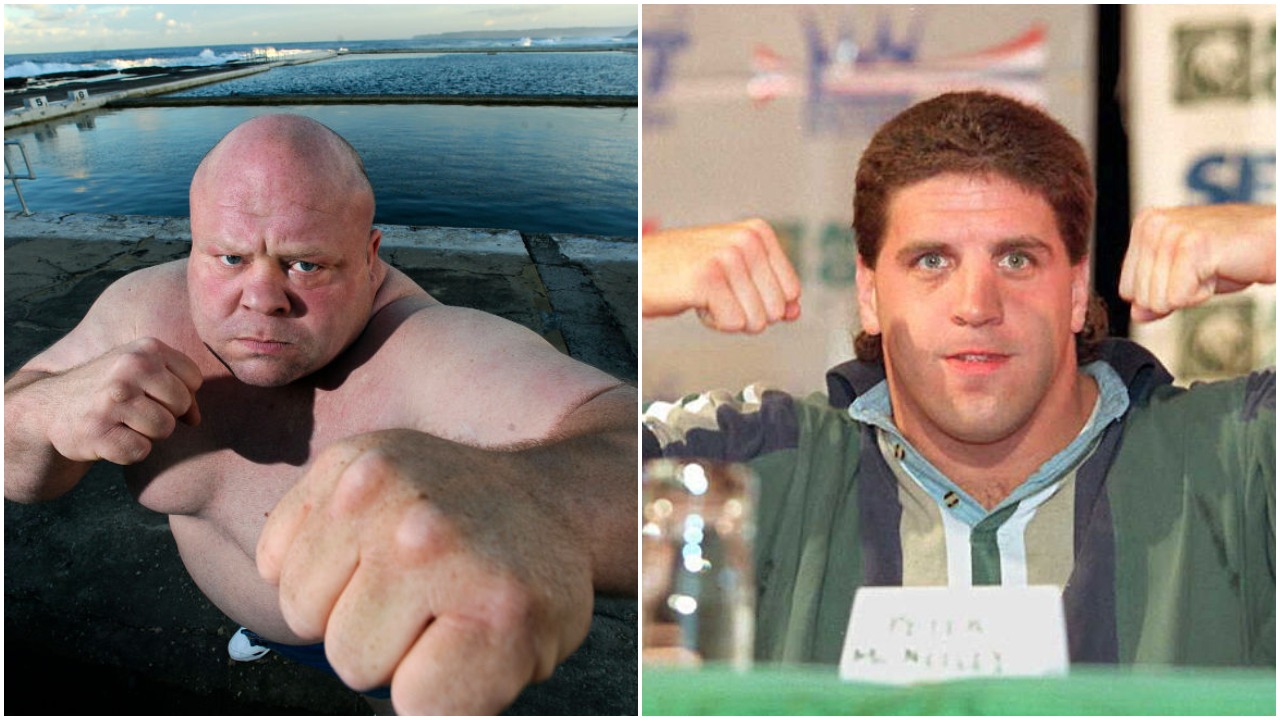 The Crazy and Controversial Fight That Was Butterbean vs. Peter McNeeley
A look back on the 1999 clash between heavyweight fighters Butterbean and Peter McNeeley that ended in controversy in the first round.
Eric Esch, better known as Butterbean, and Peter McNeeley were two of the most interesting fighters of the 1990s, which is certainly saying something. In an era that included some of the greatest fighters of all time, including Mike Tyson, Evander Holyfield, Lennox Lewis, Riddick Bowe, and a revived George Foreman, Butterbean and Peter McNeeley separately made their own mark on the heavyweight division in different ways.
This is the story of when the two finally met up in 1999.
Peter McNeeley was once a top-20 heavyweight contender but will always be remembered as Mike Tyson's first opponent out of prison
While some may see Peter McNeeley as simply an answer to a trivia question, he was once a top contender in the heavyweight division. Yes, he was Mike Tyson's first opponent after being released from prison in 1995. But what some may forget is that McNeeley was once ranked in the top 20 in the heavyweight division by the WBC. He was a big puncher and won his first 24 professional fights. By the time he got to Tyson in August 1995, he had a 36-1 record with 30 knockouts. 21 of those knockouts came in the first round.
You certainly have to give him credit for taking the fight to Mike Tyson. He didn't look scared one bit and charged right at Iron Mike. Okay, so he got beat in 89 seconds but he took home $700,000 and has a great story to tell for the rest of his life. Unfortunately, he ran into some problems with drugs and alcohol but was 70 days clean when he met up with Butterbean in 1999 and came into the bout with a 45-4 record.
Butterbean was the 'King of the Four-Rounders'
Butterbean began his fighting career in Toughman Contests, winning five of them, and decided to try his hand at professional boxing in 1994. Weighing in at more than 300 pounds and oozing charisma, he was an instant hit with fans. While he generally only fought four-round bouts, he was an attraction. Like Peter McNeeley, Butterbean was a big puncher and brought a 46-1-1 record into his fight with the "Hurricane." He was never considered a real contender for the major heavyweight crowns but was one of the most popular fighters of the '90s.
Butterbean vs. Peter McNeeley
In 1999, both Peter McNeeley and Butterbean were looking for a fight with Mike Tyson. McNeeley wanted another crack at Iron Mike and Butterbean had always dreamed of a match with the former undisputed heavyweight champion of the world. But there was no real chance of that happening for either so after months of negotiations, it was decided that the two would square off against one another on June 26, 1999, in front of a big crowd in Las Vegas. It was part of the undercard that featured the bantamweight title bout between Paulie Ayala and Johnny Tapia that would go on to win the "Ring Magazine" Fight of the Year. While Peter McNeeley vs. Butterbean wasn't that, it was still a highly-anticipated matchup as everyone knew it wouldn't last very long.
For one, it couldn't last very long as it was only scheduled for four rounds. After all, it was a Butterbean fight. Many thought that Peter McNeeley shouldn't even be fighting. He had been knocked out in February in Denmark by Brian Nielsen and was battling drug and alcohol addiction but, according to McNeeley himself, he was 70 days clean coming into the fight with Butterbean. Butterbean was a 10-1 favorite to start and then a 4.5-1 favorite at fight time.
This was never going to be the prettiest fight and it wasn't. Fans wanted a brawl and that's what they got, although McNeeley actually did try to outbox his bigger opponent. The "Hurricane" was giving up 100 pounds and tried his best to stay on the outside but it didn't work. 1:20 into the fight, Butterbean connected with two big shots that rattled McNeeley. But 20 seconds later, McNeeley hit two big shots of his own, two left hooks that would drop a lot of people. But Butterbean just shook them off. With 38 seconds remaining in the first round, Butterbean swarmed and Peter McNeeley never landed another punch. Butterbean hit uppercut after uppercut but McNeeley, who was clearly dazed, never went down and actually still had his hands up when the referee stopped the fight with just one second to go in the opening round.
McNeeley and his longtime manager, Vinny Vecchione, were stunned by the decision to stop the fight, especially with just one second on the clock. However, to this day, many still feel that the fight was stopped because referee Jay Nady had been told to keep a close eye on McNeeley because of the emotional outburst that had occurred three days earlier in the pre-fight press conference in which the "Hurricane" broke down about how his life had fallen apart after his bout with Mike Tyson. But that should have no bearing on the fight itself. Unlike the bout with Tyson, in which Vecchione jumped in the ring to protect his fighter, McNeeley could still go and it looked as if he was just trying to make it to the end of the round.
It's obviously not clear what would have happened in the second round but the controversial decision never gave boxing fans a chance to see it.