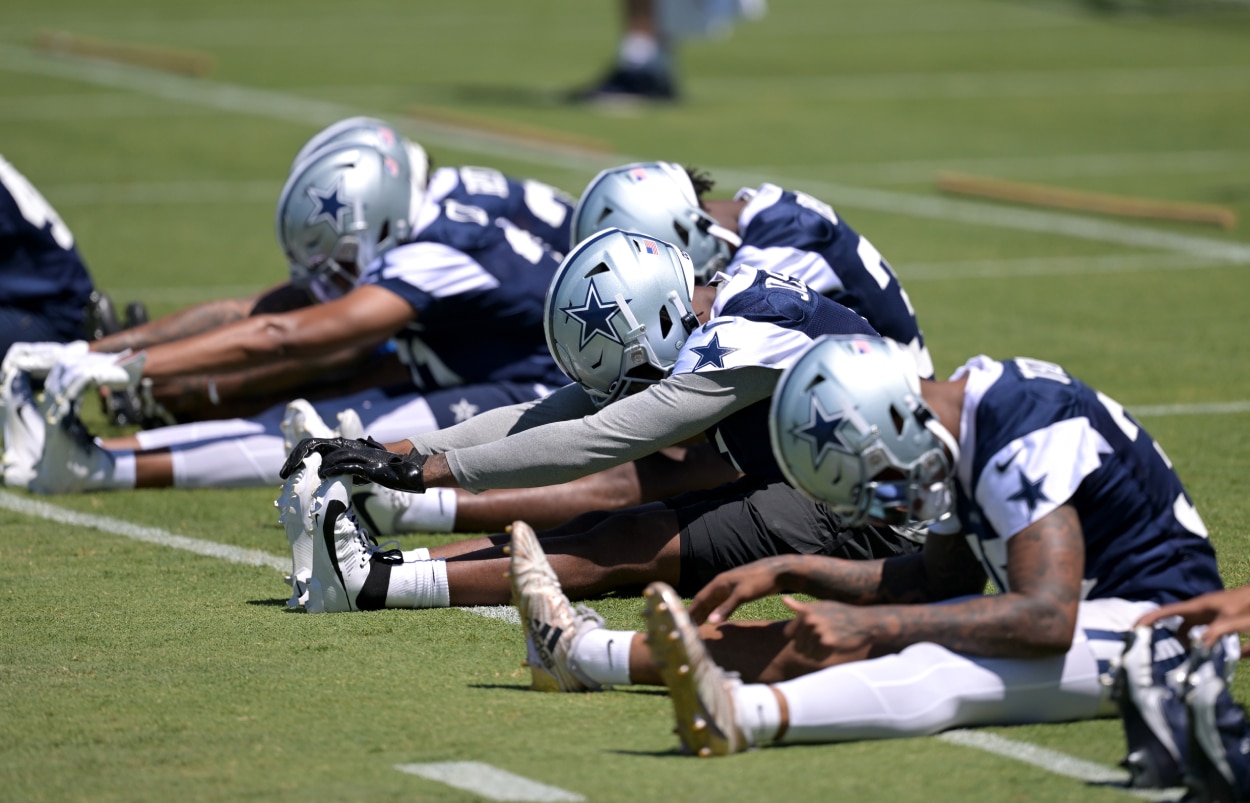 The Dallas Cowboys Are Easily the Most Valuable Franchise in the NFL, but Who's Next?
It should come as no surprise that the Dallas Cowboys are the most valuable franchise in the NFL, but what teams are next on the list?
The NFL kicks off its 104th season next month, and there are plenty of questions heading into the 2023 season: Can Sean Payton turn around a Denver Broncos team that struggled mightily a year ago? What impact will Aaron Rodgers have on the AFC? Will Patrick Mahomes win his third Super Bowl?
While there are several questions, there is one certainty. The Dallas Cowboys enter the season as the most valuable franchise in the NFL — and it's not even close. After Jerry Jones' team, who's next on the valuation list?
The Dallas Cowboys are valued at $9.2 billion
The Dallas Cowboys have proven that financial success doesn't translate into wins on the football field. Although the Cowboys finished 12-5 and reached the postseason last year, they have just four playoff victories since 1997.
Despite the lack of on-field success, the Cowboys easily top Sportico's list of NFL team valuations for 2023. The Cowboys are valued at $9.2 billion, which is tops among not just NFL teams, but across all sports teams around the world.
According to Sportico, the Cowboys generated $1.05 billion in revenue last season. This is only the second time a sports franchise topped $1 billion. FC Barcelona is the only other franchise to do so. The Cowboys exceeded $200 million in sponsorship revenue last season and also took in better than $100 billion in revenue from luxury suites.
If there was any doubt that the Cowboys were still considered America's Team, the dollar signs have confirmed it.
Who's next after the Cowboys?
The Cowboys easily top the list, finishing well ahead of the New York Giants, who come in a distant second at $7.04 billion. Third on the list is the Los Angeles Rams, valued at $6.94 billion.
Sportico revealed that of the 25 most valued franchises in the world, 16 of them are NFL teams.
Thirteen NFL teams are valued at more than $5 billion. The average NFL team is worth $5.14 billion, up 24% from a year ago.
Rounding out the top 10 teams in the NFL are:
No. 4: New England Patriots, $6.7 billion
No. 5: San Francisco 49ers, 6.15 billion
No. 6: New York Jets, $6.11 billion
No. 7: Washington Commanders, $6.05 billion
No. 8: Chicago Bears, $6 billion
No. 9: Philadelphia Eagles, $5.95 billion
No. 10: Las Vegas Raiders, 5.77 billion
The three other teams that surpassed the $5 billion mark are the Houston Texans ($5.35 billion), Miami Dolphins ($5.24 billion), and the Atlanta Falcons ($5.15 billion).