The Dallas Cowboys Have Yet Another Decision To Make at Quarterback
The following sentence has been said quite a bit during the 2020 NFL season: the Dallas Cowboys have a problem. Only this time, it's not as bad as it sounds.
Yes, the Cowboys have had a number of issues this season. At one point, the Dallas defense was on pace to become the worst in NFL history and many are still calling for defensive coordinator Mike Nolan to be fired. Injuries have decimated the Cowboys' roster, none bigger than the ankle injury suffered by Dak Prescott in Week 5.
However, in a weak NFC East, most thought the Cowboys still had a good shot to make the postseason as they had three-time Pro Bowler Andy Dalton as a backup. But Dalton didn't look great in his first start and then suffered a concussion in Week 7 against the Washington Football Team, leaving rookie Ben DiNucci to take the snaps.
But when DiNucci didn't perform well against the Eagles and Dalton was ruled out again after being placed on the COVID-19 reserve list, the Cowboys turned to virtual unknown Garrett Gilbert for Sunday's matchup with the undefeated Pittsburgh Steelers.
And here's the problem. In his first NFL start, Gilbert actually looked pretty good, which now puts Mike McCarthy in an interesting position as it seems he might now have to choose between Gilbert and Dalton.
The Dallas Cowboys' quarterback issues since Dak Prescott went down
RELATED: Everything You Need to Know About Dallas Cowboys Quarterback Ben DiNucci
So here's a more detailed rundown of how things have gone at quarterback for the Dallas Cowboys since Dak Prescott went down with that nasty ankle injury in Week 5 against the New York Giants.
Andy Dalton came in that day to lead the Cowboys to a 37-34 victory, completing nine of 11 passes for 111 yards. He threw for 266 yards the following week against the Arizona Cardinals but never looked overly comfortable in the Cowboys' 38-10 loss. Dalton then completed just nine of 19 passes against Washington before exiting the game with a concussion after taking a dirty hit from Jon Bostic. At that point, Ben DiNucci came in and threw just three passes, completing two of them, for 39 yards in a 25-3 defeat.
The following week, DiNucci completed just 21 of 40 passes for 180 yards in the Cowboys' 23-9 loss to the Eagles on Sunday Night Football, which led Jerry Jones to say that he wasn't ready for the moment. Mike McCarthy chose to bench him and then picked Garrett Gilbert over Cooper Rush to start on Sunday against the Pittsburgh Steelers.
Garrett Gilbert played a solid game against the Pittsburgh Steelers
RELATED: Everything You Need to Know About Dallas Cowboys Quarterback Cooper Rush
Before Sunday's game against the Steelers, Garrett Gilbert had thrown a total of six passes in the NFL since being taken in the sixth round of the 2014 NFL draft by the St. Louis Rams. The former Texas and SMU quarterback was signed off the Cleveland Browns' practice squad not long after Dak went down with his injury and he certainly made the most of his first NFL start.
Was Garrett Gilbert perfect on Sunday in the Cowboys' 24-19 loss? Absolutely not. But for a guy who hasn't seen much game action over the last few years, he certainly played better than anyone could have expected. Sure, his completion percentage wasn't much better than what DiNucci posted last week. But he just looked so much more comfortable and it must be noted that eight of DiNucci's 21 completions against the Eagles were behind the line of scrimmage. At least Garrett Gilbert took some chances down the field.
Gilbert completed 21 of 38 passes for 243 yards with one touchdown and one interception and kept the Cowboys in the game against the best team in football. Yes, the defense deserves some credit as well as that unit looked as good as it has all season. But seeing as how the Cowboys had scored a combined 22 points over the previous three weeks, fans had to be pleased watching Gilbert move the offense down the field. He mixed it up, hitting eight different receivers, and has definitely given Mike McCarthy something to think about.
Will the Dallas Cowboys stick with Garrett Gilbert when Andy Dalton returns?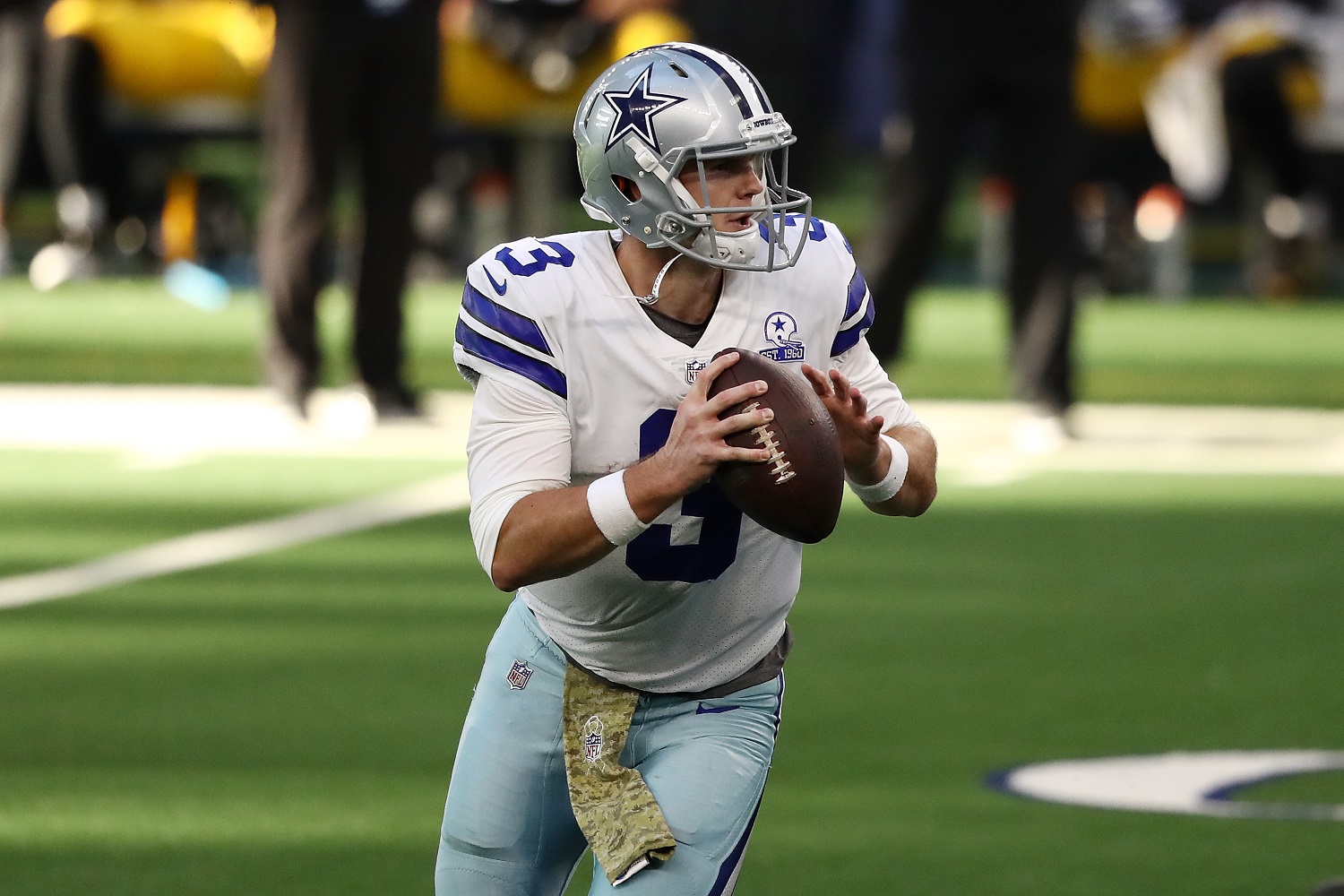 RELATED: When Was the Last Time the Dallas Cowboys Started 4 Quarterbacks in a Single Season?
So Mike McCarthy now has a decision to make. The Dallas Cowboys are on a bye this week and will next play the Minnesota Vikings on November 22. Even with the loss on Sunday, the 2-7 Cowboys are still in the hunt in the NFC East, which is led by the Eagles at 3-4-1. Sure, there is some work to be done and they'd currently lose tiebreakers with both Philly and Washington. But there are a lot of division matchups left and with the way things are going this year, anything could happen.
So when the Cowboys visit the Vikings, it's assumed that Andy Dalton will be ready to roll. But given what Garrett Gilbert did on Sunday, could Dalton return to the backup role? Again, Gilbert wasn't perfect but of the three quarterbacks that have taken the field for Dallas since Prescott went down, he's looked the best. He's certainly more mobile than Dalton (Gilbert rushed three times for 28 yards against the Steelers) and he has a much stronger arm than Dalton does these days. It will definitely be interesting to see what happens over the next couple of weeks.
As per usual, we just have to wait and see what happens next in Big D.
All stats courtesy of Pro Football Reference