The Detroit Lions Swung and Missed on a Risky $68.5 Million Plan to Steal Matt Campbell From Iowa State
The Detroit Lions whiffed badly by plucking Matt Patricia from the New England Patriots. In the end, stealing from Bill Belichick's coaching staff did nothing but set the franchise back.
Ironically, the Lions struck out on a risky (and expensive) plan earlier this year centered around poaching one of the top coaches in college football from Iowa State. Luckily for Cyclones fans, though, Matt Campbell stopped Detroit's dream from becoming a reality.
Matt Campbell has risen up the ranks by turning Iowa State around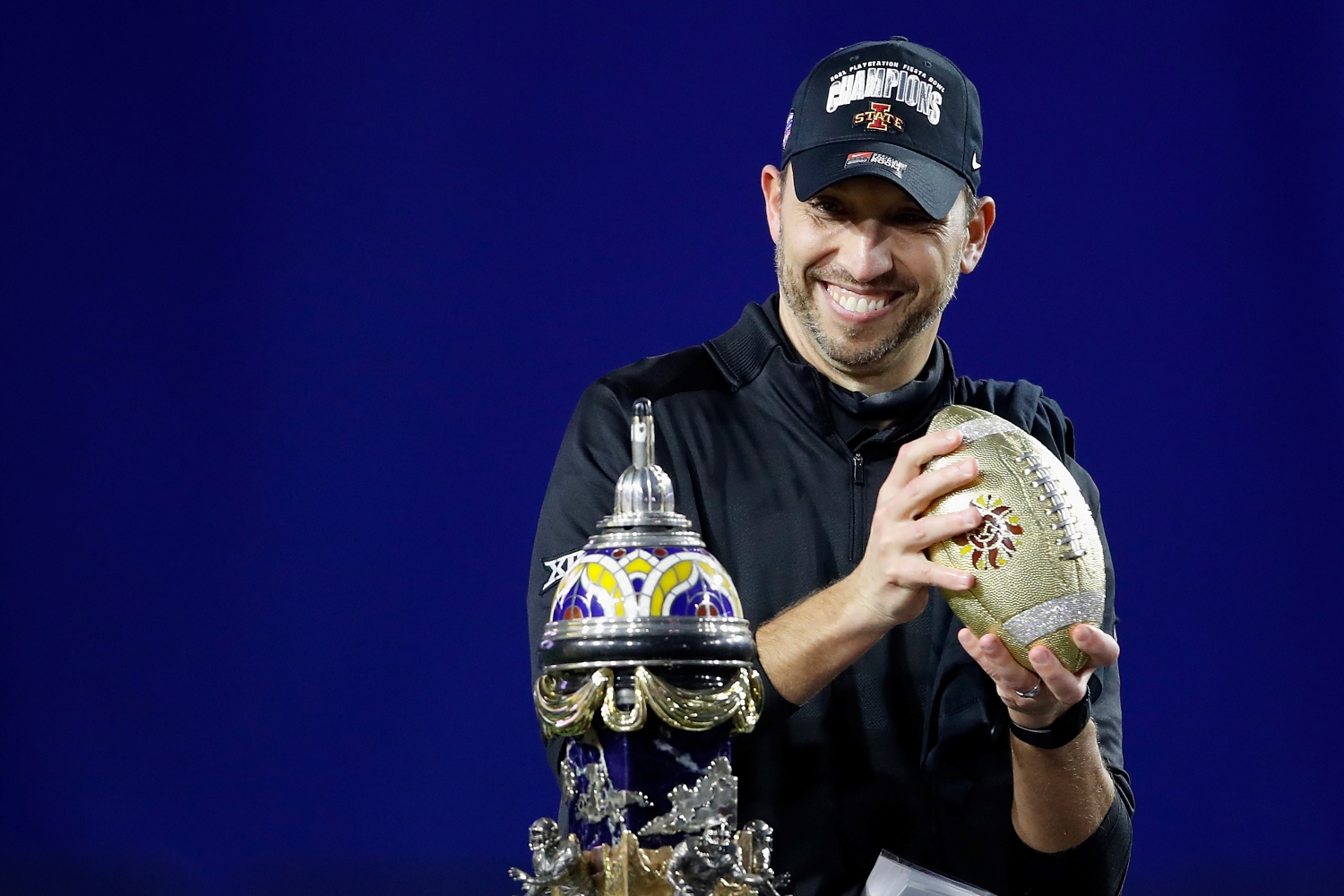 College football fans have watched Campbell go from a relative unknown to one of the biggest names in the sport. That comes with the territory when you turn one of the worst programs into the country into one of the best in the Big 12.
Before he arrived at Iowa State, Campbell rose up the ranks at Toledo. By the age of 32, he became the youngest head coach in the Football Bowl Subdivision (FBS). Under his direction, the Rockets posted an impressive 35-15 record. The team reached as high as No. 23 in the AP Poll during his tenure.
Campbell's success at Toledo put him in the driver's seat to land a more prominent job. In November 2015, he signed a six-year contract to become Iowa State's new head coach. The former collegiate defensive lineman has worked hard to rebuild a program that totaled eight wins in the three years prior to his arrival.
Iowa State has gone 35-28 with Campbell in charge. After posting a disappointing 7-6 record in 2019, the Cyclones rebounded with a 9-3 campaign last year that included a lopsided win in the Fiesta Bowl over Oregon. Campbell's success at Iowa State has made him an attractive option for NFL teams. In terms of finding someone capable of implementing a culture change, it's hard to look past the Ohio native.
The Lions struck out on an expensive plan to steal Iowa State's head coach
The Lions desperately needed to find a new leader this offseason. They ended up hiring Dan Campbell, who played for the franchise from 2006-08, as head coach. However, if things had gone differently, another Campbell would be calling the shots in Detroit.
According to Dennis Dodd of CBS Sports, the Lions offered Iowa State's head coach an eight-year, $86.5 million contract. Dodd said the deal included full control, but he could not confirm that fact. Rather than make the leap from college to the NFL, Matt Campbell chose to sign a contract extension with Iowa State.
On one hand, his decision seems quite risky. Turning down that type of money could backfire if he doesn't continue to make strides with the Cyclones. Passing on that type of financial (and job) security may have been a mistake, but that remains to be seen.
On the other hand, if the Lions did offer Campbell almost $69 million and full control, that represented a massive gamble on their end, too. An eight-year deal with those stipulations would have placed the future of the franchise in the hands of someone with zero NFL experience.
Missing out on their target may not be such a bad thing for the Lions. Despite getting rejected by one of the top coaches in college football, Detroit can look forward to a new beginning under a familiar face.
Can Dan Campbell succeed in turning the Lions around?
At one point in his life, Dan Campbell wore a Lions uniform. Now, he will try to lead his old team to new heights from the sidelines.
Will the retired NFL tight end succeed in his new role? Or will the longtime New Orleans Saints assistant head coach fail to live up to expectations in Detroit?
It would help if the Lions had a better roster. The offense features some intriguing young players (Penei Sewell, T.J. Hockenson, and D'Andre Swift), but there are major question marks at quarterback and receiver.
On the other side of the ball, the Lions don't look particularly intimidating, either. Jamie Collins, who turns 32 in October, is the only front-seven defender who's ever made a trip to the Pro Bowl. The secondary desperately needs 2020 first-round pick Jeff Okudah to become a lockdown corner if it has any chance of slowing down opposing quarterbacks.
Dan Campbell and his staff face a tall task in turning around a team that hasn't won many games in recent years. It may not happen right away, but perhaps his no-nonsense attitude and fiery approach will help the Lions achieve success down the line.
All statistics courtesy of Sports Reference.