The Green Bay Packers Learned From Their Embarrassing Week 1 Mistake
Matt Lafleur and the Green Bay Packers didn't make the same mistake two weeks in a row.
So far, 2022 is starting like 2021 for the Green Bay Packers, and that's a good thing if you're a Packers fan. In both years, the Pack bounced back after ugly season-opening losses. A year ago, they went on to capture the No. 1 seed in the NFC.
This year is a bit different. Gone is All-Pro wide receiver Davante Adams. There are still many questions about Green Bay's young and inexperienced wide receiving corps. The Packers still have four-time MVP Aaron Rodgers and a strong one-two punch in the backfield in Aaron Jones and AJ Dillon. On Sunday against the Chicago Bears, head coach Matt LaFleur made sure the Packers didn't repeat a mistake they made during the Week 1 loss to the Minnesota Vikings.
The Green Bay Packers had a nice bounce-back week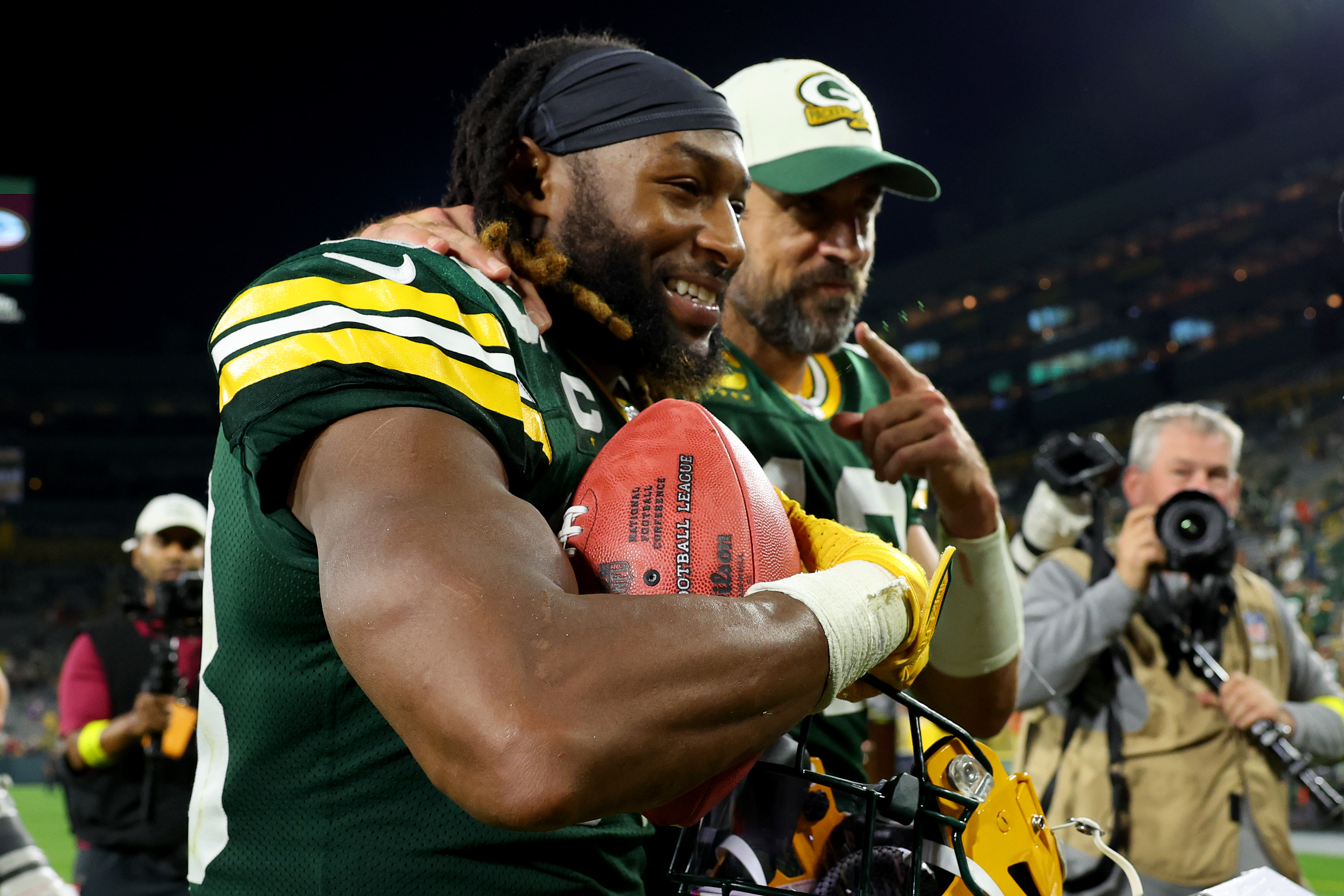 Offense hasn't been a question in Green Bay for years. With Hall of Fame quarterbacks Brett Favre and Aaron Rodgers leading the way since 1992, the Packers have been able to put up points. There were some question marks after last week's ugly loss to the Vikings on how they'd handle life without Adams.
In Sunday's win over the Bears, the offense looked like it was back in sync. There are plenty of things that still need to be cleaned up, but Rodgers & Co. looked much sharper than they did a week ago. In the 23-7 loss to the Vikings, Rodgers went 22 of 34 for 195 yards and an interception. He averaged 5.7 yards per pass.
Against the Bears, Rodgers completed 19 of 25 passes for 234 yards and two touchdowns. After the game, he admitted his stats looked much better than he did.
"Tonight was really about 28 (Dillon) and 33 (Jones), getting them the football," Rodgers said, per ESPN. "I didn't play great, and I feel like the stats look a little better than the game.
"I missed some throws that I should never miss. There were some opportunities for more points out there."
Rodgers continued his domination against the Packers' biggest rival. In his 29 starts against the Bears, he is 24-5.
The Packers rode the legs of Aaron Jones to victory
The biggest problem in the Week 1 loss was the lack of touches by Jones. Against the Vikings, he rushed five times for 49 yards. He had three catches for 27 yards. The explosive Jones touched the ball eight times the entire game.
"Any time Aaron Jones comes out of the game with eight touches, that's not good enough," LaFleur told reporters after the Vikings game. "That's not good enough."
He made sure there was no embarrassing repeat Sunday.
Jones carried the Packers, rushing 15 times for 132 yards and a touchdown. He also caught three passes for 38 yards and another score. Jones was, by far, Green Bay's biggest weapon.
After Week 1, Jones insisted he wasn't frustrated. He simply said he'll be ready whenever his number was called. They called his number often Sunday, and he proved he was ready.
"That just naturally put a smile on my face," Jones said. "I knew I had to show up when my number was called. That just pushes me that much harder."
Consider Week 1 a learning experience.
Like Sportscasting on Facebook. Follow us on Twitter @sportscasting19 and subscribe to our YouTube channel.