The Green Bay Packers Refuse to Be 'Idiots' When It Comes to Handling Aaron Rodgers' Future
For the first time in his 16-year NFL career, Aaron Rodgers' future with the Green Bay Packers is largely in doubt. After the Packers lost to the Tampa Bay Buccaneers in the NFC Championship Game on Sunday, Rodgers held a somber press conference in which he sounded unsure about returning to play in Green Bay.
But with trade rumors swirling and Twitter photoshops arising of Rodgers in other NFL uniforms, Packers CEO Mark Murphy completely shut down the idea of the future Hall-of-Fame QB moving on from the team.
Aaron Rodgers frightens Packers fans with his recent comments
Aaron Rodgers is no stranger to losing in the playoffs. In his 13 seasons as the starting quarterback of the Packers, Rodgers has made the postseason 10 times and only won the Super Bowl once. At the end of each playoff run, Rodgers spoke to the media about the season and what the future holds. Each time, you could feel the disappointment and regret in Rodgers' heart.
But this time was different.
After losing to the Buccaneers in the NFC Championship on Sunday, Rodgers didn't sound regretful. He sounded as if he had lost hope. Hope in management to build a winning team around him. Hope in the coaching staff to trust him with the game on the line. Hope that's fading quickly.
"[There are] a lot of guys' futures that are uncertain, myself included," Rodgers told reporters after the game. "That's what's sad about it most … getting this far. Obviously, there's going to be an end to it at some point, whether we make it past this one or not. Just the uncertainties, (it) is tough, and the finality of it."
Rodgers' farewell press conference didn't sound like a press conference at all. It sounded more like a cryptic message to his employer — the Green Bay Packers. Rodgers made it crystal clear Sunday that he's willing to move on from his longtime team if it continues to fail him.
Packers CEO Mark Murphy says the Packers won't be 'idiots' regarding Rodgers' future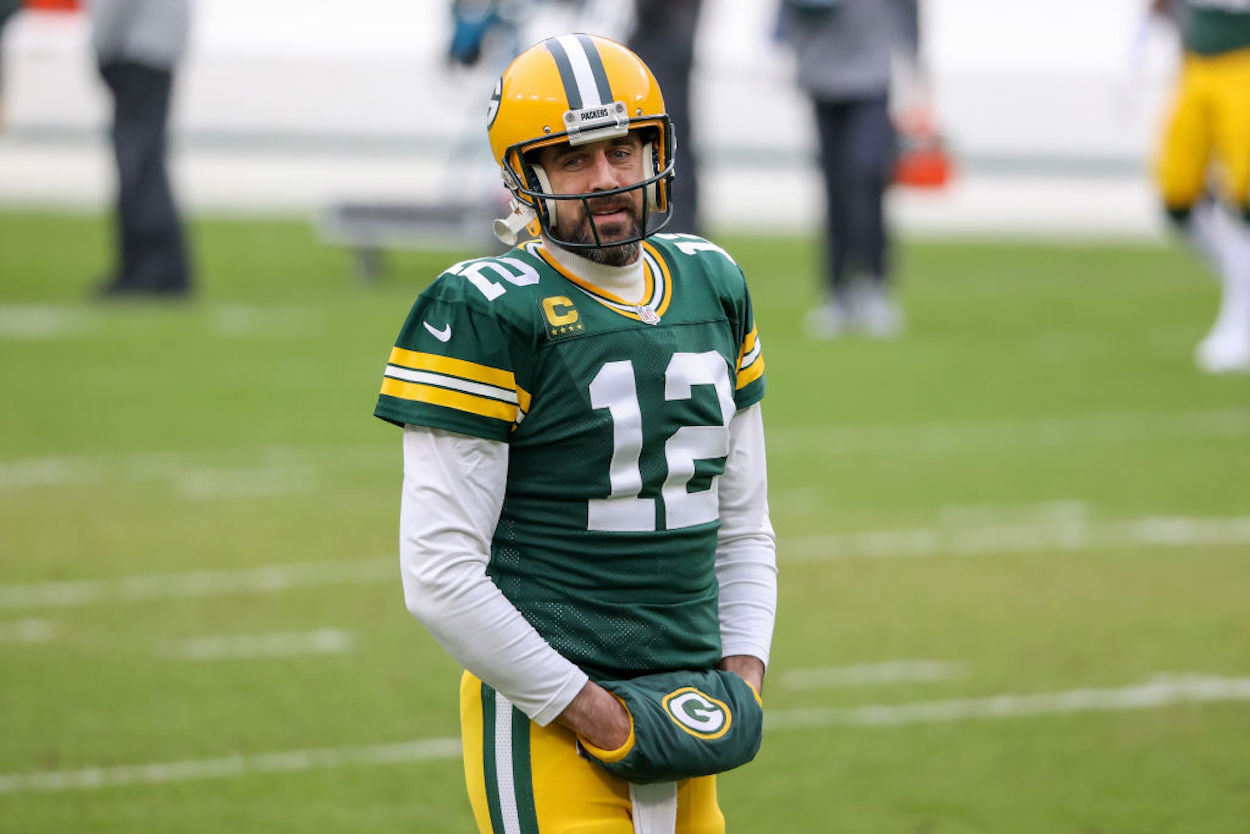 If Aaron Rodgers was in fact sending an ultimatum-style message to the Packers, management sure heard it loud and clear. A day after the NFC Championship loss, Packers CEO Mark Murphy appeared on The 5th Quarter Show on WNFL in Green Bay and sent a stern message of his own regarding Rodgers' future with the team.
"We're not idiots," Murphy told WNFL. "Aaron Rodgers will be back, he's our leader."
What's next for Aaron Rodgers and the Packers?
OK, so what does all this mean? Rodgers clearly wants something to change in Green Bay based on his recent comments, and it sounds as if he's ready to move on if that doesn't happen soon. On the other side of things, the Packers don't seem interested in even entertaining a divorce with their franchise quarterback.
Rodgers is still under contract until the 2024 NFL season when he will be 41 years old. The only way he gets out of Green Bay is if he forces his way into a blockbuster trade, and it's hard to see the Packers agreeing to that willingly.
If Green Bay really wants to put Rodgers at ease, they could offer him a new, more lucrative contract to make him feel coveted again. Drafting Jordan Love in the 2020 NFL draft clearly struck a nerve with Rodgers, and it's hard to blame him. How would you feel if your employer used company resources to hire your replacement while you were still one of the best in the world at your job?
The relationship between Rodgers and Green Bay is certainly fractured, but the Packers would have to be idiots to let him go.