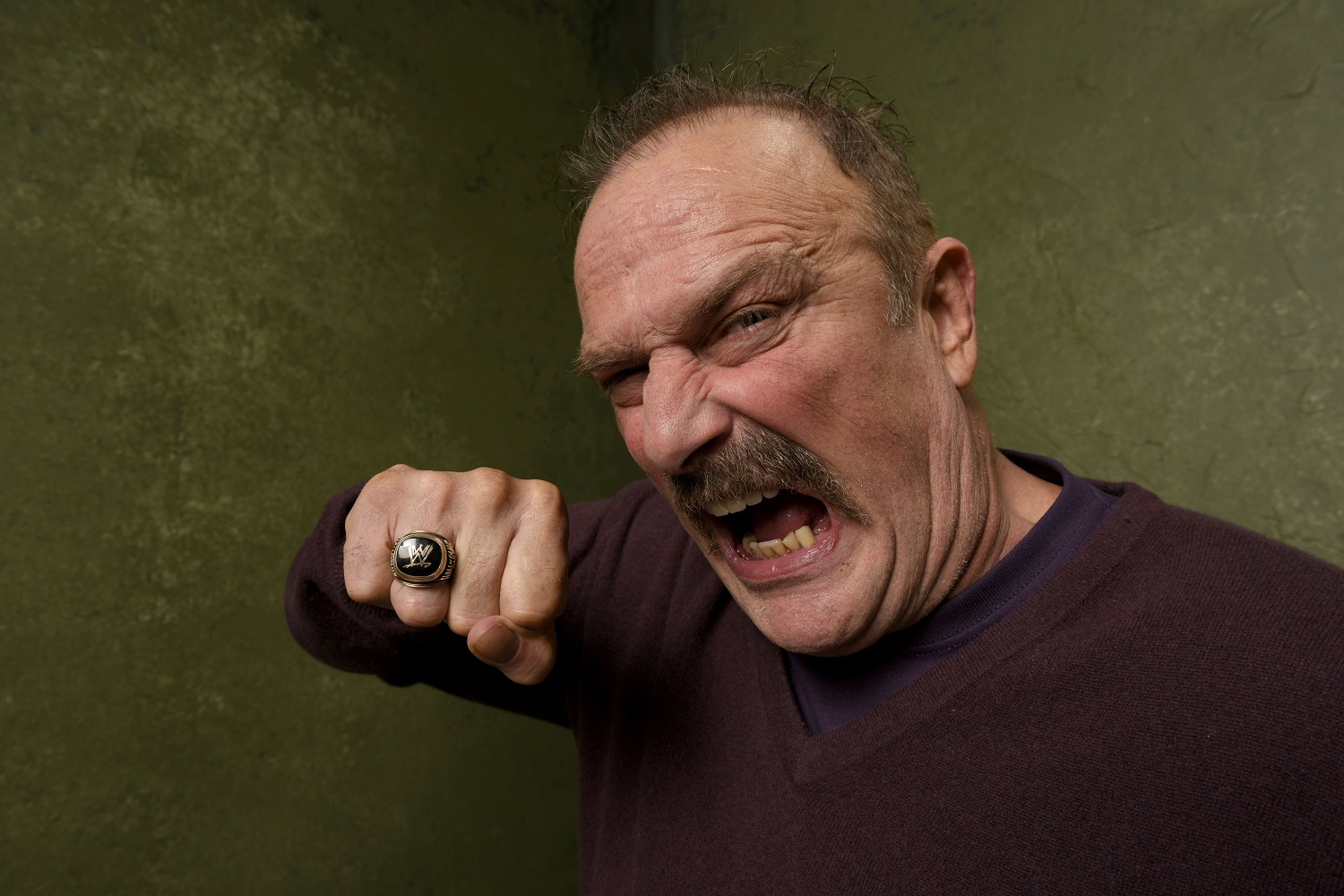 The Horrifying Tale of How WWE Hall of Famer Jake 'The Snake' Roberts Was Born
A look at the horrifying tale of how WWE Hall of Famer and current AEW manager Jake 'The Snake' Roberts was conceived.
Any true fan of professional wrestling knows that Jake "The Snake" Roberts hasn't had an easy life. He's famously battled addiction issues for decades but has continued to fight and has now been sober for years. The WWE Hall of Famer recently took a managerial role in All Elite Wrestling and is doing quite well in his new position.
Roberts has never been one to shy away from discussing his past, whether it be for an award-winning documentary (which is just fantastic) or in front of live crowds over the past few years during a stand-up comedy tour. But Jake "The Snake" recently revealed one of the most horrifying details of his past to date.
The wrestling career of Jake 'The Snake' Roberts
Jake 'The Snake' Roberts began his pro wrestling career in the mid-1970s working for such promotions as Mid-South Wrestling and Georgia Championship Wrestling. In the early 1980s, he made his way to Canada to work for Stu Hart in Stampede Wrestling before joining WWE in 1986.
Roberts was consistently viewed as one of the best in-ring performers for Vince McMahon upon his arrival and was placed in a number of high-profile feuds during his WWE career. Vince tried to get him over as a heel but fans fell in love with him and he eventually turned into a fan favorite. The live snake at ringside certainly didn't hurt.
In his initial run in WWE, Jake "The Snake" Roberts feuded with the likes of The Honky Tonk Man, Andre the Giant, The Undertaker, and "Macho Man" Randy Savage, jumping back and forth between being a babyface and a heel and thriving in both roles.
He left for WCW in 1992 and worked a short program with Sting but left the company in less than a year. He spent the next few years working in various promotions before returning to WWE in 1996. He'd become a born-again Christian and it became a part of his character, which led to the famous "Austin 3:16 promo" that helped Stone Cold Steve Austin become the biggest wrestling star in the world. Roberts left the company in 1997 and went to work for Paul Heyman in ECW for a short time before hitting the independent circuit.
His fight with drugs and alcohol
As chronicled in Beyond the Mat and The Resurrection of Jake the Snake, as well as countless interviews over the years, Roberts has struggled with drugs and alcohol since before he even hit his teenage years. His addiction issues hindered numerous friendships and relationships with his children but his longtime friend and colleague, Diamond Dallas Page, refused to give up on him.
In 2012, Roberts moved into DDP's Atlanta home and began to turn his life around. Over the course of 18 months, he lost 50 pounds and finally got sober. He was inducted into the WWE Hall of Fame in 2014, three months after making his first appearance on "Monday Night RAW" in many years.
Jake "The Snake" Roberts has battled many demons over the years, including having to deal with the horrifying actions of his father, one of which he says is actually responsible for his existence in the first place.
Jake 'The Snake' Roberts revealed the horrifying story of how he was conceived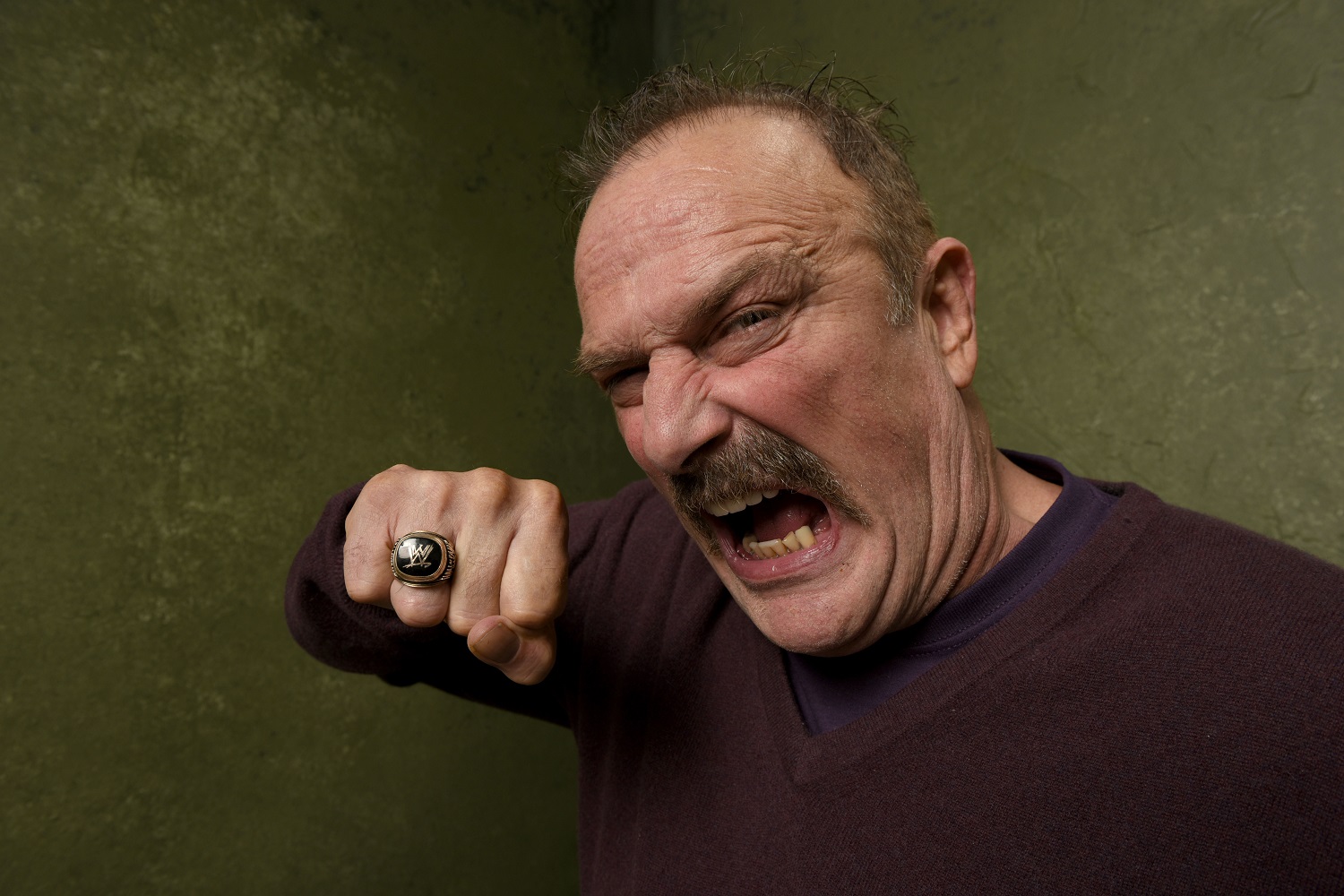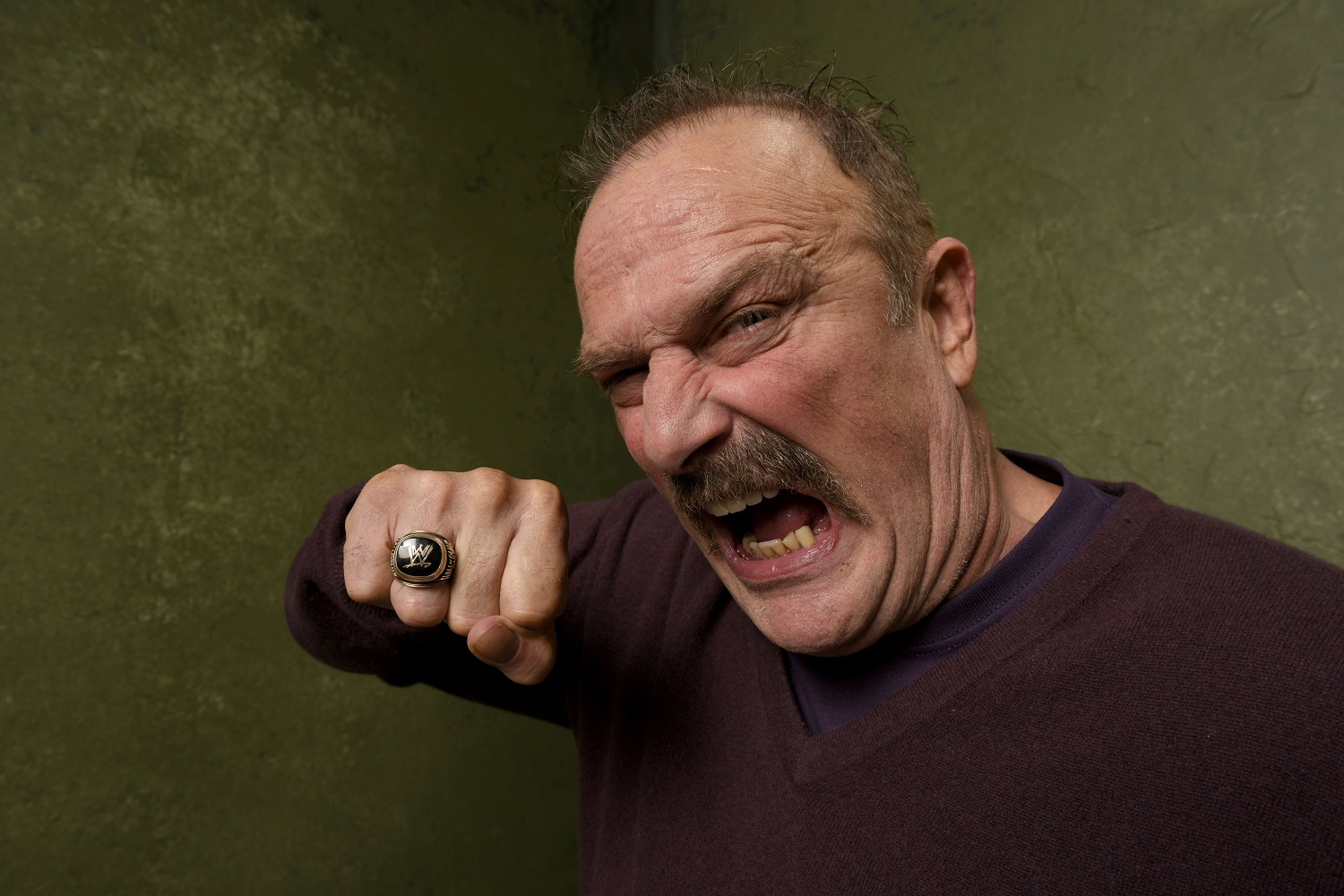 For those unaware, Jake "The Snake" Roberts is the son of former pro wrestler Grizzly Smith, who worked for WWE in a backstage capacity following his career and then as a road agent for WCW.
Roberts has long told stories about the physical and mental abuse he suffered as a child and is one of many that says his father, who died in 2010, was a child abuser and rapist. He says that many people in the wrestling world didn't want anything to do with him because of the reputation his father had. Perhaps the most horrifying story he's ever told is the story of how he was conceived, which he once shared on an episode of "The Joe Rogan Experience" podcast.
"My mother was a 12-year-old girl and her mother was dating my father. My grandmother passed out and my father left that bed and went into a 12-year-old little girl's room and raped her: that's me.

"That's how I got started and later in life, my father was raping my sister. I did not know it. He raped his other daughter. I did not know it. I always heard whispering and people giving him the evil eye and was like, 'What the f*** is their problem?'

"Then I'd get in the ring with a guy and they knew my father and they'd beat the f***ing s*** out of me because they hated him because they'd seen some of the s*** he did.

"You want to believe that of your own father? You don't ever want to believe that. God, you don't want to believe that, do you?"

Jake 'The Snake' Roberts
It's demons like these that Jake "The Snake" Roberts battled for decades on end and it's easy to see why. Thankfully, the pro wrestling legend finally has his life together and is thriving in his role in AEW.