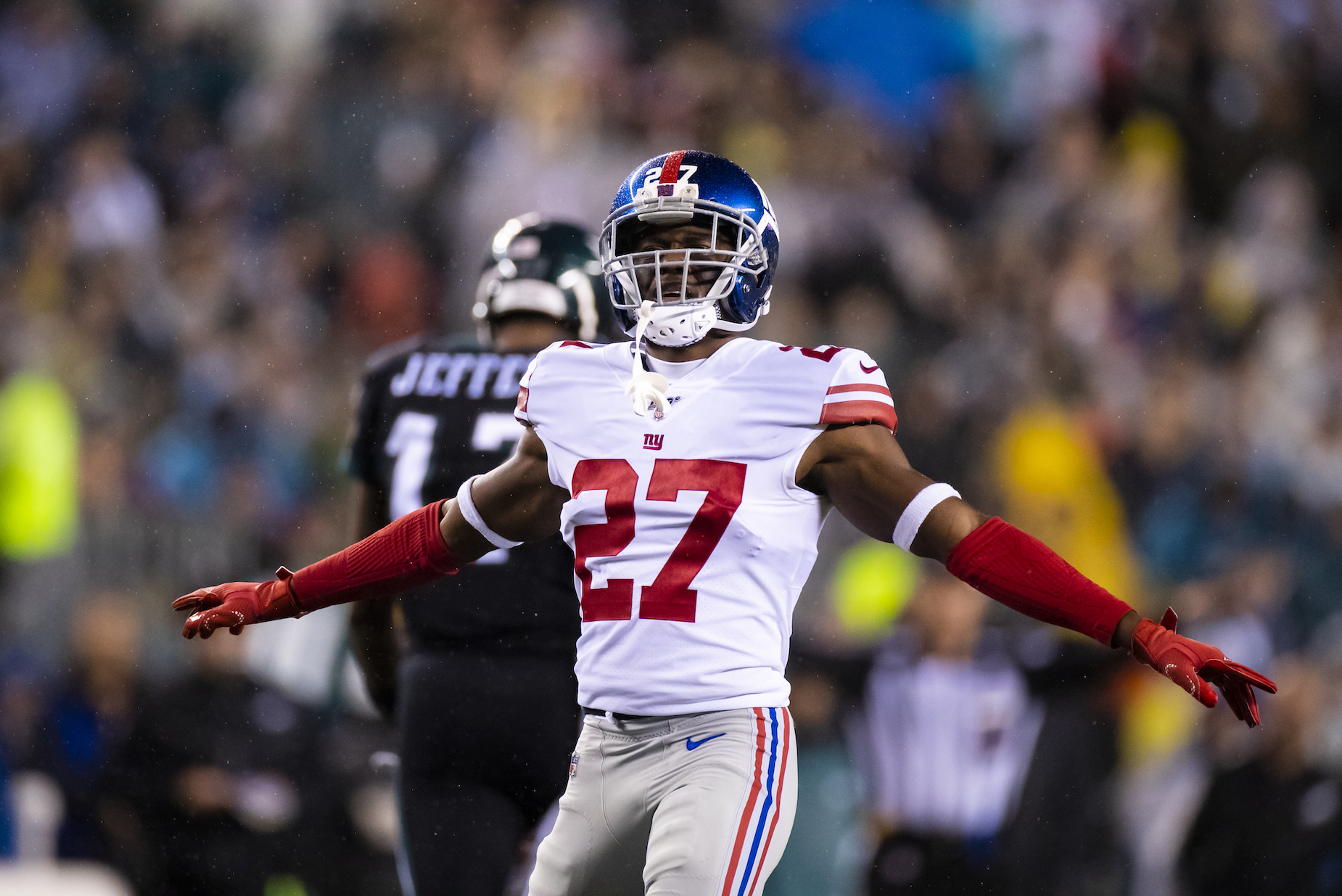 The Kansas City Chiefs Are Stealing a Former First-Round Pick to Strengthen Their Roster
After being cleared of armed robbery charges, Deandre Baker is ready to get back to football. It seems like that will happen with the Kansas City Chiefs.
While they haven't quite looked like their dominant selves this season, the Kansas City Chiefs are still 8-1 coming out of their bye week. Despite that impressive start to the campaign, Andy Reid and company aren't ready to rest on their laurels. In fact, the defending Super Bowl champs are on the verge of stealing a former first-round draft pick to strengthen their roster.
That man is no other than Deandre Baker, who recently had armed robbery charges against him dropped. On the back of that news, he seems ready to get back into football and join the Kansas City Chiefs.
Deandre Baker has proven himself to be a talented defender
As the cliche says, defense wins championships. If you believe that to be true, then Deandre Baker is worth his weight in gold.
The cornerback played his college football at the University of Georgia, where he grew into a fixture in the Bulldogs' defense. During his four years on campus, he recorded 83 solo tackles, seven interceptions, and 23 passes defended; he also claimed the Jim Thorpe Award as the country's top collegiate corner defensive back and earned consensus All-American honors during his senior season.
On the back of that success, Baker entered into the 2019 NFL draft. The New York Giants traded up to select him with the 30th-overall pick.
Life in the pros, however, didn't get off to a great start. As a rookie on a bad team, Baker struggled to acclimatize to the NFL; he was torched by veteran receivers, committed too many penalties, and, by some measures, was literally the worst corner in the league.
Down the stretch, though, things eventually turned. As Mike Esposito wrote for Sports Illustrated, the Giants started dialing back Bakers' snap count in an effort to take some weight off his shoulders; once that happened, the young corner started to look more like his old self. Even if he wasn't exactly a world-beater, his upside became more obvious.
The cornerback is ready to return to football after being cleared of robbery charges
Despite that improvement at the tail end of 2019, Deandre Baker hasn't seen any action this season. Unfortunately for the cornerback, he's been wrapped up in quite the legal saga.
"Baker was charged in August with four counts of armed robbery stemming from an incident in which Baker was accused of stealing cash and watches from four men at gunpoint at a house party in Miramar, Florida, on May 13," a CNN report explained. As you might imagine, he landed on the commissioner's exempt list in July and was cut from the Giants squad in September.
Those charges, however, have now been dropped.
"The charges against Baker were based on three statements by the victims, who claimed Baker was one of the assailants," the report continued. "The decision to drop the charges comes after his accusers and other witnesses to the alleged crime 'have become uncooperative and their credibility is inalterably tarnished,' according to a letter from Assistant State Attorney Paul R. Valcore of the Broward County State Attorney's Office."
The Kansas City Chiefs seems poised to add DeAndre Baker to their squad
With DeAndre Baker cleared of any wrongdoing, the defensive back is apparently ready to get back to playing football. It seems like that comeback will take place with the Kansas City Chiefs.
"The Kansas City Chiefs are expected to sign former New York Giants first-round pick Deandre Baker to the practice squad in the next few days, NFL Network's Mike Garafolo reported," Grant Gordon explained on NFL.com. "Baker, a cornerback out of Georgia, is planned to visit the Chiefs initially, but has no other visits planned. After signing to the practice squad to gain experience with the club, it's expected that he'll be promoted to the active roster, Garafolo added."
While the move might not pay off for a few weeks, it could turn into quite the steal for the Chiefs. In 2019, the Giants traded three draft picks for the opportunity to select Baker in the first round; now, Kansas City is snagging him for pennies on the dollar. If things work out, they'll have added a valuable addition to their secondary. In a worst-case scenario, they'll have wasted a little bit of cash and a spot on the practice squad.
When you're a good team trying to remain on top of the mountain, it's all about making the smart moves that keep the ball rolling. If they can officially land Deandre Baker, the Kansas City Chiefs will have pulled off another small, but potentially significant, deal.
Stats courtesy of Sports-Reference and Pro-Football-Reference