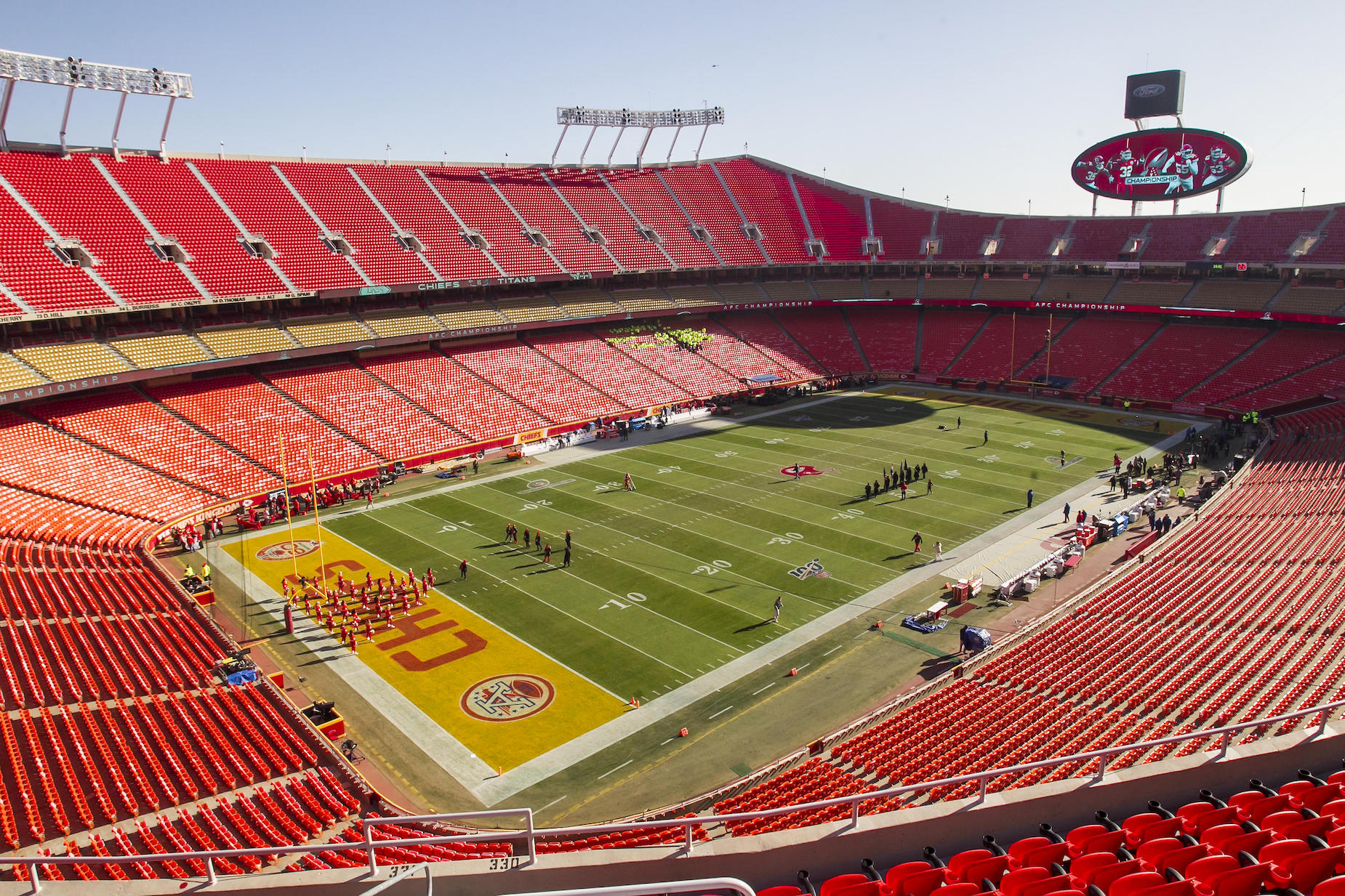 The Kansas City Chiefs Just Showed the Major Challenge of Playing Football in Front of Live Fans in 2020
The Kansas City Chiefs plan to have fans in Arrowhead Stadium during the 2020 season. That will be easier said than done, though.
It goes without saying that 2020 has been an unconventional and challenging year for everyone. In the world of sports, things have been truly unprecedented, with the NBA and NHL suspending their seasons and resuming play inside a bubble. Even the almighty NFL has had to make some changes.
Unlike other sports, which are taking place behind closed doors, some NFL teams are planning to allow a limited number of fans into the stadium this fall. As the Kansas City Chiefs proved, however, that process won't be without its own set of challenges.
Even the NFL has made some coronavirus-related changes in 2020
While the NFL had the advantage of finishing the 2019 season before the coronavirus pandemic truly reached the United States, even they haven't been immune from making changes. During the 2020 offseason, things have already looked a bit different.
The first significant audible came in April when the league canceled the in-person portion of the 2020 NFL draft. While the event was expected to take over the Las Vegas Strip this spring, things took place online instead; things were a bit different than usual, but, for the most part, it went off without too large of a hitch.
Although training camp has since begun, there have been more changes to the league's lead-up to the 2020 campaign. As part of an agreement between the NFL and the NFLPA, all of this year's preseason games have been scrapped. Players were also able to opt-out of the season if they desired, and training camp rosters were reduced by 10 spots.
Will fans be allowed in NFL stadiums for the 2020 season?
If you've watched any North American sports since the coronavirus pandemic began, you've surely noticed that there are no fans in the stands. When the NFL begins play this fall, some teams will be following that trend; others, however, will have limited capacity in the stadium.
As charted by Frank Schwab of Yahoo Sports, teams can decide the best course of action on an individual basis. Some, like the New York Jets, New York Giants, and Las Vegas Raiders, said there will be no fans allowed in the building until further notice. Other clubs, like the Green Bay Packers and New Orleans Saints, plan to start the season in empty seasons before potentially allowing a limited number of fans to attend games down the line.
A third group of teams, which includes the likes of the Dallas Cowboys and the Kansas City Chiefs, are aiming to have fans in the stands for every home game in 2020. Attendance numbers won't exceed a limited percentage of total capacity, which obviously varies from building to building.
The Kansas City Chiefs practice showed how tough 2020 will be
As of now, the Kansas City Chiefs are planning to fill Arrowhead Stadium to 22% capacity this season. On Saturday, however, they had somewhat of a test run, allowing about 2,000 season ticket holders into the complex to watch an open practice.
On paper, the Chiefs did everything they were supposed to do. Their Twitter account shared images of social distance stickers and wellness checkpoints; fans were told that they had to remain in their own groups and wear a mask. In reality, though, it seems that not everyone followed the rules.
As seen in a video retweeted by Herbie Teope of the Kansas City Star, several fans removed their masks when seated inside Arrowhead. "The Chiefs' exception to the mask rule at Arrowhead Stadium is not required when actively eating or drinking," he wrote on Twitter. "If we want football without a potential interruption this season, methinks the below video pan is proof we must do better."
While you could argue that a single video isn't representative of what the majority of fans were doing, it still represents a major challenge facing teams like the Chiefs this season. Even if the clubs do everything right, allowing fans into stadiums in inherently risky. Human beings aren't robots; regardless of a reduced capacity, there are still plenty of opportunities for someone to slip up and remove their mask, get too close to a stranger, or otherwise violate the safety protocols. Whether it's intentional or not, all it takes is one unlucky encounter to create a new COVID-19 cluster.
From a purely sporting perspective, everyone wants fans to return to NFL stadiums as soon as it's safe to do so. The Kansas City Chiefs' open practice, however, proves that's more easily said than done.