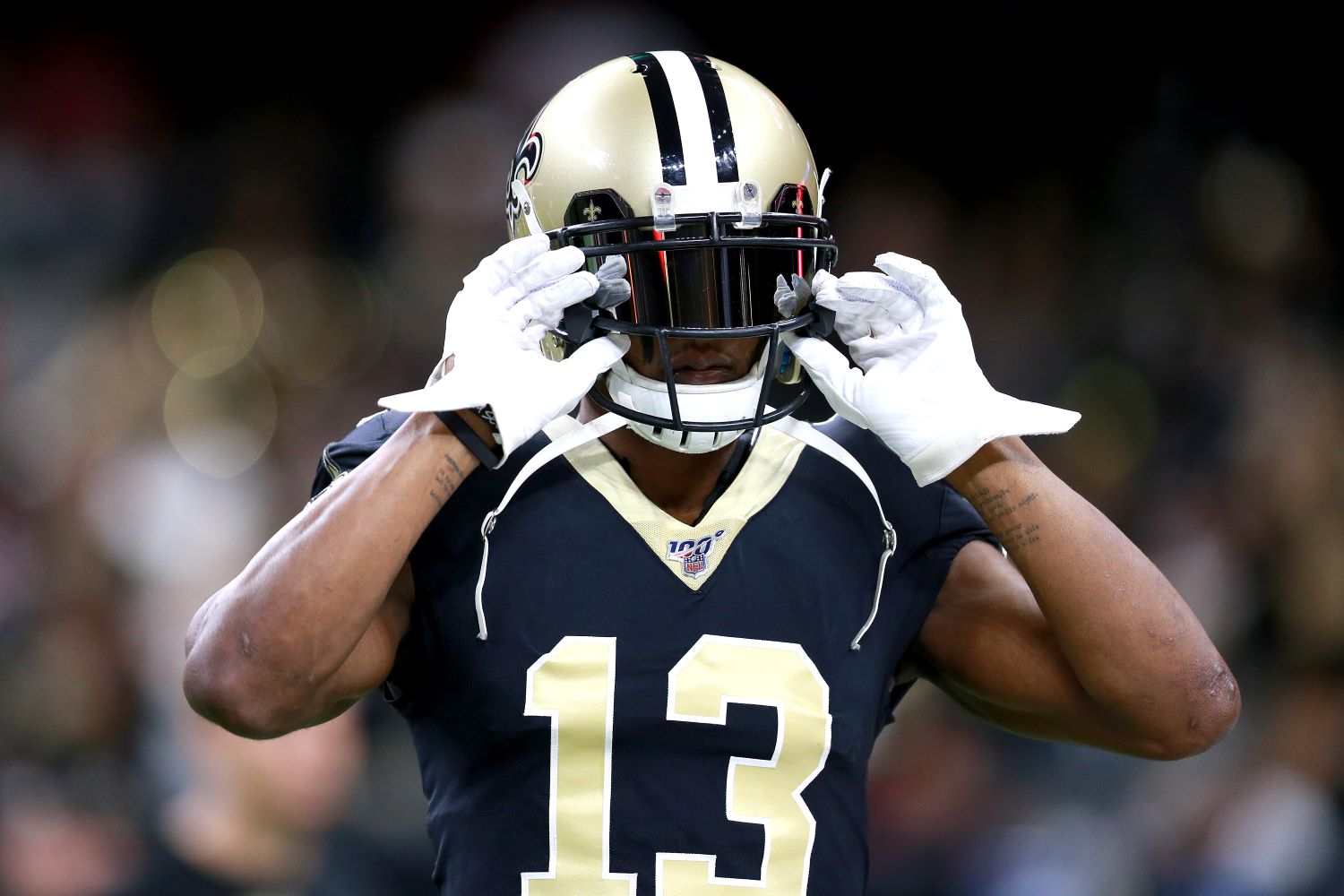 The New Orleans Saints' $100 Million Star Just Suffered a Painful Setback
Having already missed several games because of his ankle, New Orleans Saints star Michael Thomas just suffered another injury setback.
Last season, nobody could stop Michael Thomas. This year, however, the star wide receiver for the New Orleans Saints has spent most of his time sidelined with a high-ankle sprain.
Unfortunately for Saints fans, they may not get a chance to see the three-time Pro Bowler back in action this week. Already working his way back from one injury, Thomas just suffered a painful setback that leaves his status for Sunday's showdown against the Carolina Panthers in doubt.
It's been a rough season for Michael Thomas
Let's just say Michael Thomas probably wishes he could turn the clock back to 2019. In July, the Saints rewarded their star wideout with a five-year, $100 million contract extension. The 6-foot-3, 212-pounder responded by setting the NFL single-season reception record by hauling in 149 passes. Of course, that came on the heels of a 125-catch campaign in 2018 that included his first first-team All-Pro selection.
However, the 27-year-old has been unable to build upon his fantastic 2019 season. In the Saints' season-opener, Thomas suffered a high-ankle sprain that has kept him sidelined for several weeks.
To make matters worse, the 2019 NFL Offensive Player of the Year missed New Orleans' Week 5 tilt against the LA Chargers due to disciplinary reasons. So far, Thomas has caught just three passes for 17 yards and zero touchdowns after racking up a ridiculous line of 149/1,725/9 a year ago.
The Saints' $100 million star suffers a painful setback
With his ankle injury healing, Michael Thomas appeared to be turning the corner this week. However, the Saints' $100 million star just suffered a painful setback that could threaten his availability for Week 7.
On Thursday, the NFL Network's Tom Pelissero reported that Thomas injured his hamstring in practice.
"They will see how he feels here over the next couple of days and whether he has any chance to play in that game on Sunday against Carolina," Pelissero said.
For the Saints, not having Thomas available will make their matchup against the Panthers much more challenging. After all, Carolina has surprised many by getting off to a 3-3 start in the first year of the Matt Rhule era.
New Orleans faces a tough test against Carolina
Whether Michael Thomas plays or not, New Orleans faces a tough test against its NFC South adversary. Carolina may not be dominant on either side of the ball, but it's important to remember that Rhule's team lost Christian McCaffrey to a high-ankle sprain of his own in Week 2.
Still, the Panthers have shown intriguing potential due in large part to a defense full of young, high-upside players. Despite being a rookie, Jeremy Chinn leads the team with 49 tackles. Second-year defensive end Brian Burns has totaled two sacks and seven quarterback hits after flashing dynamic pass-rush ability in his first year in the league. Plus, the Panthers have a potential All-Pro on their hands in the form of first-year defensive tackle Derrick Brown.
That unit will be tasked with stopping a Saints offense that once again has shown no trouble putting points on the scoreboard. Even with Thomas sidelined, New Orleans still ranks fifth in scoring (30.6 points per game). Meanwhile, Carolina ranks just 23rd in points allowed at 23 points per game.
Ultimately, the matchup will come down to whether Carolina can avoid turning the ball over, which has been a problem for Teddy Bridgewater. Drew Brees' former backup has thrown five interceptions in six games, including a two-pick outing against the Bears.
The Panthers need Bridgewater to take better care of the ball if they have any chance of winning on the road. Luckily for him, the Saints have struggled to force turnovers this season. Through fives games, New Orleans has recorded just five takeaways, including only three interceptions.
Will Carolina leave Mercedes-Benz Stadium with a 4-3 record? Or will Brees and Co. take care of business after having the week off?
We'll find out soon enough.
All statistics courtesy of Pro Football Reference.