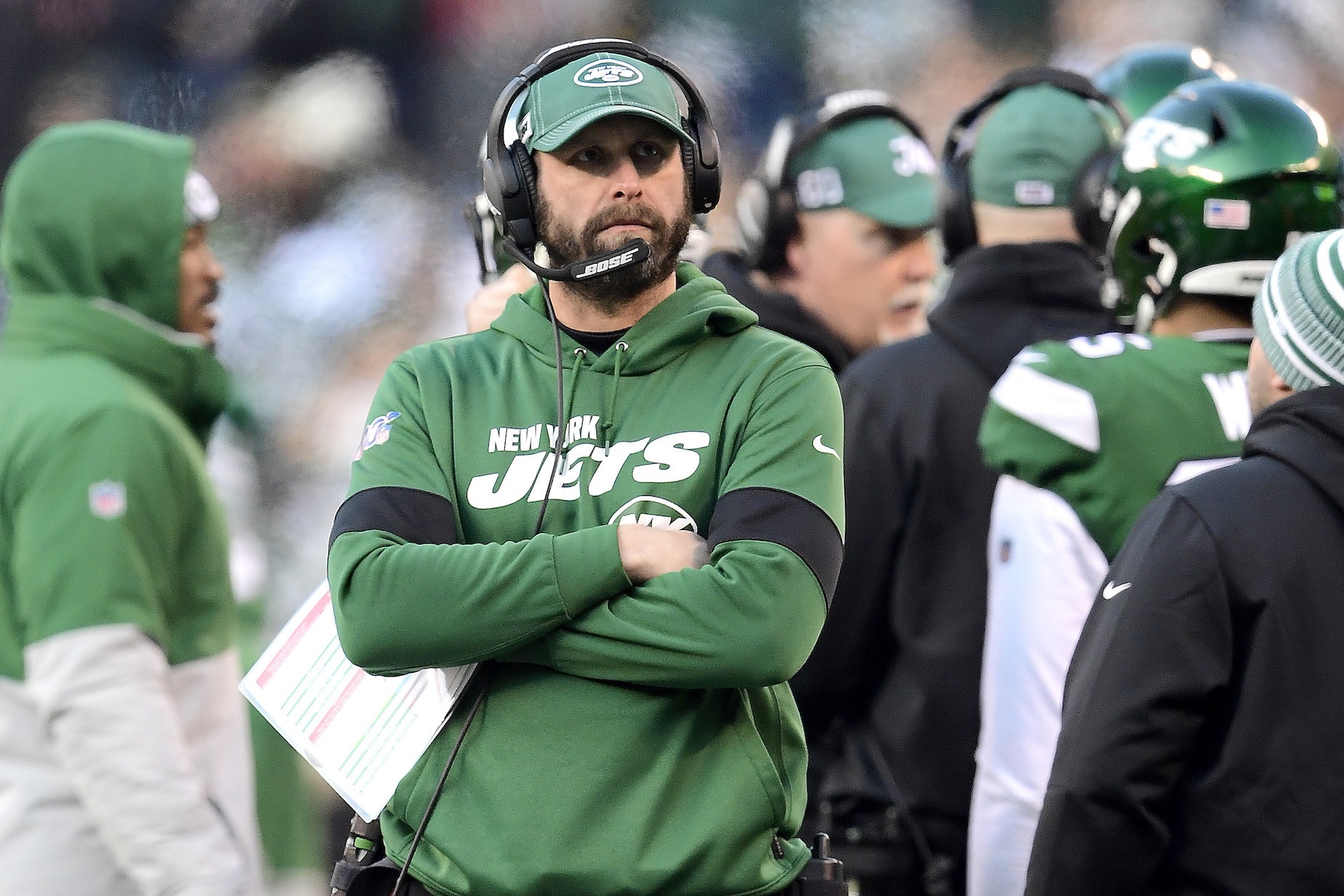 The New York Jets Are Reportedly Ready to Send a Disappointing Message to Their Fanbase
It's safe to say that the 2020 NFL season hasn't gone too well for Adam Gase and the New York Jets. Things, however, could still be getting worse.
While the NFL season is only a few weeks old, that can feel like an eternity to certain fanbases. If you're following the New York Jets, for example, there isn't much to be excited about. After a tough 2019 campaign, things aren't looking much better; Adam Gase and his troops seem to be trapped in a Groundhog Day-style situation.
Heading into Week 4, however, things might get even worse for Gagn Greens' fans. Independent of the New York Jets' performance on Thursday Night Football, they could be in for even further disappointment.
The New York Jets have been stuck on the tarmac for years
Given the dominance of the Patriots, it's been a tough task for anyone outside of New England to shine in the AFC East. The New York Jets, however, have had an especially hard time getting off the ground in recent years.
While it might feel like an eternity ago, the Jets did make the playoffs during both the 2009 and 2010 campaigns. Eventually, though, the Mark Sanchez and Rex Ryan era came to an end; the following rebuilding effort, however, didn't build much beyond frustration.
Todd Bowles managed to post a 10-6 record during his first year on the job, but things declined after that initial success. He struggled through two consecutive 5-11 seasons, slumped to 4-12 in 2018, then lost his job.
After that, the Jets brought in Adam Gase, who had developed a reputation as a bit of a quarterback whisperer; he immediately was tasked with helping Sam Darnold develop into a franchise player. Their first season, however, turned out to be a bit of a mixed bag. The young signal-caller had experienced plenty of growing pains, but the Jets did win six of their last eight games to finish the year 7-9.
Adam Gase hasn't won many fans during his time in New York
Coming into the 2020 NFL season, no was expecting much from the Adam Gase and his New York Jets. Through the first few weeks of the campaign, they've managed to fall short of that low bar.
During Week 1, the club fell 27-17 to the Buffalo Bills, who, in fairness, are shaping up to be a solid squad. The Jets followed that up with a 31-13 loss to the San Francisco 49ers and a meek, 36-7 defeat at the hands of the Indianapolis Colts.
While the Jets have suffered more than their share of injuries, their 0-3 record doesn't really indicate any bad luck. According to Pro-Football-Reference, Gang Green has the 32nd-ranked offense in the league heading into Week 4, both in terms of points and yardage; their defense clocks in at 27th in the former category and 17th in the latter.
Given his supposed offensive expertise and overall lack of success—he also struggled during his stint as the Miami Dolphins head coach—Adam Gase seems to be running out of rope in New York. In September, an admittedly small group of Jets fans assembled to protest his continued employment; while four fans aren't going inspire an organizational change, it's never a good sign when protesters are setting up shop outside a team's practice facility.
Adam Gase seems safe, and that sends a disappointing message to New York Jets fans
Ahead of Week 4, there was some chatter that the New York Jets' performance on Thursday Night Football could determine Adam Gase's fate. As of Thursday afternoon, however, it seems like that won't be the case.
"Heading into tonight's matchup against the Denver Broncos on the NFL Network, it does not appear Gase's job hangs in the balance pending the result of the game," Ian Rapoport reported on NFL.com. "According to those informed of the decision-making, the thinking is that firing Gase would not only be counterproductive in general, but also potentially damaging to quarterback Sam Darnold. In addition, the Jets want to see if the team turns it around."
It goes without saying that that won't satisfy Jets fans. When you support a struggling team, you'll cling to any sign of progress you can find; at times, you just want to feel like there's a plan in place, and everyone in the organization is working toward that common goal. Keeping Adam Gase in the job, however, doesn't even provide that. Instead, it sends the opposite message to the fans, suggesting that things aren't bad enough to make a drastic change.
In terms of the New York Jets season, it probably won't make a difference exactly when they fire Adam Gase; even if the turnaround started in Week 5, New York isn't going to make a playoff push. Their actions—or lack thereof—will speak volumes to the fan base, though. When an organization is stuck in the doldrums, that messaging can be as important as scoring an extra win on the field.
Stats courtesy of Pro-Football-Reference