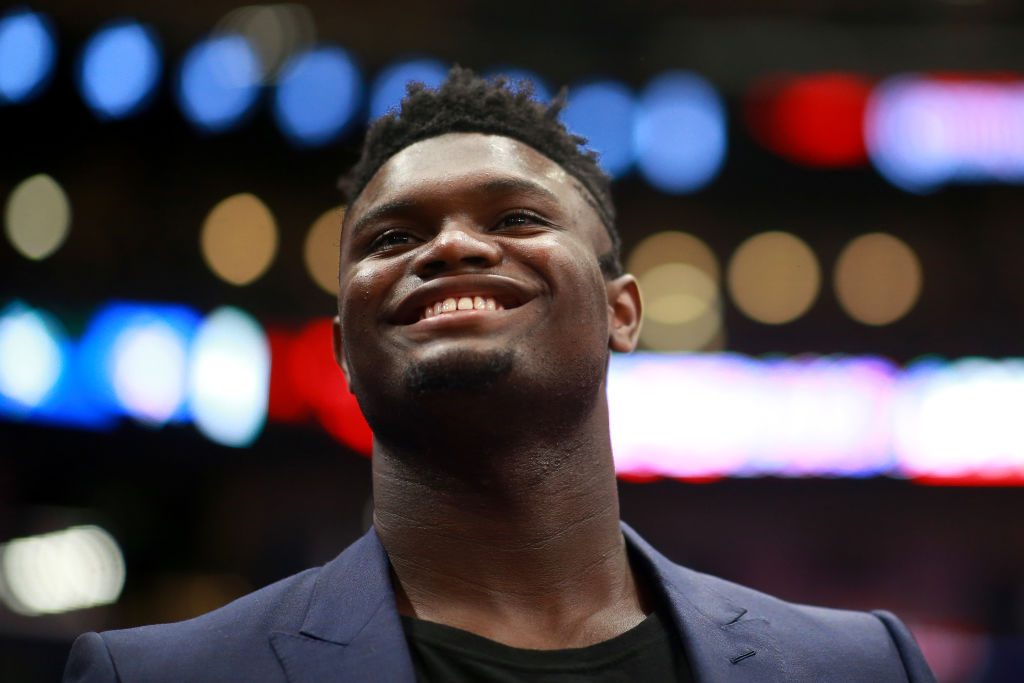 The Pelicans Confirm that Zion Williamson's Rehab Took 'a Really Big First Step'
It feels like we've been waiting an eternity to see Zion Williamson in the NBA. The New Orleans Pelicans, however, finally got some good news.
Few things in sports can transcend fandom like a truly dominant player. Even if you hated the Chicago Bulls, for example, everyone could appreciate what Michael Jordan was doing on the court. Based on his time at Duke, Zion Williamson looked like one of those universal stars. Unfortunately, the forward's is yet to truly take the court for the New Orleans Pelicans.
New Orleans executive vice president of basketball operations David Griffin, however, recently had some good news. Zion's rehab has finally taken "a really big first step" forward.
Zion Williamson's injury woes
While Zion Williamson is capable of doing just about anything on the basketball court, we haven't seen him suit up in quite a while. The young forward already has had a few problems with his knees.
The forward's first issue came in high school when a deep knee bruise sidelined him for a few months. After that, however, Zion would stay healthy through the start of his Duke career; when he first stepped into Cameron Indoor Stadium, he was unstoppable. Everything changed, however, when he infamously tore through his sneaker, suffering a Grade 1 right knee sprain. While Williamson missed the rest of the regular season, he was back to his old self for the NCAA Tournament.
While the Pelicans selected Williamson with the first overall pick in the 2019 NBA draft, he's still yet to play a competitive game for the club. A left knee bruise limited the forward's Las Vegas Summer League minutes and, days before the regular season began, Zion was sidelined with right knee soreness; soon after, he had surgery to repair a torn meniscus.
Waiting for Williamson to recover
When Zion Willamson first went under the knife, the Pelicans estimated that he'd return to action in six to eight weeks. That time frame, however, has come and gone without the forward taking the court.
Earlier in December, Pelicans coach Alvin Gentry spoke with reporters about the elephant—or in this case, massive forward—in the room. He explained that, while Williamson was working his way through rehab, he was yet to resume on-court activities. Furthermore, no one would be pushing him to get on the court by a specific date, whether that was the eight-week mark of the end of the calendar year.
"I don't think it's anything that can be rushed," Gentry explained. "I think it's a time thing. Six weeks is what we said, but obviously, he's making progress. When the time comes for him to start on court and do things like that, he will. It's not anything that's going to be rushed or any shortcut. It's a matter of taking the time to make sure he's fine."
David Griffin has some good news about Zion Williamson
On Tuesday night, the Pelicans lost to the Brooklyn Nets; the entire night wasn't a negative, though.
After practice, Zion Williamson stepped onto the court to put up some shots with assistant coach Michael Ruffin. While the forward wasn't ready to take part in the game, David Griffin did provide an update during the television broadcast.
"We're really excited with where he's at," Griffin explained. "He's made really good progress. I know we've reached the eight-week point, and everyone is ready to see him. I think we're a little ways away yet, but today was a really big first step."
"It's an important time for him because he's fully weight-bearing," Griffin continued. "If we're going to see a setback, it would be now. The teammates, the way they responded to him, the joy he has when he's on the floor is evident. And we've obviously needed that."
It goes without saying that Zion still has quite a way to go; every minute he spends on the court, however, is one minute closer to suiting up in an NBA game. To their credit, the Pelicans have been handling the situation well, but, at the end of the day, we're all waiting to see Zion Williamson make his professional debut. It looks like we're finally making some (very slow) progress.