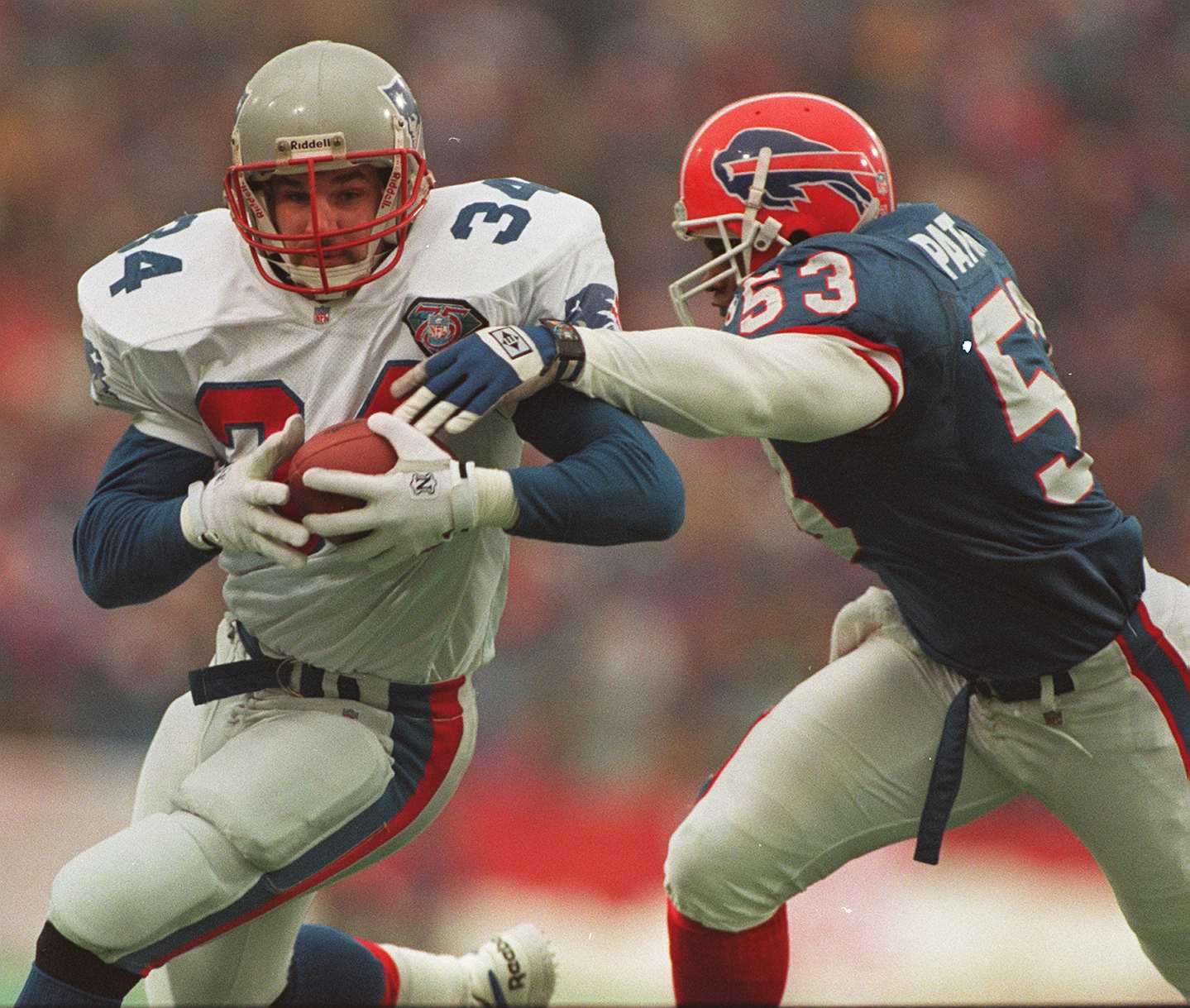 The Tragic Death of Former New England Patriots Fullback Kevin Turner
Kevin Turner played fullback in the NFL for eight years. Prior to his death in 2016, he said he believed football played a role in his declining health.
Kevin Turner had a thankless job in the National Football League. Like most fullbacks, the recognition they get is minimal. For Turner, who spent eight years in the NFL with the New England Patriots and the Philadelphia Eagles, playing fullback may have cost him his life. Turner was diagnosed in 2010 with amyotrophic lateral sclerosis (ALS) – also known as Lou Gehrig's disease. Prior to his death in 2016, he said he believed his football career contributed to his condition.
Kevin Turner's football career
Kevin Turner played his college football at Alabama. He spent four years with the Crimson Tide in the backfield, opening holes for Siran Stacy and Bobby Humphrey. He was drafted by the New England Patriots in the third round of the 1992 NFL draft.
Turner spent the first three years of his eight-year NFL career with the Patriots. He played in all 16 games each season in New England. Statistically, he had the best season of his career in 1994, his final season with the Patriots. Known more for his blocking, Turner also racked up a career-high 471 receiving yards on a career-high 52 catches. He also rushed 36 times for 111 yards and a touchdown.
Turner played with the Philadelphia Eagles from 1995-1999. In his first season with the Eagles, he was limited to two games because of a knee injury. He had a career-high three touchdown receptions in 1997 while catching 48 passes. He finished his career with 2,105 receiving yards.
Turner diagnosed with ALS in 2010
In 2010, Kevin Turner was diagnosed with amyotrophic lateral sclerosis (ALS), also known as Lou Gehrig's Disease. After his diagnosis, Turner began researching the link between ALS and CTE, a degenerative brain disease caused by repeated head injuries. Turner believed his football career played a role in his ALS diagnosis.
"Football had something to do with it," Turner said in 2011, according to ESPN. "I don't know to what extent, and I may not ever know. But there are too many people I know that have ALS and played football in similar positions. They seem to be linebackers, fullbacks, strong safeties. Those are big collision guys."
Turner then founded the Kevin Turner Foundation. He wanted to raise awareness for ALS and to help raise funds for research. The foundation still goes on today and its mission is "to raise awareness to the seriousness of brain trauma in athletes, at every level of competition, and its connection to ALS. KTF also financially supports efforts to study, treat, prevent and ultimately cure this disease."
Kevin Turner died in 2016
On March 24, 2016, Kevin Turner died at the age of 46. In November of 2016, the Boston University Brain CTE Center announced that CTE, not ALS, killed Turner. Ann McKee, the center's director, said, "This is the best circumstantial evidence we will ever get that this ALS-type of motor neuron disease is caused by CTE." According to The Washington Post, McKee also noted that Turner's level of CTE was "extraordinary and unprecedented for an athlete who died in his 40s."
Prior to his death, Turner said if he knew football would be a factor in his declining health, he never would have played. "If they would have come to me and said, 'I've seen the future. This is what happens,' of course, I would stop playing immediately," Turner said, according to ESPN. "But, as we all know, nobody can see the future. For me, it just falls into a long line of bad decisions."
According to Philadelphia Eagles CEO Jeffrey Lurie, Turner was a quality person liked by many. "As good of a football player as he was, he was even a better man," Lurie said, according to ESPN. "His high character, kindness and respectful nature stood out to me the most."