The Tragic Death of Justin Strzelczyk After High-Speed Crash Was Linked to CTE
Former Pittsburgh Steelers offensive lineman Justin Strzelczyk had been acting a little weird before the tragic morning of Sept. 30, 2004. He was erratic in his behavior. He had been calling old friends and apologizing to them for issues that took place a while back. Little did they know, Strzelczyk would be killed the following day after driving 100 miles per hour and crashing his truck. He played nine years in the National Football League was just 36 years old.
Justin Strzelczyk's football career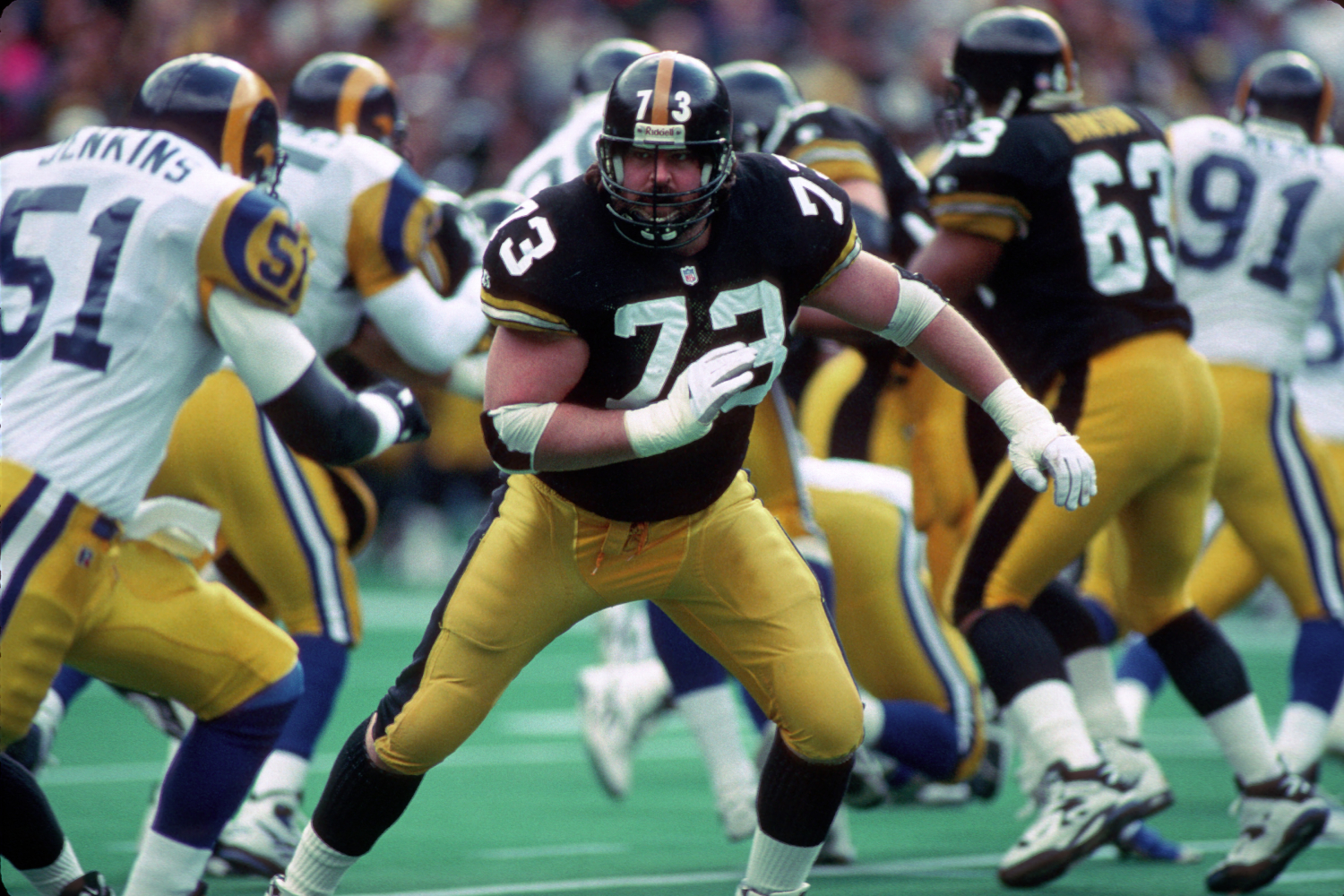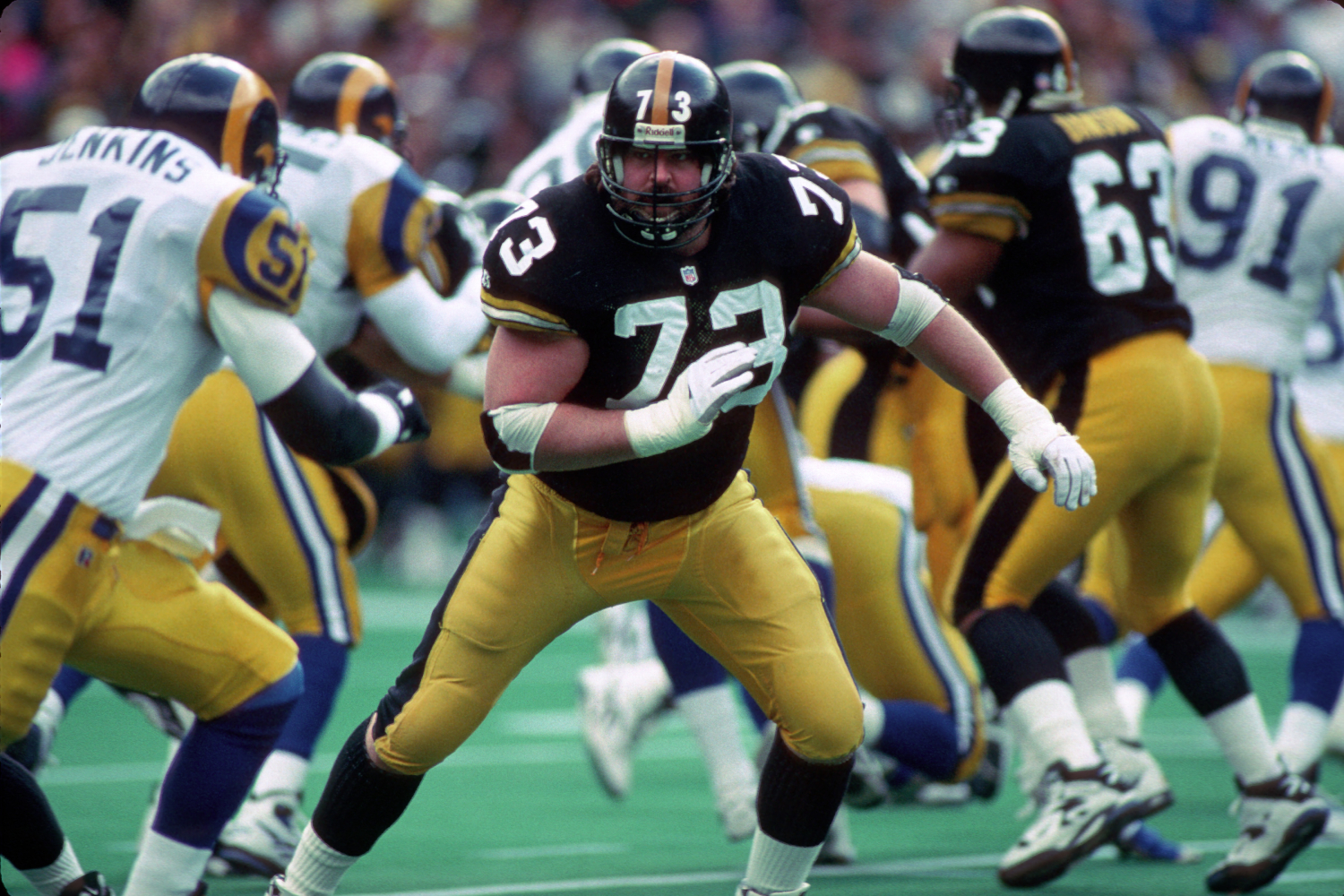 At 6-foot-6, 300 pounds, Justin Strzelczyk was a monster. He was a big boy who helped anchor an offensive line whether it was in college or the NFL. He spent his college days playing for the University of Maine where the team was twice crowned Yankee Conference champions.
While at Maine, Strzelczyk put on quite a bit of weight, starting at 225 pounds and making his way to 290, according to The Pittsburgh Post Gazette. Strzelczyk played in the East-West Shrine Game. He caught the eyes of several NFL scouts and coaches. Chuck Noll, the head coach of the Pittsburgh Steelers, "fell in love" with Strzelczyk while watching him play.
"He was absolutely a dominating player," said Maine assistant coach Jack Cosgrove back then. "He got hurt at the end of the (1989) season. We got in the playoffs and couldn't stop anybody, because we didn't have him there." Strzelczyk was drafted by Noll and the Pittsburgh Steelers in the 11th round of the 1990 NFL draft. He went on to play nine years with the Steelers. He started in 75 of the 133 games in which he played.
Strzelczyk's tragic death
There were numerous questions the morning of Sept. 30, 2004, when Justin Strzelczyk crashed his car at a high rate of speed. He had been traveling 100 miles per hour the wrong way down one of New York's deadliest toll roads. He had $2,600 in cash on him. Why didn't he stop for state troopers who flashed their lights at him as he was driving wildly? Where was he going?
Strzelczyk's wild ride ended when his pickup truck collided with a tanker after a 40-mile chase from police, according to triblive.com. At the time of Strzelczyk's death, New York State Police investigator James Hunt said, "At the time it appears — and not being a psychiatrist — from witness accounts that Justin Strzelczyk suffered some sort of emotional breakdown. Whether it was drug- or alcohol-induced or something psychological related to a pre-existing illness or both, I don't know. All of a sudden, he snapped."
Even his ex-wife Keana, at the time, thought alcohol might have been a factor. Strzelczyk's father was an alcoholic and she thought he might be headed down the same path. "People keep looking for all these answers to why, why, why," she said in the Pittsburgh Post-Gazette. "I'm not a psychologist, but I think sobriety was very shocking. I don't want to say he was following in the footsteps of his father, but he kind of was. It's sad. The man who passed away was not the man I was married to."
Strzelczyk's brain was examined
According to the Pittsburgh Post-Gazette, the accident was one of the worst in recent memory. "It was one of the worst traffic scenes I've ever seen," said Trooper Donald Faughnan. "The roadway was burning, his truck was burning, the tractor-trailer was burning." "There was something that told him to do this," said James Hunt, the state police investigator. "But we'll never know what was going on inside his head."
Years later, however, Strzelczyk's brain was examined and Dr. Bennet Omalu, a forensic pathologist in Pittsburgh, determined Strzelczyk suffered from chronic traumatic encephalopathy, or CTE, according to triblive.com. CTE is a degenerative brain disease resulting from repeated concussions. He was one of the first National Football League players to be diagnosed.
It's believed CTE played a role in Strzelczyk's strange behavior leading up to and during the high-speed chase. It wasn't alcohol-related and it wasn't ruled a suicide. "I bet my kids would want their father here," his ex-wife Keana said. "I know in my heart of hearts that Justin would have wanted to see his daughter get married someday or see his son graduate from college."