The Tragic Death of Fulton Walker, a Super Bowl Record-Setter Gone Too Soon
It was a rare sight in a Super Bowl. First, Fulton Walker made history by returning the first kickoff in Super Bowl history for a touchdown. Second, Walker had fans from both the Miami Dolphins and the Washington Redskins cheering him on as he sprinted to the end zone to make history. When his playing days were over, Walker remained as humble as they come until the day he tragically died of a heart attack at the age of 58 on Oct. 12, 2016.
Who was Fulton Walker?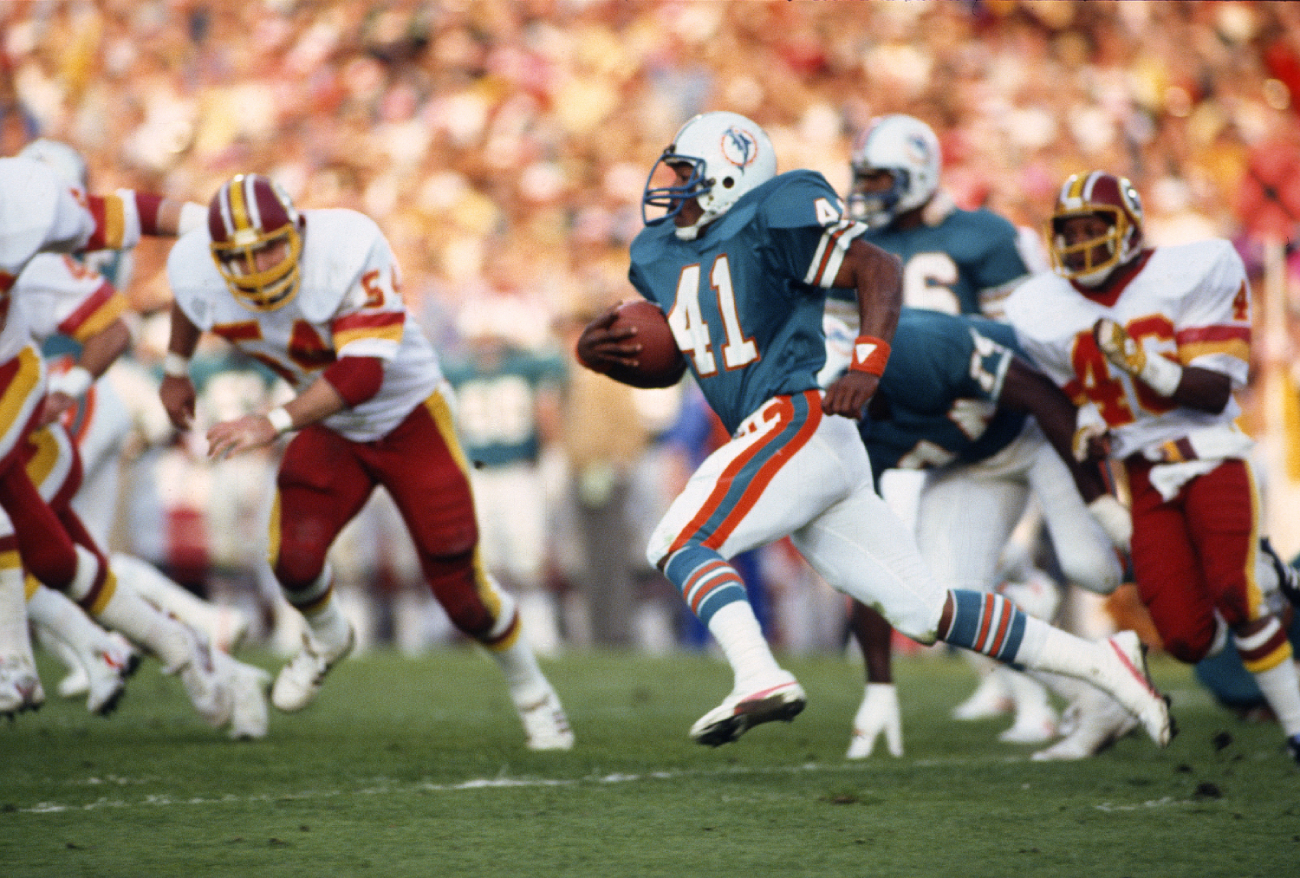 Fulton Walker was a defensive back in the NFL but was mainly known for his talents on special teams. Walker played his college football at West Virginia, where he spent four years playing as a defensive back and a running back.
Walker was switched from defensive back to running back for his sophomore season. He spent one season as a running back before heading back to the defensive side of the ball. During his one season as a runner, he rushed for 392 yards and two touchdowns. He also caught seven passes for 42 yards. He went back to play defensive back for the next two seasons.
Walker was a sixth-round pick in the 1981 NFL draft. He was selected by the Miami Dolphins with the 154th overall pick. Walker spent four-plus seasons with the Dolphins and spent the final two years of his professional career with the Los Angeles Raiders.
Walker's big year in 1982
In Fulton Walker's first season in the NFL, he played in all 16 games and finished the year with one interception. Walker made his mark in the NFL the following year during the 1982 season. He finished the year with a career-high three interceptions during the strike-shortenend season.
Walker, however, shined during the postseason, more specifically Super Bowl 17 when his Miami Dolphins played the Washington Redskins. Walker wasn't a defensive standout, but he shined on special teams, setting a record in the process. He was a special-teams star, returning four kickoffs for a total of 190 yards.
His biggest return was a 98-yarder in the second quarter that snapped a 10-10 tie and sent the Dolphins into the locker room with a 17-10 lead. Walker's touchdown return was the first kickoff to ever be returned in a Super Bowl. He also had a 42-yard return in the game that help set up a field goal. The Redskins came from behind, outscoring the Dolphins 17-0 in the second half to win 27-17.
Walker's tragic death at age 58
Fulton Walker never forgot his roots. When his NFL days were done, he returned home. He never publicly flaunted his NFL heroics. He was quiet, unassuming, and a real gentleman. It was a shocker to those who knew him when he died unexpectedly of an apparent heart attack at the age of 58 on Oct. 12, 2016.
"He just didn't come off the way I figured a Super Bowl record holder should present," said Pastor Delbert Pope in an article on HeraldMailMedia.com shortly after Walker's death. "He was unassuming, humble, and he was quite funny. And the thing that I appreciated about him was he liked to hear me sing. That was pretty cool."
Walkers niece, Nyesha Basey, never looked at her uncle as a football star. He was a pure family man. "So many people see him as the hometown hero and NFL star. But we've always seen him as our own," Basey said. "And I tell you, it's been hard to share him with everybody. But on behalf of the nieces and uncles, I just want to say we love you more than you can ever imagine."