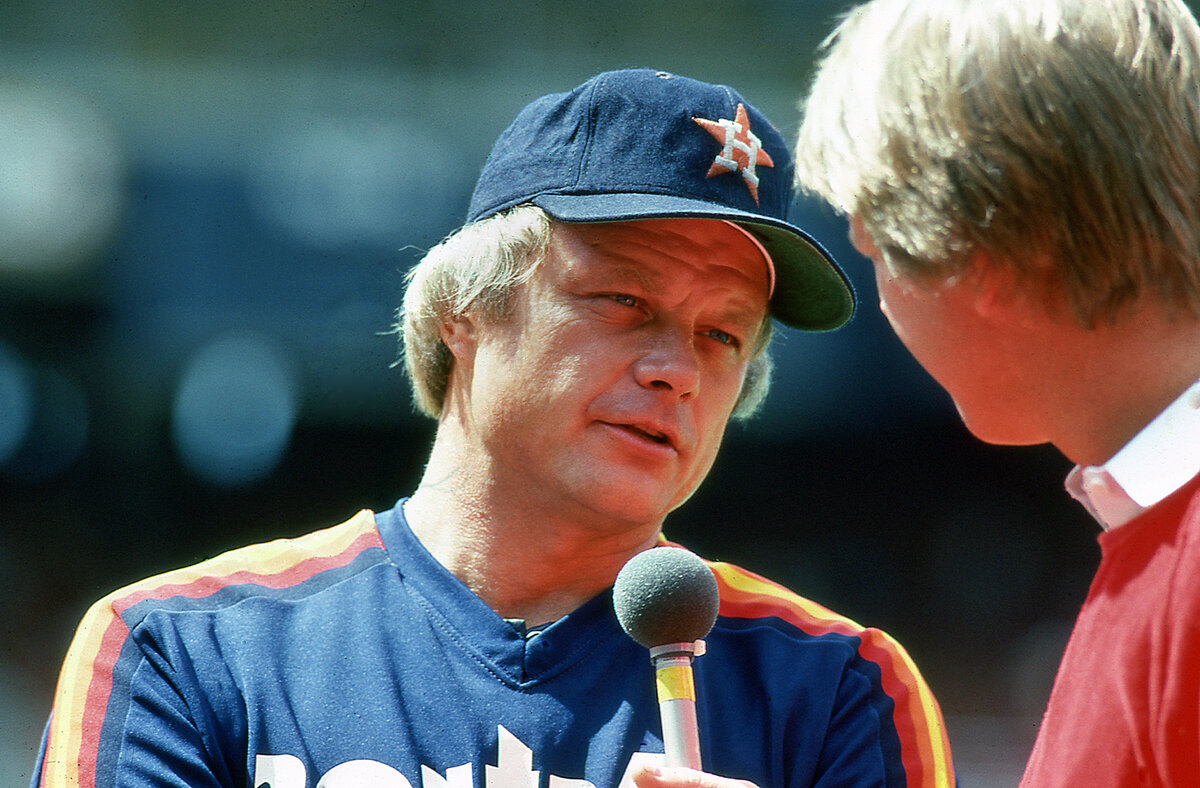 The Tragic Death of Houston Astros Legend Joe Niekro
Joe Niekro used his knuckleball to become a Houston Astros legend in the 1970s and 1980s. Niekro tragically died in 2006 from a brain aneurysm.
Longtime Houston Astros pitcher Joe Niekro and his brother, Phil, teamed up to give hitters fits for over 20 years.
Starting pitchers who excelled at throwing the knuckleball, each brother had a large degree of success in the majors. Joe dominated hitters at the Astrodome and became a Houston Astros legend in the process.
Just over a year after watching the modern-Astros, including sluggers Jeff Bagwell and Lance Berkman, reach the World Series, Niekro tragically died at age 61.
Joe Niekro is a Houston Astros legend
Joe Niekro's numbers may not pop off the page at an early glance, but he was a victim of being an above-average starter in a pitching era of legends.
In 22 seasons for seven teams, Niekro went 221-204 with a 3.59 ERA in 702 games and 500 starts. Using the knuckleball to his advantage, Niekro started at least 30 games in 10 different seasons.
Niekro is perhaps best known for the 11 seasons he spent in Houston. Niekro went 144-116 with a 3.22 ERA in an Astros uniform. He also pitched 18 scoreless innings in two playoff starts with the Astros from 1980-81, although Houston's offense let Niekro down in the process.
According to Baseball-Reference, Niekro totaled 28.7 Wins Above Replacement in his 22 seasons. The bulk, a resounding 23.1 WAR, came with the Astros.
Niekro won a World Series ring with the Minnesota Twins after the 1987 season and had two top-four finishes in the NL Cy Young race.
His brother, Phil Niekro, is a Hall of Fame pitcher
Joe Niekro is, of course, the younger brother of longtime MLB pitcher Phil Niekro.
Another knuckleballer best known for his 21 seasons with the Atlanta Braves, Phil went 268-230 with a 3.35 ERA in 864 games and 716 starts from 1964-87. Niekro was an ageless wonder who pitched his final game in 1987 at 48 years old.
A five-time All-Star, Niekro started at least 35 games in 11 of his 24 campaigns. That included three straight seasons from 1977-79 where Niekro started at least 42 games and threw a complete game in at least 20 of those outings.
Niekro only pitched in two playoff games, going 0-1 with a 3.86 ERA in those starts.
In his fifth year on the ballot, Niekro received 80.3% of the votes in 1997 and entered the National Baseball Hall of Fame that summer.
Joe Niekro tragically died in 2006
Joe Niekro passed away less than a decade after Phil Niekro entered the Hall of Fame. 
According to The New York Times, Niekro had a brain aneurysm in October 2006. He died at the age of 61 in Tampa, Fla.
Joe and Phil combined for an eye-popping 539 victories in their career. They are considered one of the best sibling duos in baseball history.
Although he retired as the all-time winningest pitcher in Astros history, the team still has not retired Niekro's No. 36. In fairness, the Astros have not retired any numbers since the ceremony for longtime second baseman Craig Biggio in August 2008.
Phil Niekro is now 81, and he turns 82 in April 2020. Houston may want to consider retiring Joe Niekro's number before his brother passes away. 
Like Sportscasting on Facebook. Follow us on Twitter @sportscasting19.