The Tragic Death of NFL Pro Bowler Johnny Bailey
It didn't matter that Johnny Bailey played college football at the Division II level. He could play at any level. At 5-foot-8, 190 pounds, Bailey defied the odds by coming out of Texas A&I University (now Texas A&M-Kingsville) and becoming a Pro Bowler with the Arizona Cardinals (Phoenix at the time) in the NFL. After his impressive football career, Bailey had his life cut short in 2010, losing his battle with pancreatic cancer at the age of 43.
Johnny Bailey put up staggering numbers in college
Johnny Bailey played his high school football at Yates High School in Houston. He wound up playing running back at the next level at Division II Texas A&I University. At Texas A&I, Bailey wasted no time making a name for himself and getting into the record books.
During his college career, Bailey rushed for 6,320 yards. At the time, only he and Tony Dorsett had rushed for better than 6,000 yards in their college careers. In each of the first four games of his college career, Bailey rushed for better than 200 yards, according to ESPN. He also had at least 100 rushing yards in each of his first 11 games.
For three straight years, Baily was named the Division II Player of the Year. The only year he didn't get it was his freshman year when he finished second. As a freshman, he ran for 2,011 yards. At the time, he was just the third college running back to rush for better than 2,000 yards in a season. He's a member of the College Football Hall of Fame.
Bailey becomes an NFL Pro Bowler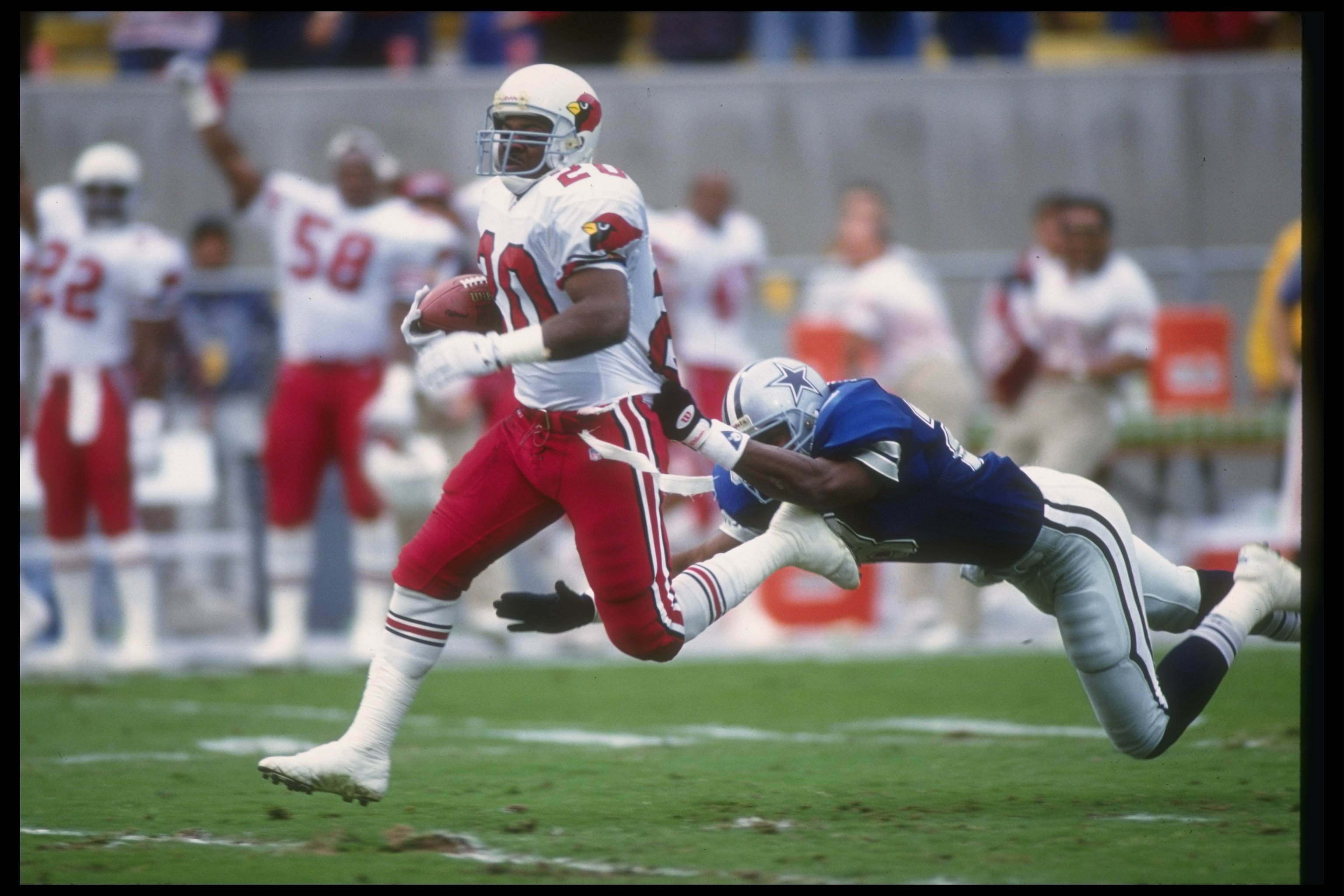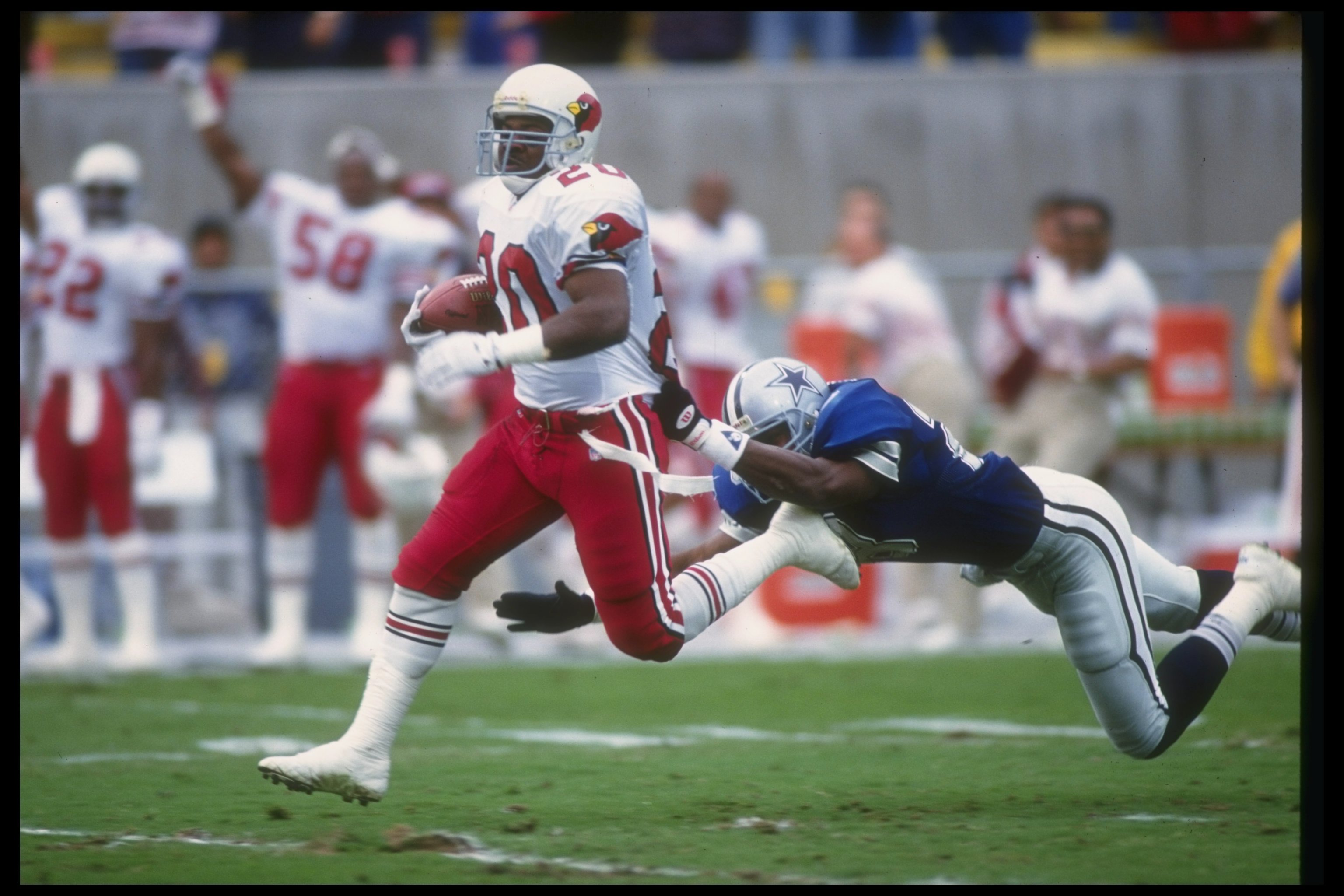 Johnny Bailey was drafted in the ninth round of the 1990 NFL draft. The Chicago Bears selected him with the 228th overall pick. Bailey didn't find much success as a running back in the NFL but managed to last six years in the league as an explosive kick/punt returner.
He started one game at running back in his rookie year with the Bears. For the season, he had 26 rushes for 86 yards. He made his mark on special teams, however, as he returned a punt 95 yards for a touchdown. He returned 36 punts for a career-high 399 yards in his first season in the NFL. Bailey also returned 23 kickoffs for 363 yards.
Bailey spent the first two years of his NFL career with the Bears before catching on with the Phoenix Cardinals. In his first season with the Cards, he averaged a league-high 13.2 punt return yards and also chalked up a kickoff return average of 24.6 yards, which was a career-high. Bailey was named to the Pro Bowl as a special teams member.
Johnny Bailey died of pancreatic cancer at the age of 43
In the spring of 2010, Johnny Bailey was diagnosed with pancreatic cancer. The disease took him roughly six months later when he passed away on Aug. 20, 2010. Bailey is certainly remembered for his 7,803 all-purpose yards in college, but he's much more than that.
His college coach, Ron Harms said Bailey was a pleasure on and off the field. "He was responsible for more wins than I would have had without him," said Harms in a 2010 Houston Chronicle article. "He was a joy to coach and a joy to be around."
Ronald Mumphrey was an assistant football coach at Yates High School, where Bailey went. He then became the principal. Mumphrey praised Bailey and said he was a fighter until the very end. "The Yates family has lost a tremendous giant," said Mumphrey. "He was a quiet leader, and he could excel at anything he wanted to do. I went by to see him, and we prayed together. He faced things like the champion that he was."