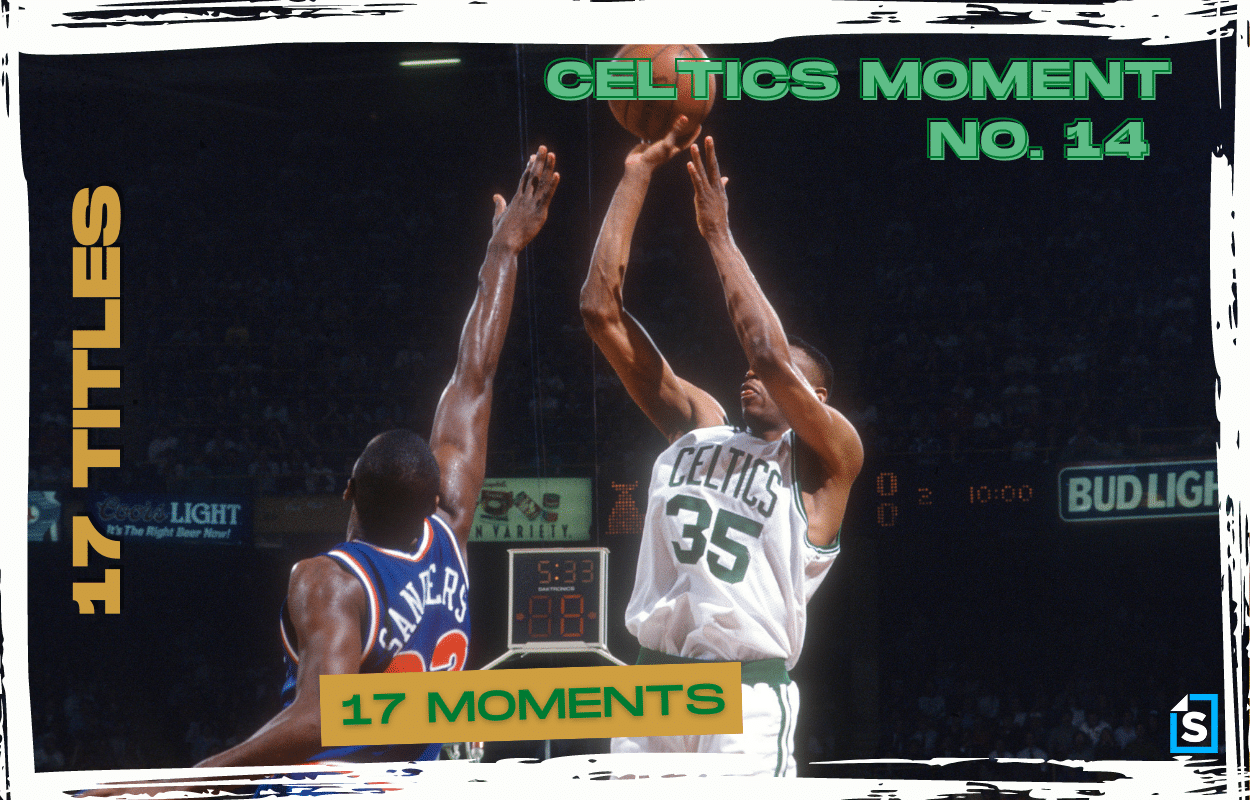 The Tragic Death of Reggie Lewis: Boston Celtics Championship History Moment No. 14
Reggie Lewis was supposed to lead the way for the Boston Celtics after their Big Three moved on.
A Boston Celtics dynasty came to a close. The possibility of another one existed when the torch was passed to Reggie Lewis.
The Celtics selected Lewis with the 22nd overall pick in the 1987 NBA Draft. Lewis, an athletic swingman from nearby Northeastern University, was considered the next big Celtics star after Larry Bird, Kevin McHale, and Robert Parish moved on.
That all changed on July 27, 1993.
In honor of the Boston Celtics' 17 championships, we're highlighting 17 signature moments, both good and bad, that took the Celtics from a woeful 22-38 BAA debut in 1946-47 to the current iteration of the longtime powerhouse franchise that's now coming off an NBA Finals appearance. The 17-part series on the Celtics' championship history will run through the summer and take us to the beginning of the 2022-23 NBA season, one Boston hopes ends will with Banner No. 18.
Reggie Lewis was on his way to becoming the next great Boston Celtics star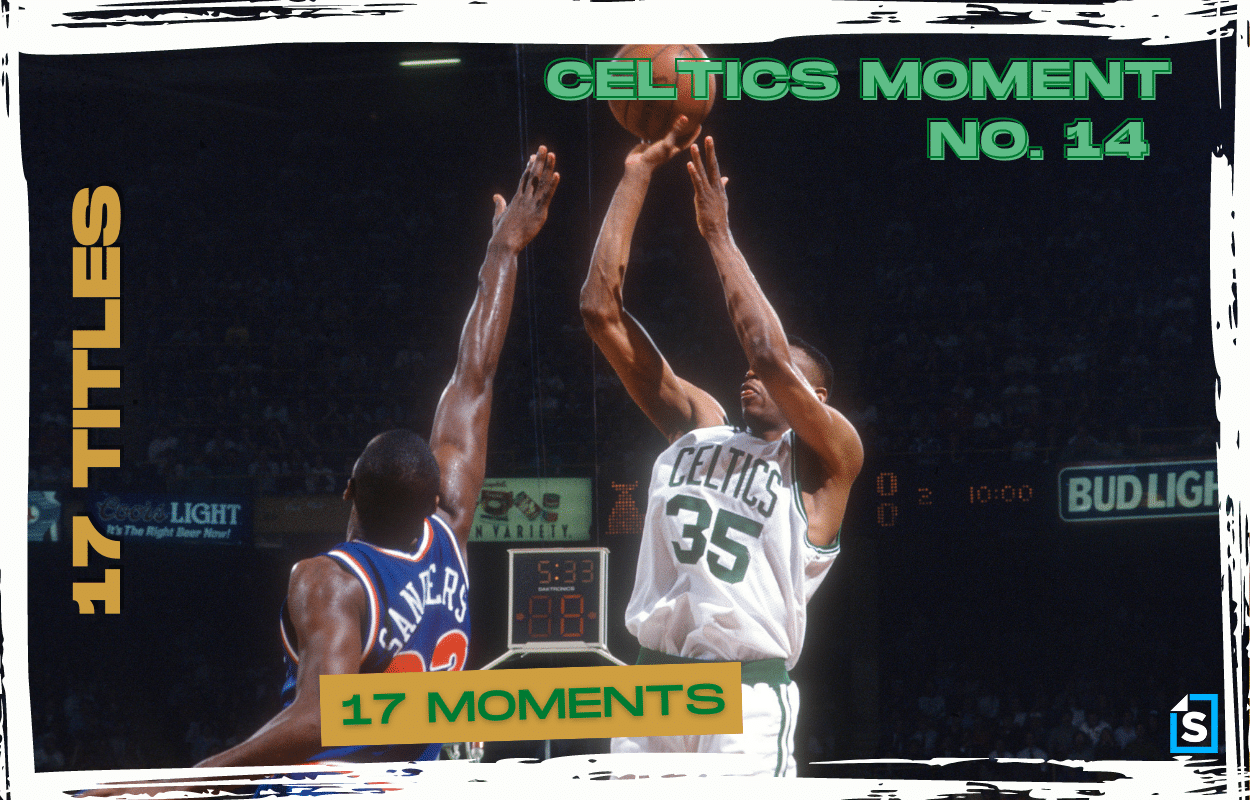 A bad back forced Bird into early retirement in 1992. McHale followed the year after. Parish played his final game as a member of the Celtics in 1994. The Big Three dominated throughout the 1980s, but age and injuries took their toll, forcing the three out of Boston.
As the trio got older, Lewis got better. He became an NBA All-Star during the 1991-92 season when he averaged 20.8 points and 4.8 rebounds. Lewis started all 82 games and shot better than 50% from the floor that season.
Defense was also a strength for Lewis. Just ask Michael Jordan. On March 31, 1991, at the Boston Garden, Lewis gave Jordan a night he hasn't forgotten. He blocked four of Jordan's shots, shocking His Airness in the process.
"Oh, I remember it well," Jordan laughed, according to a 2013 ESPN article. "He had my number that particular night.
"He was a tough matchup, and he had those long arms that really bothered me. I was trying to be aggressive with him. I was trying to take advantage of his passive demeanor, but he didn't back down. He never relinquished his own aggressiveness. He shocked me a little bit."

Michael Jordan on Reggie Lewis
Nobody ever gave Jordan any flak over his performance that night.
"No, nobody did," Jordan said. "That's because they understood who I was up against. They knew Reggie Lewis was no slouch. When someone with his talent does that to you, you can live with it."
Lewis collapsed and died on the basketball court in 1993
During a 1993 playoff game against the Charlotte Hornets, Lewis fell to the floor with nobody around him. He stumbled to his feet and was dazed and confused. He made his way back onto the court later in the game but quickly came back to the bench after experiencing dizziness.
The following day, the Celtics gathered a dozen heart specialists through New England Baptist Hospital, a "dream team" of doctors, according to The Boston Globe. The diagnosis was that Lewis suffered from "focal cardiomyopathy," a condition of the heart muscle that could cause heart failure. It was considered career-ending.
Lewis got another, more satisfying opinion and was diagnosed with a non-fatal condition called "neurocardiogenic syncope." He then began working out later that summer, preparing for the 1993-94 season.
It was during a workout at Brandeis University in Waltham, Massachusetts, on July 27, 1993, when Lewis collapsed on the court and died. He was 27.
Like everyone on the Celtics, Lewis' teammate Rick Fox took the news hard. He also said he experienced guilt.
"I haven't talked too much about it over the years," Fox said to Bill Simmons in a YouTube video posted in 2018. "He called me literally the day he died, and I was at Jordan's Furniture — remember Jordan's Furniture?
"I was getting some furniture, and he said, 'Hey man, I got clearance to play. I got clearance to shoot again. Meet me at Brandeis.' I said I'll be down there, man. If Jordan's Furniture wasn't so far away, I probably would've been there that day and may have been able to maybe get him over to the hospital."
Lewis' death shocked the world. It also left the Celtics without a star. Boston went 32-50 in its first season without its best player. That also began a string of eight straight years without a winning record.
Like Sportscasting on Facebook. Follow us on Twitter @sportscasting19 and subscribe to our YouTube channel.