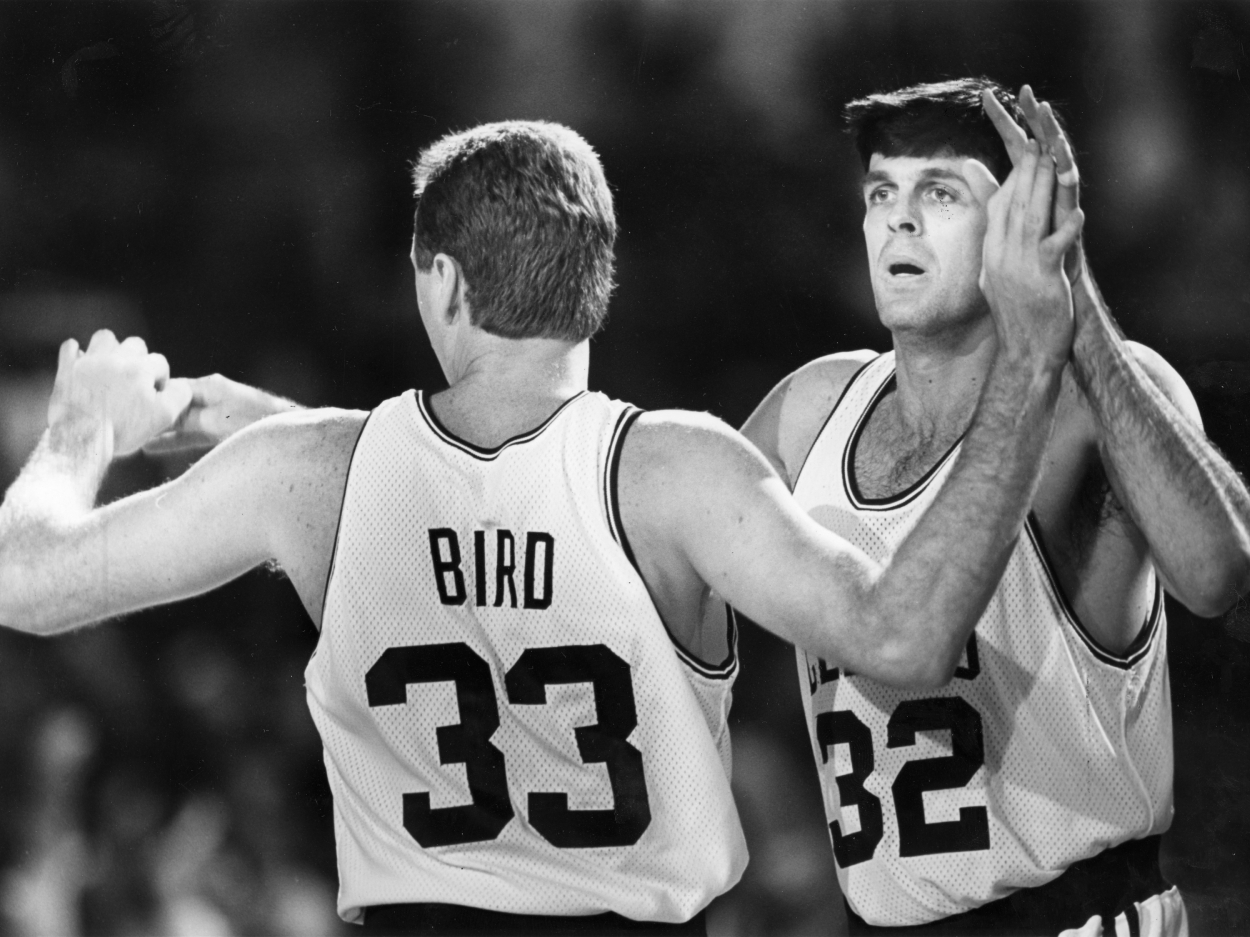 Kevin McHale, Cedric Maxwell Explained Why Larry Bird and Robert Parish Were Their 'Arch-Enemies'
Former Boston Celtics teammates Cedric Maxwell and Kevin McHale were a lot closer than most people think.
On game days, they were on the same team, fighting for the same goal. On the off days, they were fighting each other. Cedric Maxwell, Kevin McHale, Larry Bird, and Robert Parish teamed up to lead the Boston Celtics to their first NBA title in the 1980s when they knocked off the Houston Rockets in the 1981 NBA Finals. It's tough to come up with a better frontcourt foursome than those guys.
Long after their playing days, McHale and Maxwell spoke about how Bird and Parish were their "arch-enemies" on non-game days.
Kevin McHale was a rookie playing behind Cedric Maxwell for the Boston Celtics during 1981 NBA Finals run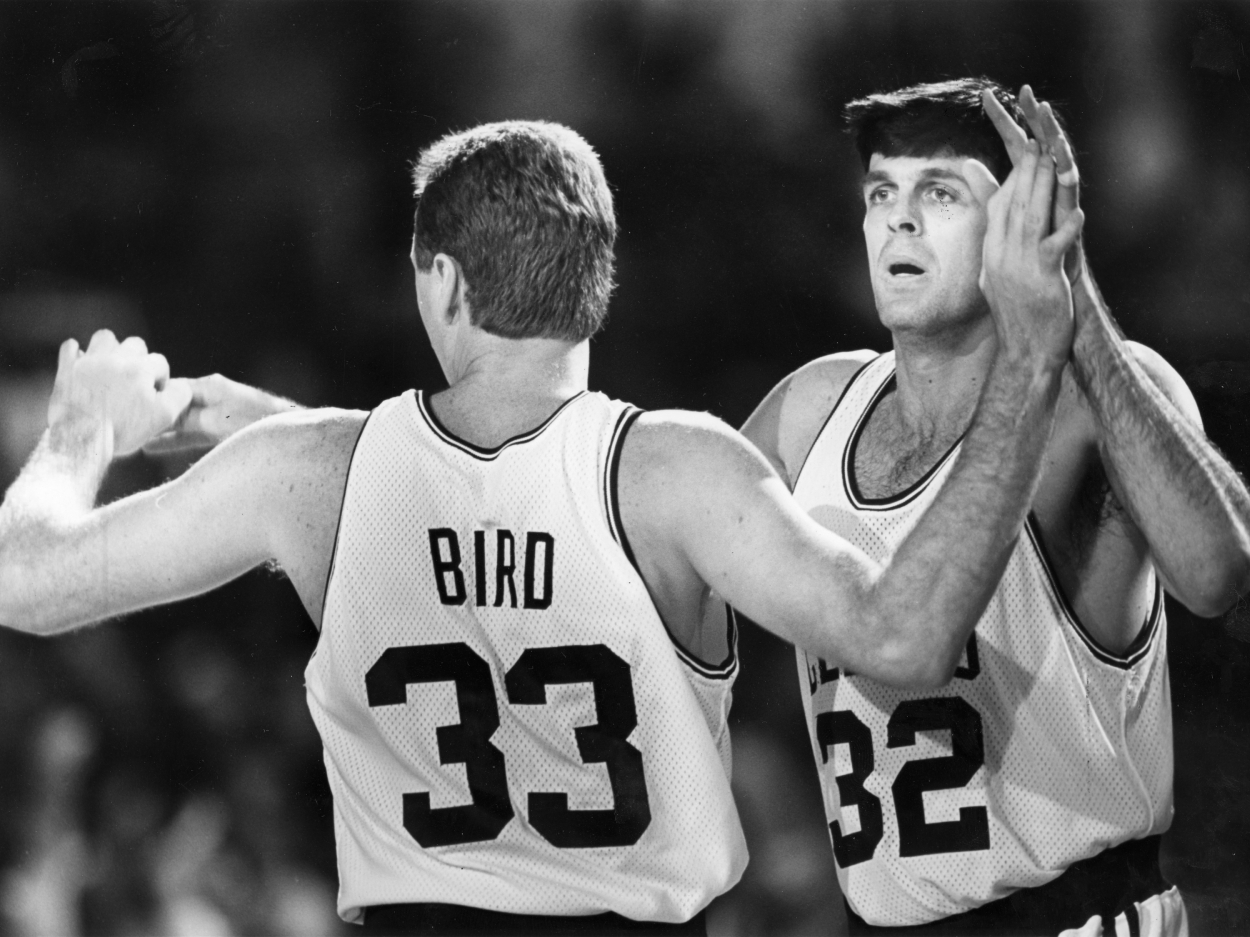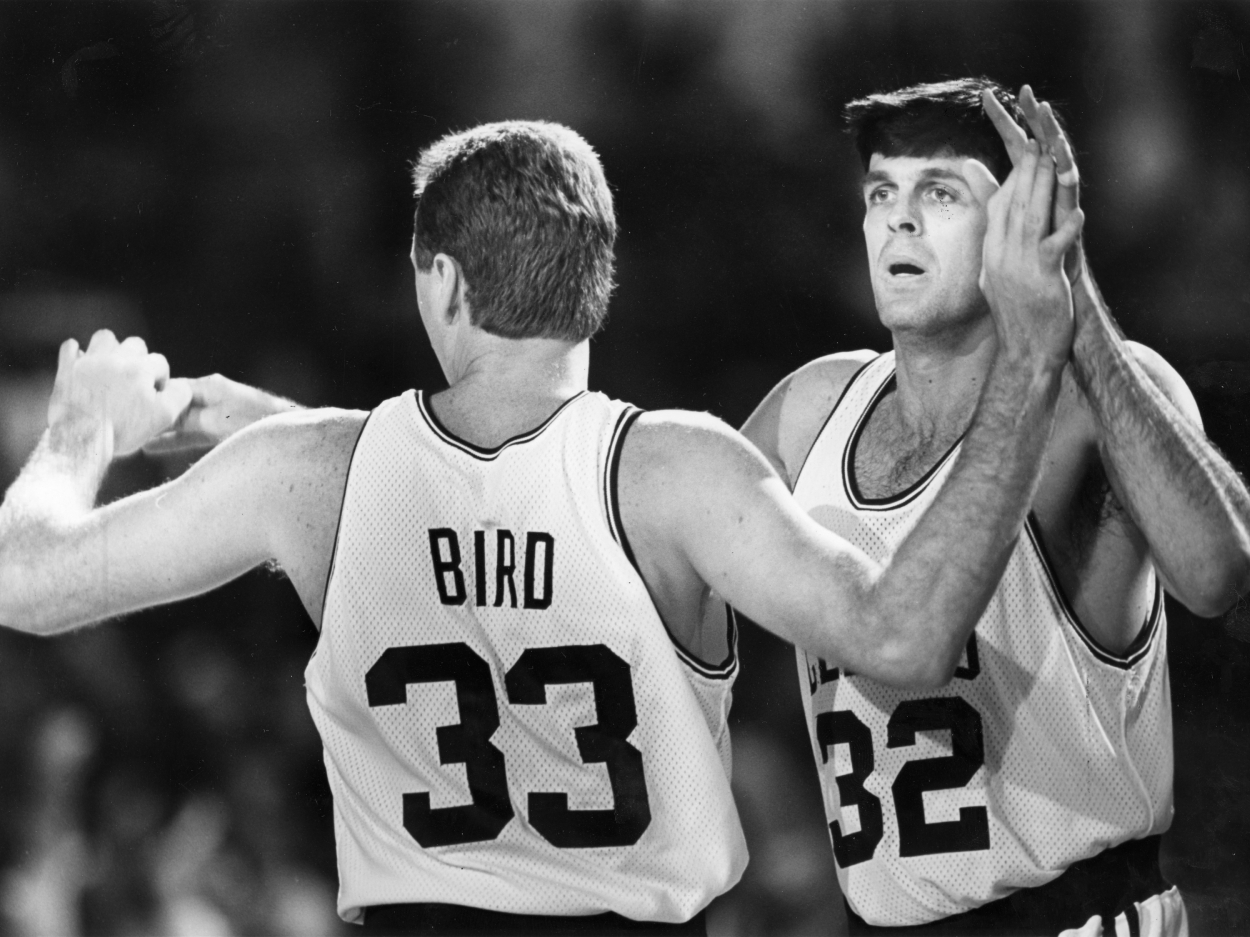 It was the beginning of the Celtics dynasty of the 1980s when McHale came into the league for the 1980-81 season. Bird has just won Rookie of the Year and was in his second season, while Parish was playing in Boston for the first time after coming over in a trade from the Golden State Warriors. Maxwell was the veteran of the group, entering his fourth year with the Celtics.
"I will say one thing, I tell everybody out there, you and M.L. (Carr) did such a good job with me being a rookie," McHale told Maxwell on The Cedric Maxwell Podcast in 2020. "You guys helped me so much.
"It was great being with you guys because you guys kept everything fun, competitive. I was never overwhelmed at all. You guys were all better than me. I was trying to figure out what the hell I was doing. You guys helped me so much. It was amazing."
The Celtics clicked on the court and racked up 62 wins with McHale as a rookie and Parish as a first-year player in Boston. It was the second of three straight 60-plus win seasons for Boston after having 29 during the 1978-79 season.
Bird got much of the credit for Boston's 1981 title, but it was Maxwell who thrived on the big stage. The 6-foot-8 forward out of UNC Charlotte was named MVP of the NBA Finals.
Kevin McHale and Cedric Maxwell say Larry Bird and Robert Parish were their arch-enemies
McHale, Bird, Parish, and Maxwell played together with the Celtics through the 1984-85 season before Maxwell was traded in a deal that brought Bill Walton to Boston. The quartet captured a pair of titles with the Celtics, winning in 1981 and 1984. The Celtics played team basketball and were a force throughout the '80s.
While they gelled on game days, it wasn't always like that during their practice sessions.
"I tell people who our arch-enemies were," Maxwell said to McHale. "For you and I, it was Robert Parish and Larry Bird. Every day in practice it was you and I together. I think back on it and it was unbelievable basketball when you think of those Hall of Famers and basketball IQs and the way those guys played.
"With the way you and I got together and played against Larry and Robert, those were battles, man."
McHale shook his head in agreement.
"It was really fun and it was really competitive," McHale said. "When we started playing, we may have had laughs and joked around, but when we started competing, it was dead serious. We had a lot of times when we're m-f'ing each other, screaming at each other.
"Robert had that damn pterodactyl shot. I tried blocking that thing. I always said I'm going to get it today, and I jumped and never blocked his jumper. Played with the guy for 12 years and never blocked his jumper."
Maxwell was honored when McHale mentioned him during his Hall of Fame speech
Early in their careers, it was McHale who came off the bench to give Maxwell a breather. As their careers went on, it was the other way around. McHale became the starter, teaming with Bird and Parish for arguably the best frontcourt in history.
Bird, McHale, and Parish are all in the Naismith Memorial Basketball Hall of Fame. McHale was inducted in 1999, and made mention of Maxwell during his Hall of Fame speech, saying how Maxwell always supported him, even after McHale replaced him as the starter.
"I was so happy when you were inducted," Maxwell said to McHale, "and I was even more excited and surprised when you mentioned my name. People didn't know just how close you and I were. People say he came in and took your place and then you were gone, and I say when Kevin emerged into the player he was, I was maybe his biggest cheerleader. I loved what he was able to do because I saw a player grow."
"You were so supportive and helped me in so many different ways," McHale said. "I'll always remember when I had it going, you'd be like, 'OK keep it going, you're playing well.'"
McHale and Maxwell may have been the arch enemies of Bird and Parish, but they were as close to each other as anyone on the Celtics.