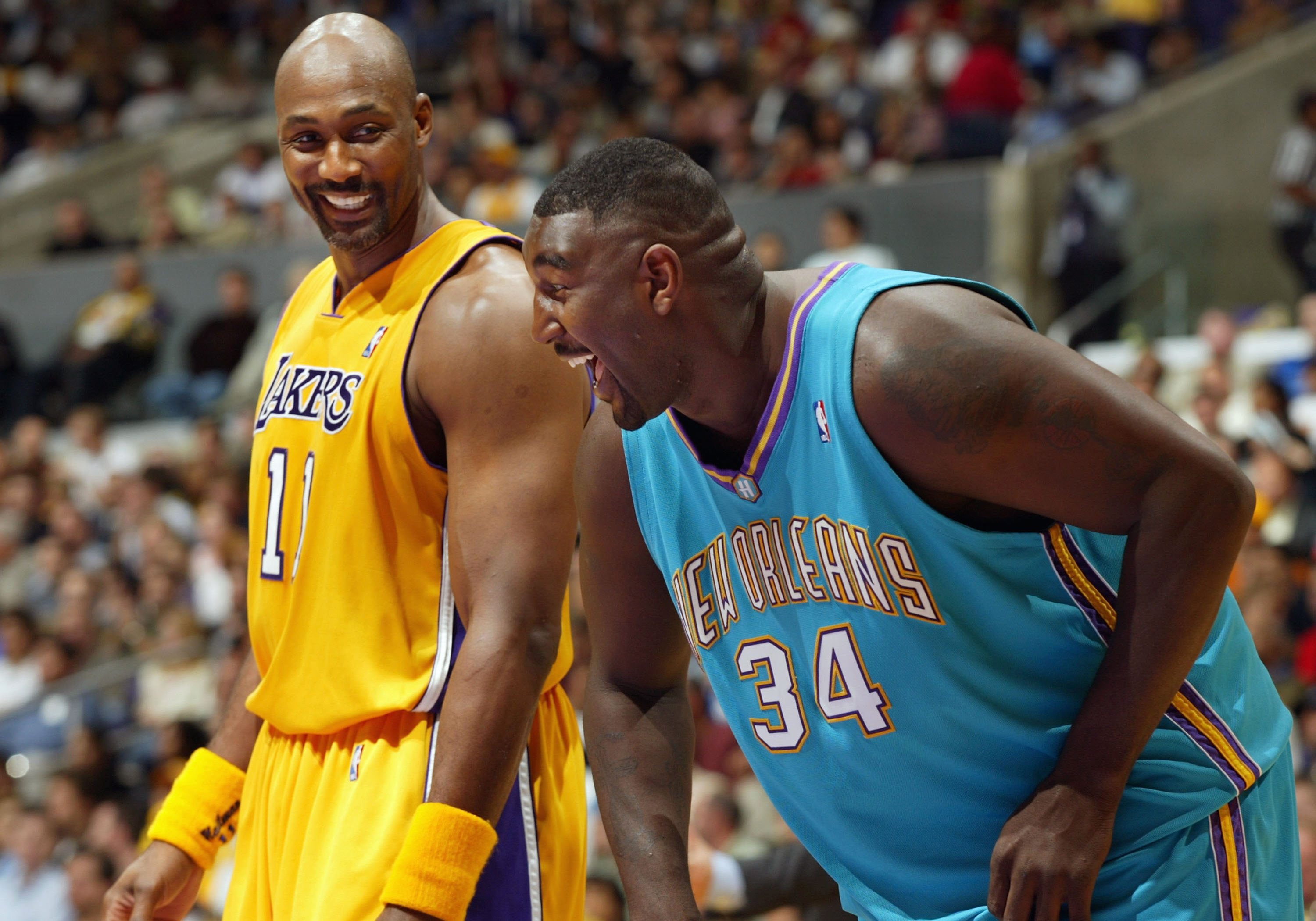 The Tragic Death of Robert Traylor, Basketball's Gentle Giant
Robert 'Tractor' Traylor was a big body on the basketball court and a gentle giant off it. Traylor died of a heart attack in 2011 at age 34.
Robert Traylor was a big man. He was 6-foot-8 and weighed about 300 pounds. He was a basketball talent out of the University of Michigan, but never lived up to expectations when he made his way to the NBA. Traylor, the man they called Tractor, played seven years in the NBA after starting his career with the Milwaukee Bucks. Six years after his NBA days were over, Traylor was found dead in his apartment in Puerto Rico in 2011. He was 34 years old.
Traylor was part of one of the worst NBA trades of all-time
Robert Traylor played his college basketball at the University of Michigan. He played three seasons for the Wolverines and had a very strong third season. During his final year at Michigan, Traylor averaged 16.2 points and 10.1 rebounds per game. He was drafted by the Dallas Mavericks with the sixth pick in the 1998 NBA draft.
On draft day, the Mavericks were involved in a three-team deal that clearly benefited them and changed the culture of their organization. The Mavs traded Traylor to the Milwaukee Bucks in exchange for the players the Bucks took with their ninth and 19th picks. Those players were Dirk Nowitzki (No. 9) and Pat Garrity (No. 19). The Mavericks then shipped Garrity to the Phoenix Suns for point guard Steve Nash.
Traylor averaged 4.5 points and 3.2 rebounds per game in two years with Milwaukee. Nowitzki, of course, went on to play 21 seasons in the NBA – all with the Mavericks. He was a 14-time NBA All-Star and was named the league's MVP in the 2006-07 season. He also went on to win an NBA title during the 2010-2011 season.
Traylor's basketball career
Robert Traylor lasted just two seasons with the Milwaukee Bucks. His best year in the NBA came the year after during his one season as a reserve with the Cleveland Cavaliers. He played in 70 games with the Cavs and started just seven. He averaged 5.7 points and 4.3 rebounds per game while playing a little more than 17 minutes per game.
In August of 2001, Traylor was traded from the Cavaliers to the Philadelphia 76ers. He never played a game for the 76ers as they traded him to the Charlotte Hornets two months later. He played three seasons with the Charlotte/New Orleans Hornets but averaged less than 13 minutes per game. Traylor finished his career back with the Cavaliers and played the most minutes of his career (17.9 per game). He played in 74 games and averaged 5.5 points and 4.5 rebounds per game.
After that season, Traylor had surgery on his aorta. He had signed with the New Jersey Nets in 2006, but failed his physical. After his NBA days, Traylor continued to play professionally overseas until his death in 2011.
Traylor died of apparent heart attack
On May 11, 2011, Robert Traylor was found dead in his apartment in Puerto Rico. He had played his last game on April 26 of that year. According to ESPN, Traylor was on the phone with his wife when the connection suddenly cut off. She contacted team officials and they went to check on him. Authorities said he died of a heart attack.
Traylor was described as a gentle giant. He was well-liked by many. When he died, he was still a member of the Bayamon Cowboys. "He was a leader of the team," said Jose Carlos Perez, the Cowboys' manager. "He was very, very friendly and he got along very well with everyone. The fans loved him, idolized him."
"Off the court he was a gentle giant, displaying his smile and care, especially toward young people through his involvement in school visits and his work with the Special Olympics clinic," the Milwaukee Bucks said in a statement.