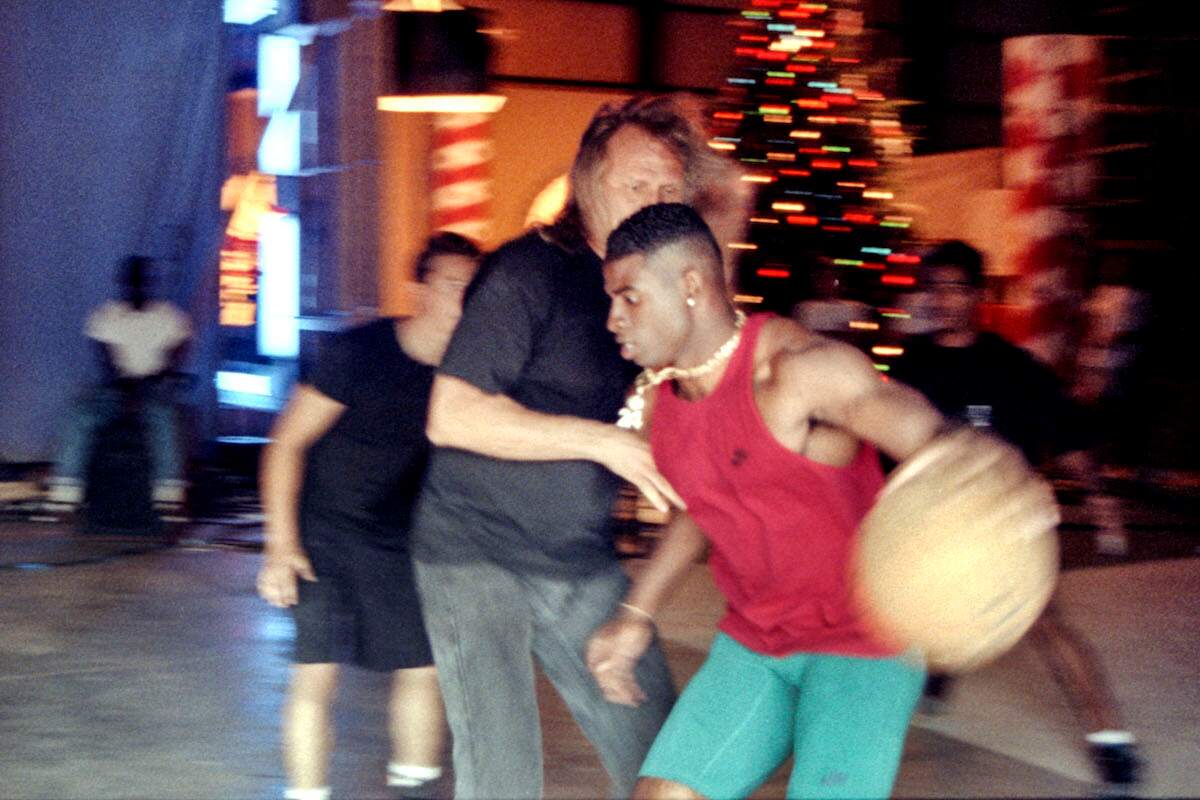 This Slam Dunk Contest Featured Ken Griffey Jr., Deion Sanders, and Barry Bonds
The Foot Locker Slam Fest was a dunk contest that brought out the top athletes who participated in other sports.
The NBA Slam Dunk Contest has featured the best dunkers in basketball for nearly 50 years (off and on). Celebrities, current and former NBA players, and other athletes come to see the athletes put on a show during this All-Star Weekend event.
In 1992, there was a dunk contest that did not involve NBA players. Instead, it featured other famous athletes who put on their own rendition of a dunk contest. Here's how it played out:
The 1992 Foot Locker Slam Fest
During the '80s and '90s, a dunk contest was held for athletes from sports outside of the NBA. You had NFL stars, MLB stars, and even track and field athletes. Those participants came together to put on a show for the fans.
Sixteen participants competed in the bracket-style tournament and had two opportunities to show off their best dunk, as Ball Is Life reports. The participants used a women's basketball, and the height of the rim was 10 feet. The 1992 Foot Locker Slam Fest had top athletes involved.
Deion Sanders, Ken Griffey Jr., and Barry Bonds were just a few participants who headlined the contest. Instead of hitting home runs or catching touchdown passes, these participants were dunking basketballs.
With people like Bonds, Griffey Jr., and Sanders in an event like this, NBA fans were instantly attracted to the contest. Oh, and other stars participated as well, like Michael Irvin and Chris Carter.
The winner of the 1992 Foot Locker Slam Fest
It was surprising to see that Bonds, Griffey Jr., or Sanders weren't in the final round of the contest. Instead, it was two track athletes: Mike Conley Sr. and Mike Powell. Conley is the father of current NBA player Mike Conley Jr.
Both athletes were successful in track and field. Powell was a two-time world champion and record holder in the long jump. Conley was an Olympic gold medalist in the triple jump.
In this case, the two had a chance to add a dunk contest title to their trophy case. Standing at six feet, Conley came out on top with his final dunk, which featured him dunking from the free-throw line, according to Gowhere Hip Hop. That dunk sealed the deal as the crowd erupted. Even Conley was astonished at what he did.
The Foot Locker Slam Fest needs to come back
The Foot Locker Slam Fest would be a great event if it took place in the present. With the athletes nowadays, they can certainly put on a show. Just think, you would have athletes like Julio Jones, Lamar Jackson, Mookie Betts, and Aaron Judge.
The whole concept of the dunk contest was a good idea. It allowed other athletes from different sports to showcase their skills and talents. That would be perfect in today's era, especially with social media now. Just looking back at those contests and seeing the people participating lets you know that no matter what sport, athletes will always compete at a high level.