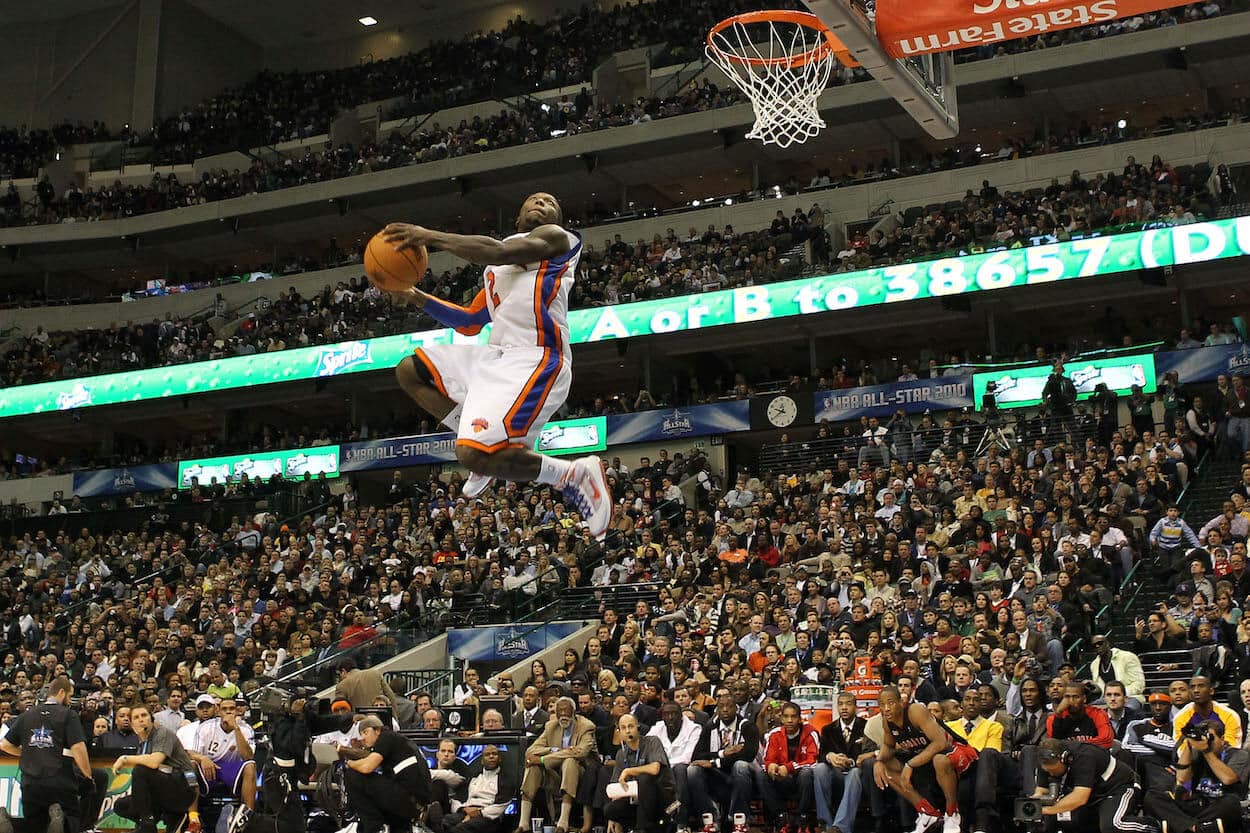 Who's Won the Most NBA Slam Dunk Contests?
Only a select few have won multiple Slam Dunk Contests, including one player with more wins than anyone else in NBA history.
On an All-Star Saturday night filled with slinging passes through targets and raining down money-ball threes, the main event is always the Slam Dunk Contest.
Since the first NBA dunk contest in 1984, fans have collectively watched many of the game's best players showcase their high-flying acrobatics. And even though it has featured less-recognizable participants in recent years, the dunk contest is usually ripe with electrifying action.
Through nearly four decades, multiple players have won the competition twice. But there is one participant who can stake his claim as the most prolific slam dunk champion ever.
Five players have won two Slam Dunk Contests
Over the 39-year history of the NBA Slam Dunk Contest, 25 players have been crowned as the champ. But only five have earned the title twice.
The first multi-time winner was Michael Jordan. After losing to Dominique Wilkins in a thrilling final round two years prior, His Airness was named the winner of the 1987 contest in Seattle. The following year, Jordan exacted his revenge on Wilkins in front of the hometown crowd at Chicago Stadium to earn a second straight victory.
Speaking of Wilkins, the Human Highlight Reel won his second title in 1990, five years after defeating the rookie Jordan. That was also the last time 'Nique competed in the dunk contest, as his five appearances tie him with Clyde Drexler for the most all-time.
There have been three other two-time winners spread out over the last three decades: Harold Miner, Jason Richardson, and Zach LaVine.
Miner, aka "Baby Jordan", spent just four seasons in the NBA but won the Slam Dunk Contest in 1993 and 1995. Years later, Richardson dazzled his way to victories in 2002 and 2003 to join Jordan as the only back-to-back winners. Lastly, LaVine won in each of his first two pro seasons in 2015 and 2016, becoming the youngest victor since the 18-year-old Kobe Bryant in 1997.
Nate Robinson has won a record three Slam Dunk Contests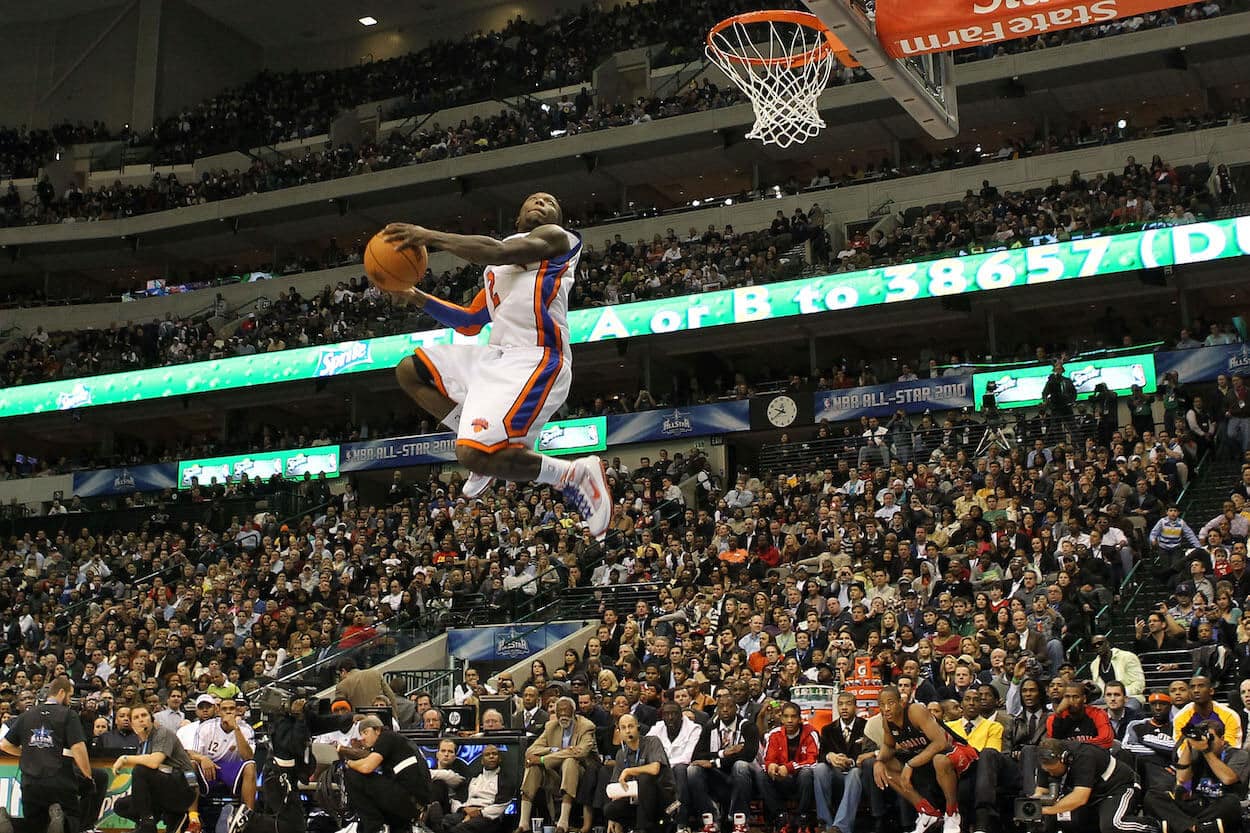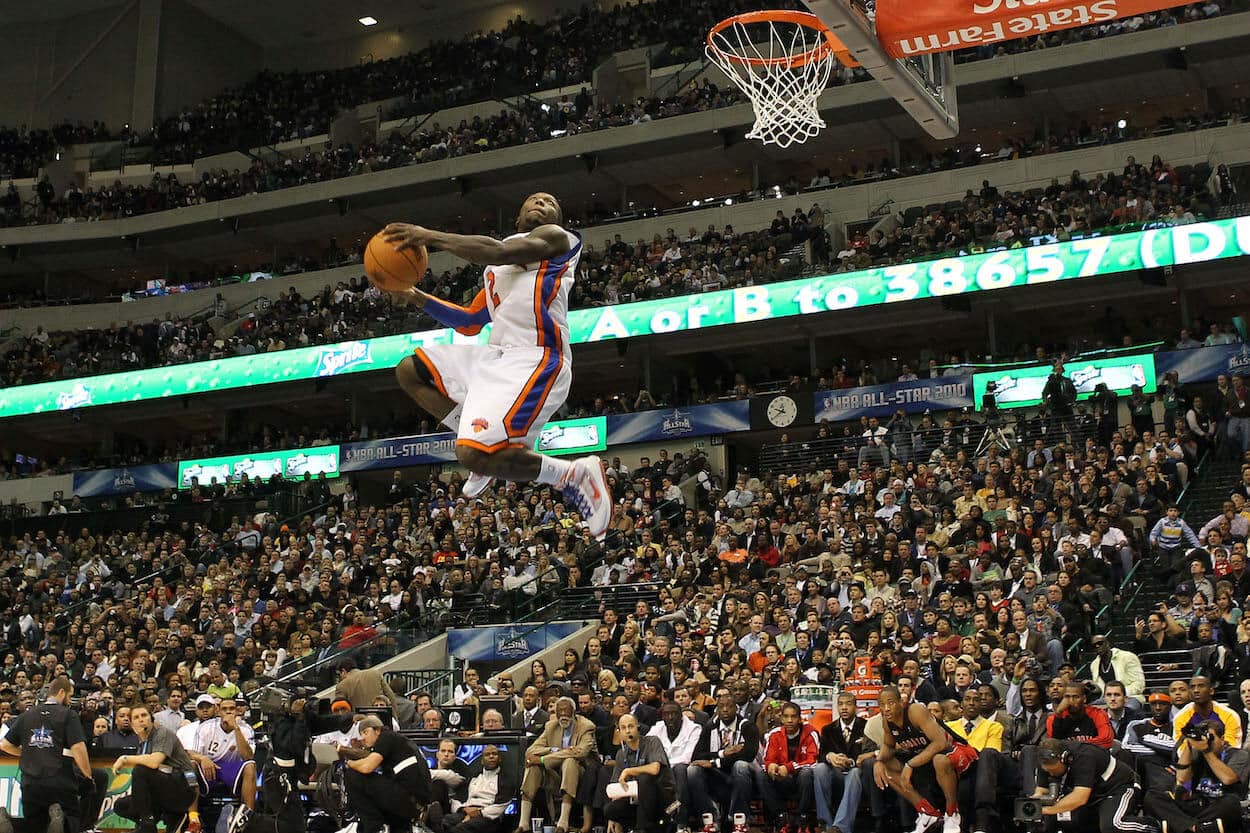 The Slam Dunk Contest had had many memorable champions, ranging from Jordan and Wilkins to more recent victors like LaVine and Blake Griffin. But only one player has been able to call themselves a three-time winner.
Fittingly, it's the 5-foot-9 Nate Robinson.
Robinson competed for the first time in February 2006, his rookie season. The undersized guard stole the show with his high-flying leap over Spud Webb, a former dunk contest winner and fellow short king. He would then go on to beat Andre Iguodala in the first-ever "Dunk Off" to earn the title.
The former New York Knicks point guard finished as the runner-up to Gerald Green in 2007 before returning to the contest in 2009. Robinson would win over the Phoenix crowd as "KryptoNATE", dressing in all green and dunking over reigning champion Dwight Howard.
In 2010, Robinson became the first and only three-time winner in dunk contest history. The 11-year veteran finished the night with a double-pump reverse dunk to narrowly defeat Toronto Raptors rookie DeMar DeRozan.
It might be a while before we see another three-time dunk contest champion
In order to win the dunk contest three times, you have to participate at least three times. Only 15 players have done so in the history of the esteemed All-Star Weekend event.
That might be a difficult ask for many of today's players.
Of the 46 hoopers to participate in two or more dunk contests, only five have done two or more since 2015: Zach LaVine, Aaron Gordon, Derrick Jones Jr., Dennis Smith Jr., and Victor Oladipo. Out of that group, LaVine and Jones Jr. are the only former winners.
Unfortunately, LaVine's dunk contest days are likely behind him after he tore his ACL in 2017. Meanwhile, Jones still needs to win two more times. It would be downright shocking if either one ties Robinson's record.
Now more than ever, players want to utilize the All-Star break as an actual break. If that means not competing in the Slam Dunk Contest, so be it.
While we wouldn't rule anything out, it's highly unlikely we'll see Robinson's record matched anytime soon.
All dunk contest info courtesy of NBA.com.