Tiger Woods 'Better Than Most' Putt Wasn't His First Iconic Moment on the 17th Hole at TPC Sawgrass
When discussing Tiger Woods' history at TPC Sawgrass, the first thing that typically comes to mind is his ridiculous "better than most" putt on the famed island green at the 17th hole during his 2001 victory at The Players Championship.
And there's certainly a good reason for that. After all, that 60-foot, multi-breaking birdie putt during his third-round 66 was absurd.
But what some may not realize is that Tiger's first big moment — and his first big win — at TPC Sawgrass occurred seven years earlier.
After winning three consecutive U.S. Junior Amateur titles from 1991 to 1993, the future 82-time PGA Tour winner took the next step in his budding career in 1994 and qualified for the U.S. Amateur, which was played at TPC Sawgrass.
Woods, then still just an 18-year-old soon-to-be freshman at Stanford, prepped for the tourney by studying Greg Norman's record-breaking win at The Players Championship that year and came to Ponte Vedra Beach looking to make some history of his own.
Tiger Woods won his first U.S. Amateur title at TPC Sawgrass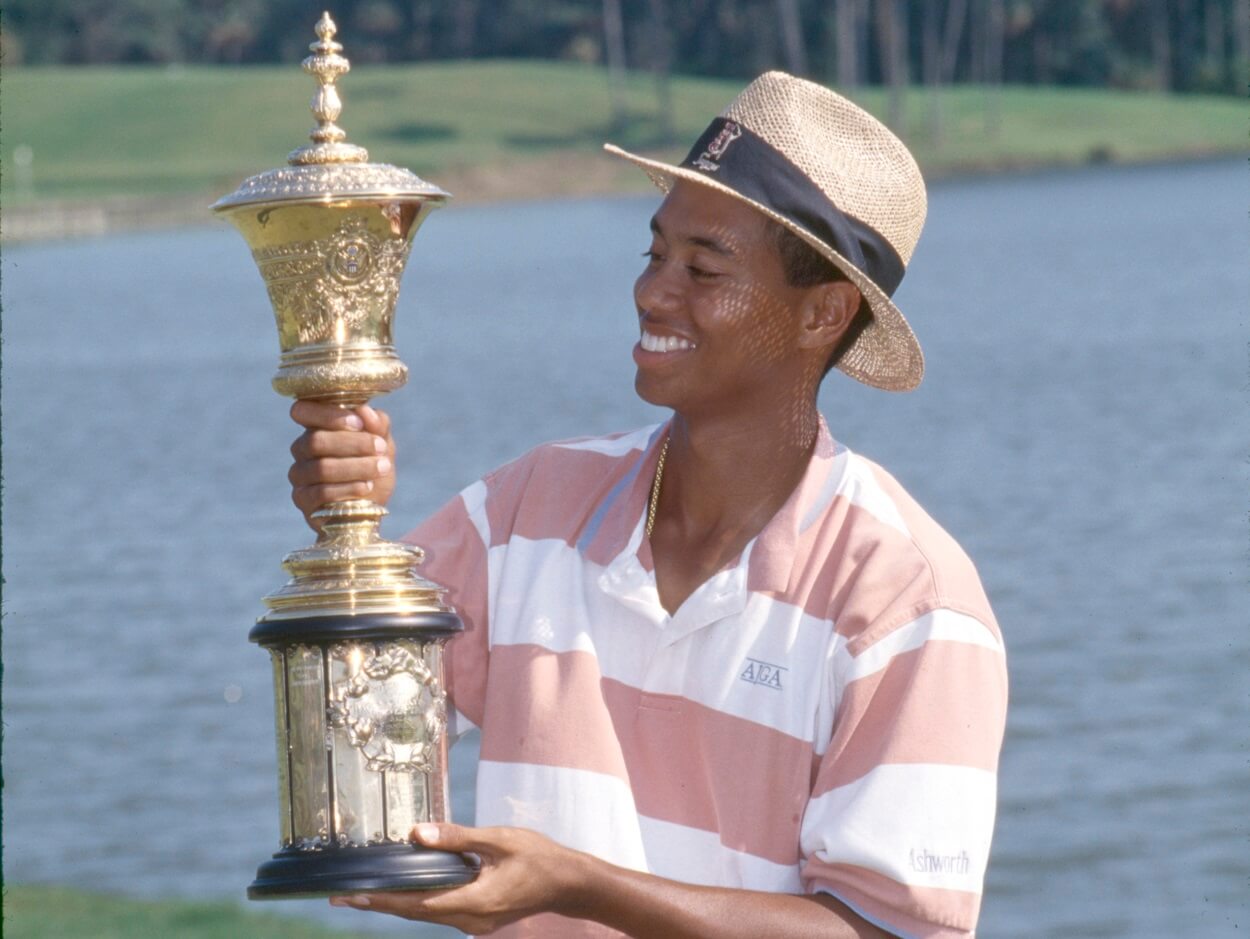 Tiger worked his way through the match-play tourney by knocking off an interesting group of players that included a PGA Tour rules official, a collegiate head coach, a 35-year-old businessman, and some collegiate All-Americans.
In the 36-hole final, Woods squared off with Trip Kuehne, who was once roomed with Phil Mickelson at Arizona State before transferring to Oklahoma State, where he was a three-time All-American.
Kuehne jumped out to a big lead in the morning round and was 6-up after 18 holes. And with just 12 holes remaining in the afternoon round, he still held a 5-up lead.
But then Tiger Woods started doing Tiger Woods things.
By the time the duo reached the 17th hole at TPC Sawgrass, Woods had tied the match. But he nearly killed his chances of completing his comeback as his tee shot into the island green came just mere inches from going into the water before settling on the fringe.
Facing essentially the same putt he'd had that morning, a putt he missed, Woods drained the tough right-to-left breaker for birdie and took a 1-up lead, showing off the fist pump that would become his signature as the ball dropped into the cup.
Woods also won the 18th, giving him a 2-up victory, his first of three consecutive U.S. Amateur titles. He also became the youngest to win the event that week, a record that's since been broken.
In the two that followed the win at TPC Sawgrass, he chose against wearing that straw hat. I guess "better than most" only applies to certain things.