Tiger Woods' Devastating Leg Injury Has Been a Blessing in Disguise, Says Justin Thomas: 'He's Able to Be a Dad Somewhat Again'
Before Tiger Woods suffered a litany of leg injuries in a devastating car crash this February, the PGA Tour legend was never able to spend as much time with his two children as he wanted. Life as a professional golfer is a never-ending grind with constant trips around the world and few breaks in the action.
But according to close friend and fellow star golfer Justin Thomas, Woods' death-defying accident has been a blessing in disguise as he's finally been "able to be a dad" again.
Tiger Woods is living out his own 'Groundhog Day'
It's been nine months since Woods was involved in the single-car crash heard around the world. The golf legend suffered comminuted open fractures to his right tibia and fibula bones, as well as more injuries to his ankle and foot.
Woods has been working hard in rehab every day in an attempt to get back on the golf course, but he feels as if he's turned into his own version of Bill Murray in Groundhog Day.
Thomas, who has been good friends with Woods for years and frequently visits him at his Jupiter, Florida, home, gave us an update on Woods' recovery during a recent appearance on the No Laying Up podcast.
"I'd say I probably go over and see him two or three times a week when I'm home," Thomas said. "I go over there more so to let our dogs play and hang out. It wears our pup out. But yeah, he's doing well. Especially, all things considered, I think he's … I mean, it's Groundhog Day. Every day's the exact same thing for him."
Justin Thomas says Tiger Woods is 'able to be a dad' again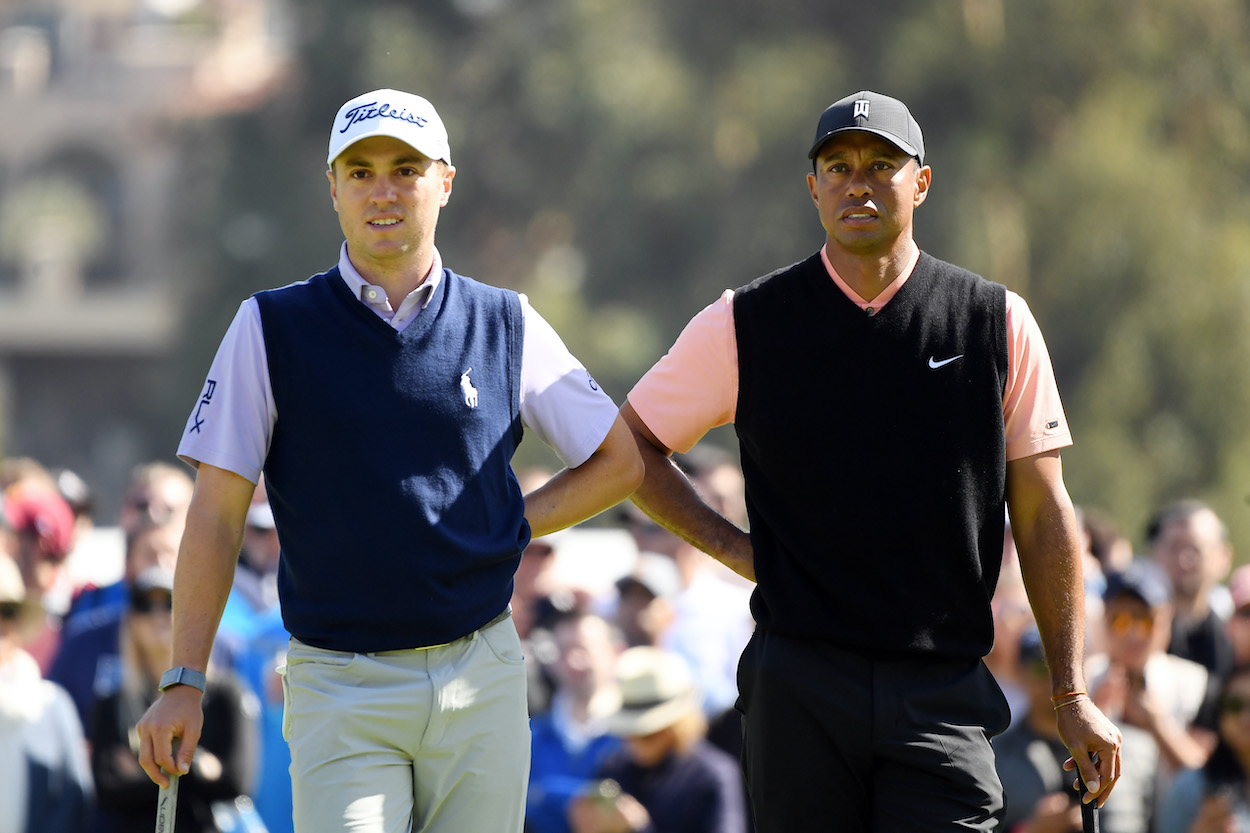 Woods might not be able to do what he loves most and compete on the PGA Tour every week, but some positives have actually come from his time away from golf. According to Thomas, Woods has enjoyed being able to spend more time with his son, Charlie, and his daughter, Sam, while he recovers from his injuries.
At least he's able to … pictures were going around of him at Charlie's tournament, Sam's soccer tournaments here and there. He's able to be a Dad somewhat again, which is most important.

It's just something where he wants to be a dad and enjoy those moments with him and watch him potentially be playing. And to go watch Sam at her soccer tournaments and she's such an athlete and how smart she is, to be a part of her life. That's what he wants to do and his competitive side is not gonna let him just hang it up without at least giving it a try at some point, I'm sure.

Justin Thomas
Despite the uncertainty surrounding his future in professional golf, Tiger hasn't lost his fun-loving personality.
"He's still his sarcastic a**hole self, so nothing has changed there," Thomas said. "So I'm glad to see that he's still chipper as always."
Thomas on Tiger's chances of returning to the PGA Tour: 'He's going to try'
We've already seen Tiger come back from seemingly insurmountable odds a few times before. Who's to say he can't do it again?
Thomas isn't quite sure whether it's possible for Woods to return to the PGA Tour at some point, but he's not ready to rule it out.
"I don't know, I mean, I know that he's going to try," Thomas said. "I don't see him ever playing if he can't play well. He doesn't strike me as a guy who's played at home and he's shooting a bunch of 75s and 76s and he's like 'OK, I'm gonna give Augusta a try this year.' That's not really gonna be him, at least from my understanding, what I know of him.
"Obviously I hope he does. But at the same time, as I said after the accident, as long as he can be a dad and be normal with that again, that's the No. 1 priority. And the rest of this is a bonus."
If Woods never gets back on the golf course as a professional, at least he'll be able to watch his kids grow up in a way he never thought he could.
Like Sportscasting on Facebook. Follow us on Twitter @sportscasting19.