Jack Nicklaus Sends an Encouraging Message About Tiger Woods' Chances of Ever Returning to the PGA Tour: 'I Do Expect Him to Play Again'
We may have seen the last of Tiger Woods on the PGA Tour.
The 15-time major winner suffered multiple leg injuries in a single-car crash near Los Angeles back in February, and he hasn't been able to walk on his own since. Woods is just focused on getting back on his feet at this point. Returning to the golf course seems like a distant goal — and a lofty one at that.
But the only man who has more major championship trophies than Woods, Jack Nicklaus, isn't giving up hope. In a recent interview, the Golden Bear predicted his protege will eventually return and complete the greatest comeback of his career.
Tiger Woods is still recovering from his devastating car crash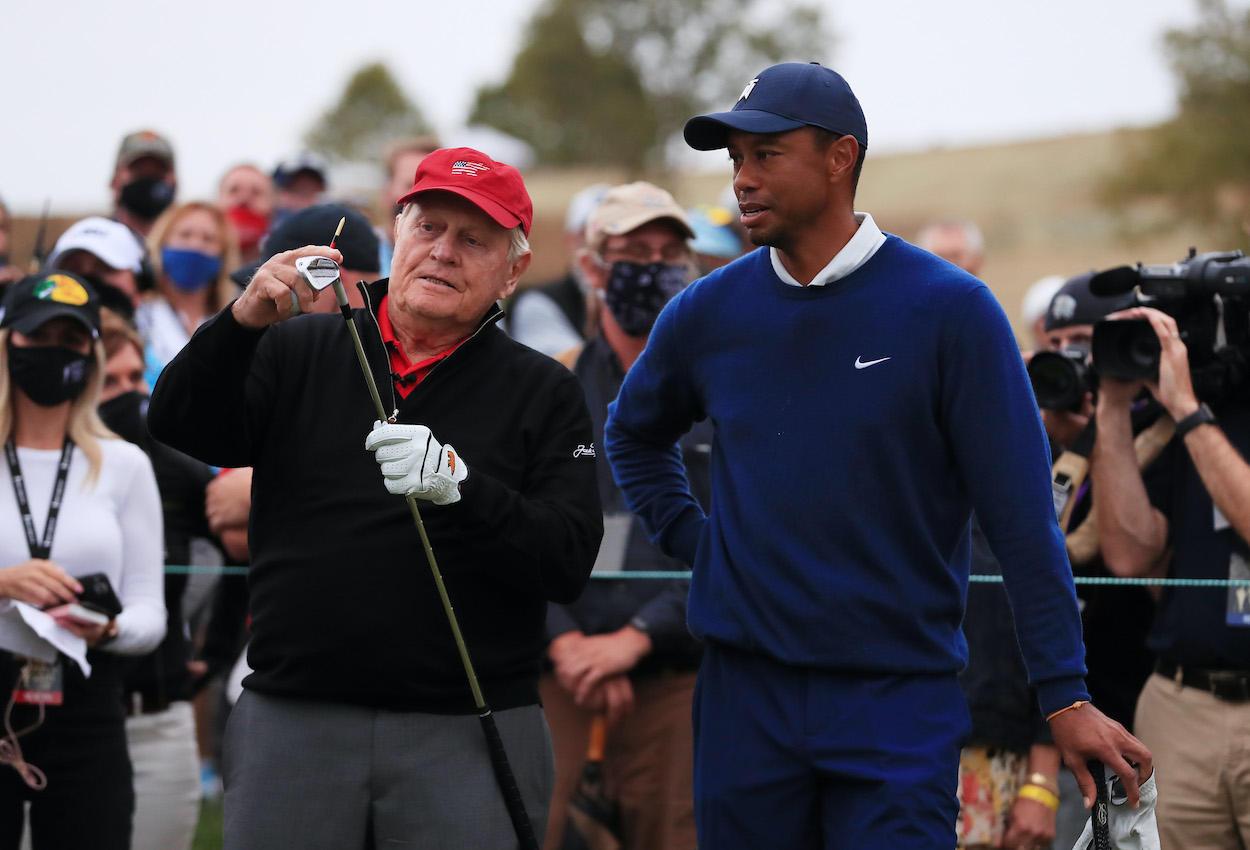 Six months ago, Woods sent a jolt of fear through the entire world of golf when he crashed his SUV off the road outside LA. For a few hours, those following along were just praying the golf legend was going to survive.
Woods was immediately rushed to a nearby hospital and underwent emergency surgery on his right leg. During the surgery, doctors placed a rod in his leg and stabilized his ankle with a variety of pins and screws.
Thankfully, Woods survived the crash, but it was clear his road to recovery was going to be a difficult one. The 45-year-old finally spoke out a few months later and detailed what the rehab process has been like so far.
"This has been an entirely different animal," Woods told Daniel Rapaport of Golf Digest in May. "I understand more of the rehab processes because of my past injuries, but this was more painful than anything I have ever experienced."
Boy, that's saying something. Woods has endured five back surgeries, a torn ACL, and countless other injuries throughout his career. This isn't going to be easy.
Jack Nicklaus is confident Tiger can return to the PGA Tour
Not many golf fans are giving Woods much of a chance to return to the PGA Tour at this point in his career, but bet against him at your own risk. Nicklaus might know Tiger better than anyone in the golf world, and he's holding out hope for a remarkable comeback.
"I know Tiger," Nicklaus recently told Leonard Shapiro of the Washington Post. "What he did at Torrey Pines [winning the 2008 U.S. Open] on a broken leg, what does that tell you? He'll still be able to slap it around, and if he can putt, he'll be all right. I don't know if he can reach his old level, but I do expect him to play again."
That's quite a prediction from arguably the greatest golfer to ever live.
Is it realistic to believe Woods can return to professional golf?
Considering Woods isn't even walking on his own six months after his accident, it's safe to assume he won't be back on the golf course for quite some time. And even when he finally does feel strong enough to go swing a club, there's no guarantee he'll ever be able to regain his PGA Tour form.
Tiger could retire tomorrow and still leave the game with arguably the most impressive resume in professional golf history. No one would blame him if he hung up his spikes for good and spent the rest of his life being a family man.
But at the same time, he's only 45 years old. Phil Mickelson just won his sixth career major at 50 years of age. Who's to say Tiger can't do the same in a few years?
If Nicklaus is right and Woods does eventually return to the PGA Tour, it'll challenge his 2019 Masters triumph as the most unlikely comeback story of his career.