Tiger Woods Proves He's Ready for The Masters With Vintage First Round at Genesis Invitational
Tiger Woods is back, folks. The 82-time PGA Tour winner made his season debut Thursday at the Genesis Invitational at Riviera Country Club, and he must've been thrilled with his performance.
Woods far exceeded expectations in his first competitive round in six months, and he proved he's ready for four rounds at Augusta National Golf Club in the process. Let's break down how Tiger fared in the first round of the Genesis Invitational.
Tiger Woods impresses in first round of Genesis Invitational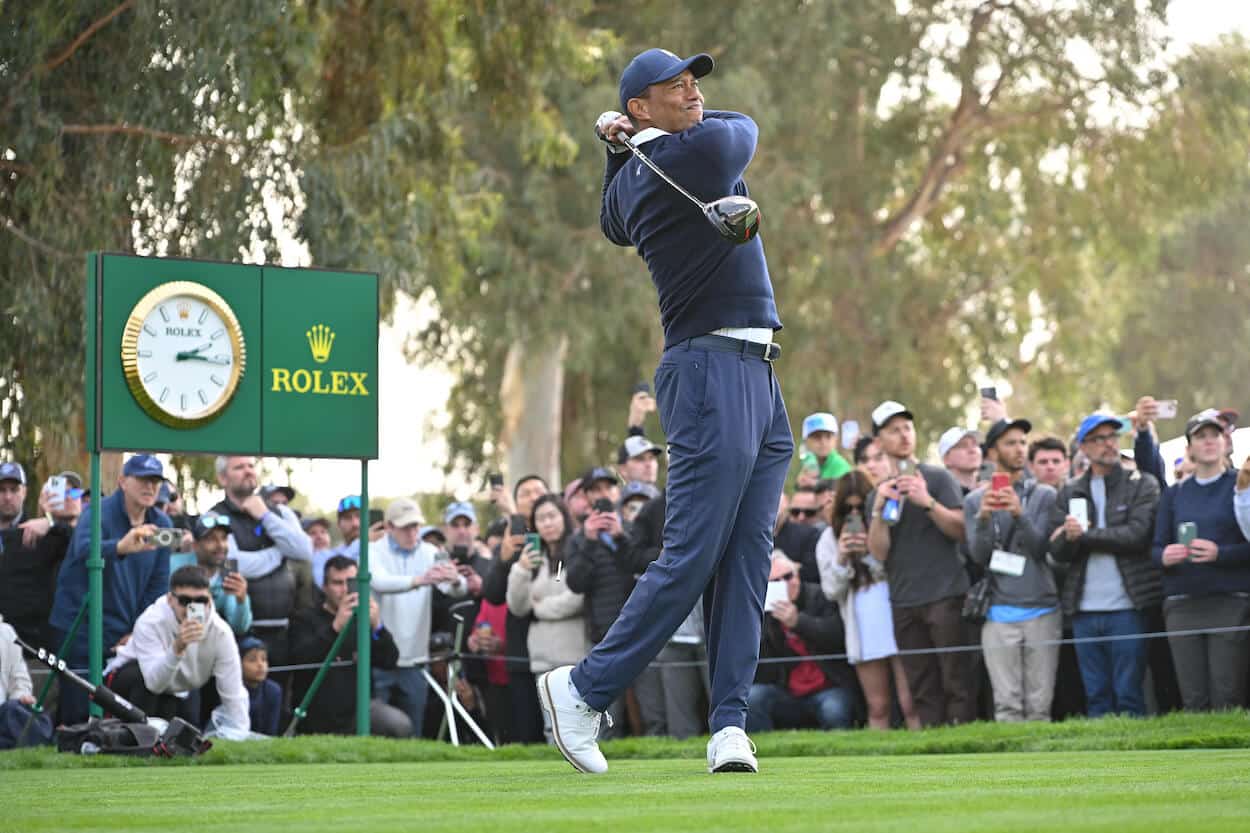 On Thursday afternoon, Tiger Woods competed in his first PGA Tour round since the Open Championship back in July. Oddsmakers weren't too optimistic about his chances to go low, as his over/under score was set at 74.5. Woods cashed the under for all his faithful bettors with a 2-under 69.
Woods got off to an ideal start by making a birdie on the par-5 first hole at Riviera. Sure, it's one of the easiest holes on the PGA Tour schedule every year, but a solid birdie after six months off was great to see.
After back-to-back pars, Woods slipped up on the par-4 fourth hole and made his first bogey of the day. His best par save of the day came on the par-4 fifth, where he survived a side-hill lie on his second shot and a long bunker shot on his third shot to make an impressive four.
Woods got back to 1 under par by sticking it close with a wedge on the par-4 eighth hole, and he easily parred the ninth to go out in 34. Who expected him to be under par after nine holes? Not me.
The back nine is where Tiger's limp started to become more pronounced, which was a theme for the 15-time major winner in his three starts last season. He also took off his right shoe and adjusted his sock multiple times throughout the round, signaling he may have been dealing with some pain in his injured foot. To start the back nine, Woods made sloppy bogeys on the 10th and 12th holes to fall to 1 over par, as the wheels looked to be coming off his round.
But, in vintage Tiger fashion, he rebounded with three straight pars and a beauty of a tee shot on the par-3 16th to set up his third birdie of the day. On the par-5 17th, he made a 24-footer for his second birdie in a row and the longest putt he holed in his first round. On the challenging par-4 18th, Woods bombed a drive down the middle, stuck his approach shot to seven feet, and buried the putt to finish off his 69 in style. He currently sits in a tie for 27th place.
What leg injury?
Woods hit 6/14 fairways, 12/18 greens, and totaled 27 putts. He got up-and-down five times in seven chances and didn't record a single three-putt all day. The most impressive part of Tiger's first round was that he was out-driving playing partners Rory McIlroy and Justin Thomas almost all day. At 47 years of age! With a metal rod in his leg!
All in all, he played impressively well in firm, fast conditions and should be thrilled about his chances of making the cut this weekend.
Welcome back, Tiger.