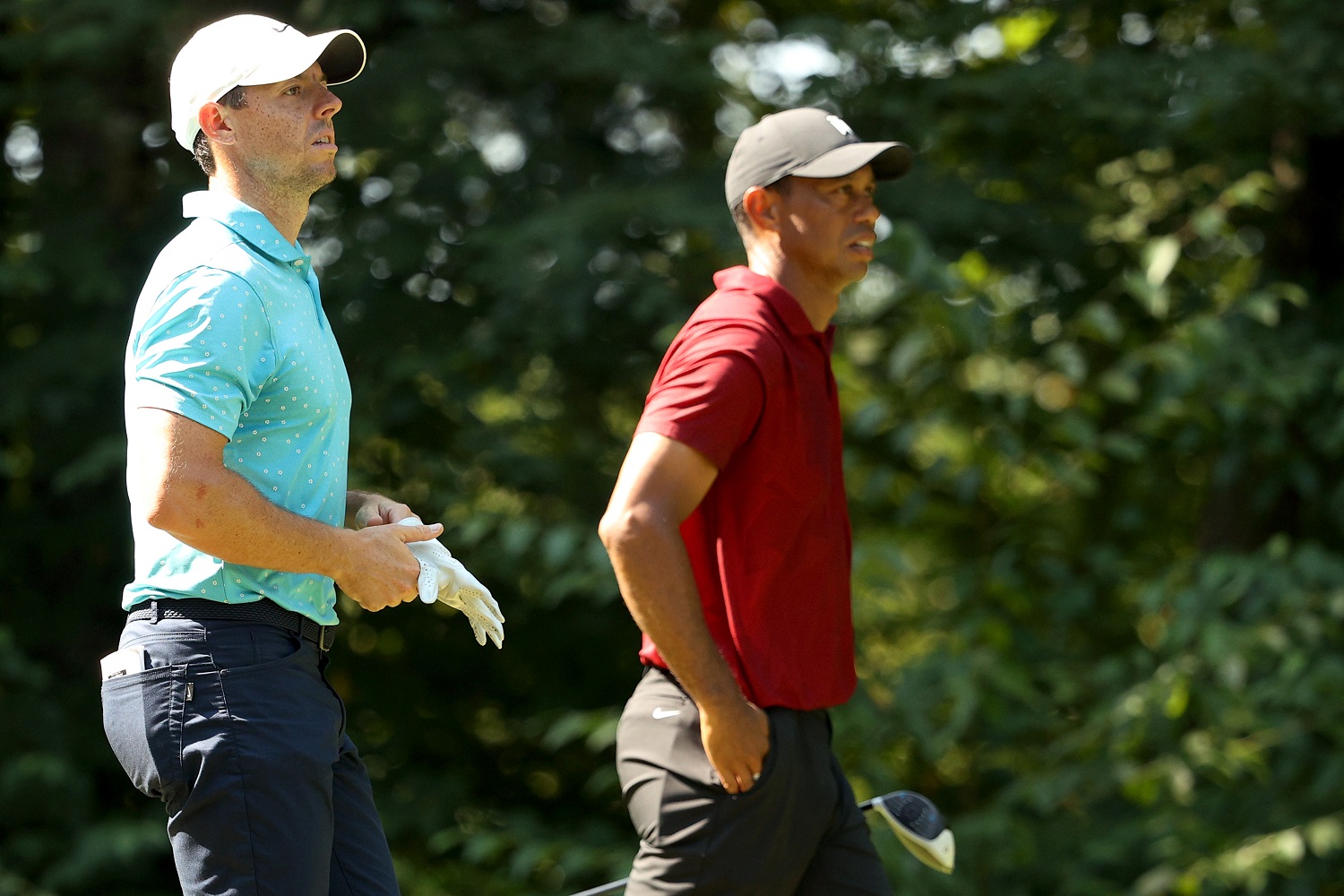 Tiger Woods, Rory McIlroy Offer Up the Same Reason For Their Recent Struggles
Tiger Woods and Rory McIlroy haven't played great golf since the PGA Tour resumed play and seem to have the same reason why that is.
Rory McIlroy and Tiger Woods are obviously two of the most popular golfers of the last 25 years, obviously also two of the most successful, but the two future Hall of Famers (Tiger is actually already in but hasn't been officially inducted) have had a hard time adjusting to life on the PGA Tour without spectators. Neither has been in contention of any tournament since the season resumed and both seem to think that the lack of patrons has at least a little something to do with that.
Tiger Woods' best finish in the three tournaments he's played since the PGA Tour resumed was a tie for 37th
Choosing to skip the early events of the PGA Tour restart, which began on June 11 with the Charles Schwab Challenge, Tiger Woods didn't return to competitive golf until mid-July at the Memorial at Muirfield Village, a tournament he's won five times. It was his first tournament since the Genesis Invitational back in February and the rust certainly showed. Woods shot 71 on Thursday and Saturday and 76 on Friday and Sunday to finish at 6-over for the week, tied for 40th and 15 shots back of winner Jon Rahm.
Tiger played better golf at the PGA Championship at TPC Harding Park, shooting 68-72-72-67, but still only managed to tie for 37th at 1-under, a dozen shots behind Collin Morikawa. Woods barely made the cut at the Northern Trust this past week at TPC Boston, making the weekend on the number at just 3-under on a golf course that was giving up some insanely low scores.
He played the final two rounds with Rory McIlroy, who had also just snuck into the weekend, and finished tied for 58th. He shot a solid 66 on Sunday but still finished 24 strokes behind Dustin Johnson, who shot an absurd 30-under for the week. McIlroy finished tied for 65th out of 70 who made the cut, his worst finish in seven starts since the restart.
Rory McIlroy hasn't been the same player since the restart
Before the PGA Tour shut down back in March following the first round of The Players Championship, Rory McIlroy was playing some of the best golf of his career, which is saying something given the fact he's a four-time major champion. In his final seven starts before the season was suspended, McIlroy hadn't finished outside the top five.
But in the seven starts he's made since the PGA Tour season resumed, his best finish has been a tie for 11th at the Travelers Championship. But outside of that, he hasn't finished higher than a tie for 32nd, which he did at both the Charles Schwab Challenge and the Memorial. He tied for 41st at the RBC Heritage, tied for 47th at the WGC-FedEx St. Jude Invitational, tied for 33rd at the PGA Championship, and tied for 65th at the Northern Trust.
Luckily for McIlroy, he's actually still in the hunt for the FedEx Cup title given his play earlier in the year and will head to the BMW Championship at No. 12 in the standings. But both he and Tiger Woods, who is at No. 57 in the standings and needs a big week in Chicago just to get into the top 30 to qualify for the Tour Championship, could be in trouble if they can't get past the lack of spectators, which seems to be a part of their recent struggles.
Tiger Woods and Rory McIlroy are struggling without spectators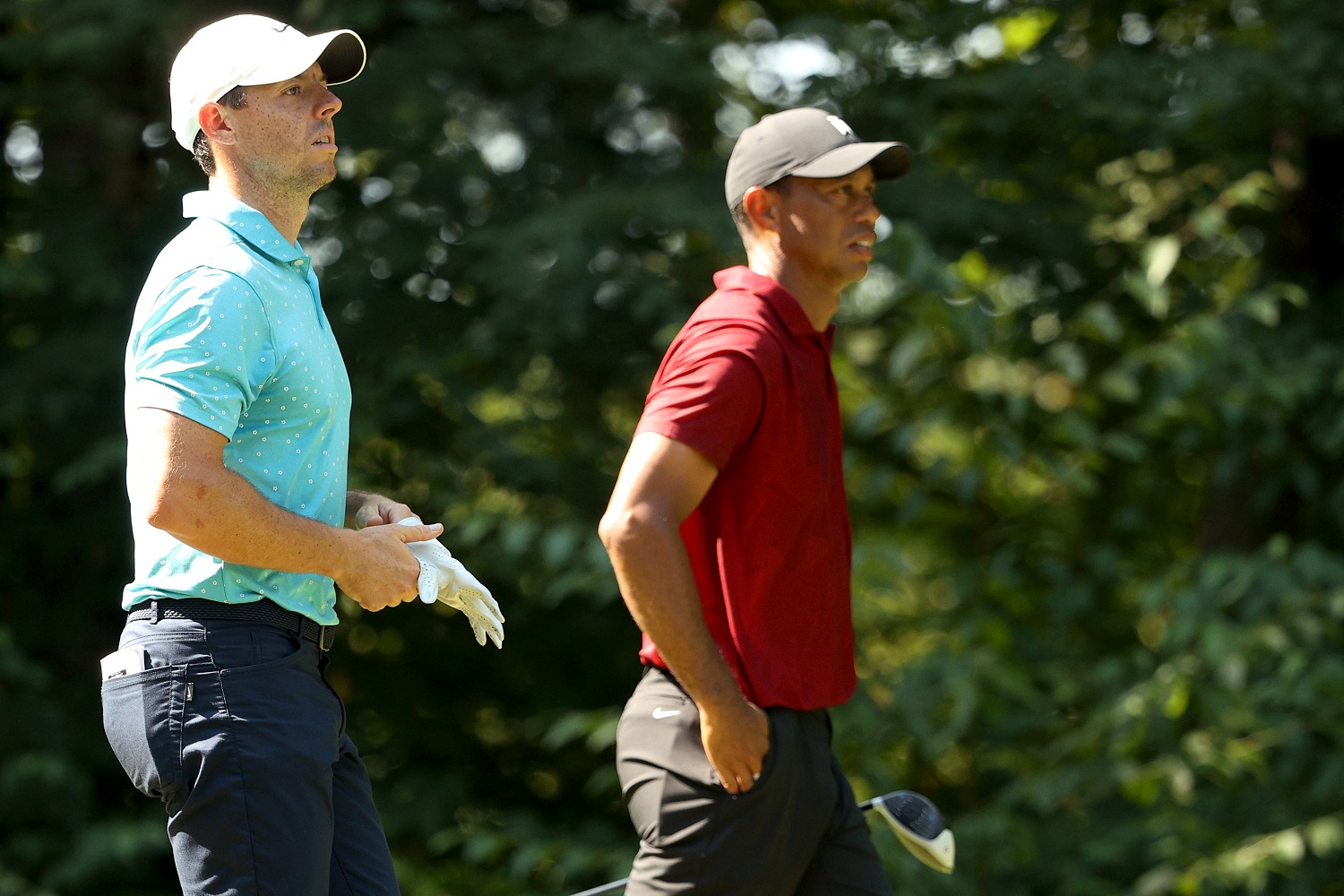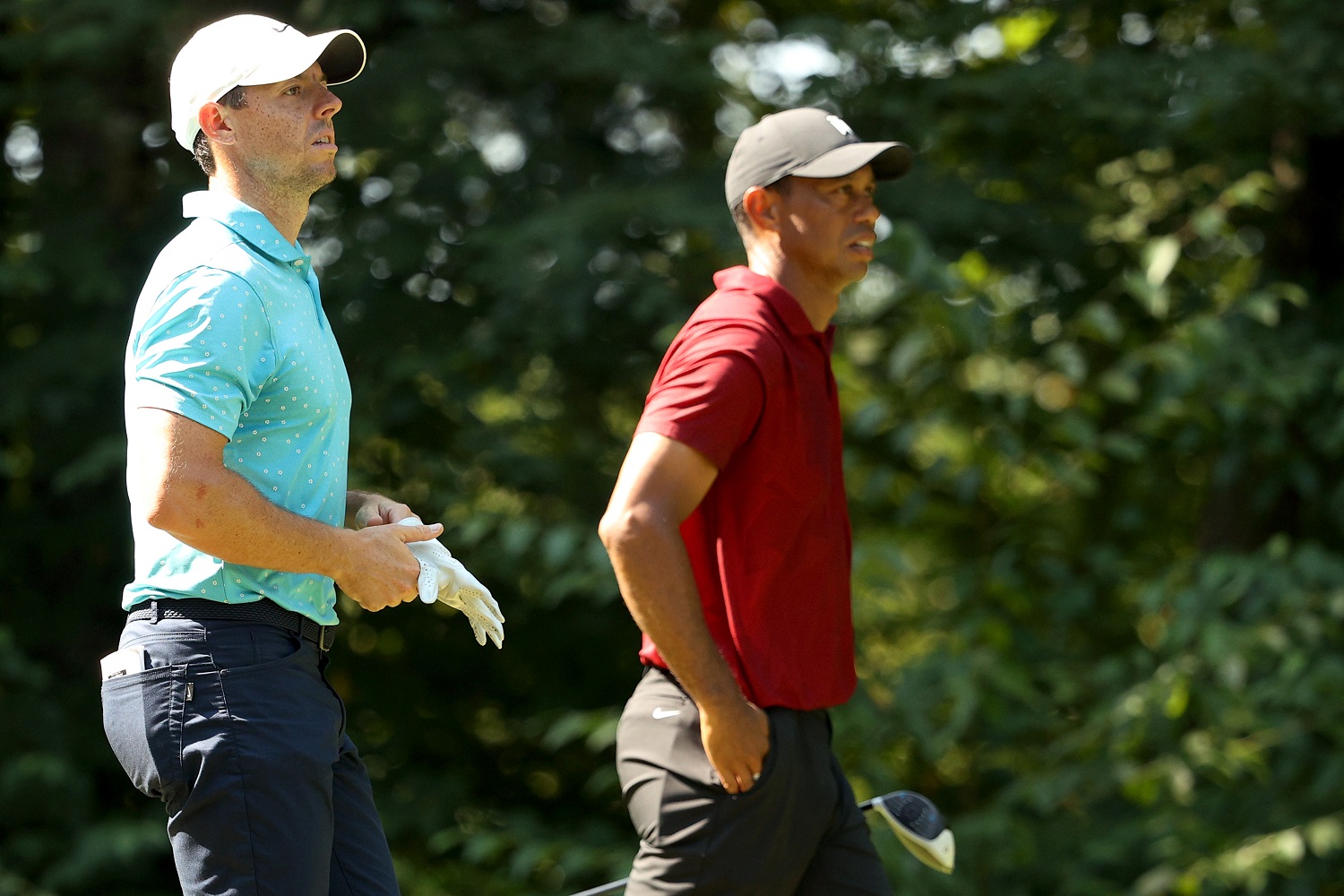 Following the Northern Trust, both Rory McIlroy and Tiger Woods spoke to the media about what it's been like playing without fans and both seem to feel that the quiet on the course has hindered their respective games. Rory even went as far as saying he's just going through the motions right now (h/t Golf.com).
"This is going to sound really bad. But I feel like the last few weeks, I've just been going through the motions. I want to get an intensity and some sort of fire, but I just haven't been able to. And look, that's partly to do with the atmosphere and partly to do with how I'm playing. I'm not inspiring myself, and I'm trying to get inspiration from outside sources to get something going."

Rory McIlroy
As for Tiger Woods, he's had the biggest crowds on the PGA Tour for close to 25 years, something he believes has always given him an advantage as some players simply aren't used to that kind of pressure.
"Anyone who has played in front of thousands of people, it is very different. Usually between 20,000 and 40,000 people screaming and yelling. That's always been one of the things I've become accustomed to; the guys who played with me, who haven't become accustomed to it, they have only experienced one round here and there; that's been every round I've played for over two decades.

"That advantage, for me and some of the other top players that have been out here for a while who have experienced it, trying to deal with all that noise and the movement, that experience is no longer there."

Tiger Woods
Neither is saying that the lack of fans is the sole reason why they haven't performed well but both seem to be saying that it's certainly not helping. We'll have to wait and see what happens at Olympia Fields this week, where no spectators will be in attendance for the BMW Championship.