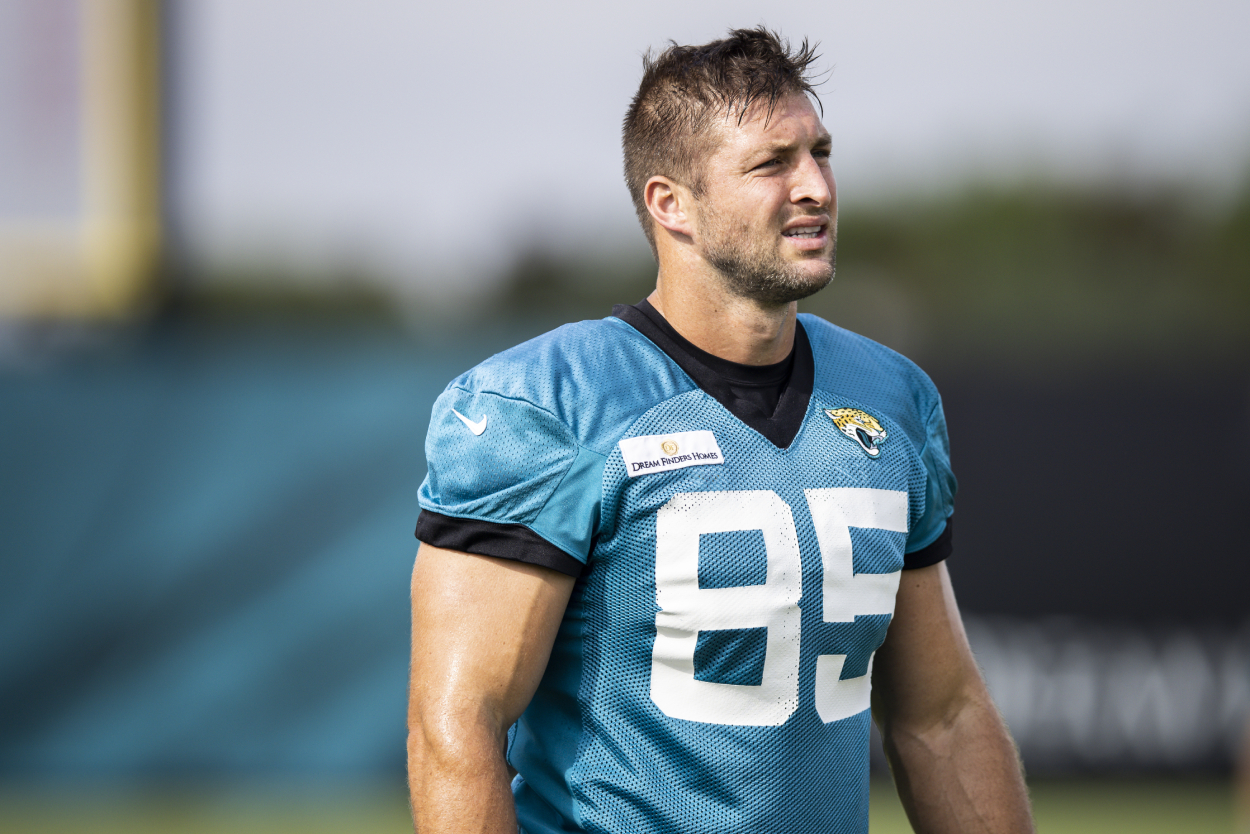 Tim Tebow Recently Gave His Honest Opinion About Former Jaguars Teammate Trevor Lawrence, and He Made an Incredibly Bold Claim While Doing So: 'Dang, That's Ridiculous'
Tim Tebow didn't spend a ton of time with NFL rookie quarterback Trevor Lawrence on the Jacksonville Jaguars, as the team cut Tebow during the preseason. But the former Florida Gators quarterback was on the Jags long enough to form an opinion about Lawrence, and he has since made an incredibly bold claim about him.
Tim Tebow didn't spend a whole lot of time on the Jacksonville Jaguars, but he still got a close look at one of the NFL's top young stars: Trevor Lawrence.
Lawrence is heading into his rookie season with the Jags, but the expectations for his career are through the roof. He was one of the highest recruits in college football history, and his time at Clemson made him the most hyped prospect since Andrew Luck.
So, since Tebow got a front-row seat to the early stages of Lawrence's pro tenure, what are his opinions of him? He recently revealed his thoughts on Lawrence, and he made an incredibly bold claim while doing so.
Tim Tebow spent a short time in the NFL with Trevor Lawrence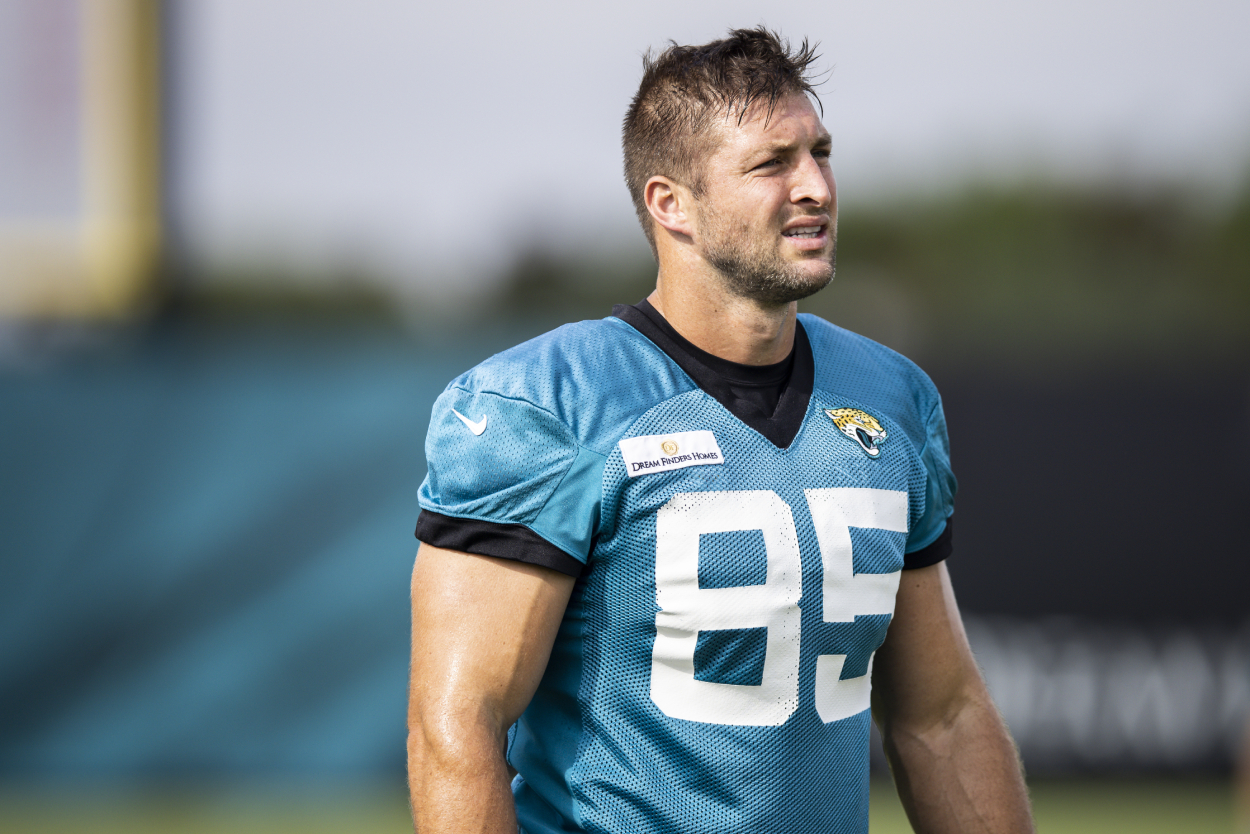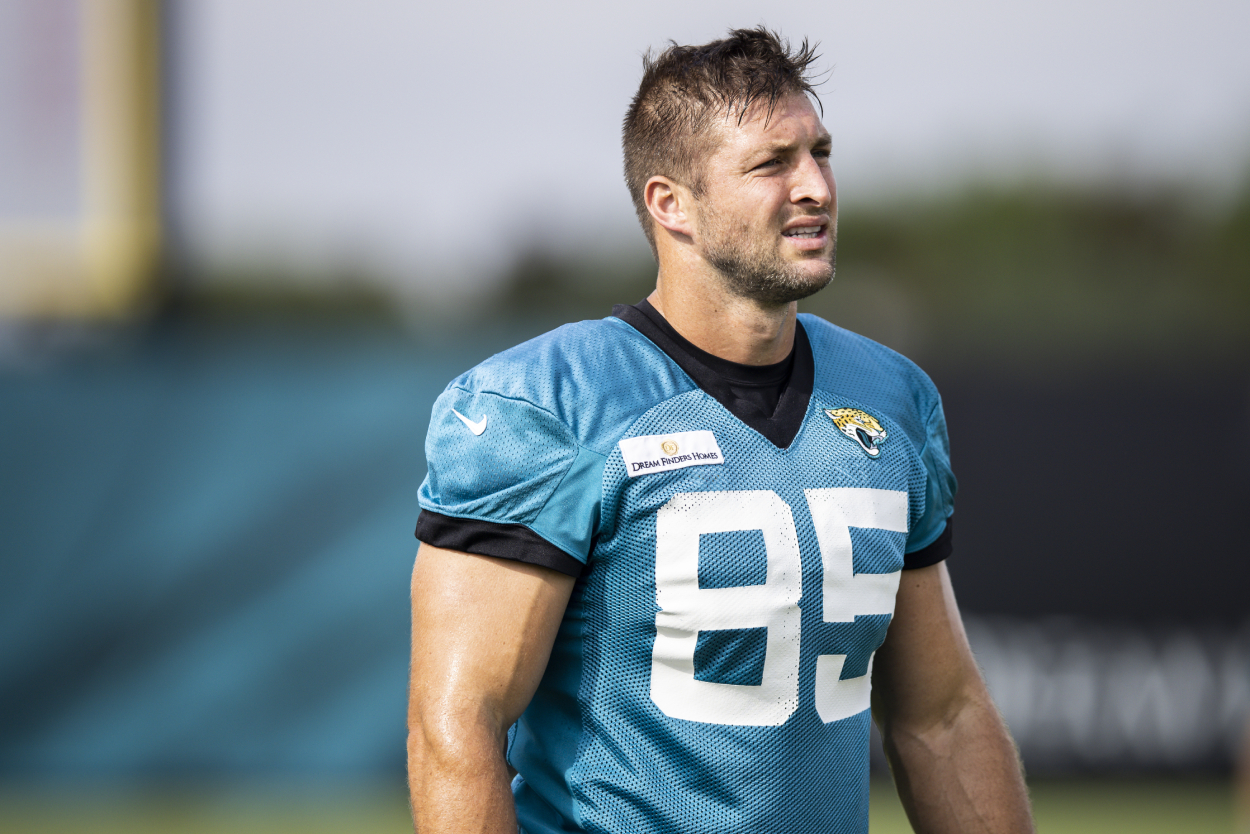 Trevor Lawrence finally entered the pros in April when the Jaguars selected him with the No. 1 overall pick in the 2021 NFL Draft. Less than a month later, Jacksonville, coached by Tim Tebow's college coach Urban Meyer, signed the former Florida Gators quarterback to an NFL contract to play tight end.
Tebow, however, didn't last long on the Jags. He spent the spring with the team and made it into training camp, but his inexperience as a blocker showed in Jacksonville's preseason game against the Cleveland Browns. The Jaguars subsequently cut him during their first round of cuts.
With his pro football dreams now likely over, Tebow has since re-joined ESPN, where he worked as an analyst throughout his minor league baseball career. He is now a part of the popular show First Take's new format, as he debates Stephen A. Smith on Fridays.
During Tebow's recent appearance, he opened up about Trevor Lawrence.
He said the Jaguars quarterback 'will live up to the hype'
While debating Smith and having a discussion about Lawrence on the Sept. 10 episode of First Take, Tebow seemed pretty confident about the young QB living up to the hype.
"I was hoping to get an actual pass from him (in the preseason), get a completion, and make a little move or something; that didn't happen, but we'll put that to the side," he said. "Yes, I think Trevor absolutely will live up to the hype. I think he's got an unbelievable talent. I think he's got a great mindset. And I think he's a great young man, everything about him."
Tebow also said "it was a joy playing with" Lawrence during the short time they spent together.
"It's a pleasure being around him," he said. "He is a really good kid that I think's gonna handle the pressure. I think he's going to handle Jacksonville. I think Jacksonville already is in love with him. … I think Urban's gonna try to do everything to support him. I think he's going to have a great career."
OK, so that was, obviously, some high praise, but Tebow didn't say anything monumental. That was until later in the segment when he made a pretty bold claim.
Tim Tebow made a strong claim about Trevor Lawrence
Trevor Lawrence might be unproven given that he's heading into his first season, but Tim Tebow still thinks his arm talent ranks up there with some of the elite quarterbacks in the NFL.
"When you talk about his arm, it really is off the charts," Tebow said. "It's one of the top-five-to-seven arms in the NFL about being able to make passes other people just never had the ability to throw. But he doesn't always have to throw that hard. That's one thing I love about him is he can take it off for the short, for the intermediate, but then all of a sudden, he throws a deep crosser, and you look at him, and you're like, 'What?' Sometimes I would be like, over there on the scout team, and I would be looking over like, 'Dang, that's ridiculous.'"
Saying he has a top-five-to-seven arm in the NFL is a massive claim, especially when there are guys out there like Patrick Mahomes and Aaron Rodgers. But whether he ranks up there with the best of the best or not, Lawrence has proven he can have a special career.
Trevor Lawrence has a chance to have a special NFL career
Lawrence likely won't win many games as a rookie; he doesn't have a great team around him. But the star signal-caller gives the Jaguars a much better chance to win games than they would have without him.
The 6-foot-6 gunslinger showed he had all the intangibles to be great during his college career at Clemson, throwing for 10,098 yards, 90 touchdowns, and 17 interceptions in 40 games. He also led his school to the College Football Playoff every season he played there, and he won the national championship as a freshman.
If his college success translates to the pros, Tim Tebow is right: Trevor Lawrence can become a top-five-to-seven talent in the NFL. His career will be fun to watch.
Stats courtesy of Sports Reference