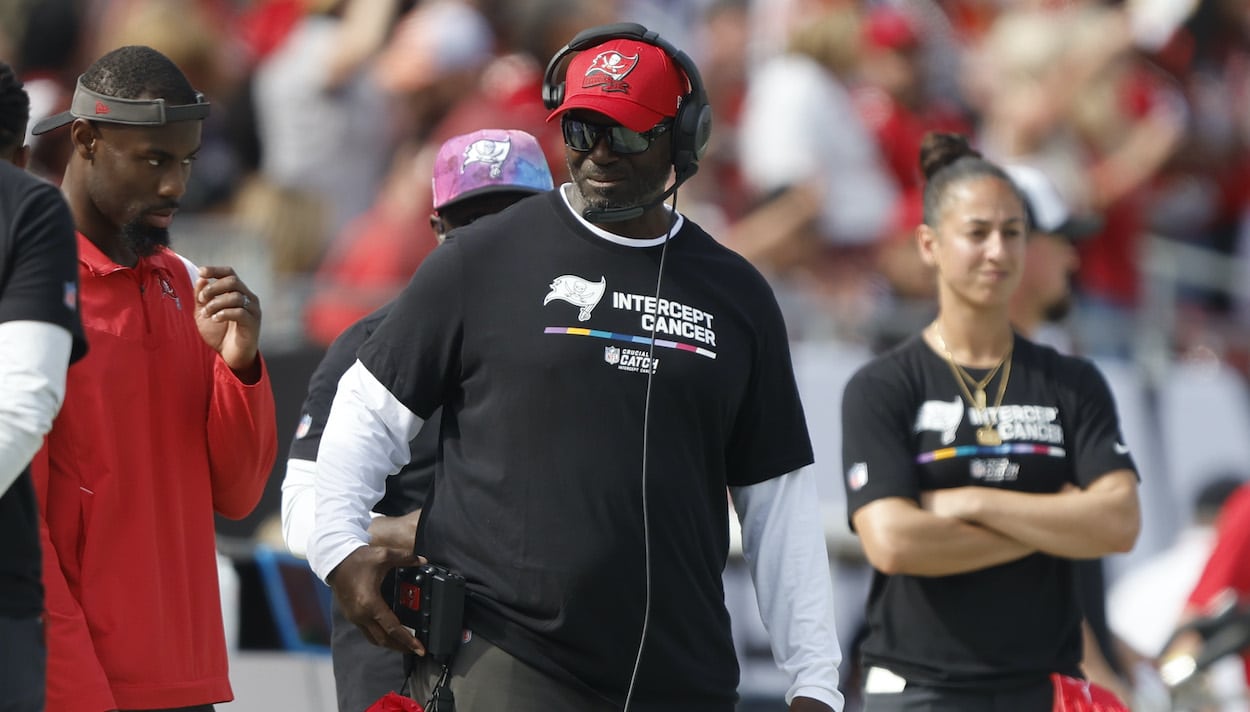 Todd Bowles Calls out Reporter Lecturing Him on Importance of Black NFL Head Coaches
As one of the four current Black NFL head coaches, Todd Bowles didn't appreciate a reporter telling him how he should feel about it.
On Sunday, Tampa Bay Buccaneers coach Todd Bowles will coach against Mike Tomlin in a matchup of two of the three full-time (and one interim) Black NFL head coaches. While the media is making a big deal of this face-off, Bowles is not, and he didn't seem to appreciate a reporter lecturing him on why he should be making a bigger deal of his game against Tomlin's Pittsburgh Steelers.
Todd Bowles discussed Black NFL coaches ahead of his Week 6 matchup with Mike Tomlin
Mike Tomlin vs. Todd Bowles isn't just a matchup of Black head coaches. It is a matchup of excellent coaches trying to navigate their teams through wildly different situations in 2022.
The Tampa Bay Buccaneers are a team desperate to get back to one more Super Bowl in what could be Tom Brady's final season. The Pittsburgh Steelers are giving rookie quarterback Kenny Pickett his second career start on Sunday and trying to build for the future.
That's the kind of stuff Bowles wanted to talk about in his midweek press conference, but the reporters in the room wanted to focus on the bigger-picture issues of Black coaches in the NFL.
In the clip above (watch here), the first reporter asks, "as two of the few Black coaches in the league," can Bowles discuss his relationship with Tomlin and his thoughts on the Carolina Panthers interim head coach, Steve Wilks, joining the ranks?
"I have a very good relationship with Tomlin. We don't look at what color we are when we coach against each other," Bowles said. "I have a lot of very good white friends who coach in this league as well, and I don't think it's a big deal."
On his hopes for the Panthers' Wilks, Bowles said, "Wilks got an opportunity to do a good job. Hopefully, he does it. And we coach ball. We don't look at color."
Another reporter followed up, lecturing Bowles on the importance of representation in coaching and in life.
Bowles didn't seem to enjoy the social justice civics lesson and fired back at the reporter.
"Well, when you say, 'they see you guys' and 'look like them' and 'grow up like them,' that means we're oddballs to begin with. And I think the minute you guys stop making a big deal about it, everybody else will as well.
How many Black NFL 2022?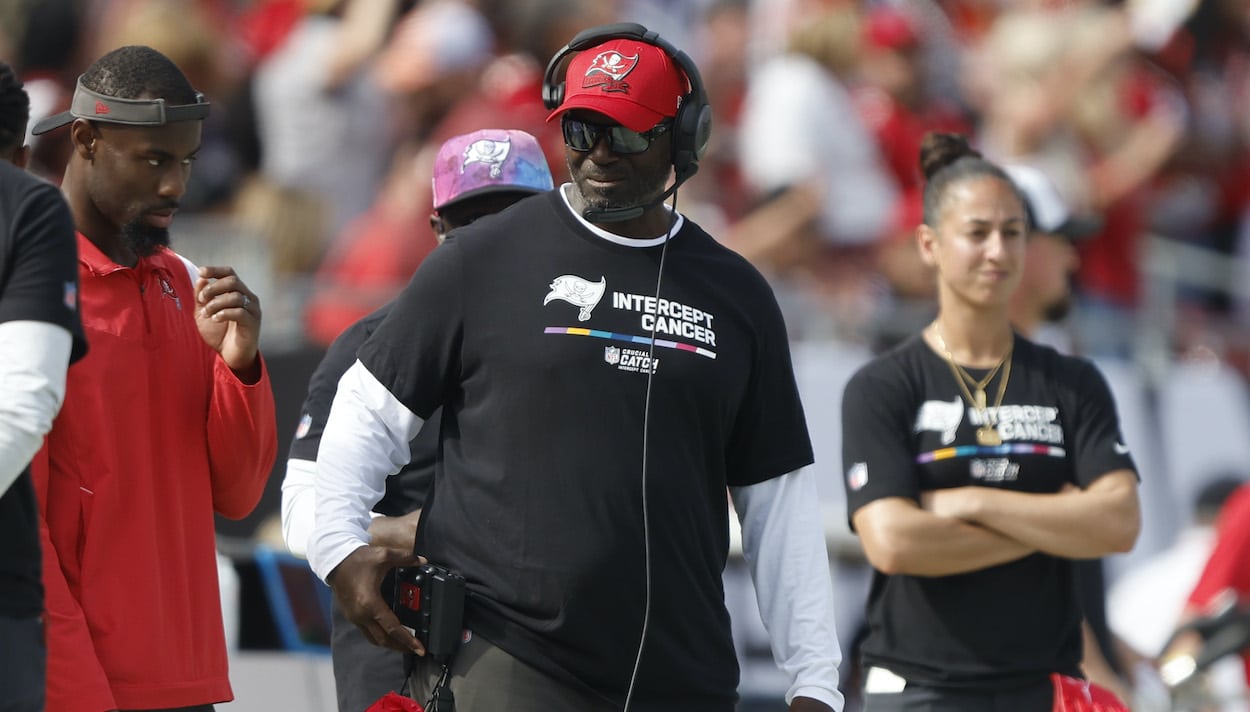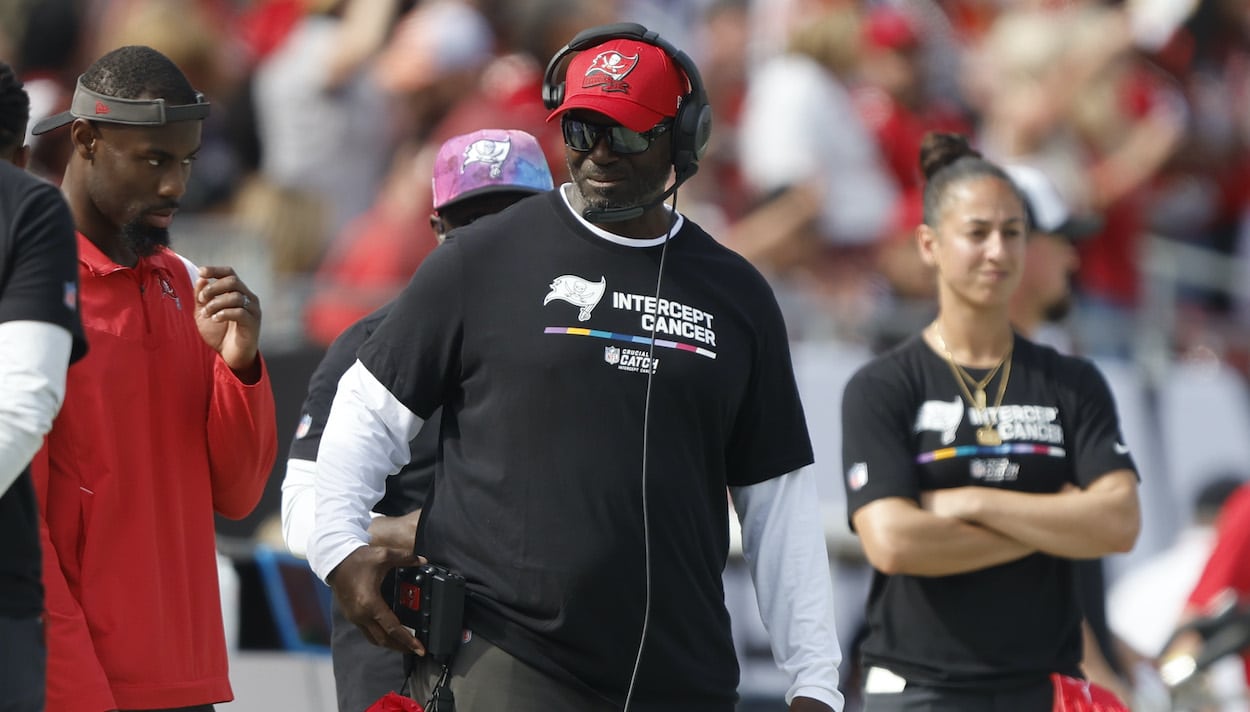 Whether Todd Bowles or the lecturing reporter were right or wrong, the fact is that in 2022, there are only three full-time Black head coaches in a league where approximately 60% of the league is Black.
To begin the 2022 season, Bowles, Tomlin, and the Houston Texans Lovie Smith were the only Black head coaches. Additionally, there were three other minority head coaches with the New York Jets Robert Salah, Washington Commanders Ron Rivera, and Miami Dolphins Mike McDaniel (whose mother is white and father is Black).
After the Panthers fired Matt Rhule, Steve Wilks got the job for the remainder of the season, making him the fourth Black head coach.
This past offseason, Smith and McDaniel were the only minority candidates to get head jobs.
Since then, the league has made multiple updates to the Rooney Rule to encourage teams to interview minority candidates for head coach, coordinator, and general manager positions.
The league's hope is that this encourages more Black and minority hires in the next offseason cycle. Right now, it looks like there will be several high-profile Black candidates for head jobs, such as Buccaneers offensive coordinator Byron Leftwich, Chiefs OC Eric Bieniemy, 49ers defensive coordinator Demeco Ryans, and Rams DC Raheem Morris.
Have thoughts on this topic? Keep the conversation rolling in our comments section below.