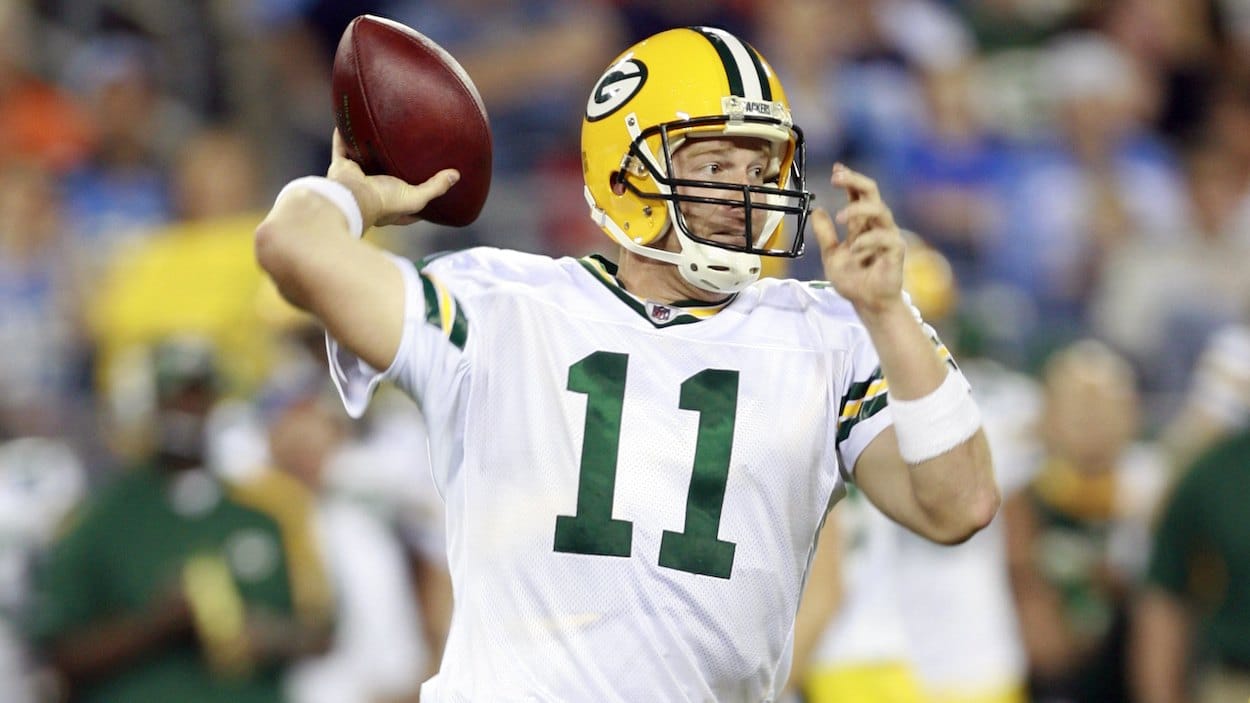 Todd McShay's Brutal Take on Aaron Rodgers and the QB Who Could Beat Him out Comes Back to Haunt Him
In 2008, the Packers drafted Brian Brohm to compete with Aaron Rodgers to replace Brett Favre, and ESPN analyst Todd McShay loved the move.
Todd McShay joined ESPN in 2006 and has now analyzed the NFL Draft for the network for nearly two decades. In that time, he's had his fair share of good takes and bad ones. It's only natural in a business where even the best drafters only get it right about half the time. Back in 2008, though, McShay had a particularly tough take that still pops up around draft day every year when he assessed the chances of success for Green Bay Packers quarterbacks Aaron Rodgers and Brian Brohm.
Todd McShay had a rough take on Aaron Rodgers and Brian Brohm
Aaron Rodgers was the No. 24 pick in the first round of the 2005 NFL Draft. The Packers drafted the QB even though they already had a Hall of Fame signal-caller on the roster in Brett Favre.
In the 2008 offseason, the Packers struck a deal with the New York Jets to ship Favre out of town (sound familiar?) and make room for Rodgers. However, the team also drafted two QBs — Louisville's Brian Brohm in Round 2 and LSU's Matt Flynn in Round 7 — just in case Rodgers didn't pan out.
One of the draft pundits who liked this move and actually thought that one of these QBs was better than Rodgers was ESPN's Todd McShay.
"I honestly think Brian Brohm, two years from now, could be the starting quarterback of the Green Bay Packers. It would not shock me at all," McShay said of the pick. "And I still think Aaron Rodgers has a chance as well, but I think Brian Brohm's upside is greater than that of Aaron Rodgers."
McShay pointed to Brohm's size (6-foot-3, 227 pounds), background (his brother Jeff was an NFL QB and his offensive coordinator at Louisville), and mentality as aspects that would help him win the job from Rodgers.
Well, we know how that worked out, but what happened with Brian Brohm?
Where is Brian Brohm now?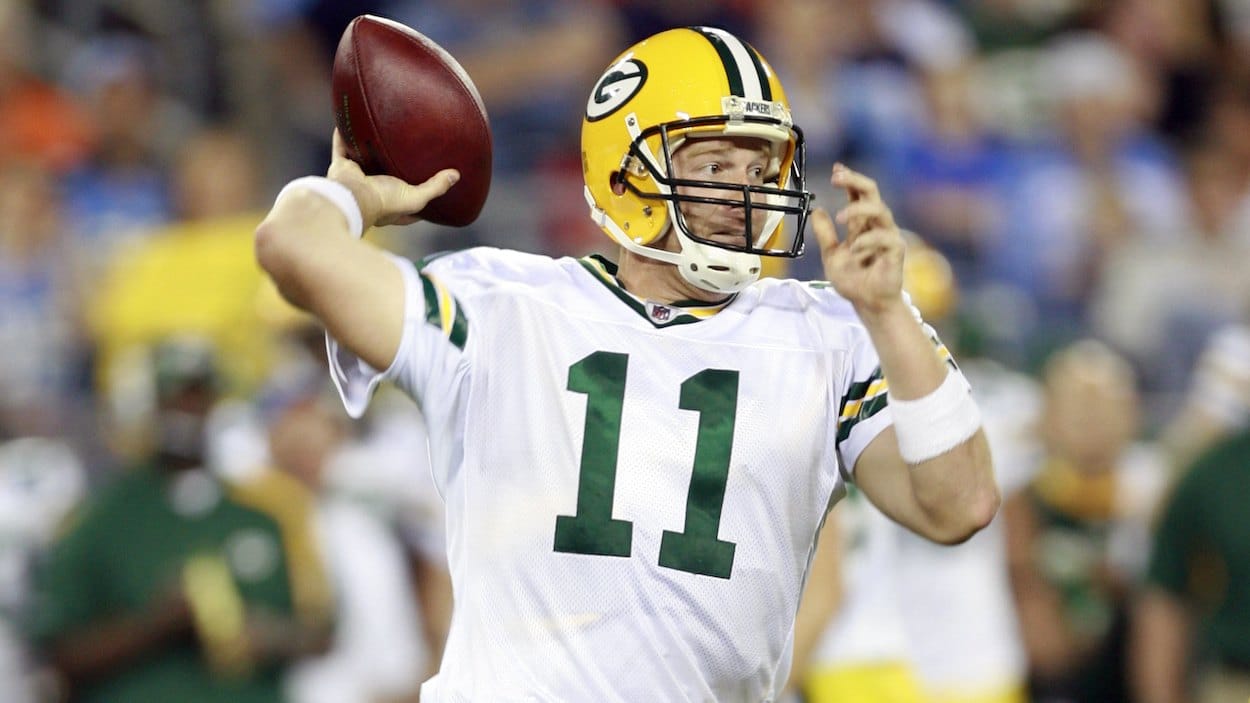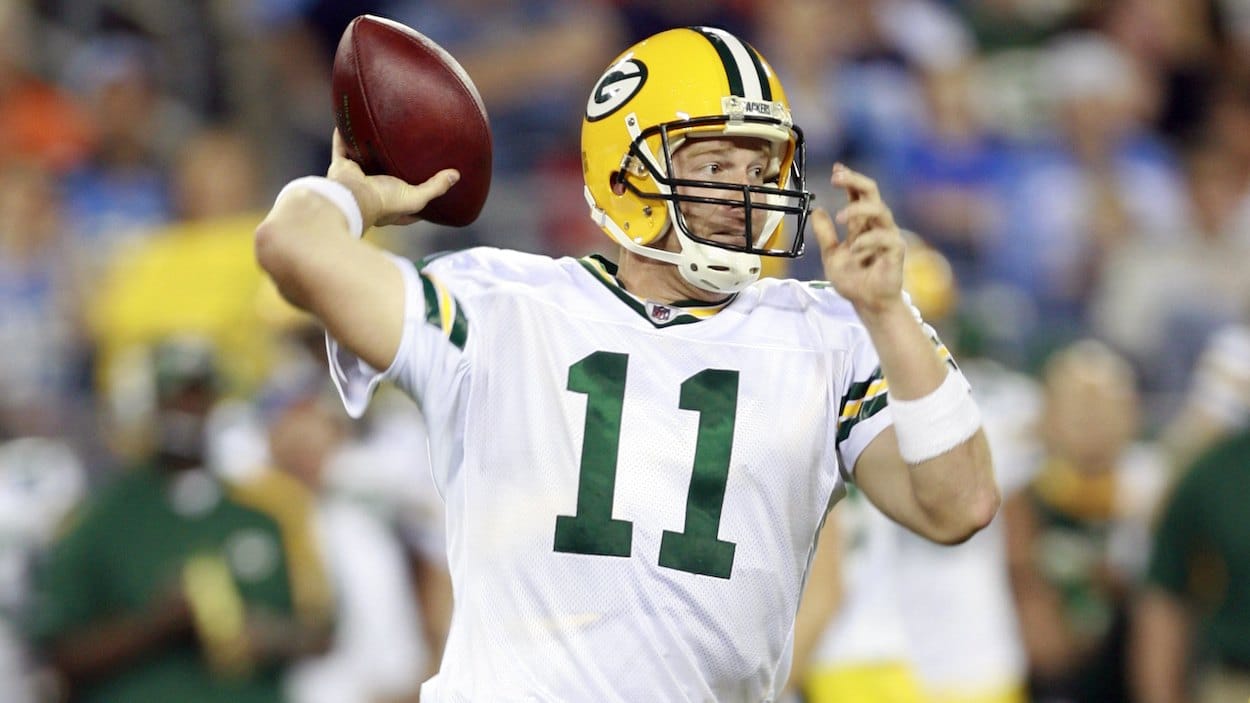 SPOILER ALERT: Brian Brohm never took the Packers' starting job from Aaron Rodgers.
Rodgers is entering his 19th NFL season in 2023 and has 10 Pro Bowls, four All-Pro nods, four NFL MVP Awards, and a Super Bowl on his Hall of Fame resume. He took that Packers job in 2008 and never looked back.
As for Brohm, the QB ended up not only not being able to beat out Rodgers. He also couldn't beat out Matt Flynn, who became Rodgers' primary backup. Brohm was third-string as a rookie, and the Packers put him on the practice squad in Year 2.
The Buffalo Bills signed Brohm off the practice squad, and in two seasons, the QB started two games, posted an 0-2 record, and ended his NFL career 27-of-52 for 252 yards with zero touchdowns and five interceptions.
Buffalo did not re-sign Brohm for the 2011 season, and the QB finished his career playing two seasons in the United Football League and three in the Canadian Football League.
When his playing career ended, Brian Brohm started coaching, working under his brother Jeff at Western Michigan. Brian followed Jeff, along with their other brother, Greg, to Purdue and then back to their alma mater, Lousiville, for the upcoming 2023 season.
In the last two stops, Brian was the offensive coordinator and quarterbacks coach.